Ice cream with carrot and pistachio halva
---
Total time: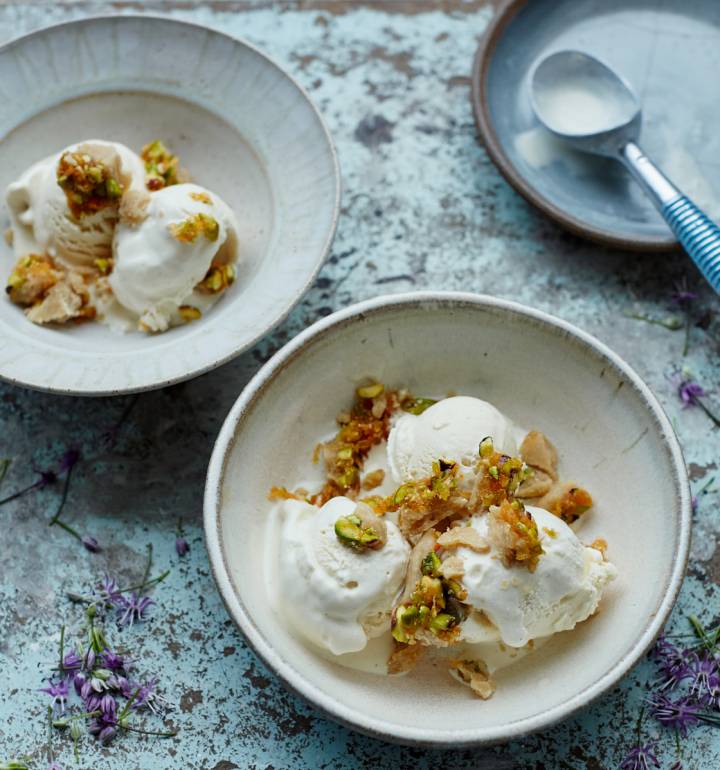 Recipe by Lizzie KamenetskyRecipe photograph by Laura Edwards
Ice cream with carrot and pistachio halva
---
Total time:
---
See more recipes


Ingredients
250g caster sugar
1 carrot (about 80g) finely grated
50g pistachios, roughly chopped
100g tahini paste, stirred
scoops of vanilla ice cream to serve
Step by step
You'll have leftover halva; it will keep for a couple of days in an airtight container (not in the fridge).
Line a 900g loaf tin with baking paper.
Put 100g of the sugar in a pan with 100ml water and dissolve over a low heat. Squeeze as much liquid as you can from the grated carrot, then add the carrot to the pan and simmer gently for 5-6 minutes until the carrot is starting to look glassy. Remove from the syrup with a fork, mix with the pistachios and scatter over the base of the loaf tin. Set aside. Discard the syrup and rinse the pan.
Warm the tahini in a pan over a really low heat, stir until smooth; remove from the heat.
Meanwhile put the remaining 150g sugar into the rinsed pan with 3 tablespoons water and dissolve over a low heat. Increase the heat and bubble until you reach 120°C on a kitchen thermometer.
Pour the sugar syrup into the tahini and stir well with a wooden spoon until it starts to thicken. As soon as you feel it begin to crystallise around the edge of the pan, pour it over the pistachio and carrot mix, then chill for 1-2 hours.
Scoop balls of ice cream into 2 bowls, roughly break up some of the halva and scatter over the ice cream to serve.
Don't miss

---