Harvey Wallbanger sorbet
Makes
8
|
prep
20 mins
|
total time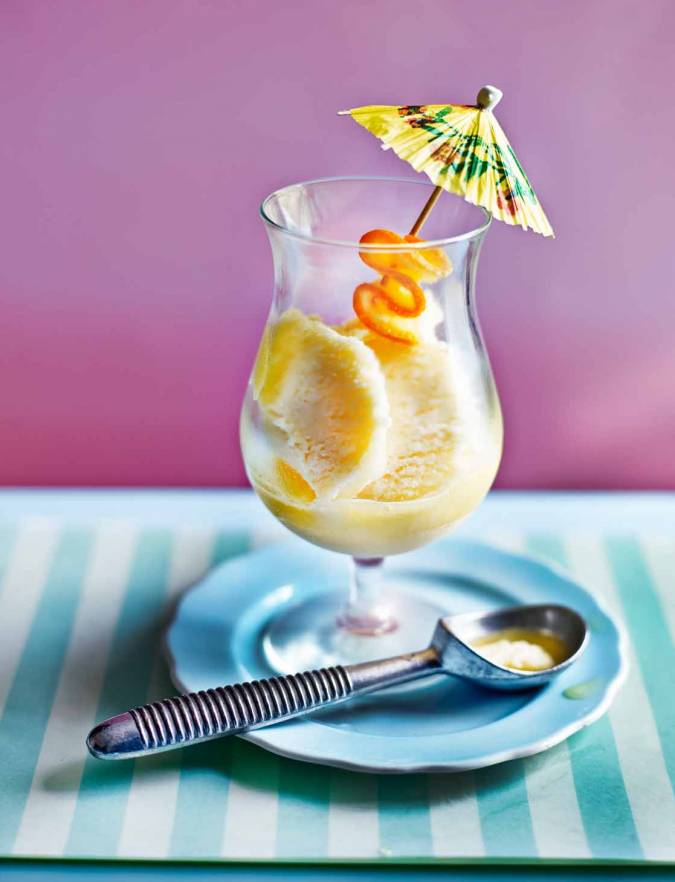 Nutritional information (per serving)
See more
Ingredients
150ml vodka

2 tbsp Galliano liqueur

150g white granulated or caster sugar

400ml freshly squeezed orange juice (not from concentrate)

3 tbsp freshly squeezed lemon juice (about 2 large lemons)

½ x 12g sachet Dr Oetker powdered gelatine (about 1½ tsp)

orange slices or twists of pared orange zest, to garnish
Get ahead
Make up to 4 weeks ahead; store in the freezer.
Mix the vodka and Galliano together, and chill for 8 hours or overnight. Alcohol inhibits the freezing process, so chilling it will ensure you get a soft set sorbet. Put the sugar, orange juice and lemon juice into a bowl and stir now and then until the sugar is dissolved. Cover and chill alongside the vodka mixture.
Put 1½ tablespoons cold water into a small pan and sprinkle over the gelatine. Leave for 5 minutes, then warm gently over a low heat until clear. Pour into a bowl and whisk in the chilled vodka mixture. Chill until cold but not set. Whisk this mixture into the chilled orange syrup, then strain into a clean bowl. It is now ready for freezing.
Pour the mixture into an ice-cream maker and churn for 45-50 minutes or until thick (see below if you don't have an ice-cream maker). Scoop the churned sorbet into a plastic box with a lid and freeze for 6 hours or overnight, until firm enough to scoop.

Tip You can make this recipe without an ice-cream maker. Pour the chilled mixture into a shallow lidded plastic container and freeze for 2 hours. Stir with a fork to break up the ice crystals. Continue to freeze and stir the mixture every 1-2 hours until frozen.

Scoop into glasses and garnish with an orange slice or a twist of pared orange zest and a cocktail umbrella.