Elderflower panna cotta with glazed blueberries
---
Prep time: 20 mins
Total time: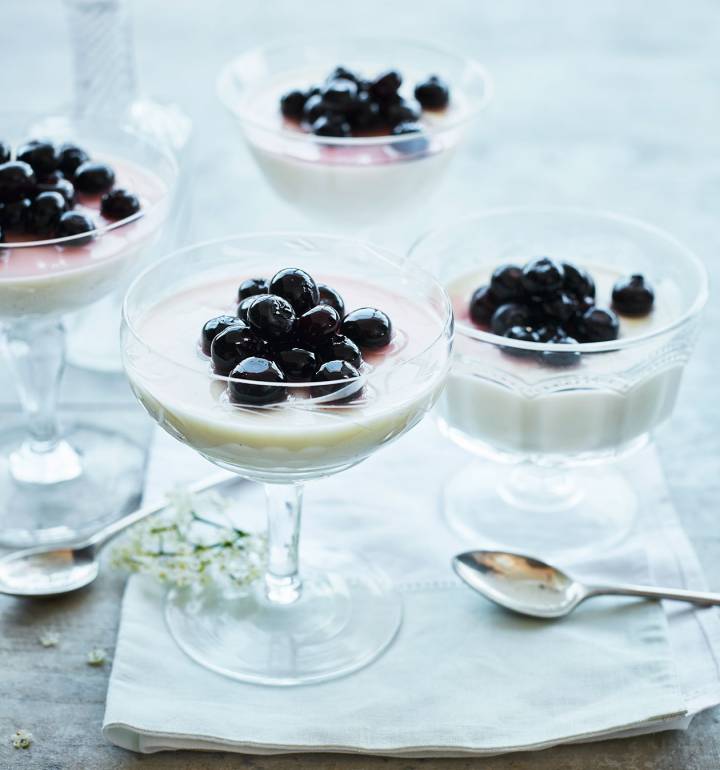 Recipe photograph by Laura Edwards
Elderflower panna cotta with glazed blueberries
The perfect pudding for summer entertaining
---
Prep time: 20 mins
Total time:
---
See more recipes
---
Nutritional information (per serving)
---
Ingredients
150ml milk
2 tsp powdered gelatine
400ml double cream
50g caster sugar
60ml concentrated elderflower cordial
zest of 1 lime
1 tsp vanilla bean paste or extract
For the glazed blueberries
2 tbsp caster sugar
juice of 1 lime
5 tbsp concentrated elderflower cordial
200g blueberries
Step by step
Put 50ml of the milk in a small bowl and sprinkle on the gelatine. Stir briefly, then leave to absorb for 10 minutes.
Put the remaining milk, cream, sugar, elderflower, lime zest and vanilla in a heavy-based saucepan and bring to the boil, stirring to dissolve the sugar. Remove from the heat, add the gelatine mixture and whisk until completely melted. Cool to room temperature, strain into a jug, then divide between 4 tumblers or wine glasses (about 250ml capacity). Cover and chill for 4 hours or until set.
For the topping, put the sugar, lime juice and cordial in a saucepan. Bring to a simmer and reduce until thick and syrupy, 3-5 minutes. Add the blueberries and gently mix. Leave to cool.
Serve the panna cottas with the blueberries spooned over.
Don't miss

---