Delicate vegetable korma with cashews & apricots
Serves
4
|
prep
30 mins
|
total time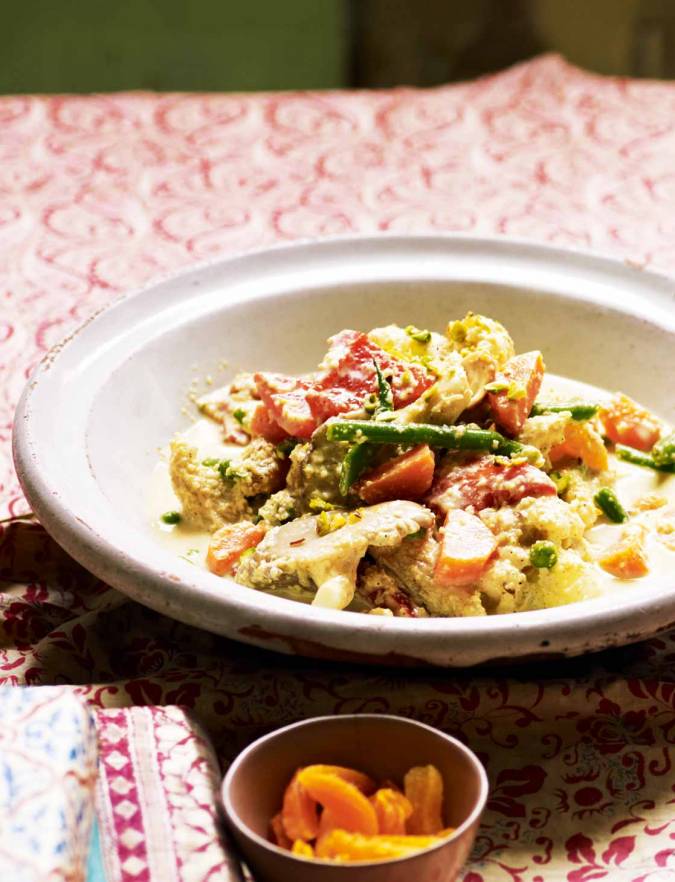 Nutritional information (per serving)
See more
Ingredients
1 small onion, quartered

50g cashew nuts

40g unblanched almonds

150g natural yogurt

200ml whole milk

4 tbsp double cream

50g coconut cream

a good pinch of saffron strands

1 tsp caster sugar

seeds from 1 tsp cardamom 
pods, crushed

½ tsp ground cinnamon

1 tsp garam masala

250g cauliflower florets

1 red pepper, deseeded and 
cut into 2.5cm pieces

1 carrot, halved lengthways 
and cut into 1cm half moons

100g oyster or chestnut mushrooms, quartered

75g fine beans, cut in three

75g frozen peas

2 tbsp vegetable oil

1½ tsp cumin seeds

3-4 green chillies, pierced 
with the tip of a knife

25g peeled root ginger, grated

3 fat cloves garlic, grated

8 dried apricots, quartered
Put the onion in a pan of boiling water and simmer for about 12 minutes, 
or until soft. Drain and set aside.
Soak 40g of the cashews and all of the almonds in boiled water for 10 minutes. Drain and slip off the almond skins. In a food processor, whiz the onion, nuts, yogurt, milk, cream, coconut cream, saffron, sugar, crushed cardamom, cinnamon and garam masala to a paste with a little water.
Put the cauliflower, pepper, carrot, mushrooms and beans in a large pan; add about 250ml water to come a quarter of the way up. Season, bring to the boil, cover and simmer for 4 minutes. Add the peas, cook for 30 seconds; tip everything into a bowl.

Tip You can use any veg you like, though the pepper adds a lovely flavour.

Give the pan a wipe and return to the heat. Add the oil and, once hot, the remaining cashews; cook until golden. Remove with a slotted spoon and add to the vegetables. Add the cumin seeds to the pan. Once they darken, lower the heat and add the chillies, ginger and garlic. Cook gently for 1-2 minutes, scraping the pan if it starts to stick – add a splash of water if you think it might burn. Pour in the nut paste and bring to the boil. Cook for 5-6 minutes, uncovered, stirring often.
Add the vegetables and cashews, removing them from the liquid with 
a slotted spoon. Add the apricots and 50ml of the vegetable cooking liquid to create a creamy curry. Heat and adjust the seasoning and sweetness to taste. Remove the whole chillies.