Triple chocolate and cherry brownie cookie sandwiches
---
Makes:
15 (or 30 cookies)
Prep time: 30 mins
Total time: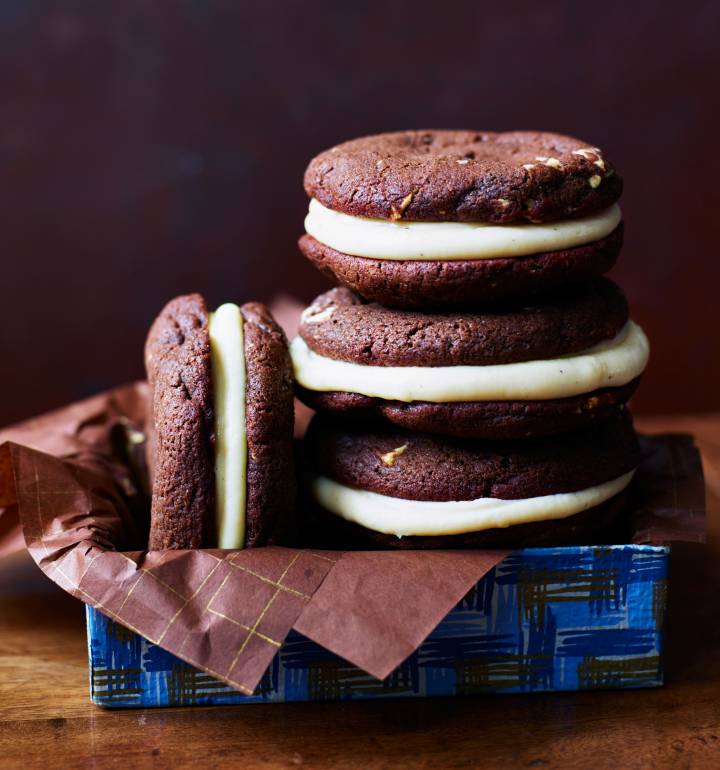 Recipe photograph by Tara Fisher
Triple chocolate and cherry brownie cookie sandwiches
---
Makes:
15 (or 30 cookies)
Prep time: 30 mins
Total time:
---
See more recipes
---
Nutritional information (per serving)
---


Ingredients
1 x 100g bar dark chocolate (50-60% cocoa solids), in pieces
1 x 100g bar milk chocolate, in pieces
125g soft butter, plus extra for greasing
50g light muscovado sugar
50g granulated sugar
2 large eggs, lightly beaten
225g plain flour
1 tsp bicarbonate of soda
1 x 75g pack dried cherries
1 x 100g bar white chocolate, roughly chopped
For the filling
200g white chocolate, in pieces
200ml crème fraîche, chilled
Step by step
Bake the cookies up to 2 days ahead; store in an airtight container. They freeze well, too. The filling can be made a day in advance; keep it chilled. The cookies can be sandwiched together a few hours ahead; chill but serve at room temperature.
Melt the dark and milk chocolate pieces together in a bowl set over a pan of barely simmering water. In a separate bowl, beat the butter and sugars together for 3-4 minutes with an electric whisk or in a stand mixer until light and fluffy.
Mix the melted chocolate into the butter and sugar mixture. Add the beaten eggs, little by little, stirring all the time.
Next, sift in the flour, bicarbonate of soda and a pinch of salt, then add the cherries and the chopped white chocolate. Mix together, then wrap the dough – it will be soft and sticky – in clingfilm and freeze it for 45 minutes.
Preheat the oven to 180°C, fan 160°C, gas 4. Cut off a third of the cookie dough and roll it into 10 balls (put the rest of the dough back in the freezer) and transfer the balls to a large greased and lined baking sheet. Press the balls to flatten them slightly, then bake them for 12 minutes. Leave the cookies to cool for 5 minutes before transferring to a wire rack to cool completely. Repeat this process twice so that you end up with 30 cookies.
For the filling, melt the chocolate in a bowl set over a pan of barely simmering water, cool slightly, then mix with the crème fraîche until combined. Chill for 30 minutes until spreadable.
Sandwich the cookies with the filling.
Sandwiching chewy chocolate cookies together makes them extra-special – or you can leave them unfilled, if you prefer.
Don't miss

---