Homemade jammy dodger biscuits
---
Prep time: 20 mins, plus chilling and cooling
Total time: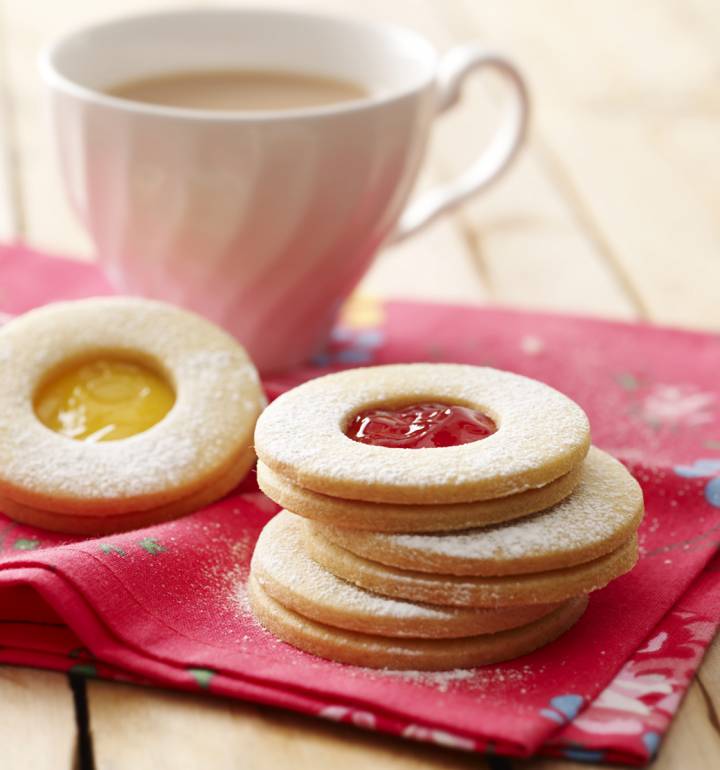 Lauren Mclean
Homemade jammy dodger biscuits
---
Prep time: 20 mins, plus chilling and cooling
Total time:
---
See more recipes
Ingredients
115g Anchor® unsalted butter
115g caster sugar
1 large egg, beaten
1/2 tsp vanilla extract
250-275g plain flour, plus extra for dusting
4 tbsp seedless raspberry jam or lemon curd
2 tbsp icing sugar for dusting
Step by step
Preheat the oven to 180ºC, fan 160ºC, gas 4

.

Lightly grease 2 large baking sheets. Place the butter and sugar in a large bowl and beat together until pale and creamy. Gradually beat in the egg and vanilla extract.


Sift over 250g of the flour and mix to a crumbly dough. Gather the dough together with your hands and knead on a lightly floured surface until smooth. If the dough is sticky work in the rest of the flour. Shape the dough into a flat disc, wrap in cling film and chill in the fridge for 40 minutes.

Roll half the chilled dough out on a lightly floured surface to a 3mm thickness. Use a 6cm round cutter to stamp out 16 circles, re-rolling the dough as necessary. Place on one of the baking sheets. Repeat with the remaining dough but use a 3cm round cutter (or the end of a large piping nozzle) to stamp out the centres from each circle. Place both baking sheets in the fridge for 30 minutes.

Bake the biscuits for 12-14 minutes, or until crisp and pale golden. Leave on the baking sheets for 5 minutes then transfer to a wire rack to cool.

To assemble, spread about 1 tsp jam or lemon curd on each whole biscuit. Lightly dust each cut out biscuit with icing sugar then sandwich the biscuits together.



Don't miss

---