Mulled wine plum jam
Makes
about 2.7 litres
|
prep
1 hr
|
total time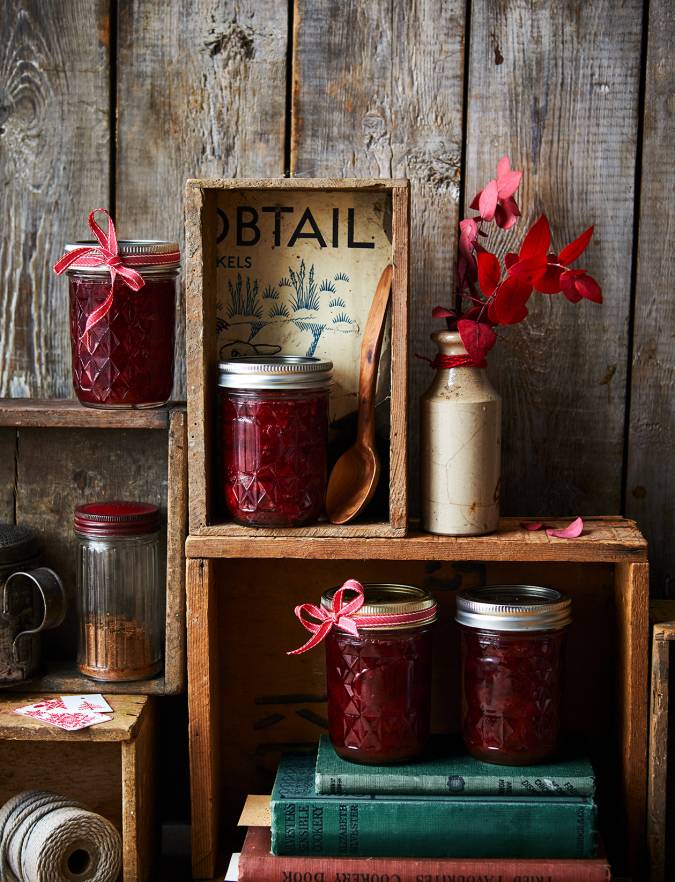 Mulled wine plum jam
Subscribe to Sainsbury's magazine
Makes
about 2.7 litres
|
prep
1 hr |
total time
This spiced jam is perfect for festive breakfasts, or makes a lovely gift
Nutritional information (Per tsp)
See more
Ingredients
350ml fruity red wine, such as Merlot - use vegan wine if required

grated zest and juice of 2 oranges

1½ tsp whole cloves

2 small cinnamon sticks

1.8kg red plums, halved, stoned, and sliced

1.8kg jam sugar (with added pectin)
Get ahead
The jam will keep for up to 1 year in a cool dark place. Once opened, store in the fridge.
Put the red wine, orange zest and juice, cloves and cinnamon into a large pan and bring up to a gentle simmer for 10 minutes. Take off the heat; leave to cool slightly.
Put the prepared plums into a really large saucepan or preserving pan and strain over the mulled red wine, discarding the cloves and cinnamon. The pan should be no more than half full. Cover and cook gently for 15-20 minutes, depending on the ripeness of your fruit, until the plum skins are soft. Meanwhile, put 3 small saucers into the freezer to chill.
Uncover the plums, add the sugar and stir on a low heat until the sugar has completely dissolved.
Increase the heat and bring to a rolling boil. Boil for about 5 minutes or until setting point is reached and a sugar thermometer registers 105°C. If you don't have a thermometer, check the setting point as follows; take the pan off the heat, spoon a little jam onto one of the chilled saucers and return to the freezer for 2 minutes. Push your finger across the surface of the jam – if it wrinkles and no runny jam runs back onto the plate, the jam is ready. If not, return to the heat, bring back to the boil and boil for 2 minutes more, then check again.
Take the pan off the heat and leave the jam to settle for a few minutes so that the fruit stays suspended in the jam, then skim any scum from the surface with a large metal spoon. Pour into warm sterilised jars (see below) and seal with tight-fitting lids. Label once cool.

Tip Sterilise your jars by heating for 5 mintutes in a medium-hot over (190°C, Fan 170°C, Gas 5).