Chai chocolate bark
---
Prep time: 20 mins
Total time: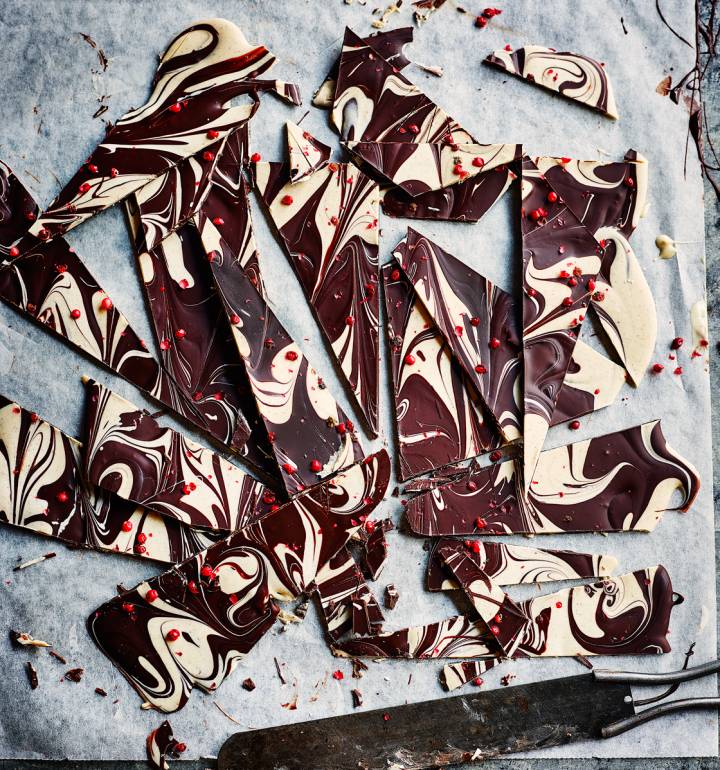 Recipe photograph by Martin Poole
Chai chocolate bark
---
Prep time: 20 mins
Total time:
---
See more recipes
---
Nutritional information (per serving)
---


Ingredients
200g dark chocolate, about 70% cocoa solids, broken into pieces
150g white chocolate, broken into pieces
16 cardamom pods
½ tsp fennel seeds
1 tsp ground cinnamon
½ tsp ground ginger
a pinch of ground cloves
a pinch of ground nutmeg
1 tsp pink peppercorns, lightly crushed
Step by step
The bark keeps for at least 1 week in a sealed container in the fridge, or can be frozen.
Begin by melting the two types of chocolate, separately. Put each chocolate in separate heatproof bowls, then, in turn, set over a pan of barely simmering water (make sure the base of the bowl doesn't touch the water) and stir until melted and smooth.
Grind the seeds from the cardamom pods with the fennel seeds in a pestle and mortar and mix with the ground spices; reserve the pink peppercorns to garnish. Stir half of the chai spice mixture into each bowl of chocolate.
Line a baking tray with baking paper. Pour the dark chocolate onto the tray, spreading out to roughly a 20 x 25cm rectangle. Add random spoonfuls of the white chocolate all over the dark chocolate, then use a skewer or cocktail stick to marble the two chocolates together. Scatter with the pink peppercorns then chill in the fridge for 30 minutes or until set. Break into shards to serve.
Chocolate infused with the flavours of chai tea – what's not to love?
Don't miss

---