Marinated chicken wings
Serves
6
|
prep
40 mins
|
total time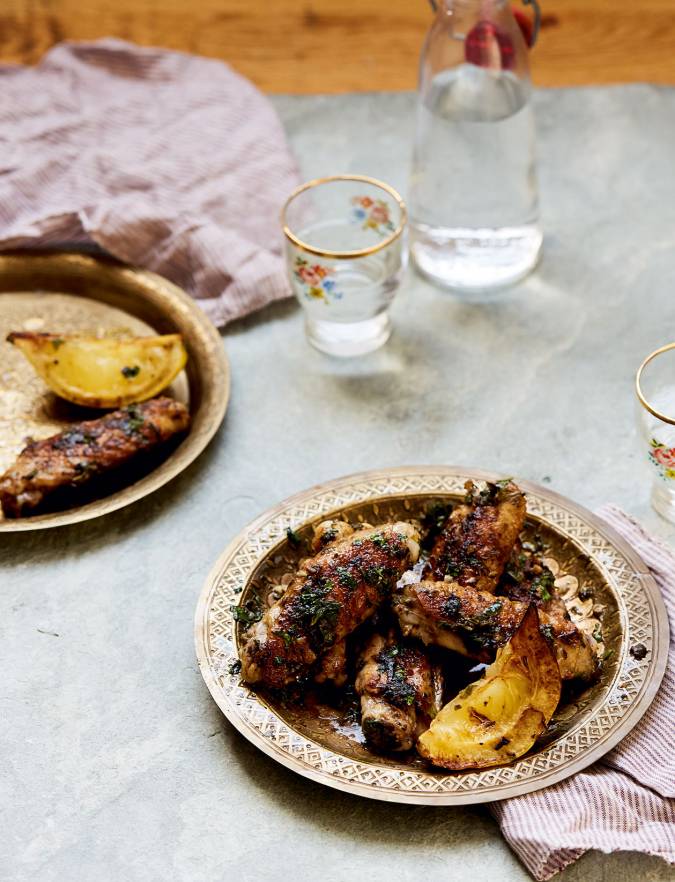 Marinated chicken wings
Subscribe to Sainsbury's magazine
Serves
6
|
prep
40 mins |
total time
Tony Kitous says: 'When I was growing up in my home town of Tizi Ouzou, my siblings and I would always fight over the best bits of the chicken. As the eldest, I often managed to win, so the wings are very special to me. This recipe uses lots of oil, lemon juice and garlic, and the flavours are so powerful and moreish, I make it again and again.'
Nutritional information (per serving)
See more
Ingredients
4 tbsp olive oil

4 tbsp cider vinegar

2 tsp fine sea salt

juice of 3 large lemons

4 garlic cloves, peeled and squashed

¼-½ tsp ground cinnamon

¼ tsp ground cardamom

1 x 31g pack coriander

1kg chicken wings, cut into smaller joints
Put the oil, vinegar, salt, lemon juice, garlic, cinnamon and cardamom into a large, sealable container. Stir them together. Take half the coriander and chop it – not too finely, but not too coarsely either. Add this to the container, along with the chicken wings, and use a large spoon to mix everything together so that the wings are covered in the marinade.
Cover the box and put in the fridge to marinate for at least 4 hours or, even better, overnight.
Take the wings out of the fridge about half an hour before you're going to cook them.
Heat 2 large frying pans over a medium heat until medium hot. Lift the chicken wings out of the marinade and scrape any garlic back into the marinade – it'll be used to flavour the sauce later. Preheat the oven to 100°C, fan 80°C, gas 1⁄4.
Divide half the wings between the 2 pans and fry for 8-10 minutes until sticky and golden on one side, then turn them over and cook the other side for the same length of time. You may need to prop them up on the side of the pan to ensure the flesh cooks through – check as you cook them. Put them on an ovenproof plate and keep warm in the oven. Once half are done, cook the other half and transfer to the oven, too.
Pour the marinade into one of the frying pans, add 3-4 tablespoons of water and bring to a simmer. Cook for 1-2 minutes, scraping the base of the pan to lift the sticky juices and mix into the sauce. Add any juices from the rested chicken wings to the pan and stir them in. Chop the remaining coriander and stir that in, too. Serve with lemon wedges.

Recipe adapted from Feasts From The Middle East by Tony Kitous (HQ, £20).