Toffee popcorn ėclairs
Makes
10-12
|
prep
25 mins
|
total time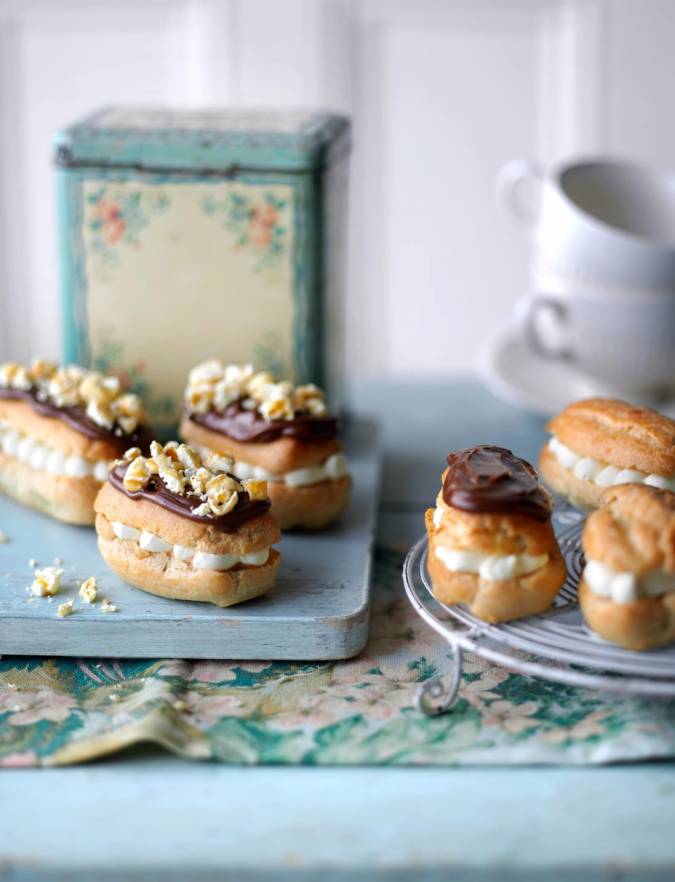 Nutritional information (per serving)
See more
Ingredients
For the choux pastry:
75g unsalted butter, cubed

a pinch of salt

100g plain flour

3 medium eggs, lightly beaten
For the topping:
100g milk chocolate, roughly chopped

1 x 300ml carton double cream

1 tbsp golden syrup

a small knob of butter

a pinch of sea salt

25g toffee popcorn, roughly chopped
For the filling:
4-5 tbsp Carnation Caramel (from a tin)
Get ahead
Best eaten on the day they're made. The cooled choux buns can be frozen.
Start by making the pastry. In a small pan, gently heat the butter with 175ml water and a pinch of salt over a low heat until the butter has melted. Increase the heat, bring

the mixture to a rolling boil, then immediately

remove from the heat. Tip in the flour (all in one go) then beat the mixture until it turns glossy and comes away from the sides of the pan in a ball. Spread onto a plate and leave to cool for about 20 minutes.


Preheat the oven to 220°C, fan 200°C, gas 7. Line a large baking tray with baking paper and prepare a disposable piping bag with a 1cm straight-edged nozzle.


Once the dough has cooled, place it in a medium bowl and add the beaten eggs, a little at a time, beating after each addition. The mixture will look sloppy, but continue to beat and it will come together. (You might not need all the egg.) The mixture should be pipeable and fall off the spoon, given a good shake. Fill the piping bag with the mixture.



Tip

With choux, add the beaten egg gradually as too much egg will make the pastry too thin to hold its shape.

Pipe the pastry into 7-8cm éclairs, leaving space between them to allow for spreading. Bake for about 25 minutes, until puffed and golden. Don't open the oven door early.


Remove the éclairs from the oven, leave to cool slightly, then, using a serrated knife, slice them lengthways in half. Return to the oven for a further 7 minutes, then leave to cool completely on a wire rack.


About 20 minutes before assembling the éclairs, make the topping. In a pan, gently heat the chocolate, 2 tablespoons of the cream (use the rest in the filling), syrup, butter and salt, stir to combine. Transfer to a bowl; leave to cool and firm up slightly.


For the filling, whip the remaining cream until it creates medium peaks. Spoon into
a disposable piping bag. Spread the Carnation Caramel inside the base of each éclair, then pipe the cream on top of it, before sandwiching the éclair together. Spread the chocolate on top of each éclair. Sprinkle over the chopped popcorn; serve.


The feather-light French éclair is having a renaissance – try this twist on the classic.