Raspberry and custard poke cake
---
Prep time: 35 mins
Total time: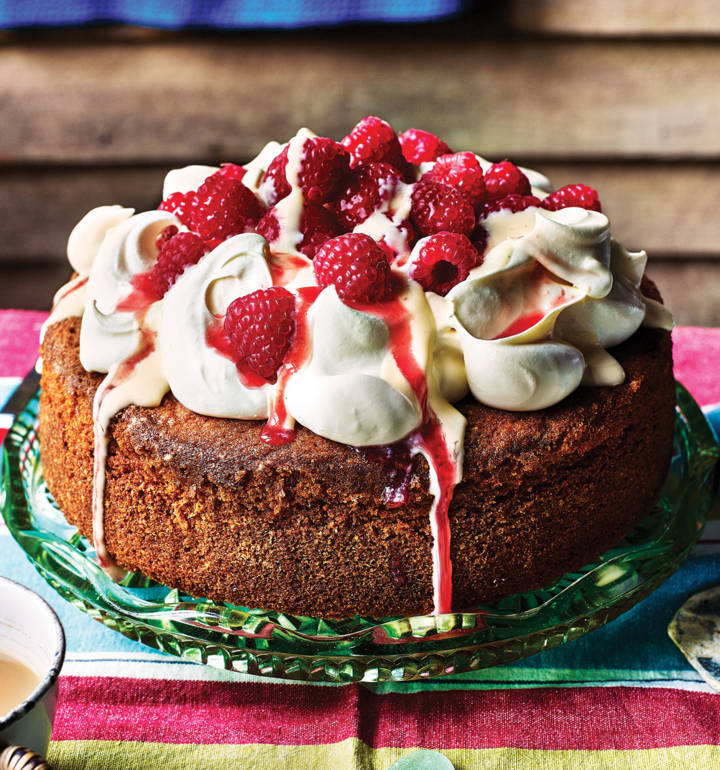 Recipe photograph by Kris Kirkham
Raspberry and custard poke cake
It's called a poke cake as you poke in holes to allow the coulis to soak in. This tastes just like a trifle, in cake form!
---
Prep time: 35 mins
Total time:
---
See more recipes
---
Nutritional information (per serving)
---


Ingredients
250g very soft butter
250g golden caster sugar
3 large eggs
250g plain flour
200ml custard (we used Taste the Difference vanilla custard), plus 3 tbsp extra to serve
2½ tsp baking powder
1 tsp vanilla extract
For the coulis
450g fresh or frozen raspberries
1-2 tbsp icing sugar
To decorate
300ml double cream
1 x 150g pack fresh raspberries
Step by step
Prepare the cake to the end of step 5 a few hours ahead. Return to the springform tin for safe transporting.
To make the coulis, put the raspberries and 1 tablespoon icing sugar in a medium pan on a low heat. Cook for 5-10 minutes, stirring every few minutes, until the raspberries break down and turn into a sauce. Strain though a sieve into a bowl, pushing through with the back of a spoon, and discard the seeds. Taste and add more icing sugar if needed, then cover and leave to cool.
Grease and line the base and sides of a 20cm springform cake tin. Preheat the oven to 180°C, fan 160°C, gas 4.
Beat the butter and sugar until light and fluffy using an electric whisk. Add the eggs one at a time, alternating with a spoon of the flour to stop the batter curdling, then add the rest of the flour and whisk in the custard. Add the baking powder and vanilla extract; whisk again. Spoon the mixture into the prepared tin and smooth the surface.
Bake in the oven for 60-70 minutes until a skewer comes out clean when poked into the middle. Cool in the tin for 10 minutes, then remove from the tin and transfer to a cooling rack. Leave until just slightly warm, and transfer to a serving plate.
Poke holes in the top of cake with the handle of a wooden spoon, about 2cm apart. Reserve a third of the raspberry coulis to serve, then using a teaspoon, spoon the rest of the coulis into the holes, re-poking the holes and adding more coulis as needed. It doesn't matter if you overfill, as the cake will be covered with cream once fully cooled. Leave to cool to room temperature.
Just before serving, whip the cream to soft peaks, and spoon over the cake, covering the holes. Add the fresh raspberries piled high, and drizzle with the reserved raspberry coulis and extra custard.
Don't miss

---