Princess cake
Serves
At least 20
|
prep
1hr 15 mins
|
total time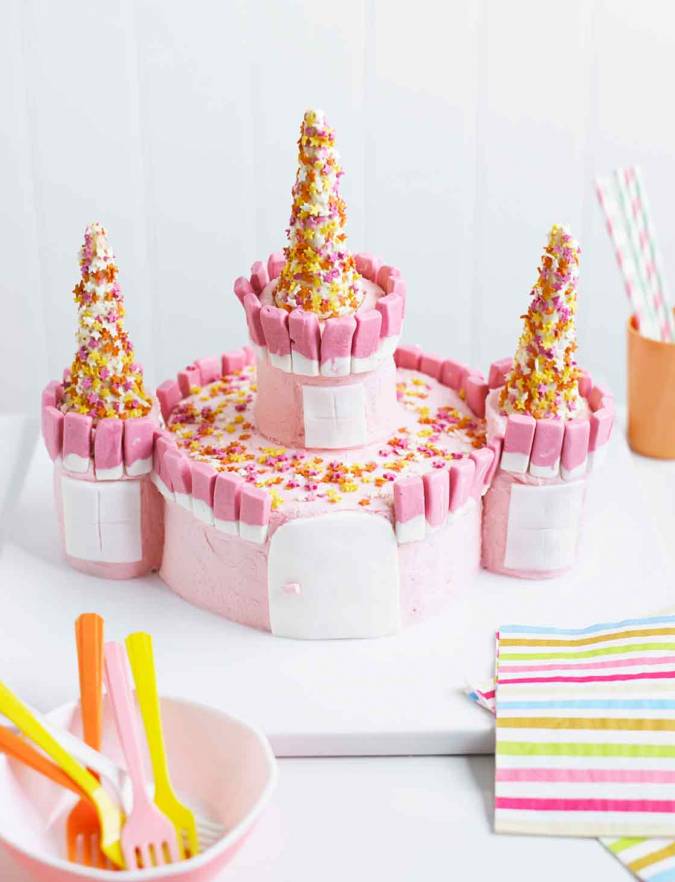 Nutritional information (per serving)
See more
Ingredients
225g soft unsalted butter, plus extra for greasing

225g caster sugar

4 medium eggs, lightly beaten

1 tbsp milk

225g self-raising flour
For the buttercream
450g soft butter

750g icing sugar, sifted

2 tbsp vanilla extract

6 tbsp milk

1⁄4 tsp pink food colouring
For the decoration
75g white chocolate, broken into pieces

3 ice cream cones

1 x 365g pack strawberry and vanilla jumbo Swiss roll

1 x 47g pack sugar stars

1 ½ x 160g packs drumstick squashies

50g ready to roll white icing
Get ahead
The sponges can be frozen. Assemble the cake the day before and keep in a cool place.
Preheat oven to 180C, fan 160C, gas 4. Grease 2 x 18cm loose-bottomed sandwich tins and line the bases with nonstick baking paper.
In a bowl with an electric handwhisk or in a food mixer, whisk the butter and sugar for 5 minutes until light and fluffy, scraping down the sides now and again.
With the motor running, gradually add the eggs and the milk whisking well after each addition. If it starts to curdle, add a tablespoon of the flour.
Once the eggs have been added, sift in the flour and gently mix in using a large spoon until just combined.
Divide the mixture between the two tins and bake for about 30 minutes, until golden, risen and springy to the touch. Leave to cool in the tin for 10 minutes, then turn out onto wire rack and leave to cool completely.
Meanwhile, make the buttercream. Using an electric handwhisk and a very large bowl, or a food mixer, whisk the butter until smooth then whisk in the icing sugar a quarter at a time. Finally whisk in the vanilla extract, milk and pink foodcolouring. Set aside.
To decorate, melt the white chocolate in a bowl over a pan of gently simmering water. Coat each ice cream cone in white chocolate, then sprinkle with the sugar stars and leave to set. Place one sponge on a large cake board. Cut the Swiss roll into three equal parts.
Spread about a fifth of the buttercream over the sponge to about 1cm from the edge. Place the second sponge on top. Cover the top and sides with buttercream. Ice the Swiss roll sections with buttercream as well. Place one on each side of the cake and one on top. Smooth the icing by dipping a palette knife into boiling water and then running it over the icing, wiping off the excess icing with kitchen paper as needed. Place a cone on top of each of the Swiss rolls.
Place the Squashies around the top of cake and towers, leaving a gap for the door. Sprinkle the cake with remaining sugar stars. Roll out the white icing, on a clean work surface dusted with icing sugar, to the thickness of a £1 coin. Cut out a door, about 6x8cm, and 3 windows, about 4x5cm each. Decorate by scoring lines on all of them. Press the door on to the front side of the sponge cake and add a tiny blob of pink icing for a door handle. Press a window on to each tower.