Mini Egg cake
Serves
16
|
prep
1 hr
|
total time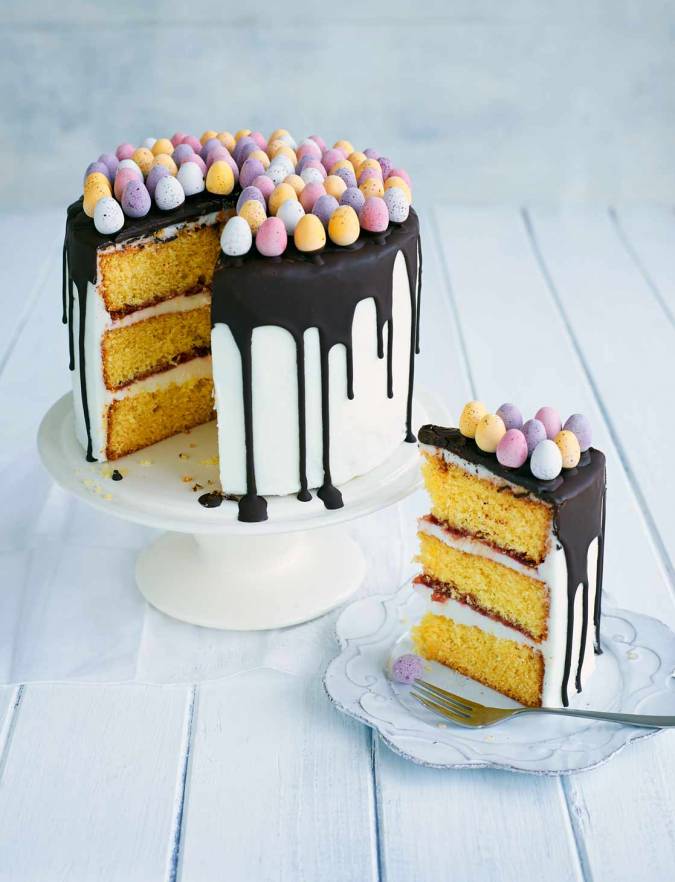 Nutritional information (per serving)
See more
Ingredients
For the sponge
340g butter, softened, plus extra for greasing

340g caster sugar

2 tsp vanilla extract

6 large eggs

340g self-raising flour, sifted

2 tsp baking powder
For the filling and decoration
300g Cookeen or Trex solid vegetable fat, cut into small pieces

600g icing sugar

1 tsp vanilla extract

3-7 tbsp milk

100g seedless raspberry jam

200g dark chocolate, 85% cocoa solids

328g packet mini eggs
Preheat the oven to 180ºC, fan 160ºC, gas 4. Grease and line 3 x 20cm loose-based sandwich tins (if you don't have 3 tins you can bake 1 or 2 cakes at a time, cover the mixture with clingfilm between batches).
Using an electric hand whisk, cream the butter, caster sugar and vanilla extract, until pale and fluffy. Add the eggs one at a time, beating well between each addition.
Fold through the flour and baking powder. Divide between the 3 tins. Bake for 25-30 minutes until an inserted cocktail stick comes out clean. Allow to cool in the tins for 10 minutes. Remove and place on wire racks to cool completely. If the cake tops aren't level, use a serrated knife to trim them so they are nice and flat.

Tip If you'd like to make the sponge without the decoration, you may like to have a whipped cream filling. You will need 450ml whipped double cream; spread the layers with jam first, followed by the cream. Dust with icing sugar to serve.

For the icing, place the vegetable fat, icing sugar, vanilla extract and a pinch of salt in a food processor. Whiz until combined, then add the milk 1 tablespoon at a time until you have a spreadable consistency (you may not need the full 7 tablespoons).
Sandwich the cakes together using the jam and 150g of the icing. The bottom side of the top cake should face down. Coat the cake in half the remaining icing. Place in the freezer for 20 minutes to firm up, then use the remaining icing for a second coat. Return to the freezer for a further 30 minutes.
Put 175g of the chocolate in a microwave-safe jug and heat in the microwave on high for 2 minutes, stirring every 30 seconds, until the chocolate is melted and very runny.
Remove the cake from the freezer. Pour the runny chocolate around the top of the cake, next to the edge, allowing it to trickle down the sides. Continue drizzling the chocolate in a spiral motion moving inwards to completely cover the top of the cake. If there are any holes, simply drizzle a drop of chocolate into the hole (you will cover the top with mini eggs so it doesn't need to be perfect).
Heat the remaining chocolate in small bowl in the microwave on high in 30-second bursts, stirring in between, until melted but is still thick, like a glue to stick the mini eggs onto. Start with one mini egg in the centre and work around it in circles, making sure there are even gaps between the eggs, to make it easier to cut the cake. (If the chocolate in the bowl starts to set, simply put it back in the microwave for another 30 seconds.) Leave for a few minutes until the chocolate has set, then serve.