Lime and coconut triple layer cake
Serves
14
|
prep
30 mins, plus cooling
|
total time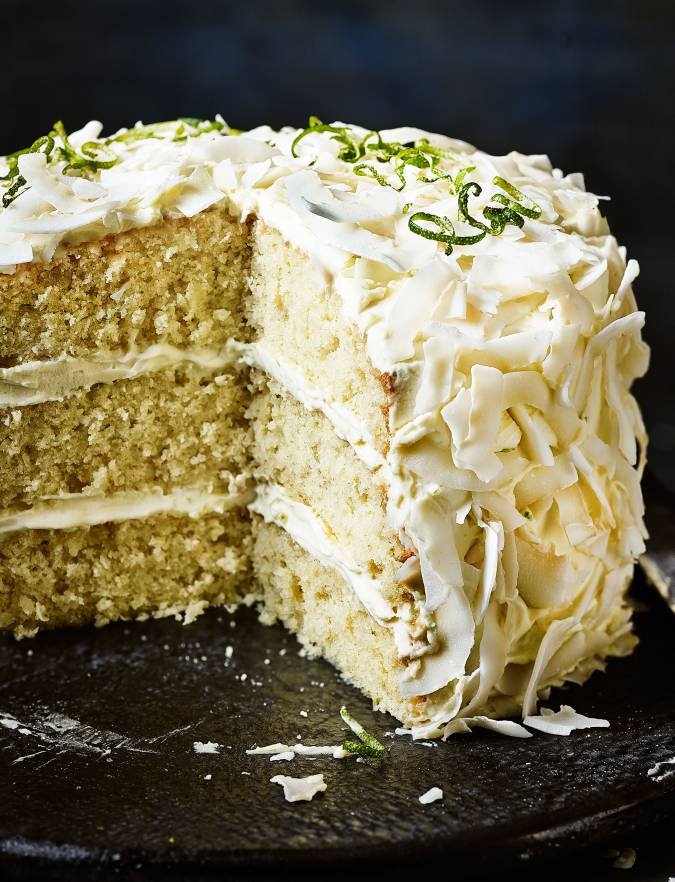 Nutritional information (per serving)
See more
Ingredients
300g soft butter

300g caster sugar

6 medium eggs, beaten

275g self-raising flour

75g desiccated coconut

grated zest of 3 limes and

the juice of 1 (use the juice of the other 2 in the curd)
For the lime curd
the juice of 2 limes

1 medium egg

50g caster sugar

25g butter, cut into small dice
For the syrup
zest and juice of 1 lime

50g caster sugar
For the filling
600ml double cream

2 tbsp icing sugar

grated zest of 1 lime
For the topping
Get ahead
The cakes and the lime curd can both be made a day or two in advance and assembled just before serving. Store the curd in the fridge for up to 3 days. The un-iced, unfilled cakes can be frozen for up to 1 month.
Preheat the oven to 180°C, fan 160°C, gas 4. Grease and line the base of 3 x 18cm round sponge tins with baking paper.
Put the butter and caster sugar in the bowl of an electric mixer and beat until pale in colour and creamy, about 3 minutes. Gradually add the eggs, beating well after each addition. Add a spoonful of flour if the mixture starts to curdle.
Fold in the remaining flour and coconut, the lime zest and juice of 1 lime.
Divide the mixture evenly between the 3 tins and bake for 25 mins until golden brown and they feel just firm to the touch (if you only have 2 cake tins you can bake the third cake mix quantity later).
While the cakes are baking, make the lime curd. Put the juice of 2 limes, egg, caster sugar and butter in a small heatproof bowl, and place over a pan of simmering water. Cook over a low heat, stirring frequently, until it is thickened and coats the back of a wooden spoon.
To make the syrup, set aside the zest for decoration (wrap in clingfilm or it will dry out). Put the lime juice into a small pan and add the sugar. Heat until the sugar is dissolved, bring up to the boil, then remove from the heat and allow to cool.
When the cakes have baked, remove from the oven. Allow them to cool for 5 minutes, then turn out and let them cool fully on a wire rack.
When ready to assemble, whip the cream, icing sugar and zest until just beginning to hold its shape, then stir in the lime curd and continue to whisk until thickened.
Place one cake on a serving plate, brush with about 1 tablespoon of the lime syrup, spread with a little of the lime curd cream, top with the next cake and repeat. Top with the final cake and spread the remaining cream over the top and sides of the cake. Coat the top and sides with the coconut flakes and sprinkle the top with the reserved lime zest.