Lemon-drop cake
Serves
16-20
|
prep
40 mins
|
total time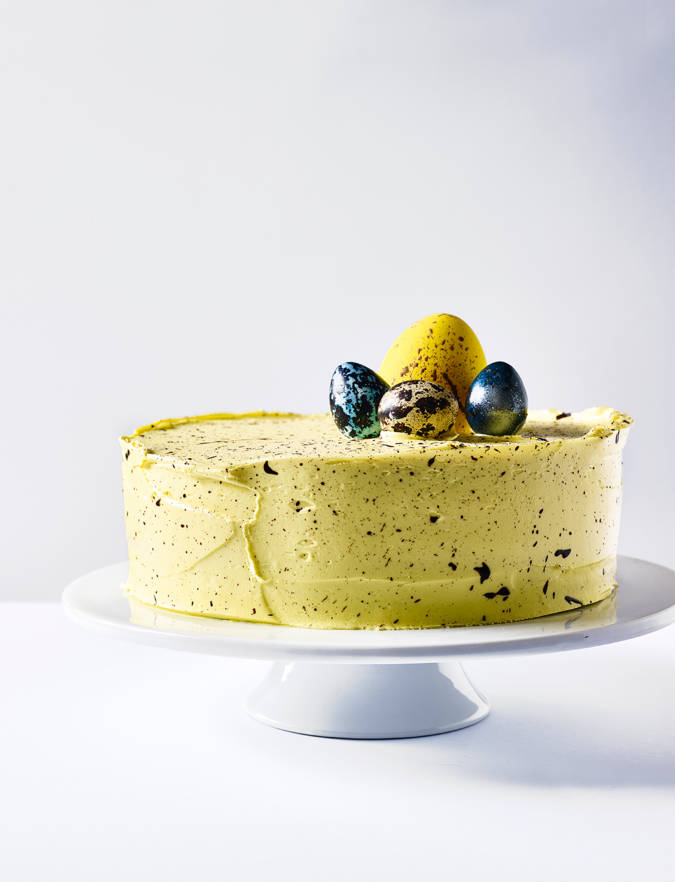 Ingredients
375g full-fat Greek-style yogurt

135ml sunflower or vegetable oil

3 large eggs, at room temperature

1 tsp vanilla extract

zest and juice of 2 lemons (about 60ml juice)

225g caster sugar

300g plain flour

1 tsp baking powder

½ tsp bicarbonate of soda

½ tsp fine sea salt
For the cheesecake filling and icing
60g soft butter

150g full fat soft cheese, at room temperature

1 tsp lemon extract - If you don't have lemon extract, add the zest of 1 lemon to the icing

500g icing sugar

3 tbsp lemon curd

zest of ½ lemon

yellow food colouring

1 tsp cocoa
Get ahead
Keeps for up to 5 days in an airtight container. Leftovers can be frozen
Preheat the oven to 180°C, fan 160°C, gas 4. Grease and line 2 x 18cm round cake tins.
Combine the yogurt, oil, eggs, vanilla and lemon zest and juice in a bowl, using a balloon whisk to beat them together until smooth. Stir in the sugar, then sift in the flour, baking powder, bicarbonate of soda and salt. Fold the dry ingredients through to combine but, as with a muffin batter, don't overmix – it's fine if it looks a little lumpy, but you don't want any big pockets of flour.
Divide between the tins and bake on the centre shelf for 40-45 minutes until well risen, springy and a skewer comes out clean. Leave to cool in the tins for 15 minutes before turning out onto a wire rack.
For the filling and icing, beat the butter on its own until very soft, then add the soft cheese and lemon extract and mix together until creamy. Gradually add the icing sugar and beat in, covering the mixer bowl with a cloth to stop clouds of icing sugar escaping.
Weigh out 225g of the icing into a bowl and fold in the lemon curd and zest. Slice each sponge in half to make 4 layers in total, and sandwich together with this lemon cheesecake filling. Put the assembled cake in the fridge for 15 minutes to firm up.
Tint the rest of the icing primrose yellow with the colouring, adding just a little at a time so you don't overdo the colour.
Sit your cake on a turntable, if you have one. Use a palette knife to spread a thin layer of coloured icing all over the sides of the cake, then the top, as a crumb coat. Chill for 15 minutes or until set, then add a slightly thicker layer with the rest of the icing.
For the speckling, mix the cocoa powder with 11⁄2 teaspoons of boiled and cooled water to get a thin paint-like consistency. Spread paper towels around your workspace to make for an easier clean-up. Using a clean fine-tipped brush, dip the tip into the cocoa mixture (don't overload it), then flick small droplets all over the cake. Practise the technique first on the surrounding paper. Let it set for at least 30 minutes before serving, topped with decorative eggs.