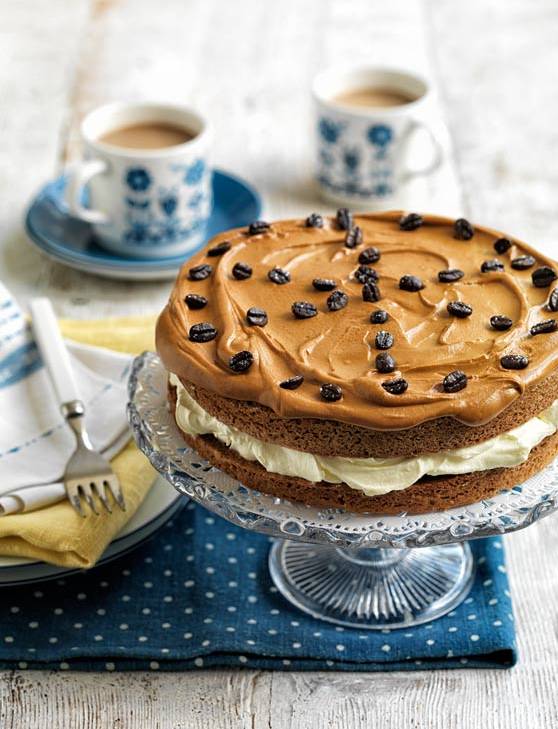 Ingredients
125g butter, at room temperature

150g caster sugar

1 heaped tbsp instant coffee, dissolved in 2 tbsp hot water (we use Nescafé Gold Blend)

2 large eggs, lightly beaten

125g self-raising flour

2 tbsp cold whole milk

a handful of whole coffee beans, to decorate
For the icing
100g icing sugar, sifted

1 tbsp Camp coffee essence

250ml double cream, whipped
Preheat the oven to 180°C, fan 160°C, gas 4. Line the base of 2 x 19cm round cake tins with foil and lightly grease with oil.
Cream the butter and sugar with an electric hand whisk until pale and fluffy. Add the coffee dissolved in water, along with the eggs and flour. Mix well, then fold in the milk.
Divide the mixture between the two cake tins and bake for 20 minutes, or until springy to the touch. Allow the cakes to cool in the tins before turning out and peeling off the foil.
Mix the icing sugar with the Camp coffee essence and just enough water (about 2 teaspoons) to form a smooth, reasonably thick icing.
Sandwich the cakes together with the whipped cream and spread the icing over the top. Scatter with coffee beans, to decorate.