Syrniki
Makes
12 pancakes
|
Serves
2-4
|
total time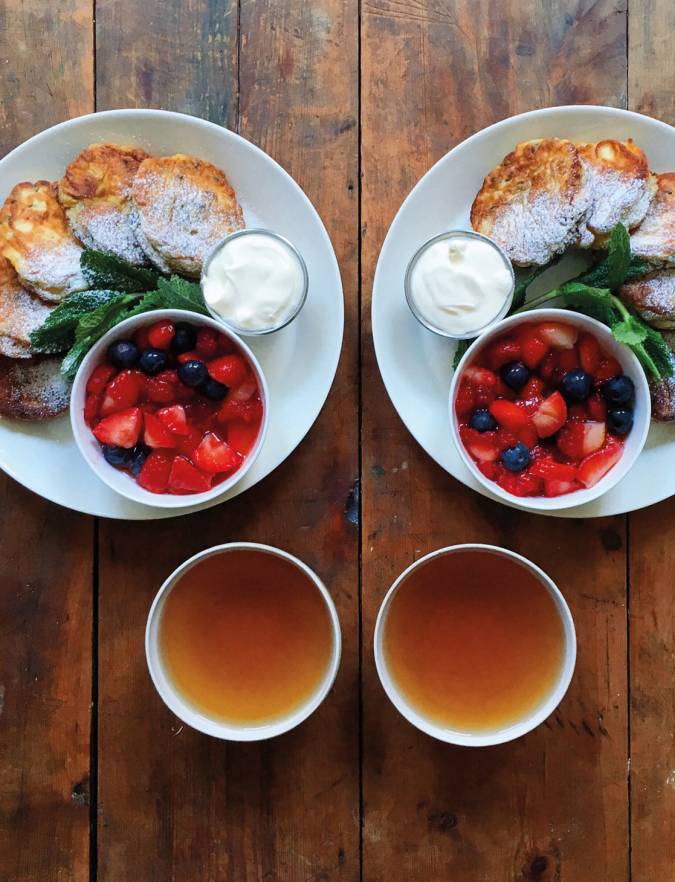 Nutritional information (pancake)
See more
Ingredients
250g quark

3 medium eggs

100g flour

70g flour for dusting

40g caster sugar

150g raisins

1 tsp bicarbonate of soda

1 tsp white wine vinegar or cider vinegar

50g butter


50ml sunflower oil
Put the quark in a bowl and break it up with a spoon. Add the eggs one at a time and combine well. Add 100g flour, ½ teaspoon salt, the sugar and raisins, and stir. You should have a fairly wet batter. In a small cup, quickly stir together the bicarbonate of soda and vinegar, then add it to the batter.
Heat a frying pan over a medium heat with about a quarter of the butter and oil.
Spread a dusting of flour on a smallish plate or bowl. Dollop a dessertspoon of the batter into the flour. Sprinkle flour on top and, with some flour on your fingers, pick it up and shape it into a rough, flattened pancake.

Tip Dust the pancakes with icing sugar and serve with berries or jam, soured cream and mint sprigs, and a cup of black tea for the full Russian experience.

Gently place the pancake in the pan and repeat with the next. I cook no more than 4 at a time, but do so moving clockwise around the pan, adding, flipping and removing the cooked pancakes once they are ready. Lower the heat if necessary and cook them for 3-4 minutes on each side. Keep warm while you cook the rest of the pancakes in batches, adding more butter and oil for each batch.

Recipe and photograph adapted from SymmetryBreakfast: Cook-Love-Share by Michael Zee (Bantam Press, £14.99).
I've had a lifelong relationship with quark, the fat–free soft cheese. When I was young, I'd go along with my mum to Slimming World and watch as people got weighed and everyone clapped them for how well they had done. Quark, then and now, is well known among dieters. These delicious pancakes from Eastern Europe and Russia are most certainly not for those on a diet. Creamy quark cheese, raisins, sour cream and jam... All that's missing is Kate Bush singing Babooshka in the background.