Overnight muesli with marmalade honey pears
---
Prep time: 20
Total time: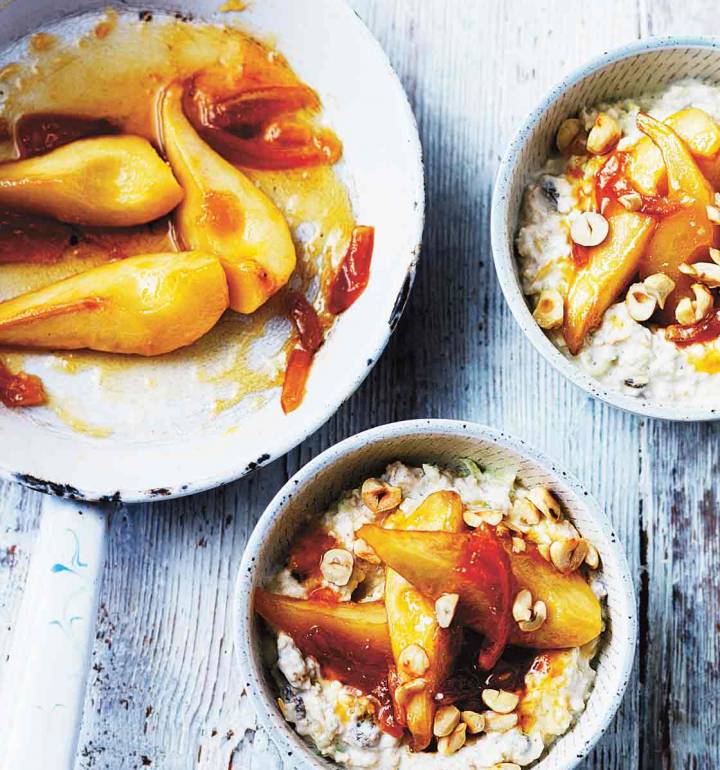 Recipe photograph by Steve Ryan
Overnight muesli with marmalade honey pears
---
Prep time: 20
Total time:
---
See more recipes
---
Nutritional information (per serving)
---


Ingredients
100g porridge oats
50g sultanas
200ml milk
1 x 100g pack blanched hazelnuts
1 apple
150g natural yogurt
zest of ½ orange
zest of ½ lemon
For the pears
2 ripe but firm pears
3 tbsp of your favourite marmalade, bought or homemade
1 tbsp runny honey
1 tbsp orange juice
1 tbsp lemon juice
a small knob of butter
Step by step
Make the muesli up to 2 days ahead. Keep in the fridge.
Preheat the oven to 180°C, fan 160°C, gas 4. In a bowl, mix the oats with the sultanas and milk; cover and leave overnight in the fridge. Roast the hazelnuts in a shallow baking tray for 7-8 minutes, until golden. Leave to cool.
The next day, peel, core and quarter the pears. Put the marmalade, honey, orange and lemon juice and butter into a medium frying pan; stir over a low heat for a few minutes. Add the pear quarters and bubble them in the mixture, turning them now and then, for 10 minutes. Meanwhile, roughly chop the hazelnuts; set aside some for garnish. Core and grate the apple (no need to peel it), add this and most of the chopped hazelnuts to the oats with the yogurt and zests; stir together.
Transfer the pears to a dish. If your pears were quite juicy, bubble the pan juices until you have 3 tablespoons left, then spoon over the pears. Serve the warm pears with the muesli, sprinkled with the reserved hazelnuts.
Don't miss

---