Cherry chocolate French toast
---
Prep time: 25 mins
Total time: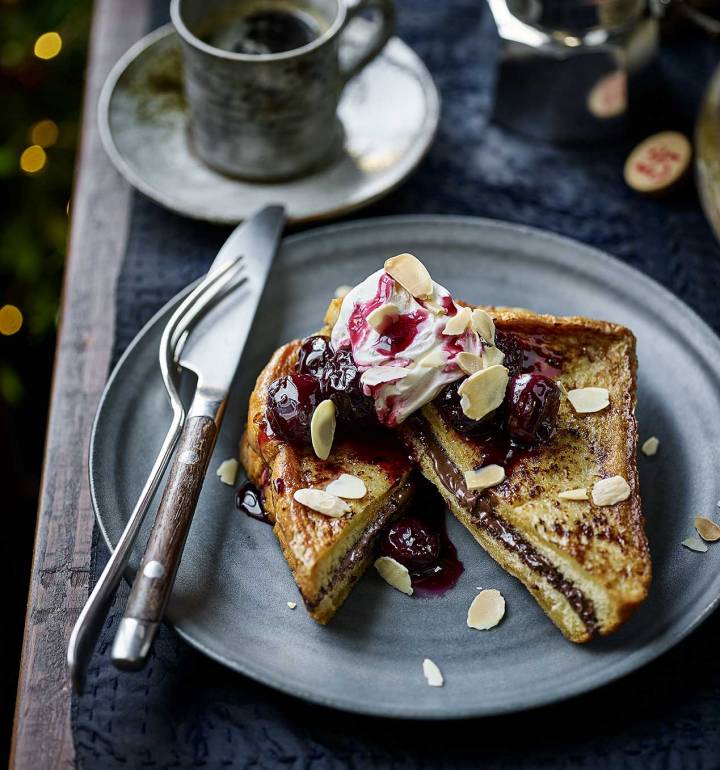 Recipe photograph by Toby Scott
Cherry chocolate French toast
Wickedly indulgent Black Forest French toast that oozes with chocolate and is spiked with a generous splash of cherry brandy
---
Prep time: 25 mins
Total time:
---
See more recipes
---
Nutritional information (per serving)
---
Ingredients
1 x 500g pack frozen cherries
1½ tbsp cornflour
75g caster sugar
4 tbsp cherry brandy (or amaretto)
8 thick slices brioche, cut from a 400g Taste the Difference brioche loaf
100g chocolate spread
3 medium eggs
2 tbsp maple syrup
75ml whole milk
30g unsalted butter
4 tbsp extra-thick double cream
25g flaked almonds, toasted
Step by step
The compote keeps in the fridge for up to 3 days.
To make the compote, tip the frozen cherries into a saucepan, add the cornflour and sugar and toss to coat. Cover the pan and cook gently for 5 minutes until they start to release their juice, then remove the lid, bring to the boil and simmer for 8-10 minutes, stirring fairly regularly until the fruit starts to soften and the juices have thickened. Remove from the heat, stir through 2 tablespoons of cherry brandy (or amaretto) and allow to cool slightly while you make the French toast sandwiches.
Spread 4 slices of brioche generously with chocolate spread and top each with another slice of brioche, gently pressing together.
In a shallow dish, beat the eggs, maple syrup, remaining cherry brandy (or amaretto) and milk with a fork or small whisk. Dip each brioche sandwich in the egg mix for 15-20 seconds on each side.
Melt half the butter in a large nonstick frying pan and fry 2 sandwiches over a medium heat for 3-4 minutes on each side until golden. Keep warm and repeat with the remaining butter and brioche sandwiches.
Cut each sandwich in half diagonally and place 2 halves on each plate. Spoon over some of the cherry compote and finish with a dollop of cream and a scattering of flaked almonds. Serve immediately.
Don't miss

---