Avocado toast with poached egg and Tabasco
---
Prep time: 10 mins
Total time: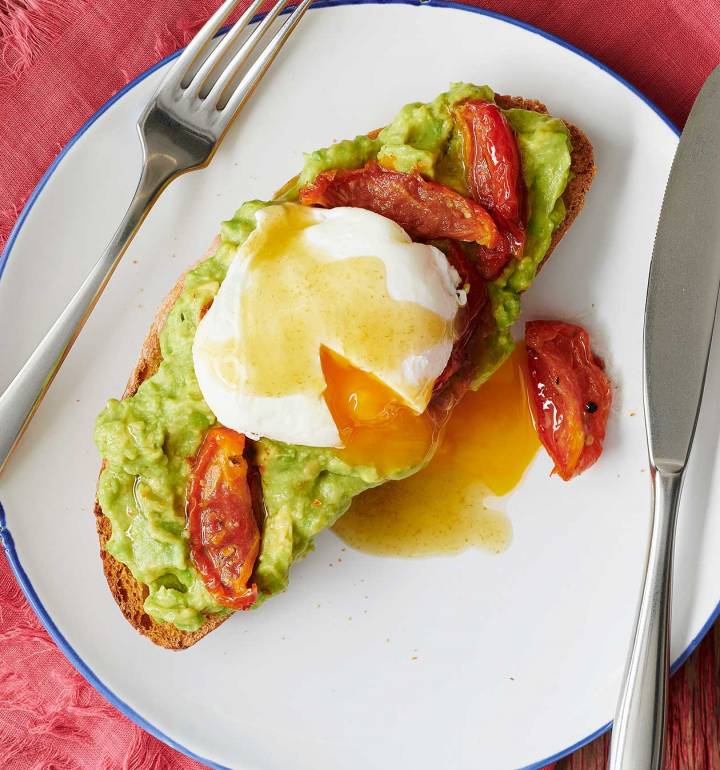 Recipe photography by Mike Hart
Avocado toast with poached egg and Tabasco
Avocados are nutritious and satisfying, packing the ultimate flavour punch when teamed with Tabasco® Green Pepper Sauce. Zingy without being too spicy, it's delicious in these fresh recipe ideas for World Avocado Month this June.
---
Prep time: 10 mins
Total time:
---
See more recipes
Ingredients
2 tbsp white wine vinegar
2 avocados, diced
1 lime, juiced
4 large, very fresh eggs (room temperature)
16-20 semi-dried tomatoes
4 slices sourdough, toasted
Tabasco Mild Green Pepper Sauce, to serve
Step by step
Bring a large, deep saucepan of water up to the boil. Once boiling, reduce the heat to a very, very gentle simmer. You want to only see a few small bubbles coming from the base of the pan. Add the white wine vinegar.
Meanwhile, add the avocado and lime juice to a bowl with some seasoning and mash with a fork.
Crack each egg into a separate ramekin or small bowl. Hover one ramekin close to the water's surface then swiftly, but carefully tip the egg into the water. Repeat with the remaining eggs and let poach for about 2 minutes. Using a slotted spoon, retrieve the poached eggs and transfer to a plate, lined with kitchen paper to drain.
Spread the mashed avocado onto the toast, top with the tomatoes, followed by a poached egg. Season, then drizzle some Tabasco on top and serve immediately.
Don't miss

---