Seed-packed rye loaf
Makes
1 loaf (about 12 slices)
|
total time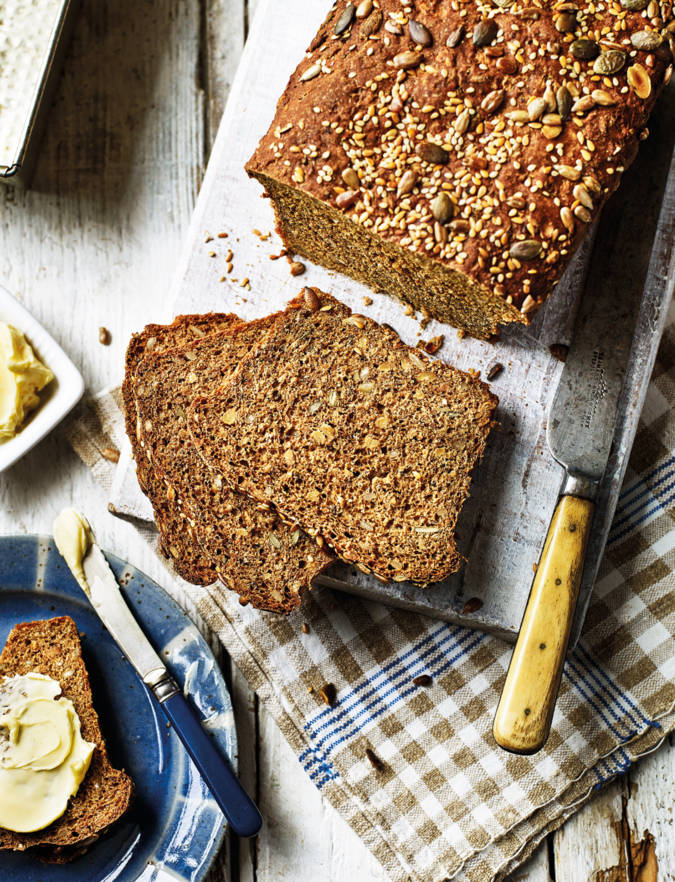 Nutritional information (slice)
See more
Ingredients
200g rye flour, plus extra for kneading

300g wholegrain seeded bread flour

1 x 100g pack seed mix

1⁄2 x 250g pack ready to eat wholesome mixed grains or spelt (we like Merchant Gourmet)

1 x 7g sachet fast-action dried yeast

3 tbsp dark treacle

a drizzle of oil, for greasing
Get ahead
The loaf will keep for a couple of days (better for toast after day one), or can be sliced and frozen for up to a month.
Combine the flours in a mixing bowl (or the bowl of a food mixer) with 75g of the seeds, the mixed grains, yeast and 2 teaspoons salt.
Stir the treacle into 100ml boiling water, then make up to 300ml with cold, so that you have a tepid liquid. Pour into the flours and bring together as a firm dough. Rye flour absorbs liquid more slowly than white flour, so don't be tempted to add extra liquid too soon if it seems a little dry at first. Tip out onto a floured surface and knead for 10 minutes by hand, or knead in a stand mixer on a low speed for 5 minutes.
Pop the dough back in the bowl and cover with a clean cloth. Leave to rise for about 2 hours, until roughly doubled in size. This is a heavy dough, so it won't rise as quickly or as much as a regular bread dough.
Brush a 900g loaf tin well with oil. Knock the dough down and shape into a rough log, about the same length as the loaf tin. Spread the rest of the seed mix out on the worktop and roll the dough in the seeds to coat it all over. Press into the loaf tin. Cover and leave to prove and rise for 45-60 minutes until it has risen slightly above the top of the tin and feels soft and slightly pillowy when prodded gently. While it's proving, preheat the oven to 220°C, fan 200°C, gas 7, and put a small roasting tin in the bottom of the oven to heat for 10 minutes.
Put the loaf on the centre shelf of the oven, and tip a cupful of water into the roasting tin below, to create steam and give a good crust. Bake for 40-45 minutes. The loaf should sound hollow when you tap the underside – if not, return to the oven for 5 minutes, out of its tin. Cool on a wire rack.
A densely textured loaf, richly studded with seeds and grains, that keeps well and is excellent for toasting. Use the other half of the mixed grains to add to a lunchbox salad.