Garlic and herb tear 'n' share bread
---
Makes:
1 tear 'n' share loaf
Prep time: 35 mins
Total time: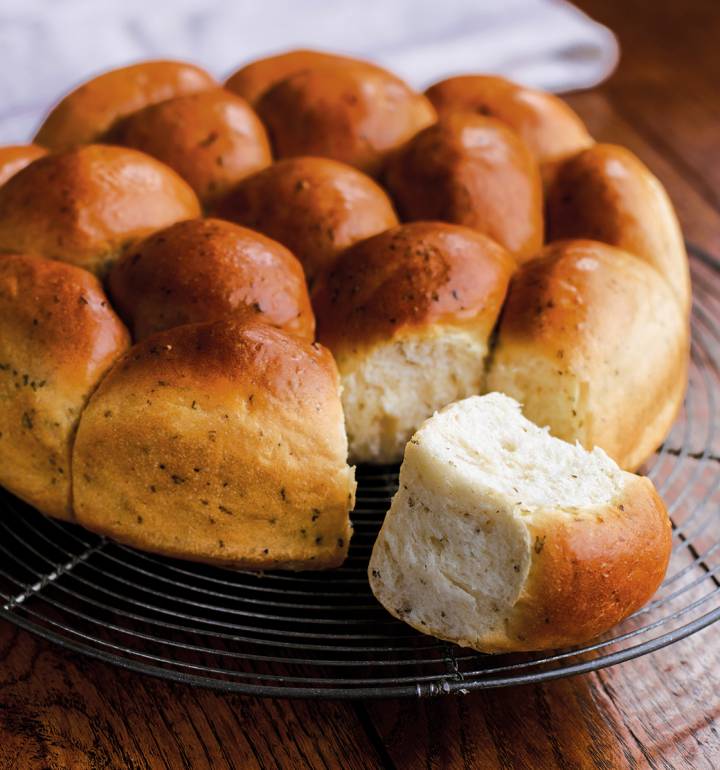 Garlic and herb tear 'n' share bread
---
Makes:
1 tear 'n' share loaf
Prep time: 35 mins
Total time:
---
See more recipes
Ingredients
1 x Paul Hollywood Garlic & Herb Tear 'n' Share Bread Mix
50ml olive oil
320ml cool water
Step by step
Tip the mix into a large bowl. Add the oil and 250ml of cool water and mix together using an electric mixer with a dough hook or you can do it by hand. Add slightly more water a little at a time until you have a soft, sticky dough.

Tip the dough onto an oiled work surface and knead. Continue kneading for 10 minutes. The dough will become less sticky and feel smooth and silky when ready. Place into a lightly oiled bowl. Cover until the dough has doubled in size (approximately 1-2 hours).

Lightly grease and line a 23-inch round cake tin ready to place the bread in.




Top tip: try sprinkling sesame and poppy seeds onto each segment before baking.

Tip the dough onto a lightly floured surface and knock back to remove the air. Divide the dough into 16 equal pieces and roll each one into a ball.
Place one dough ball at the centre of the baking tin and arrange the rest of the dough balls around it. Cover with a clean plastic bag. Leave the dough balls to prove until doubled in size. This should take about one hour.
Preheat oven to 220°C, fan

200

°C,

gas 6. Place the loaf on the middle shelf and bake for 20 to 25 minutes. Allow to cool for a few minutes before turning out onto a wire rack. Brush with melted butter and serve while still warm.

Don't miss

---