Sponsored: OGGS coffee cake
---
Prep time: 45 mins
Total time: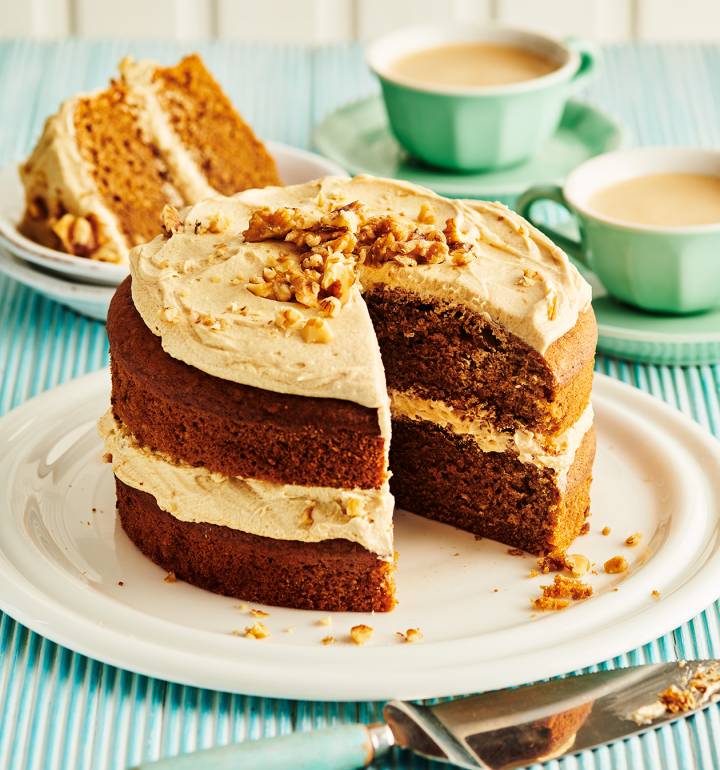 Sponsored: OGGS coffee cake
This recipe uses OGGS Aquafaba instead of eggs to create a delicious vegan coffee cake topped with a creamy coffee and walnut icing
---
Prep time: 45 mins
Total time:
---
See more recipes
Ingredients
For the cake
100ml OGGS Aquafaba
150g caster sugar
100g soft brown sugar
300ml dairy-free milk
160ml vegetable oil
2tsp vanilla essence
400g self-raising flour
2 tsp baking powder
2 tbsp instant coffee with 2 tbsp boiling water
For the icing
150g Flora vegan spread
250g icing sugar, sifted
1 tbsp instant coffee with 1 tbsp boiling water (mixed)
handful of walnuts, roughly chopped
Step by step
Preheat the oven to 180°C, fan 160°C, gas 4 and grease and line 2 x 18cm (7-inch) cake tins with baking paper.
Using an electric whisk, whisk up the aquafaba until you've created stiff peaks and slowly add the sugar until you've made a thick glossy mixture.
Add the remaining wet ingredients and continue mixing on a slow speed.
Using a spatula, gently fold in the flour and baking powder until it's well combined and the mixture is pale and thick.
In a mug, combine the two tablespoons of instant coffee with two tablespoons of boiling water and stir well. Once the instant coffee is dissolved, pop the dark and rich liquid into the aquafaba mixture and fold in well. It should change to an intense light brown colour.
Divide between the two cake tins and bake for 30 minutes until risen and golden.
While your cakes are in the oven, whisk together the icing ingredients. Start off by whisking the vegan spread until it has loosened, and then fold in half of the icing sugar. Add the coffee liquid and stir well before transferring to the fridge to thicken up (about 20 minutes). Once it's out, add the rest of the icing sugar and whisk until it's thick and fluffy.
Wait for the cakes to cool before decorating, otherwise your icing will melt and slide off. Once they're cool, sandwich the cakes together using half of the icing. Pop the other half on top and decorate generously with walnuts.

Be sure not to put too much icing in the middle, because the weight of the top tier cake will press down and, sometimes, icing can spill out!
Don't miss

---