Candy cane fudge from Billington's
---
Prep time: 30 mins
Total time: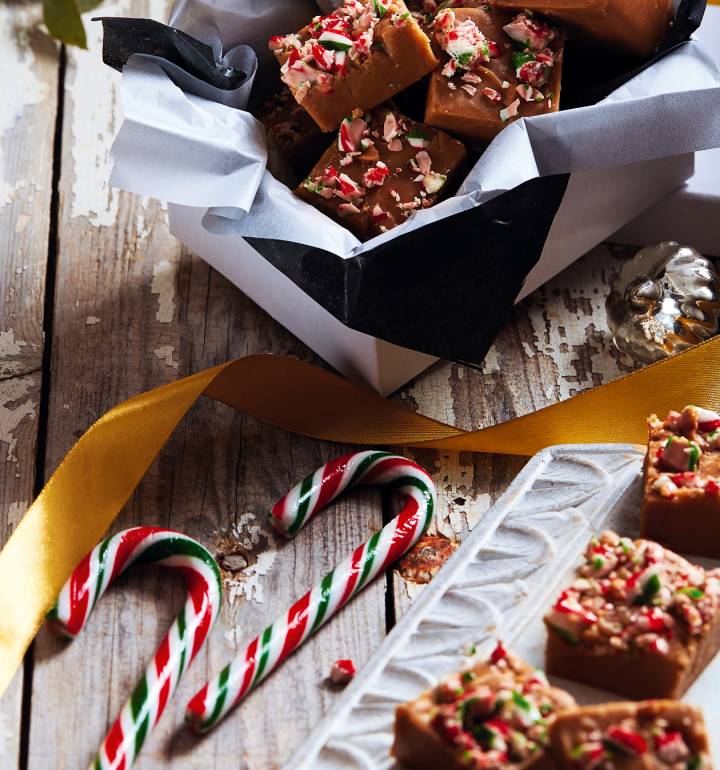 Candy cane fudge from Billington's
This sweet festive fudge makes the perfect Christmas gift for friends and family
---
Prep time: 30 mins
Total time:
---
See more recipes

Benjamina Ebuehi
Benjamina is a baker, food stylist and recipe writer who is known for appearing on The Great British Bake Off in 2016. In 2019, she released a cookbook called 'The New Way to Cake'
See more of Benjamina Ebuehi's recipes
Ingredients
60g unsalted butter, plus extra for greasing
450g Billington's light muscovado suga
400ml double cream
1 tbsp glucose syrup
½ tsp peppermint extract
6 candy canes, crushed
Step by step
Lightly grease a 20 x 20cm square, deep cake tin with butter, and line with baking paper.
Melt the butter, sugar, cream, and glucose syrup in a large heavy-based saucepan over a low heat. Continue to stir until the sugar dissolves, to prevent the mixture from burning.
You will need a sugar thermometer to measure the temperature of the fudge. For an accurate reading, make sure that the end of the thermometer is completely coated in the mixture. Increase the heat until the fudge mixture begins to boil steadily, stirring continually, until it reaches the soft-ball stage (116°C).
Once the soft-ball stage has been reached, remove the pan from the heat and leave to cool until 110°C. Then stir in the peppermint extract.
Beat vigorously with a wooden spoon until the temperature is 60°C – this will help the fudge to thicken and sugar crystals will begin to form, giving it its smooth texture. Remove the thermometer, and continue to beat for a further few minutes.
Pour the fudge into the prepared tin and give the tin a tap on the work surface to level out the mixture. Sprinkle over the crushed candy canes and press down lightly, to fix them to the fudge.
Do not chill in the fridge, as it will make the fudge sticky. Instead, cover with baking paper and leave to set at room temperature for 24 hours before slicing into cubes.
Don't miss

---