Travel
Winter sun in Mauritius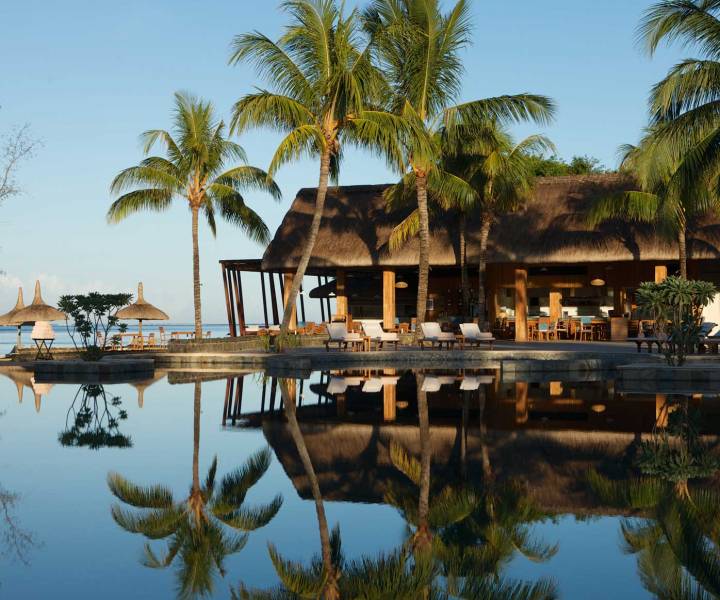 The pool at Outrigger resort
It may be best known for its beaches, but Kate Wills finds Mauritius serves up a rich culinary history, too.
Shakti Callikan, historian and co-founder of the My Moris tour company, has led me down a dodgy-looking alleyway in Port Louis, the bustling capital of Mauritius.
As we perch on stools, plated piled high with doughnuts are thrust in front of us. As soon as we bite into the gato zinzli, I understand why she's brought me here. The chewy pastry, covered in sesame seeds and filled with black bean paste, is delicious. With food this good, you don't need a sign on the door – or even an actual restaurant. Many of the Chinese-Mauritian eateries in Port Louis have been here for four generations.
It's fitting that we've started our tour with something sweet, as it was sugar cane that first brought everyone to this island.Mauritius'sstrategicpositionon the Spice Route in the 16th century meant the Dutch stopped off and planted the first sugar crops, before the French came, renamed it 'Isle de France' and shipped over slaves from East Africa and Madagascar to work on their plantations. In 1810, it became a British colony, and when slavery was abolished, indentured labourers from India arrived and Chinese merchants moved in. For centuris, multiple cultures have co-existed, each bringing something to the country's cooking pot.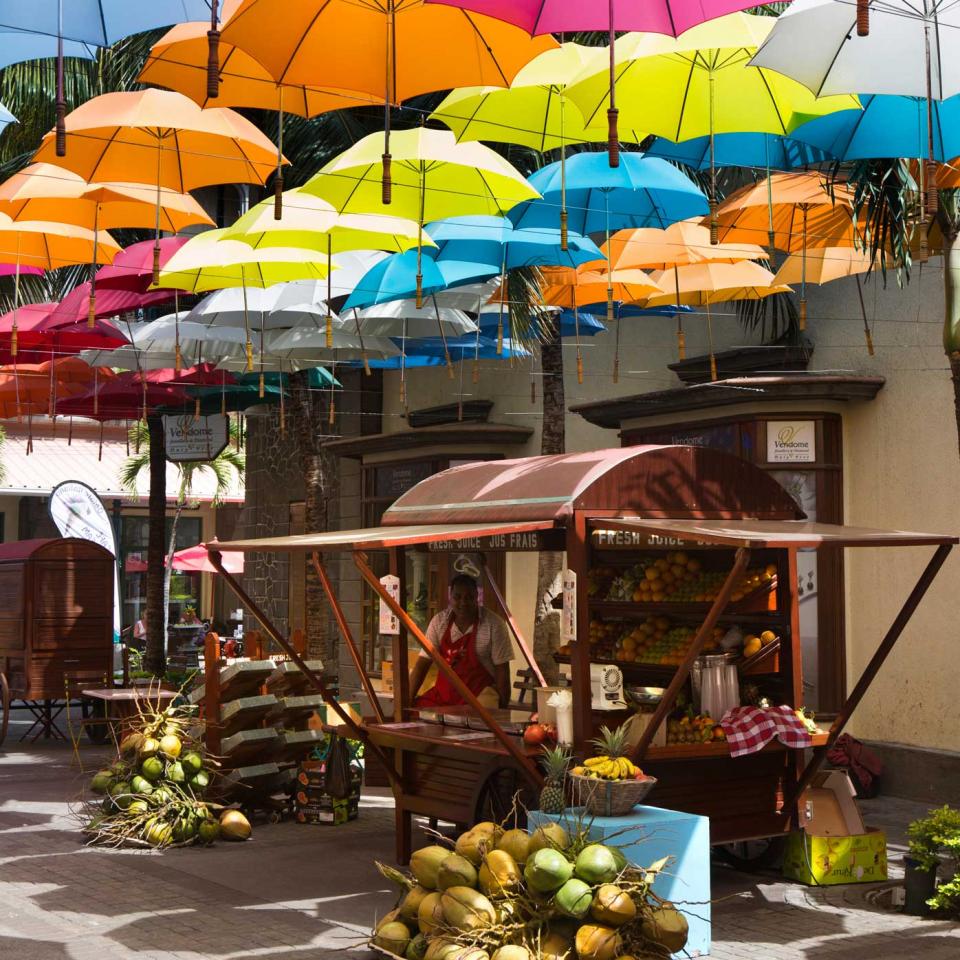 Port Louis
I'm on a misson to go beyond the perfect beaches and discover another side to Mauritius, and a food tour of Port Louis proves a great way to do it. We walk among heaps of pineapples in a market with an ornate 'VR' on the gate – a nod to Queen Victoria – then mosques change to pagodas and we find ourselves in Chinatown. Along the way I graze on dholl puri – Indian-style flatbreads stuffed with chicken curry, as well as the best dim sum I've had this side of China, and gateaux piments – spicy falafel-esque balls, made from lentils right in front of me.
Home for the first few nights is Outrigger, a 17th-century sugar cane plantationt houghtfully converted into an upscale resort in the village of Bel Ombre on the southern most tip of the island, about an hour from Port Louis.
After all that deep-fried, ahem, 'history', I join a tour around the island on electric bikes. We break away from the coastal roads to explore the more interesting – and hilly – inland terrain, passing bundles of lychees for sale on the roadside and miles of swaying green sugar cane. We also wave to occasional shouts of the Creole 'You-kay-mon?' Back at our resort, I tuck into a mountainous seafood platter at the hotel's seafront restaurant, Willie's Rum & Crab Shack, and watch the most extraordinary sunset.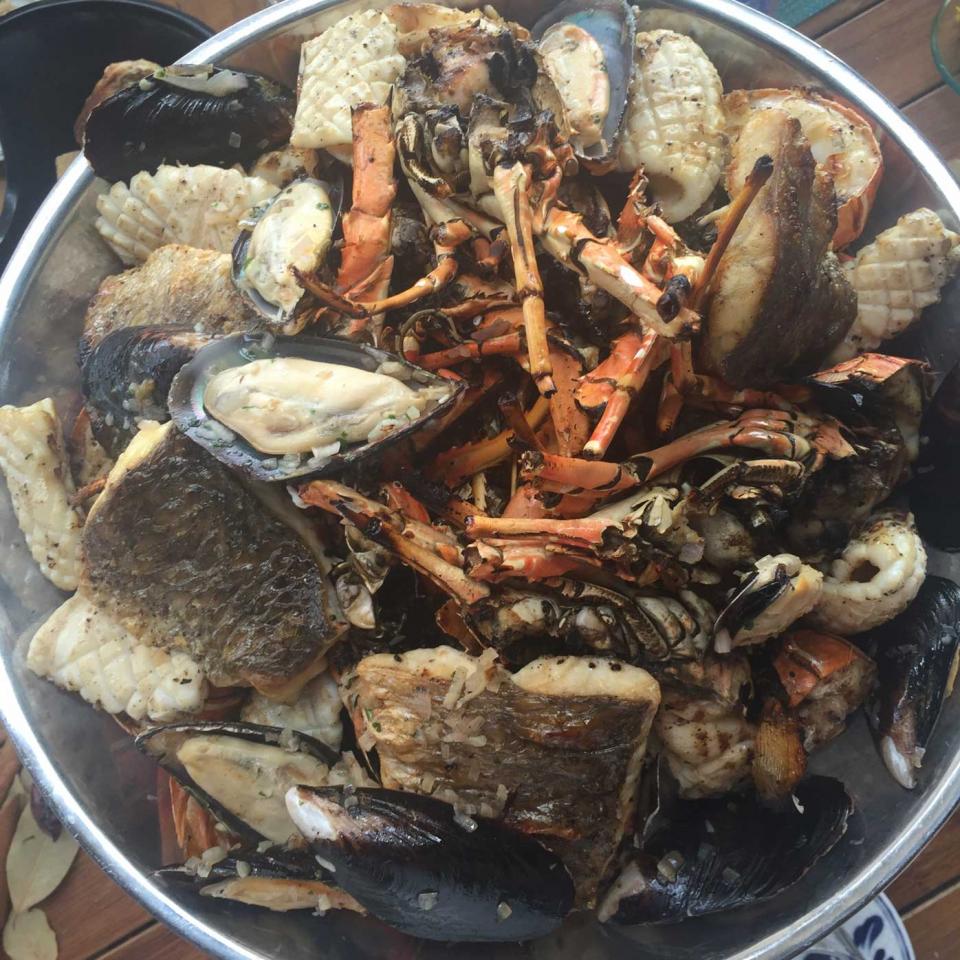 Seafood platter
One day, I enjoy my morning brew at Bois Cheri, Mauritius's oldest tea plantation, a half-hour drive away, sipping its signature blend, Black Vanilla, from the café there. Halfway through my trip, I'm whisked to my second hotel by catamaran. The Residence is a vision of pristine cream parasols on a mile-long stretch of blindingly white sand. With a butler to polish your sunglasses, this is old-school luxury and then some. It's also 10 minutes from the colourful outdoor Flacq Market, where I haggle for some bright pink woven baskets.
On my final night I return to Port Louis for PORLWI, an annual arts festival that cleverly makes use of the city's abandoned historical buildings. Highlights include an art exhibition in the island's oldest jail. There's also a food market, with everything from sourdough pizza vans to taco trucks, but I join locals queueing up for the Mauritian delicacy of palm heart and smoked marlin salad. The 'heart' – the inner tube of the palm tree – has been sliced and tossed, raw, with smoked fish, pineapple, spring onions and beetroot. It turns out palm trees aren't just for postcards – they're pretty tasty on your plate, too.
Getting there
Air Mauritius flies to Mautritius from £790 return. Outrigger Mauritius Beach Resort: Doubles from £252 on a B&B basis. The Residence Mauritius: Doubles from £430 on B&B basis.
Don`t miss

---