Travel
Malaysia travel: A luxury food tour with chef Norman Musa
by Tom Shepherd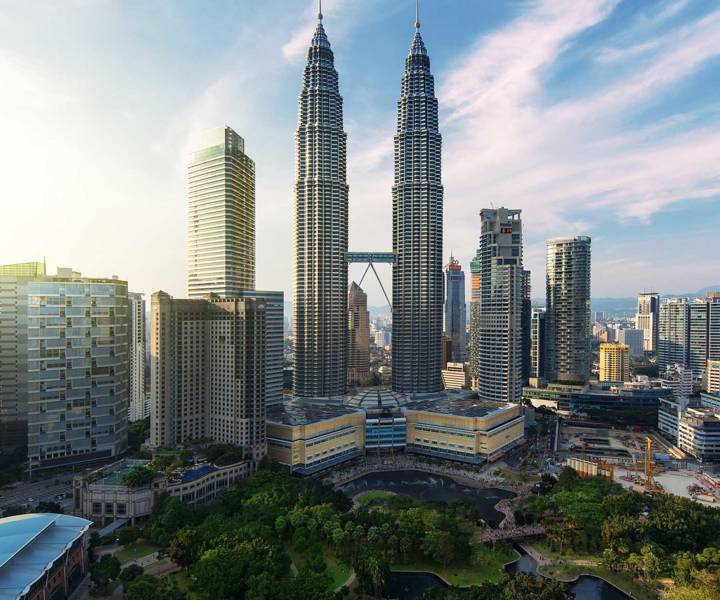 The Petronas Towers. Image: Getty Images
Tom Shepherd gets an insider's view of Malaysia's colourfully kaleidoscopic food scene on a luxury tour alongside chef Norman Musa
Saturday mid-morning and the Chow Kit Market in Kuala Lumpur is coming alive. This is Malaysia's largest wet market, where local cooks have come for decades to barter for the freshest ingredients. Busy tradesmen wheel crates of pineapples and sweaty-smelling durian fruits across the narrow passageways, and every stall has something to marvel at. There are small hills of ginger and turmeric, shallow pools of wriggling catfish, and even a cow's head (the tongue is a delicacy for soup). It feels brilliantly unfiltered.
Helping us take it all in is Norman Musa. Born and raised in Malaysia, Norman has worked as a chef in the UK and Europe for more than 15 years, cooking, teaching and writing about his homeland's food. In his latest book, Bowlful, he describes his joy of cooking Southeast Asian dishes that are packed with diverse ingredients. Today, he's keen to show us some of this local produce at its best. He helps us haggle with the good-natured sellers, and offers round fruits such as pisangmas–likeafinger-size,less sweet banana used for fritters. Norman will be our guide for the next 10 days, as we venture across this nation with food at its heart.
Malaysia has a vibrant multicultural society, with big Chinese and Indian populations alongside the Malays, making its cuisine a wonderfully diverse collage. This trip has been choreographed by Odyssey World, a UK tour operator that specialises in authentic travel, to give us some intimate and unusual experiences with the traditions and people that make it that way. Coming along are 12 other foodies with home addresses from across the world, as we travel the country's west coast, starting in the capital.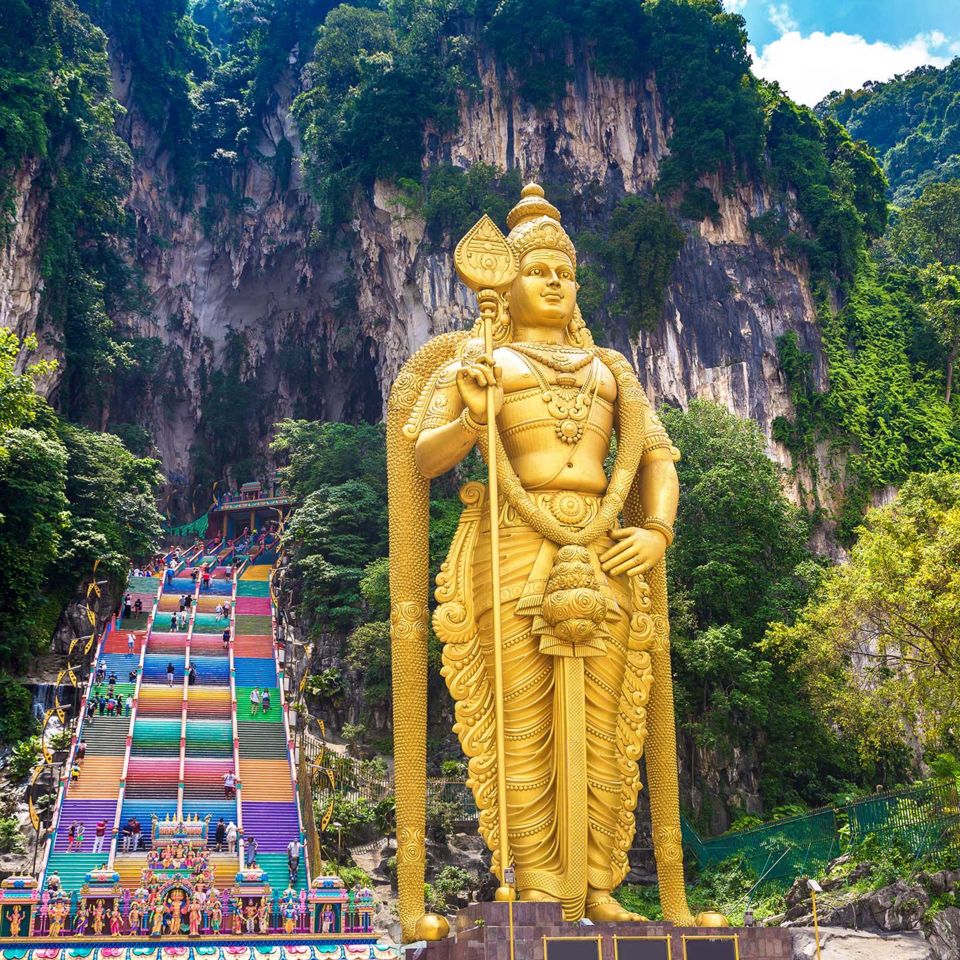 The deity Lord Murugan statue at the Batu Caves. Image: Getty Images
The trip also includes some spectacular accommodation. First, it's The Majestic Hotel Kuala Lumpur. Standing across the road from the old Moorish-style train station, it's made up of two parts: the original 1932 building – when it was known as the grandest hotel in the city – and the contemporary 15-storey Tower Wing, added in 2012. The whole place has a gorgeous colonial charm, and while there are fancy modern facilities, it's the pre-war-style spa, cigar room and tea lounge that get the big reactions. We even sit down for an afternoon tea with scones and crustless sandwichesintheorchidconservatory. The Majestic sits in the older part of the city, surrounded by delicate-looking colonial architecture.
There are bustling markets and tourist sites like the Islamic Arts Museum Malaysia close by, while a hop on the metro gets us to the rocket-like Petronas Towers – once the world's tallest buildings when opened in 1999. There are also endless opportunities to eat. Norman explains that Malaysia has more of an eating culture than a drinking culture, with many food places open into the early hours. That notion comes to life on a nighttime trip to Jalan Alor – a crowded 500-metre street lit up on both sides by street-food stalls, where we snack on Chinese-style squid and prawns. But our big introduction to some Malaysian specialities comes at Restoran Rebung. Run by the country's food ambassador, chef Ismail Ahmad, this jazzy buffet restaurant has the easy atmosphere of a friend's living room, and we make ourselves at home.
Plates are piled with rich beef rendang, smoky chicken satay and the national dish nasi lemak – fragrant rice cooked in coconut milk, with sambal chilli sauce, crispy anchovies and peanuts, all wrapped up in a banana leaf. For dessert, there's an assortment of kueh – wobbly, rainbow-coloured cubes made with rice flour and coconut milk. They have a curious, light sweetness.
Our next destination sees us embrace a wilder side of Malaysia. But before making the 200km trip north to Pangkor Laut, we make a stop at the Batu Caves, a Hindu religious site. These spectacular limestone cavities house incense-perfumed temples, where tens of thousands of worshippers will visit during the three-day Thaipusam festival in late January or early February. Watching outside is a towering gold statue of deity Lord Murugan, while the site's 272 steps, brightly coloured like a children's xylophone, are paraded by long-tailed macaque monkeys. They nibble fruit harmlessly as we pass, but we're assured they're deft at mugging unwitting tourists.
This brush with wildlife readies us for Pangkor Laut Resort, a private island retreat nestled on the edge of an ancient rainforest. We arrive from the mainland by speedboat, and it immediately feels like stepping into a postcard. There are leaning palms, emerald waters, and staff handing us ice lollies for the heat. We soon discover that this is a fair reflection of life here: it's a place of mojitos on the sand, guided nature walks and dips at the elegant spa village, while my hill villa (there are also sea, beach and garden options) is nicely in-keeping with its high wooden ceiling, marble bathtub and massive balcony for the sea view. It's only guests and staff inhabiting the island, making it feel properly remote.
As for the animals, we encounter a rare great hornbill, many scurrying geckos and a tree full of noisy flying foxes. It's clear that food is a big deal on the island once you step into its Fisherman's Cove restaurant, where fresh catches are shown off on ice. Our table looks to the ocean, and a late-night storm breaks on the horizon as I stick a fork into blackened red snapper and white prawns tossed with citrus aioli and caramelised walnuts. The resort champions local produce, which we see first-hand on a morning trip to a family-run anchovy farm on nearby Pangkor Island. We watch buckets of sought-after blue-eyed anchovies get spread out to dry in the sun (anchovies are sold dried and crispy in Southeast Asia, explains Norman). Then it's on to a floating fish farm, where we hook flailing red snappers from the wooden boards. We'll cook them up later in a class with the resort kitchen team.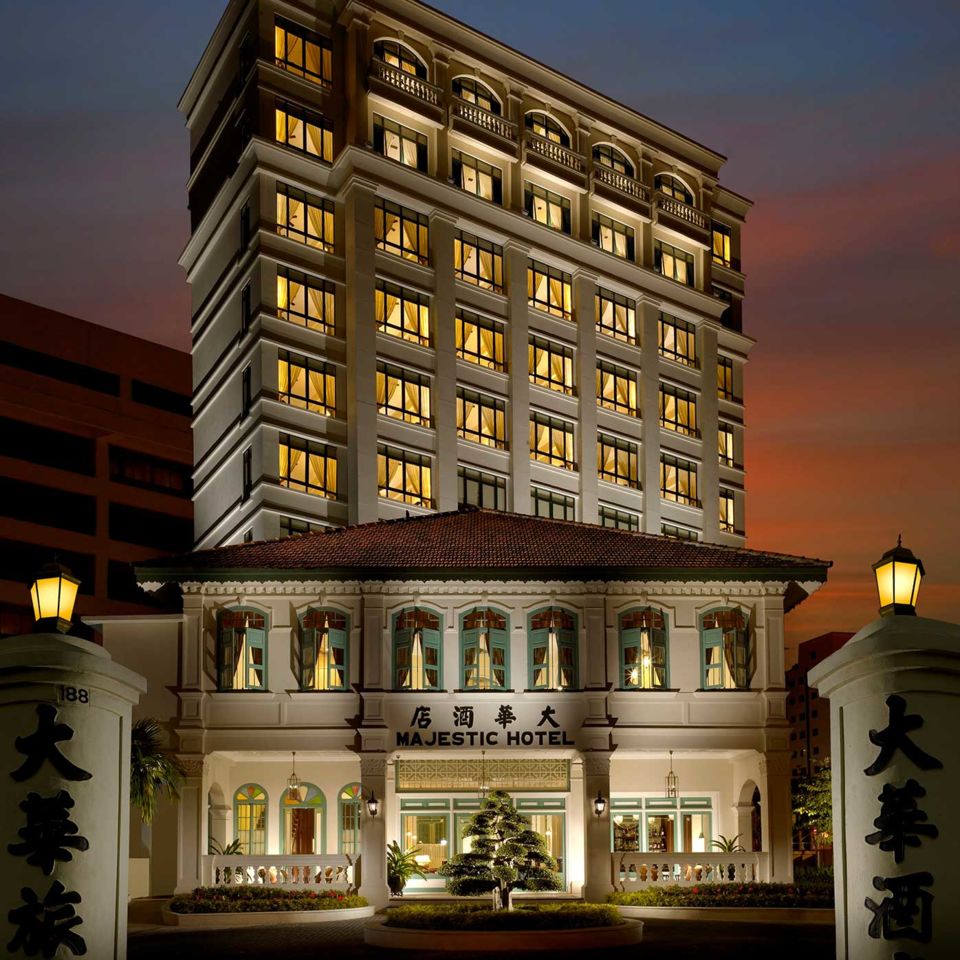 The Majestic Malacca hotel
Our next drive is 180km north to George Town on Penang Island, which is connected to the mainland by bridge. This 'food capital' of Malaysia has Unesco world heritage status for its mélange of cultures, and it's also a brilliant collision of the old-world and new. It's a place where intricate Chinese temples and clan houses share the pavements with buzzy street-art hubs and cafés that host slam poetry nights. Our base, the grand Eastern & Oriental Hotel, is firmly older generation, and has been welcoming travellers since 1885. But it's far from outmoded. In the past decade it's added a new wing and restored its original site. So while it retains some old-world quirks (my enormous suite still has an original butler bell), its restaurants, spa and facilities are notably lavish. It's well placed for getting to know the city, too, and on separate evenings Norman leads us through Little India and to the popular Gurney Drive hawker market. At the latter, I try a stall's char kuey teow – flat soupy noodles stir-fried with soy, cockles and gargantuan prawns. It's umami heaven. Penang is also where the tour takes its most intimate turn.
We take a pre-lunch trip to Penaga to see a more rural part of the mainland, and pass through Butterworth where Norman grew up. On the way he shares stories – about school, family weddings, being the first in his village to study abroad, and the food stall that his late mum used to run. After finishing their homework, he tells us, he and his brother and sister would peel potatoes for the stall's curry puffs the next day. We drive through humble villages with mango trees in front gardens, and drop in on Norman's cousin, Halim, and his family. Birds in cages sing in the entranceway, and we leave a pile of shoes at the door as we're welcomed into their cosy home with bright pink and green walls. A table of snacks awaits us, including jackfruit, crunchy fish crackers and hot sweet tea, before we're taken to see the household's paddy field at the back of the house. It's a moment of Malaysian hospitality that's as real as it comes.
Later in Penang, we have our second cooking class of the trip, this time with Norman. It follows a tour of the local Tropical Spice Gardens, a lush collection of spices and plants important to the area. In the on-site kitchen, Norman leads the group through his recipe for kapitan curry, a chicken dish traditionally favoured by wealthier households that he's chosen because it showcases the plethora of ingredients – things like lemongrass, fenugreek and candlenut – that make up Malaysian cooking. It's also a good example of nyonya cuisine – a style of cooking created when Chinese immigrants blended their traditional ingredients with Malaysian techniques and spices. If the idea of cooking with a pro sparks a few nerves, you couldn't ask for a more genial coach than Norman – though he doesn't hesitate to tell me my final dish is too sour, and to add more coconut milk.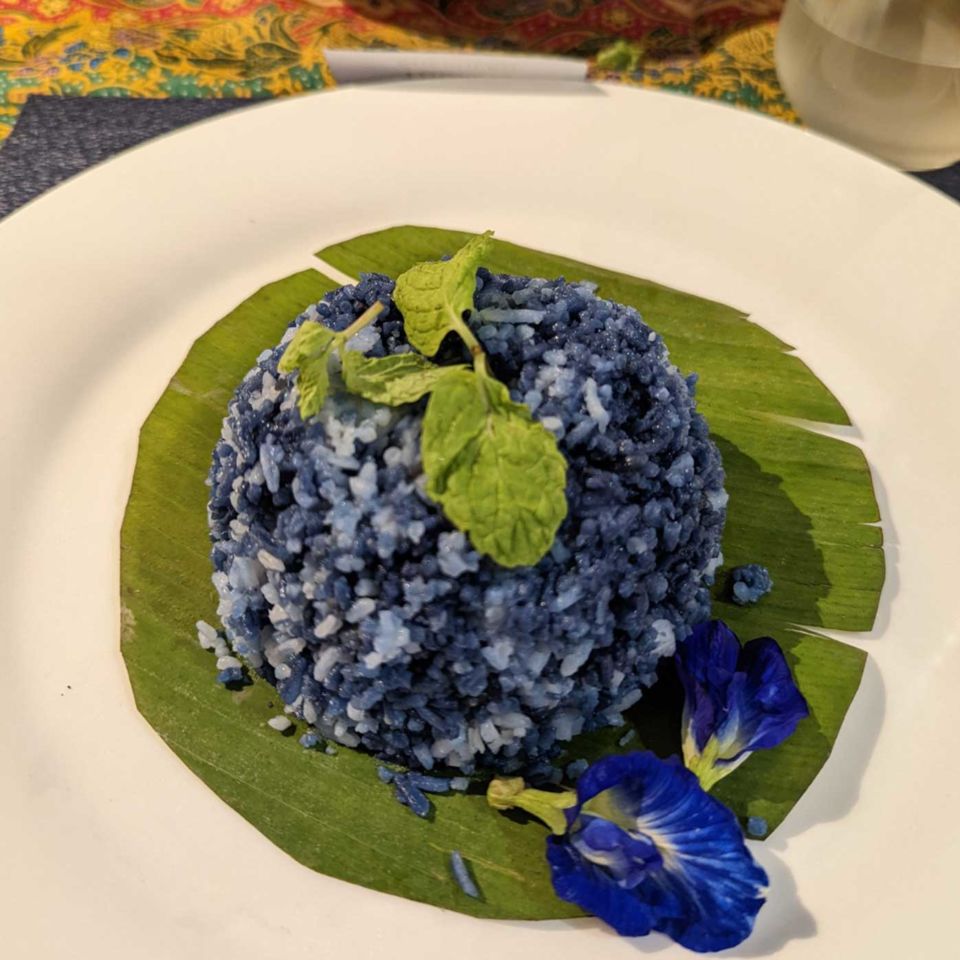 Blue pea flower rice
We board a flight for our final stop, Malacca. This historic city (another Unesco site) was once on the Silk Road, and has been occupied at different times by the British, Dutch and Portuguese, leaving a mark on the local culture and cuisine. It's why you'll find things like pineapple tarts and Portuguese grills at the carnival-like Jonker Street night market, where we dodge rickshaws and listen in on karaoke being belted from a Chinese temple. While here, we rest our heads at The Majestic Malacca, a beautiful restored 1920s Straits Settlement mansion.
We're served lychee black tea on arrival, before I'm shown to a room with bespoke traditional furniture and a free-standing clawfoot bathtub. Facilities here include a spa with therapies based on Malaysian baba-nyonya culture, a picturesque library and an ornate dining room. I purchase a jar of kaya jam – a sweet coconut paste – from the kitchen to take with me. The hotel watches over the Malacca River, which drives through the heart of the city. It's a short walk to the humming centre of bars, cafes and art shops, and to a road nicknamed 'Harmony Street', where the country's oldest Chinese temple, founded in 1645, sits a few doors down from a Hindu temple and Muslim mosque, both built the following century. It's simple evidence of the country's many cultures peacefully getting along.
Before we know it, it's time for farewells, and we end on a high. We meet the kindly Jennifer, who runs the nyonya pop-up restaurant Donald & Lily, named after her late parents, who ran a hawker street cart in the 1970s. Since the pandemic, she has been organising private dinners in a second-floor space in a building called the Bendahari in the town centre. As we sit around a long, colourful table, she brings out bowls from the kitchen, with dishes like daging masak lemak (beef cooked in spiced coconut gravy), ayam goreng berempah (marinated fried chicken) and rice cooked with blue pea flower, making it an appealing shade of navy.
It's a homely finale. Before we leave Malacca, I ask Norman about how Malaysian food is seen in the UK. He reasons that due to its tapestry of influences, it's not always easy to project a definitive idea of what Malaysian food is to the rest of the world. 'Because there's such diversity, you really have to be here first to see and understand the cuisine,' he says. Having spent the past week and a half enjoying the food here and meeting the people that make it, I feel like I'm a little closer.
How to book
The Great Culinary Escape returns to Malaysia with chef Norman Musa on 21 September 2023. Odyssey World also takes their Great Culinary Escape to South Africa on 17 November 2023. Both tours are escorted luxury small group journeys, ideal for adventurous foodies seeking authentic and fun-filled travel.
Limited places remain and can be booked directly with Odyssey World by calling 0117 313 7070 or emailing enquiries@odyssey-world.co.uk. For more information about travelling to Malaysia, visit malaysia.travel
Don`t miss

---