Travel
Travel review: a family affair at the Grand Hotel Villa Serbelloni
by Helena Lang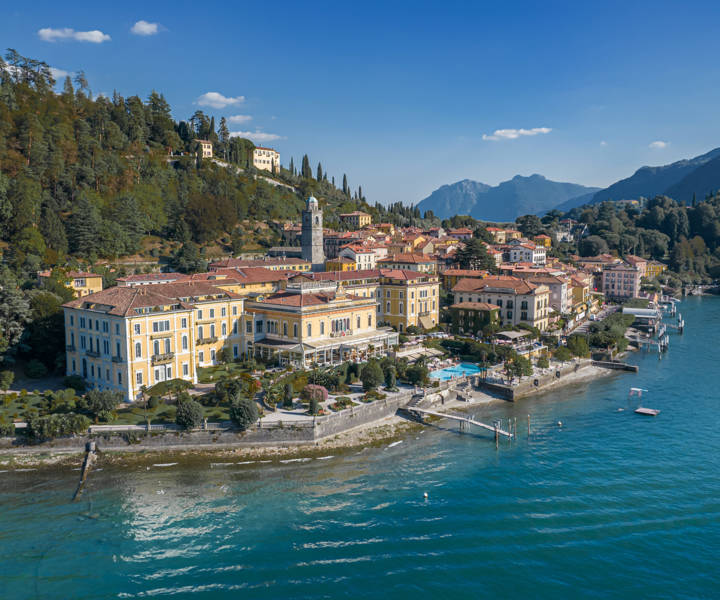 The Grand Hotel Villa Serbelloni
At the Grand Hotel Villa Serbelloni on the shores of Lake Como, Helena Lang discovers how centuries of family passion have kept this film star favourite at the top of its game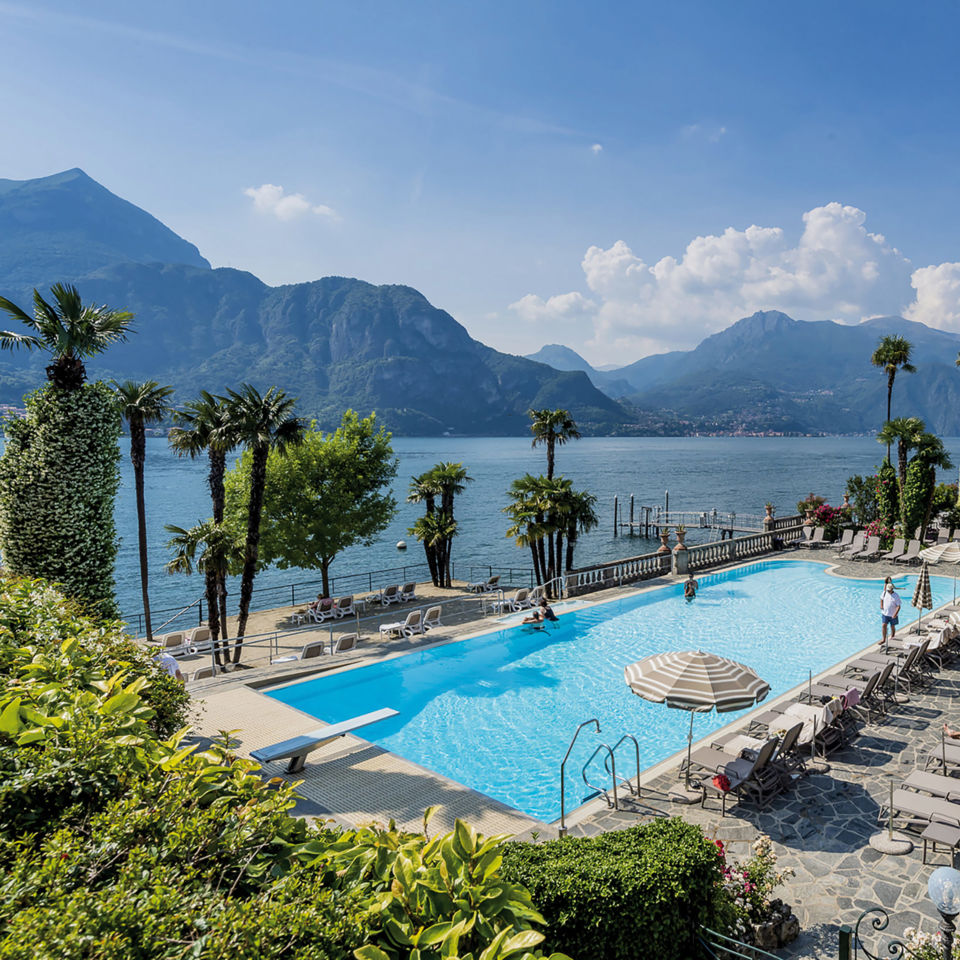 The pool view at the hotel
Lake Como. Surely one of the most beautiful and glamorous places in the world with its romantic villages, chic and sleek water taxis, and Italian residences of – swoon – George Clooney and many other celebrities? My longed-for visit had begun the night before at the less swanky but completely comfortable Mercure Hotel at Heathrow. Smart, modern, convenient and functional, it provided a dream-inducing bed, a piping hot morning shower, and tea and coffee essentials, all of which softened the blow of a never-to-berepeated 5.15am check-in time for my flight to Milan Linate airport.
Rested and calm, I even enjoyed the one-hour transfer from the airport to the surely-it's-a-film-set village of Bellagio, catching glimpses of the lake between trees and down cobbled streets before our car swung through the large cast-iron gates of the primrose-yellow Grand Hotel Villa Serbelloni. The antithesis of sleek, modern, urban hotels, this place revels in tradition and history. With its piped white-icing plasterwork, sturdy columns and pillars, swaggering drapes and chandeliers – dramatic, huge and glistening from every ornate ceiling – this is a hotel to see, and be seen in.
We're greeted by the charming, handsome Jan Bucher – a member of the fourth generation of the family to own and run the hotel. His parents still live on site, in a charming annexe, and his mother, Dusia, still influences the hotel's style and decoration, adding all-new glossy, marble bathrooms last winter to the sumptuous rooms and suites, which have original silk quilt covers that were hand sewn by local seamstresses. It's personal here: guests are provided with luxury but still made to feel right at home. Downstairs between the spa and the outdoor pool there's a gallery wall with images and memorabilia from the building's history, first as a holiday home for a noble family from Bergamo, and then as a hotel where presidents (Roosevelt and Kennedy), prime ministers (Churchill, of course), and the great and the good of the film industry (Al Pacino, Clark Gable, George Lucas and more), have wined, dined and plumped their pillows. Even the piano in the lounge has had its ivory keys tinkled by composer Franz Liszt.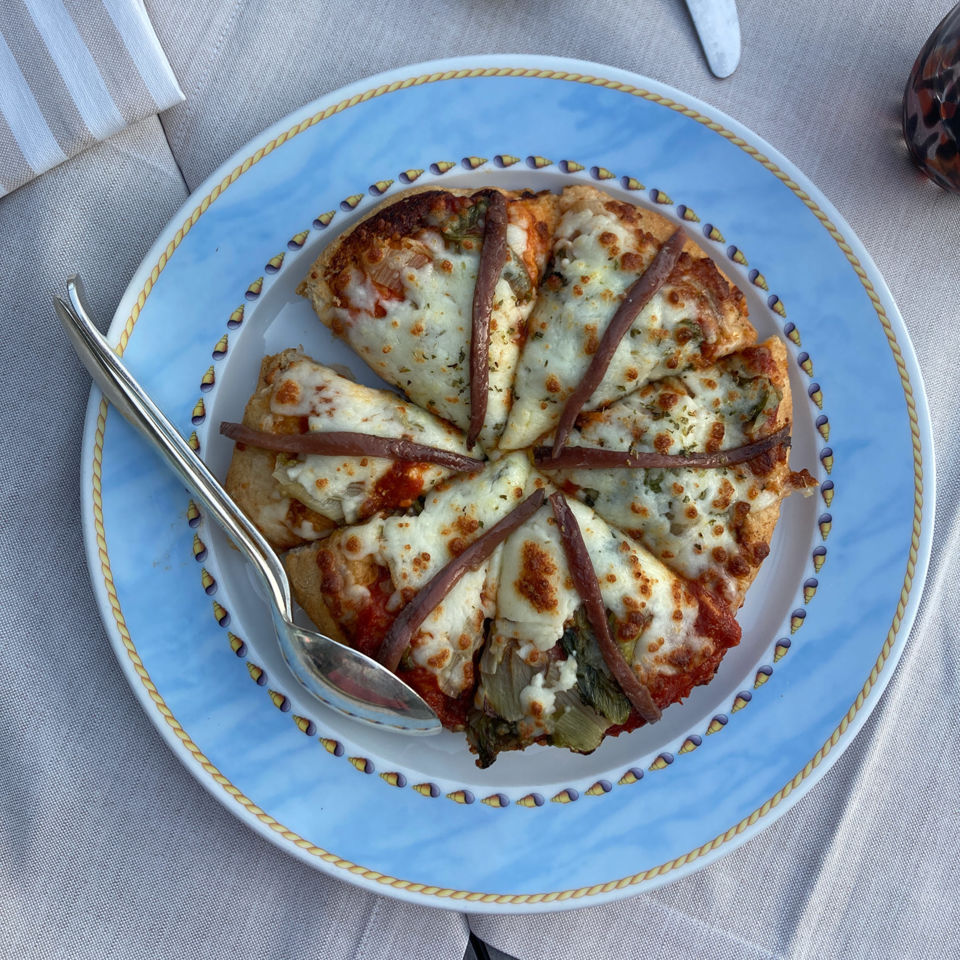 Pizza at La Goletta
But it's not just the guests who are stars. The Mistral Restaurant, in its covered conservatory terrace, is the brainchild of visionary chef Ettore Bocchia – Italy's equivalent of Heston Blumenthal. The seven-course tasting menu served at dinner is pure theatre, which kicks off with Sicilian red prawns with guacamole ice cream, coconut cream and cuttlefish-ink waffles, and ends with pineapple with nitrogen ice cream: a rabbit-out-of-the-hat display of smoke, ice and magic. Along the way there is 'ethical' foie gras, which is produced nearby from free-range geese without any force feeding, and peacock tortellini in broth. I kid you not. It's all accompanied by a dramatic pink and orange sunset and the real star of the show – the magnificent view across the lake.
It's not all posh nosh, however. Downstairs by the pool there's the casual La Goletta Restaurant, where we tucked into the hotel's homemade pizzas. My choice was laden with spicy endive, mozzarella, anchovies and oregano and was a plate of puffy, rich, savoury deliciousness that could have won any cheesestretching competition. The ultimate fun, though, has to be sipping a 'Serbelloni' spritz – prosecco with rhubarb syrup, an artichoke liqueur called Cynar, bergamot and soda water on the Terrazza Darsena, watching the water taxis come and go and the chic, sun-loving guests diving off the pontoon into the beautiful, blue water. Outside the hotel there are bars, cafés and restaurants to explore: La Punta specialises in the local lake fish, which you can order grilled or sautéed in butter and sage, while at Bilacus meat dishes such as roasted lamb loin with Taggiasca olives gave us plenty of comfort on what turned out to be a rainy day. Follow this with a few digestifs at the Bar Caffe Rossi, the local hotspot.
Bellagio itself is easy to explore on foot, and I frittered away my euros in the little boutiques before posing in front of the gorgeous painted houses with their tumbling tubs of geraniums, topsyturvy balconies and fadedby- the-sun shutters. There were no movie stars spotted, unfortunately, but Bellagio, Lake Como and The Grand Hotel Villa Serbelloni had all the star quality needed to make this travel writer swoon.
How to book
Nightly rates at Grand Hotel Villa Serbelloni start from €577 (approx £509) for a Classic Park View Room. For more information, visit villaserbelloni.com. The Mercure London Heathrow Hotel starts from £66 per night for a double bedroom. To book, visit all.accor.com.
Don`t miss

---