Travel
Travel review: The Mouco Hotel in Porto
by Helena Lang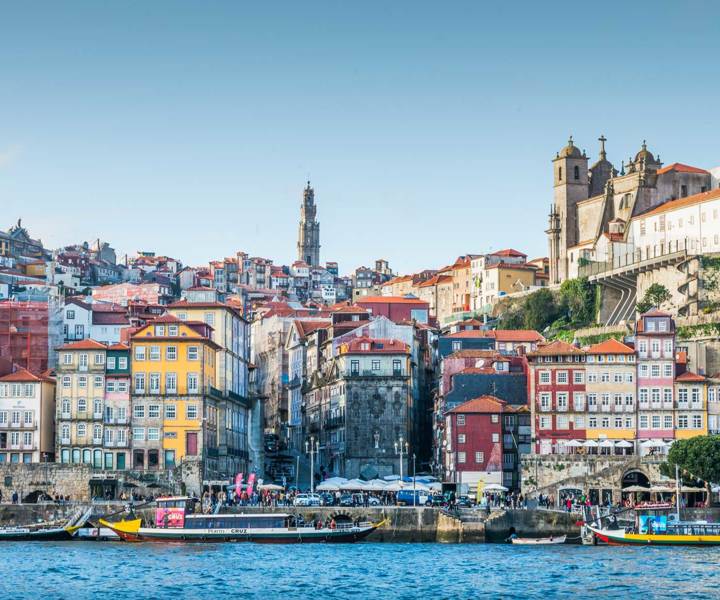 Porto in the sun. Image: Getty Images
From quaint trams to the hippest of beach clubs, this vibrant city offers something for everyone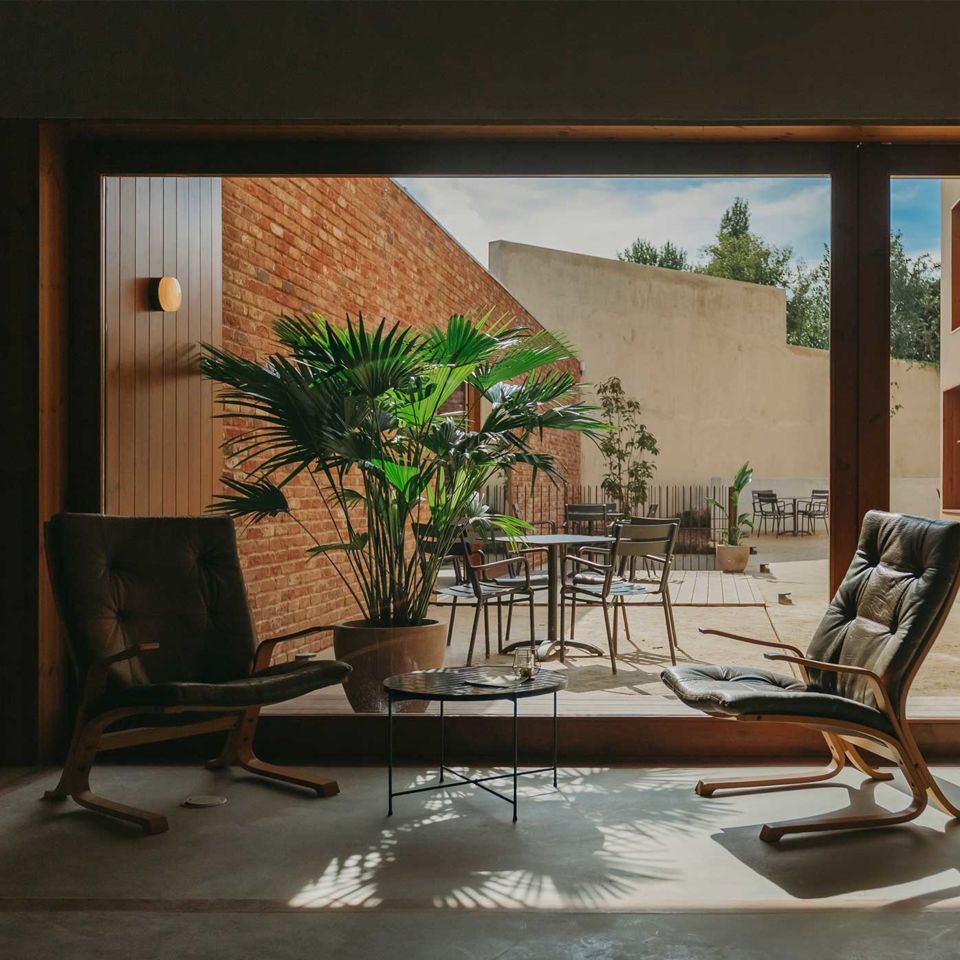 The hotel's bar area
The Mouco Hotel in Porto is very cool. About as cool as the city's most ordered drink – a white port and tonic, served over ice with a mint leaf and lemon slice. It's a sleek, stylish oasis, set in the midst of a dusty commercial district a good 15-minute walk from the centre of this vibrant, colourful and bustling city. The walls and floors are smooth-as-silk taupe concrete, the furniture is hipster-ish mid-century modern, the styling is very no frills, and on arrival every guest is presented with a record player for their room, and you can choose a selection on vinyl from reception to give your weekend break its very own soundtrack.
Like I say... very, very cool. In addition to the record player, all guests are handed a smartphone that can be used to contact reception and check the weather – but the best feature is the collection of well-put-together walking tours to download and use. The walk we chose gave us an excellent sense of the city, taking in the beautiful tiled Church of Saint Ildefonso near the atmospheric Batalha Square and the São Bento train station – surely the most beautiful station in Europe?
Exploring Rua Santa Catarina, Porto's busiest shopping street, we made a stop at the art nouveau Majestic Café, where locals and tourists sip coffee and nibble on the French toast – a house speciality scattered with dried fruits and a creamy egg custard. Naturally, no trip to Porto is complete without a port house tour. On a sunny morning we crossed the iconic Luis I Bridge by foot, dodging the trams to the south side of the River Douro, into Gaia, actually a city in its own right.
Here all the familiar names – Sandeman, Graham's, Cockburn's and more – have their original warehouses, but we had chosen to visit Ferreira, the last remaining porthouse in Portuguese ownership. In the magnificent and atmospheric building, we learned about port production, explored the 300-year-old cellars and enjoyed a port tasting before lunching along the river bank,where dozens of small restaurants vie for tourist euros. Tempêro D'Maria seemed a cut above the rest, and we demolished the most delicious cauldron of seafood rice.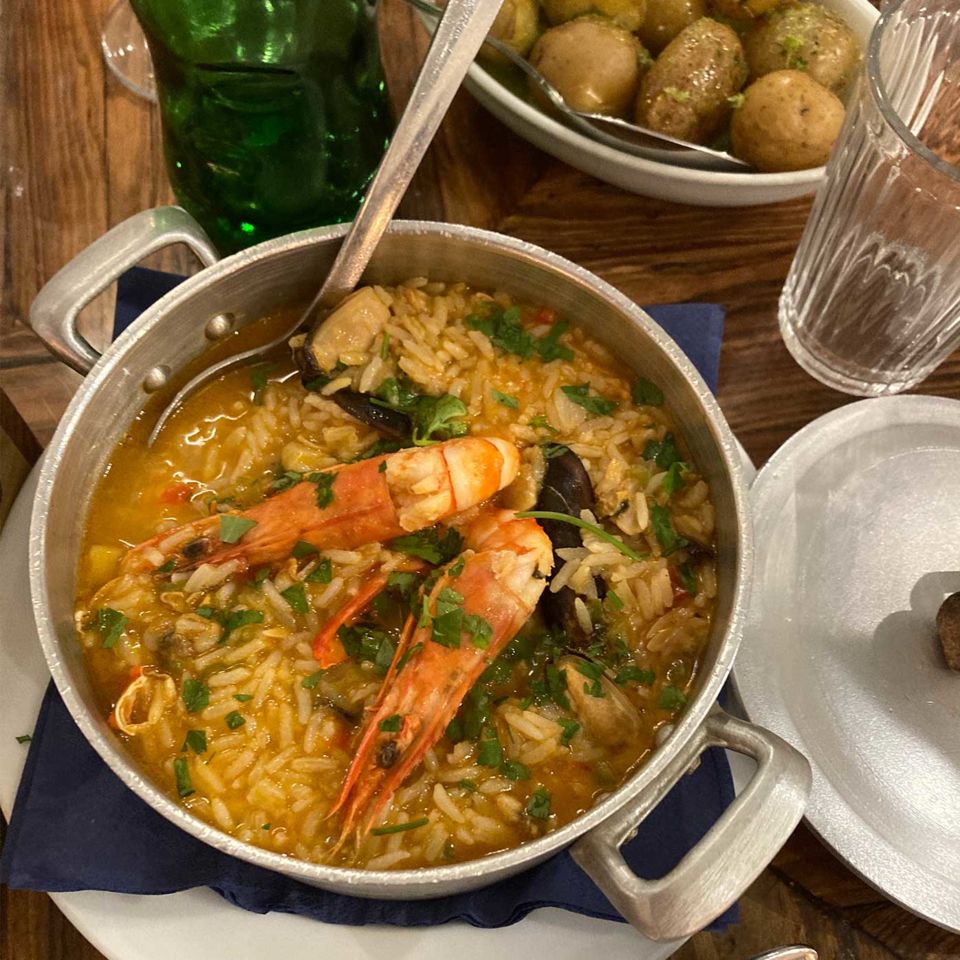 The seafood rice
A day at the seaside is also great fun, especially if you get there on the Number 1 tram. This gorgeous 1930s gem rattles its way from the Infante stop in the city to Foz, screeching past fishing villages, museums, parks and bridges. Most travellers do the whole journey and get off at the Passeio Alegre stop, where you can walk to the Farolimde Felgueiras lighthouse before spending the day at the beach... or at the Praia da Luz beach club, like we did. Here, you can up your cool factor further at a beachside table, sip cold white Portuguese Albariño, eat beautifully grilled fish, go for a dip, wiggle around to the DJ's tunes and then start all over again. We managed to make our visit last from 2pm until 10pm before we caught our Uber back to the Mouco, and it was genuinely one of the most fun days of my life.
Back at the hotel, the party continued in the bar, where another DJ was spilling the tunes, the white port and tonics were piling up on the tables and there was a fabulous atmosphere. This is not a city or a hotel for shrinking violets. The food at the Mouco is also impressive. At the indoor/outdoor bar you can order sandwiches, burgers or more traditional platters of Portuguese specialities, including charcuterie and local cheeses. The excellent wine at €2.50 a glass is a perfect accompaniment. Dinner is served in the chic and minimalist downstairs restaurant. Here the bread comes with sardines, tapenade and butter stuffed with red pepper and sprinkled with fleur de sel. Simple starters such as my vivid green spinach soup served with salmon tartare and some chunky goat's cheese toasts drizzled with local honey were hugely satisfying.
The main courses were perfectly judged comfort food. A piece of baked cod came with pomme purée and a smoky paprika oil; a monkfish and prawn rice dish heaved with seafood and was sprinkled with fresh coriander. The fruity, sticky fig sablé was a riff on tarte tatin and came with cooling ice cream. Also recommended is dinner in the buzzing arts district, where there are dozens of bars and restaurants to choose from. Meia-Nau is a gem, where fish lovers can indulge in platters of calamari, grilled octopus, huge prawns and silvery fish, piles of crispy fries and well-dressed salads. Cool hotels, cool drinks, cool beach clubs and even cooler restaurants make Porto possibly the hottest destination for a 2023 mini-break. Why not pour yourself a white port and tonic this evening and start planning your trip.
How to book
B&B at The Mouco Hotel starts from €85 (£75) per room per night. For more information, visit moucohotel.pt.
Don`t miss

---