Travel
Travel review: Grande Real Villa Italia in Cascais
by Tom Shepherd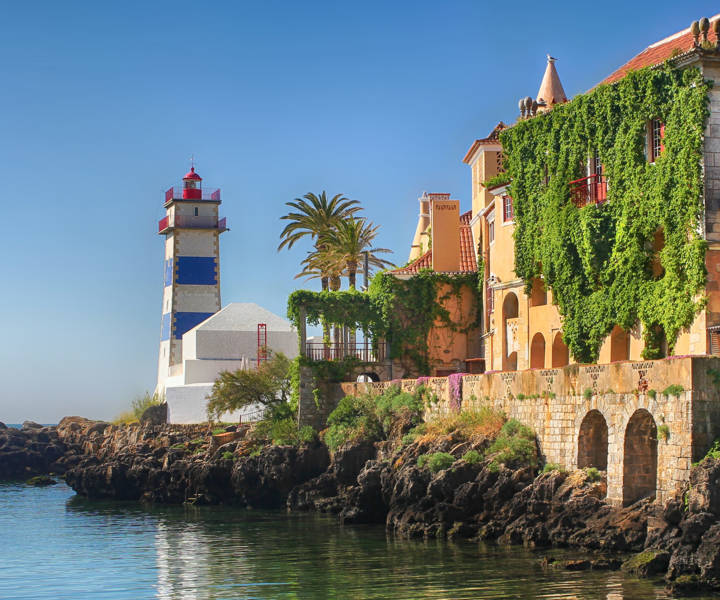 Image: Getty Images
Once the holiday destination for Portuguese royalty, this coastal town is still filled with elegant charm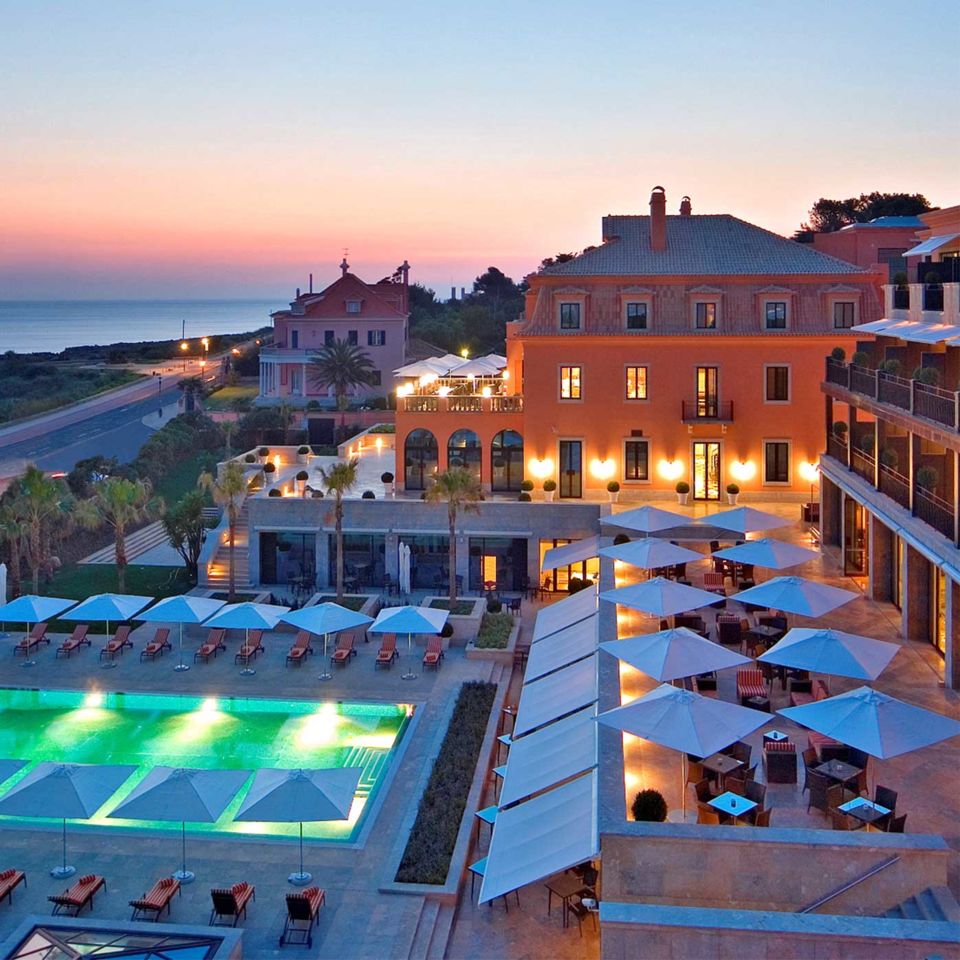 The Grand Real Villa
Your tour book will tell you that Cascais gets more than 300 days of sun a year, but today isn't one of them. Instead, shark-grey clouds watch over us as we hike the dusty paths of the Quinta do Pisão nature park, making its up-and-down hills look extra dramatic. We're told by park manager João that these 380 hectares have seen a big change in a decade. What was previously an abandoned wasteland has been regenerated into a little paradise, with eco-friendly farming, hiking trails and a focus on agriculture and forestry. It's majorly charming. We pick up two Miranda donkeys – long brown fur with white patches around the eyes – to join us on our walk. I'm handed the reins of one, who makes a gentle companion, at least when we're pulling in the same direction.
Later we meet Telmo the resident beekeeper in his bright yellow suit, and spot silver wild horses stomping around. It all ends with a Med-style picnic at a pop-up glamping site, soundtracked by the fizzing of grasshoppers. Feeling rejuvenated after our day trip, we head back to Cascais' coastal town centre, 20 minutes down the road, where the tone is just as relaxed and pleasant. Sitting about 30km west of Lisbon, this former fishing village famously became a chic hotspot for the wealthy and royal in the late 19th century, once King Luis I picked it as his annual summer retreat, and today a feeling of laid back glamour still clings to it. Beautiful tiled streets weave around pastel-toned residences in the old town. Golden beaches glide all the way up to the unhurried high street. And elegant mansions and hotels dot the majestic coastline, inview of the boxy Santa Marta Lighthouse – which could be a Wes Anderson movie location.
One of these hotels is the Grande Real Villa Itália, where I'm staying. The royal theme continues – part of the hotel is where the last king of Italy lived in exile. When you arrive it feels palatial but modern, and the staff are very sweet. My room comes with big armchairs, a balcony that gazes out towards the cold Atlantic, and would be big enough to rehearse a small play in. The amount of brown marble in the bathroom is overwhelming. Elsewhere, a Roman-themed spa houses thalassotherapy and hydrotherapy circuits, and there's a gym, hot tub and sauna. There are handsome bar areas and the elegant Navegantes restaurant. I grow fond of the peacock that squawks outside at breakfast each morning.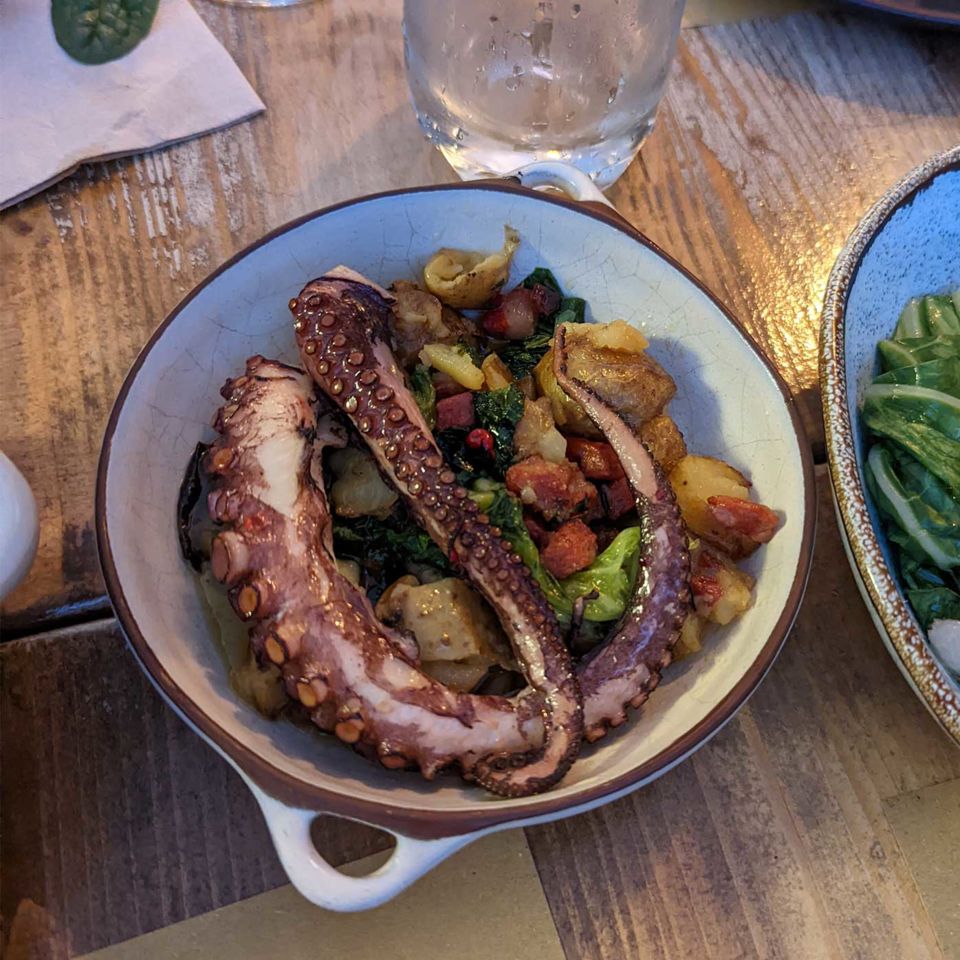 Octopus salad
Food in Cascais tends to fall into the honest bracket, while making the most of its fishing heritage. Highlights during my time here are Cantina Clandestina, where tables spill into the street at dusk, and we pass around bowls of octopus salad, cured-meat platters and bottles of vinho verde. Then there's sleek tapas joint Petiscos, where the menu offers a handful of curiosities. We try codfish with scrambled eggs (excellent), deep-fried green beans (intriguing) and a syrupy 'egg pudding' (needed a lie down afterwards). But perhaps my favourite place of all is O Pescador. This former fisherman's tavern might look eccentric, with every surface crowded with antique fishing gear, but my main of Portuguese-style codfish is deliciously simple.
Besides eating, there's lots to do around Cascais, despite its diminutive size. Don't go thinking a day trip is enough. I squeeze in trips to the Paula Rego art museum and bustling weekend market hall, and I'm sore not to witness some of the famous surfing beaches further along the coast. But a trip to the mountain town Sintra, 25 minutes away, felt essential. This Unesco-protected site has a fantasy novel energy and everything feels dewy and verdant. The Celts used to worship a moon god here. Byron fell in love with the place. And today it is a flurry of tourists keen to see its narrow streets and five famously distinct castles and palaces.
We avoid the crowds at Instagram-favourite Palacio Nacional de Pena (it sits atop a hill in canary yellow) and instead visit the Monserrate Palace, an Arabian-inspired villa with more than 25,000 types of plant in its gardens. Walking its grounds feels like some sort of balm. The town is also known for its pastries, and we stop off at the 160-year-old Piriquita bakery for travesseiros – fat pillows made with puff pastry, egg yolks, almond and sugar. As we sit down to eat, I feel full of that warm energy that seems to be a natural part of things around here, whatever the weather.
How to book
Book in advance for 10%off at Grande Real VillaItalia; rooms start at €252(£220) for two people per night with breakfast (granderealvillaitalia.com). Tap Air Portugal has up to 12 daily flights to Lisbon from London and Manchester; prices start from £81 return (flytap.com). For more info, see visitcascais.com
Don`t miss

---