Travel
The natural north: untouched wilderness in Swedish Lapland
by Lisa Harris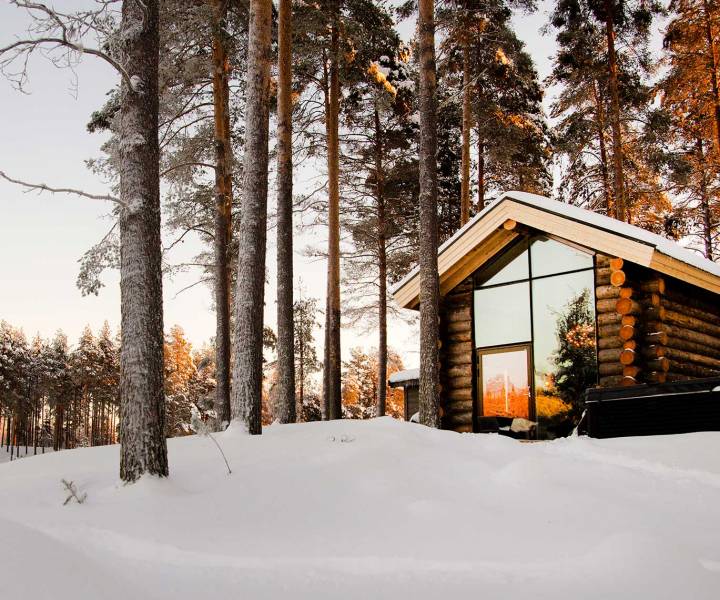 Log cabins at the Arctic Retreat
Lisa Harris discovers the untouched wilderness, warm welcome and luxury that awaits in Swedish Lapland...
Forget Ikea and meatballs, Swedish Lapland is all about nature; a raw, powerful kind of nature. It's a land of extremes – reaching -40°C in winter and +30°C in summer; the seasons are so impactful, they recognise eight seasons here rather than the usual four. We visited during dálvve or true 'winter', when nature is under a blanket of snow and the Swedes are out gleefully sledding, snowshoeing and snowmobiling in their snowy playground. We arrived at Hotel Clarion Sense in the centre of Luleå (pronounced Lu-leo), close to the Arctic Circle, on a pitch-black night with snow falling outside.
Our first meal set the bar high. Brian Bladfält-Landry is a Californian chef now leading the kitchen at lakeside Bistro Norrland. He takes traditional ingredients from Swedish Lapland (birch sap, ochre berries, reindeer, pine) and gives them a unique twist. Pickled celeriac slices shaped like tortellini pasta completely confused us, and Arctic char skin was grilled like a perfectly burnt marshmallow, served in a savoury truffle dashi broth.
The good food continued at breakfast, when we experienced our first Swedish hotel buffet – cheeses, meats, pickled fish and vegetables stretched along the central table, followed by counters of muesli, crackers, freshly baked breads and even a waffle station. Once we'd had our fill, we walked round the town's frozen headland as locals skated across the ice. We were tempted to join them, but instead headed to Gammelstad – a church town where around 400 tiny cottages are clustered at the foot of an impressive medieval Lutheran church. Generations of farmers used them when they made the long journey to go to church, and they are now a UNESCO World Heritage Site.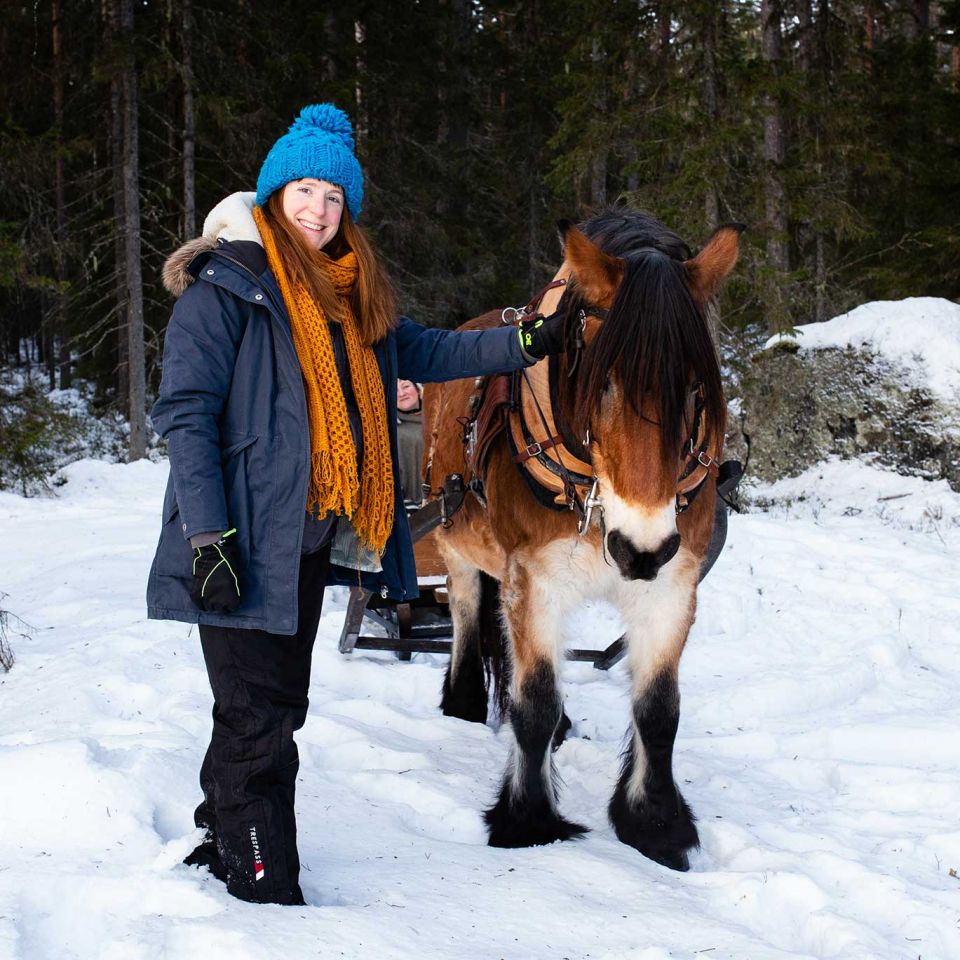 Lisa and the horse-drawn sledge. Image: Duncan Nicol Robertson
Leaving Luleå and Gammelstad, we passed endless pine and birch forests, lichen-draped trees, and iconic copper-red houses dotted across the snowy landscape. Throughout winter, small pyramids of lights twinkle in the windows of every home; it's traditionally to guide travellers lost in the snow to safety, but the friendly lights helped calm my nerves on the icy roads, too. This is a country so comfortable with the cold that the local government ploughs ice roads across frozen lakes to reach archipelagoes of islanders otherwise stranded in winter. What sounds like an extreme sport to us is just like driving up the M1 for them. No trip to Sweden is complete without a steaming hot sauna, followed by an icy plunge pool.
We stopped off at KUST Hotel in Piteå to enjoy their new spa, complete with rooftop pool and the lake and islands spread out below. A beauty specialist guided us through the 12-step spa ritual and, after footbaths, steam rooms and saunas, we both felt fully revitalised. Such warm therapy is a natural antidote to the bitter cold of Swedish Lapland's winters, and the same could be said of the hospitality we received at our next stop in Jössgården; a working farm and retreat centre run by Helene and Torbjörn Forsberg. We started the day with a typical Swedish welcome of hot coffee and gingerbread biscuits, followed by a horse-drawn sleigh ride through the forest.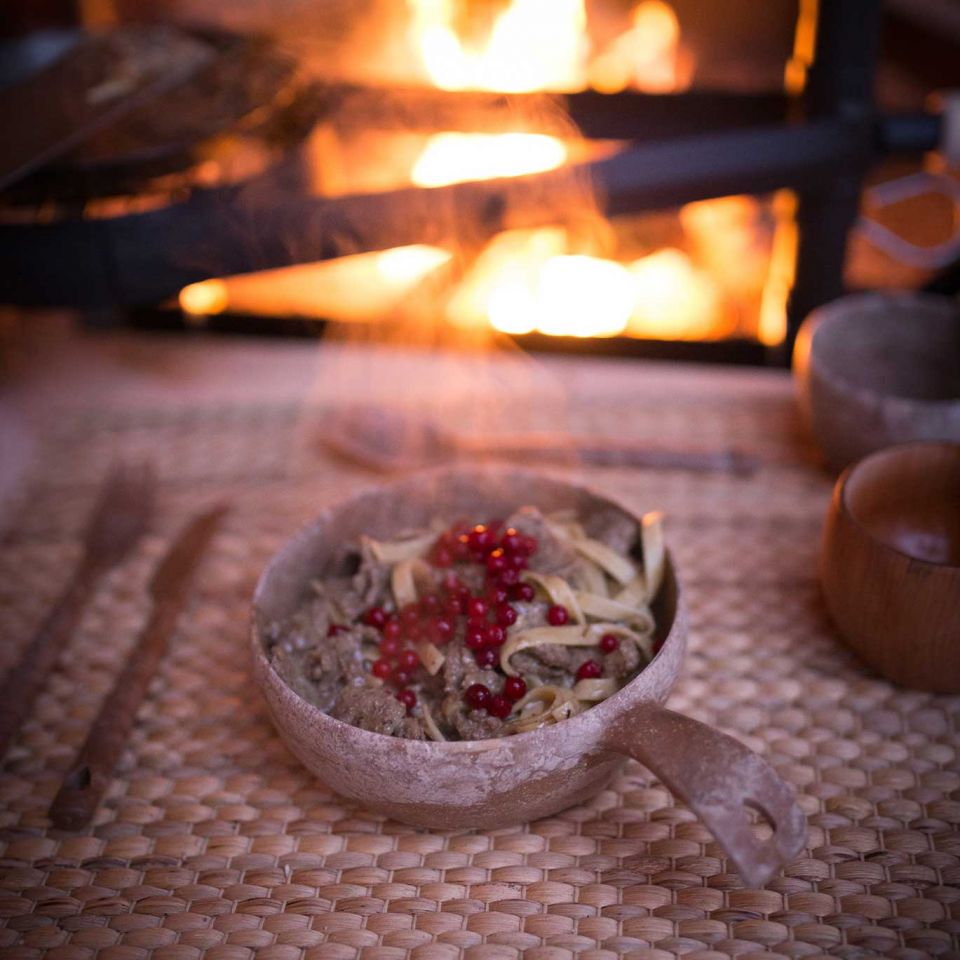 Fireside dinner. Image: Duncan Nicol Robertson
'There should be two metres of snow here,' says Helene, gesturing either side of us. While we were enchanted by the warm winter sun and snow along the forest floor, it's another reminder of the changing climate and its direct impact on people's livelihood in Swedish Lapland. 'Some of our friends can't open their husky sledding businesses,' she adds, 'because there's just not enough snow.' Helene and Torbjörn kindly invited us into their home for lunch of klimp dumplings with moose soup and a glass of milk on the side, as is tradition in the north.
We soon learned the significance of the word paltkoma: a kind of food coma you only get after eating too many dumplings. Their daughter arrived with her husband while we were eating and added stunning mandelmusslor – lingonberry and cream biscuits – to the spread. As the daylight faded (even though it was only lunchtime) the coffee and cakes began to circulate, and Helene explained fika: an essential Swedish tradition, like a cosy, fireside afternoon tea, enjoying endless cakes and coffee with friends and family. If I wasn't a convert to Sweden by then, my first fika sealed the deal. Sweden might be the land of free education and heavily subsidised health care – but for me, it's all about the fika. Strictly speaking, it should feature seven different cakes and biscuits, but during our trip I fixated on just one – the semlor bun. Traditionally eaten before Easter, these cardamom buns are cut open, stuffed with rich marzipan and a tower of cream, then capped with a triangular section of bun. They're impossible to eat, but impossible to resist.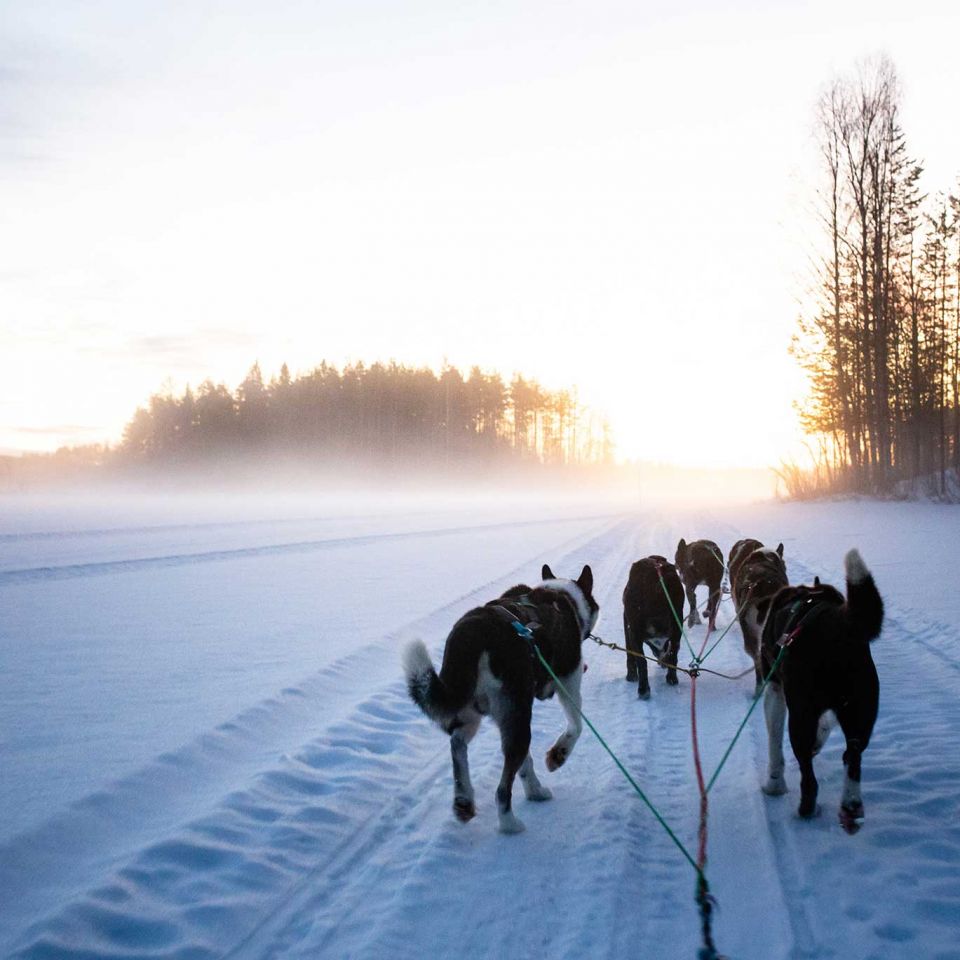 Enthusiastic huskies. Image: Duncan Nicol Robertson
The cakes and hot drinks continued when we arrived at Pine Bay Lodge about an hour's drive north. Göran and Sofia Widén greeted us with glögg (Swedish mulled wine with drunken raisins), freshly baked cinnamon rolls, and a warm fire. Their emphasis is on good food and adventurous outdoor activities as they offer Northern Lights tours, ice fishing and outdoor cooking classes, or hovercraft and snowmobile excursions at Pine Bay and Brändön Lodge, their second hotel nearby. We opted for a long snowy walk across the frozen lake and exploring the forests, before ending the evening in a traditional wood-burning sauna with a view of the stars.
The following day, we embraced adventure with a husky ride on route to our final destination. Hannah and Jeremias Kinnunen-Levy set up Northern Soul Journeys, a husky sledding company, several years ago. Their huskies have an infectious enthusiasm for sledding out in the snow; wild-eyed winter marathon runner, they would happily mush all day. Hannah swaddled us up in their warmest snowsuits, and, as the pack pulled the sled out of the compound, the dogs left behind howled and barked with a mixture of excitement and frustration that they weren't also running out into the wilderness.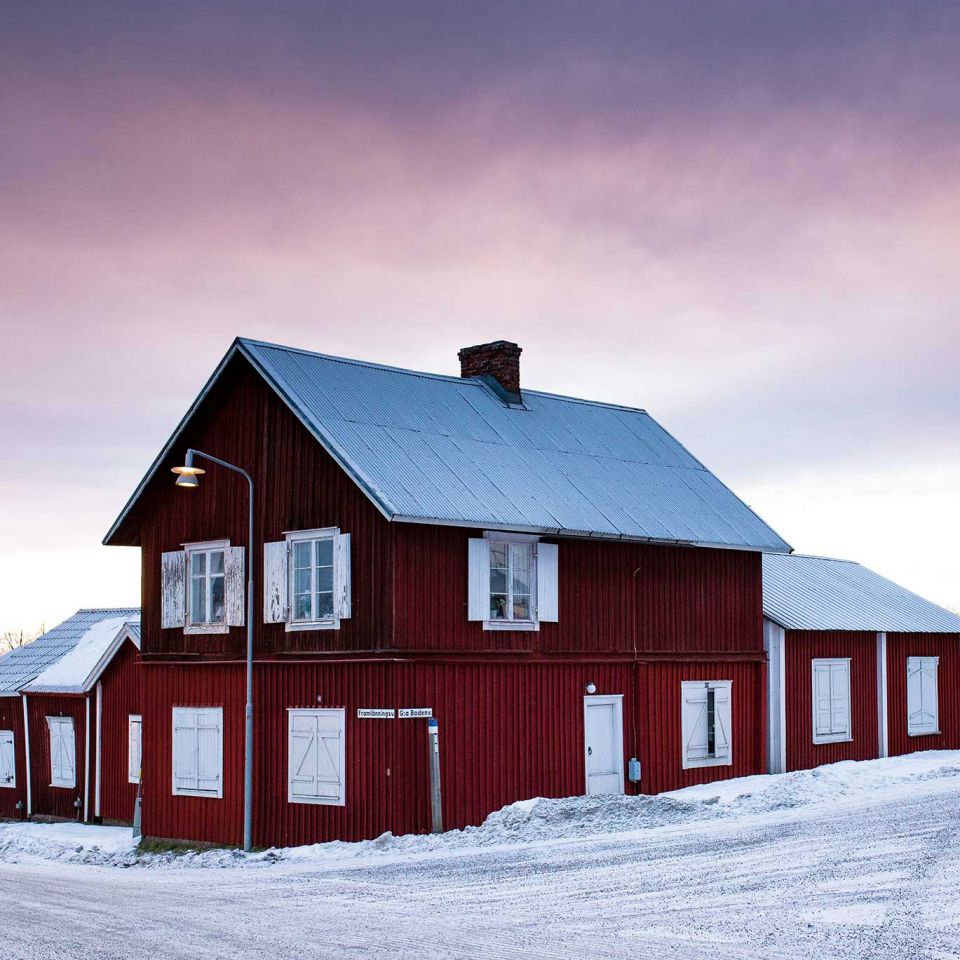 Gammelstad. Image: Duncan Nicol Robertson
I might not have been able to feel my fingers and toes, but the sunset ride sparked all my emotions. Swedes call it blå timmen, the blue hour, when the sky takes on a blue tint at twilight and the sunset blushes along the horizon, as if it was embarrassed to be going to bed so early. I've seen misty lakes in the UK, but mist rising off a frozen lake draped the whole scene in an ethereal cloud between the spindly trees and expansive plain of snow. Halfway through the trip, we took a break for hot homemade blueberry cordial and brownies, and even the huskies seemed mesmerised inbetween their panting and barking at the moon.
As we glided back across the snow, we were struck by how respectful Swedes are of nature; as if they truly understood their place in the order of things. Populations are sparse in Swedish Lapland, but the landscape is immense: there are more than 30,000 lakes in the region and reindeer outnumber people almost three to one. Living in a busy city, as we do, those kinds of odds put life back into perspective. A cabin in the woods might sound rustic, but our next stop at the Arctic Retreat log cabins was pure luxury.
Three unique cabins sit on a bend in the Råne river, with private hot tubs, log burning stoves, and uninterrupted views north – just in case the lights decide to put in an appearance. Niklas and Liza Wede have built the retreat up over three years while also raising a young family, and every detail has been thought through. Liza cooked dinner for us in a cosy dining cabin, always using local ingredients and beautifully presented in the candlelight. There were only four or five hours of daylight, so the next day we explored the surrounding forests and walked across a frozen lake before joining Niklas for lunch cooked over the grill in their barbecue hut. We ate moose with lingonberries, chatted about Swedish traditions, and drank pale ale subtly flavoured with pine and berries from the Polar craft brewery down the road. Imported wine is expensive, but craft brewing has taken off in Swedish Lapland thanks to the pure water and high-quality grains.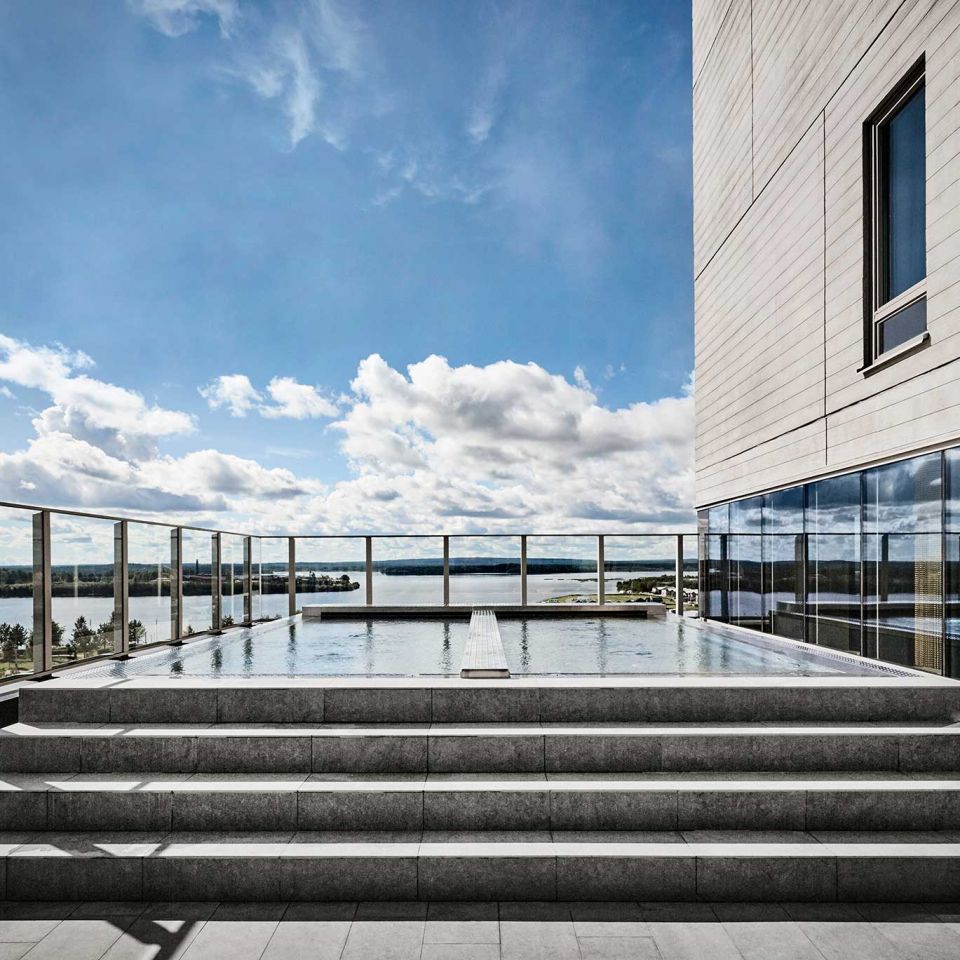 The KUST spa terrace
Being surrounded by complete darkness by 3pm was often quite discombobulating and, after a late lunch, we found ourselves yawning as if it was nearly bedtime rather than the middle of the day. Instead, we jumped in the hot tub and spent the rest of the evening looking up hopefully at the sky. The aurora borealis have become something of an Instagram trophy on a trip this far north, and I would be lying if I said we weren't desperate to see them. Low clouds might have thwarted our attempts to catch a glimpse of them this time, but sipping wine in the hot tub felt like we were winning at life just the same.
How to book
The cost of booking a double room at: Clarion Hotel Sense, from £96 (clarionsense.se); KUST Hotel, from £122 (hotellkust.com); Pine Bay, from £236 (pinebaylodge.se). Arctic Retreat winter cabin for two, costs from £876 (arcticretreat.se). From 18 December, SAS flies direct from Stansted to Luleå, from £57. See flysas.com. For more information, visit swedishlapland.com.
Don`t miss

---