Travel
Staycation: Tapnell Farm, Isle of Wight
by Christine Faughlin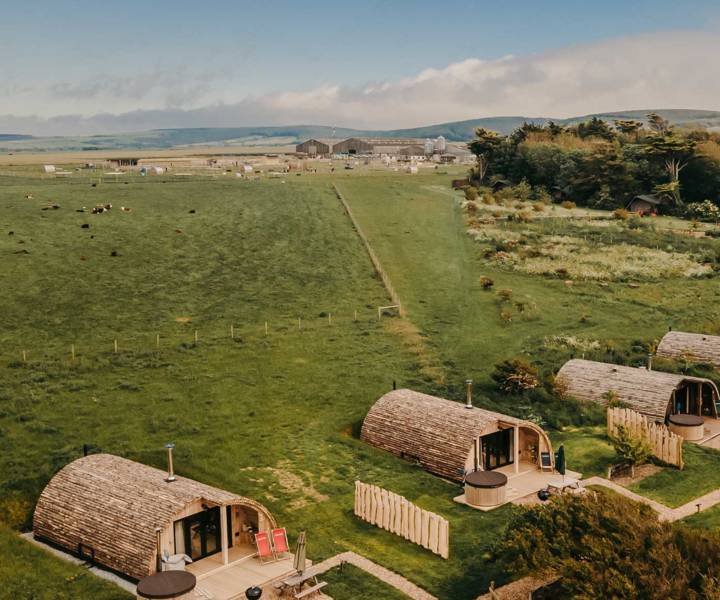 Tapnell Farm
A fun-filled farm with an eclectic past provides a quirky hideout for a family weekend getaway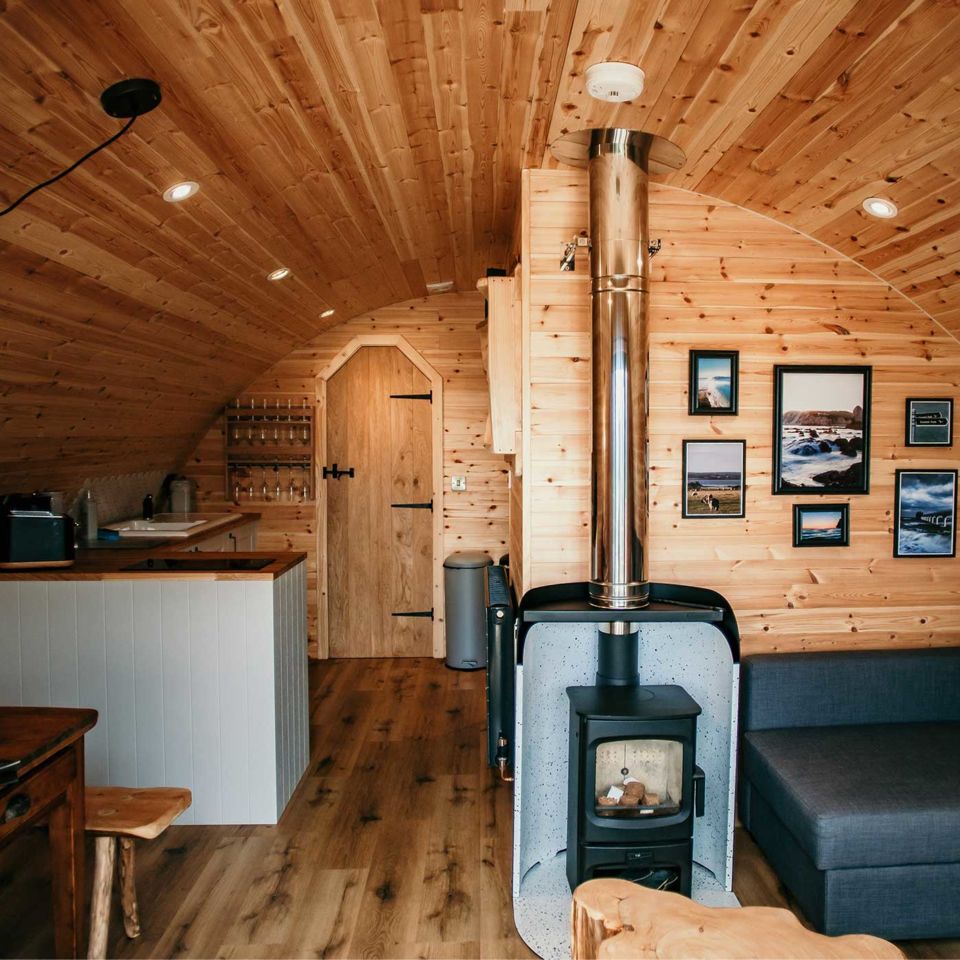 The modulog's cosy interior
'Are we really driving the car onto that big boat?' our four-year-old son, Sidney, asks as we turn into the ferry terminal at Southampton. We're sailing onwards to the Isle of Wight for a family weekend away, and having spent weeks talking only about the adventures that await at our destination Tapnell Farm, it turns out the most thrilling thing for a small boy is the thought of putting a car on a boat and crossing the sea. By the time we drive off the ferry at East Cowes, his excitement levels are off the charts.
Tapnell Farm is situated in a plum spot on the western side of the island with views in every direction. The family-run farm has a fascinating past – it was the site of the1970 Isle of Wight Festival (where Jimi Hendrix played his last gig), became one of the island's more prominent dairy farms, and was an early adopter of eco initiatives. It was also one of the first UK farms to offer glamping and now welcomes overnight guests and day-trippers through its gates. Those staying over can take their pick from a manor house sleeping 20, self-catering cottages, eco-pods, modulogs (modular log cabins), geodesic domes, cabins and safari tents. Day visitors come to dine at on-site restaurant The Cow and explore Farm Park – a family attraction where kids can let loose on go-karts, jumping pillows and sledge slides, explore straw barns and meet some animals. There's even archery, axe-throwing, football golf and an aqua park. We're staying on the far side of the farm in a modulog nestled into the hillside and surrounded by little more than uninterrupted views and the Tapnell Trails walking path. It's far enough away from the buzz of the main site to feel remote, yet near enough to pop back for a meal, a pint or a few bits from the farm shop. Sid immediately likens it to the Teletubbies' dwelling and he's not far wrong. It's cosy, cute and well-proportioned, and while he explores its nooks and crannies, we unpack a hamper of Isle of Wight goodies.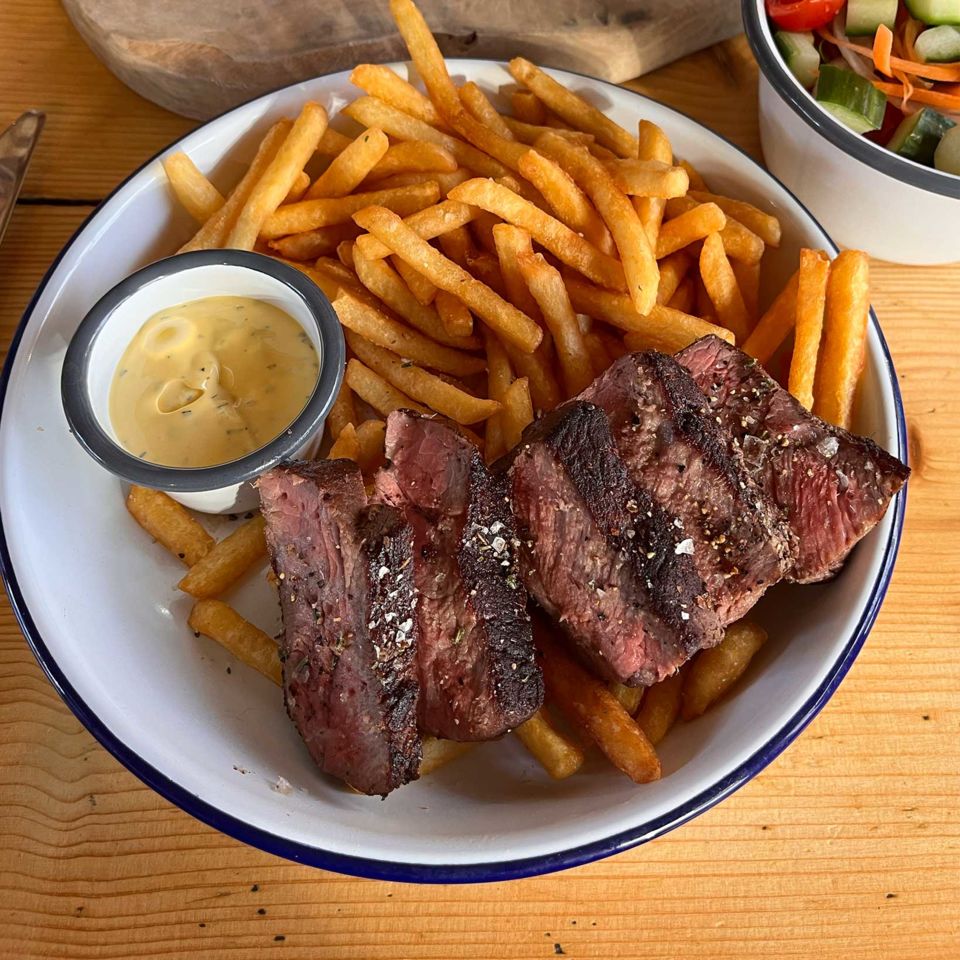 Steak and chips and The Cow
The location has one tiny downside – coastal winds hit us from all directions! On our first night, I get through a box of matches just trying to get the barbie going, and when we finally sit down to a picnic-table-meal of juicy hot dogs topped with caramelised onions and locally made ketchup, I'm convinced the whole thing is about to go airborne, Bedknobs-and-Broomsticks-style. Next day, we head up to the Farm Park where despite all the activities on offer, Sid is happy spending hours bouncing on two giant inflatable jumping pillows. As he soars ever higher, engaged in a solitary game of 'spot the sea', my partner Anita and I watch from the sidelines, sipping flat whites from the park's Coffee House cafe.
Later, we have an early dinner of steak and nachos at The Cow – a converted Swiss barn with a host of family-friendly options – followed by a game of hide and seek among a herd of life-size multicoloured cows forming a permanent art installation on the lawn outside.The only way to lure Sid back to the modulog is the promise of slipping into cossies to see the sun set from the 'really big bath'. Like the barbecue, it takes a bit of faffing about in the wind to get the wood-fired outdoor hot tub going, but we manage and are soon serenely watching the sky turn sherbet shades of pink and orange. When it's time to go, we're faced with a challenge that has nothing to do with the wind: diverting Sidney's gaze away from those inflatable pillows and hide-and-seek cows as we exit the farm. Then I remember I still have an ace to play... 'Hey, hands up who wants to drive the car onto a really big boat?'
The details
A two-night stay in a modulog (sleeps 4 +2 guests) starts at £350 for a midweek break and £495 for a weekend break. Entry to the Farm Park costs from £9 per adult and £10.50 per child (children under two years are free). For more information, visit tapnellfarm.com. For ferries, please ask for discounted rates when booking accommodation.
Don`t miss

---