Travel
Staycation: The Greyhound on the Test, Hampshire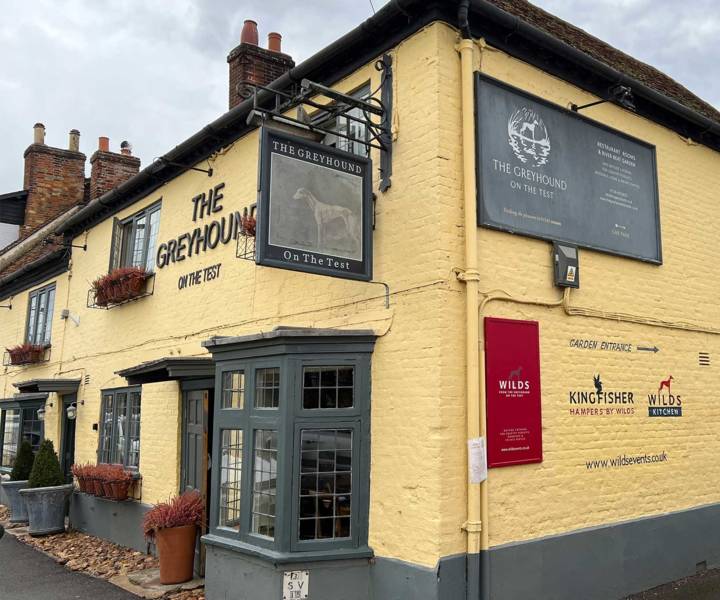 The Greyhound on the Test
On the banks of Hampshire's famed fly-fishing river, The Greyhound on the Test blends the charm of a cosy inn with gastronomic adventure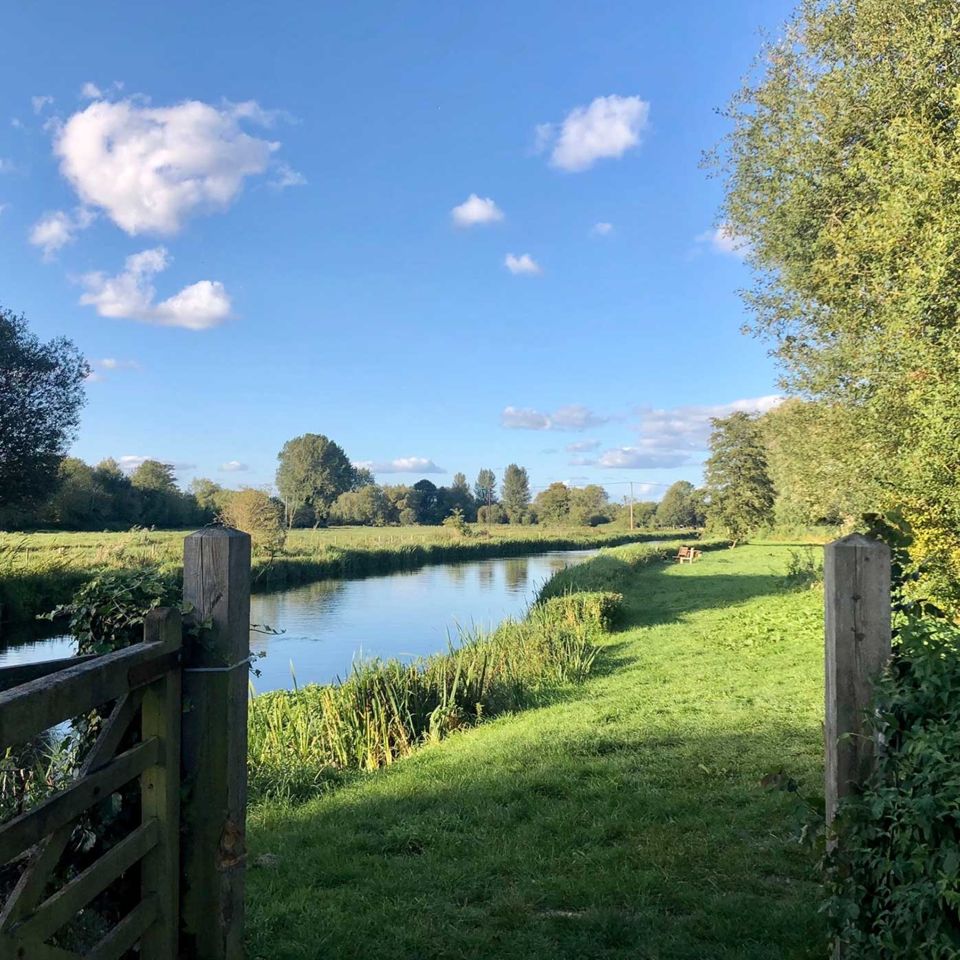 Hampshire's famed River Test
The High Street in Stockbridge (the only real street in the 600-person town) is lined with independent shops overflowing with treats. There's a deli and fishmonger where ripe cheeses sit alongside meat pies and fresh langoustines; a spirits store where you can sample Test Valley G+Ts and malts of all kinds; a grocer for picking up Hampshire watercress to add bite to a locally caught and smoked trout; a family butcher that will prepare a whole ferreted rabbit for you...the temptations never seem to stop! The street is also home to The Greyhound on theTest, a coaching inn with an acclaimed restaurant and 10 chic rooms.
After a cheery welcome, we are guided to our wood-panelled cottage room. Its quirky 16th-century charm is thoughtfully complemented with plush upholstery and contemporary touches, from a Bose Bluetooth music system to a vast bathroom with underfloor heating, a walk-in shower and a deep, beckoning roll-top bath. From our bay window seat, we watch the town's comings and goings, as fly fishing and shooting devotees drop into the 'Country Pursuits' shops ahead of trying their luck catching salmon and trout in the River Test or heading onto nearby estates in search of pheasant and partridge. For us, though, the excitement is closer to hand.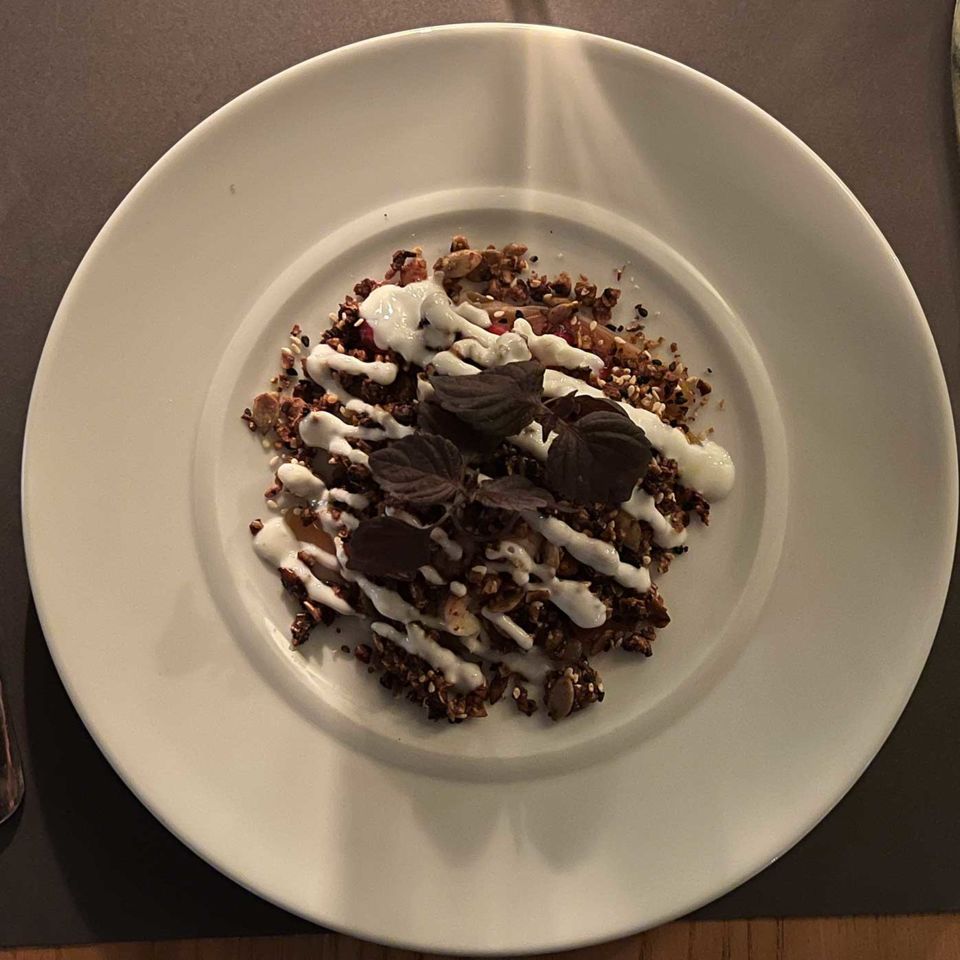 The white soy-cured Test trout at the Greyhound's restaurant
The Greyhound's candlelit restaurant occupies the whole of the inn's ground floor – all low black beams, exposed brick fireplaces and warm wooden floors. Over the past decade, since it was taken over by hospitality entrepreneur Lucy Townsend, it has amassed a string of awards as a gastropub. But that doesn't do justice to the sophistication and inventiveness of head chef Phill Bishop's menu. Our senses are wowed first by two sensational starters.
A Hampshire venison and apricot 'fritter' is a fruity carpaccio on a hazelnut biscuit base, sitting on sharp golden beetroot and surrounded by watercress. In contrast, white soy-cured Test trout combines thin slices of the local delicacy with sprinklings of crayfish flakes, sesame granola, mango and pomegranate, and topped with purple basil. Keeping with the local game theme, we try wood pigeon and thyme wellington, served on a dark sour cherry sauce, with braised lettuce and broccoli. A shared desert is equally striking: a mango and coconut bavarois, with sharp New Forest raspberries, poached peach, almond and meringue.
With delights like this, it's no surprise the atmosphere at The Greyhound, among the regulars and weekenders, hums with quiet satisfaction – as if they know a secret that shouldn't be shared too widely. But any visit to Stockbridge can't be all about gastronomic hedonism – the Hampshire countryside and chalk streams prove equally as alluring. Early the next day we set out on a ramble down the Test Way, a former railway track that takes us across water meadows, by weirs and had us trout-spotting as we crossed crystal rivers, before circling back to The Greyhound. Back in the dining room, we settle in for a leisurely late breakfast of lightly smoked trout and fluffy scrambled eggs on one side and perfect poachies with assorted wild mushrooms on the other. If we'd been celebrating a special occasion, we might have tried a glass of the top-rated Hampshire sparkling rosé from the nearby Exton Park vineyard. But we just add that to a growing list of reasons-to-return.
How to book
Rooms at The Greyhound on the Test start at £175 per night for two people sharing, including breakfast. For more information, visit thegreyhoundonthetest.co.uk.
Don`t miss

---