Travel
Staycation: Simon Rogan's foodie empire in Cartmel, Cumbria
Michelin-starred chef Simon Rogan's foodie empire in Cartmel was the perfect celebration destination for Tamsin Burnett-Hall...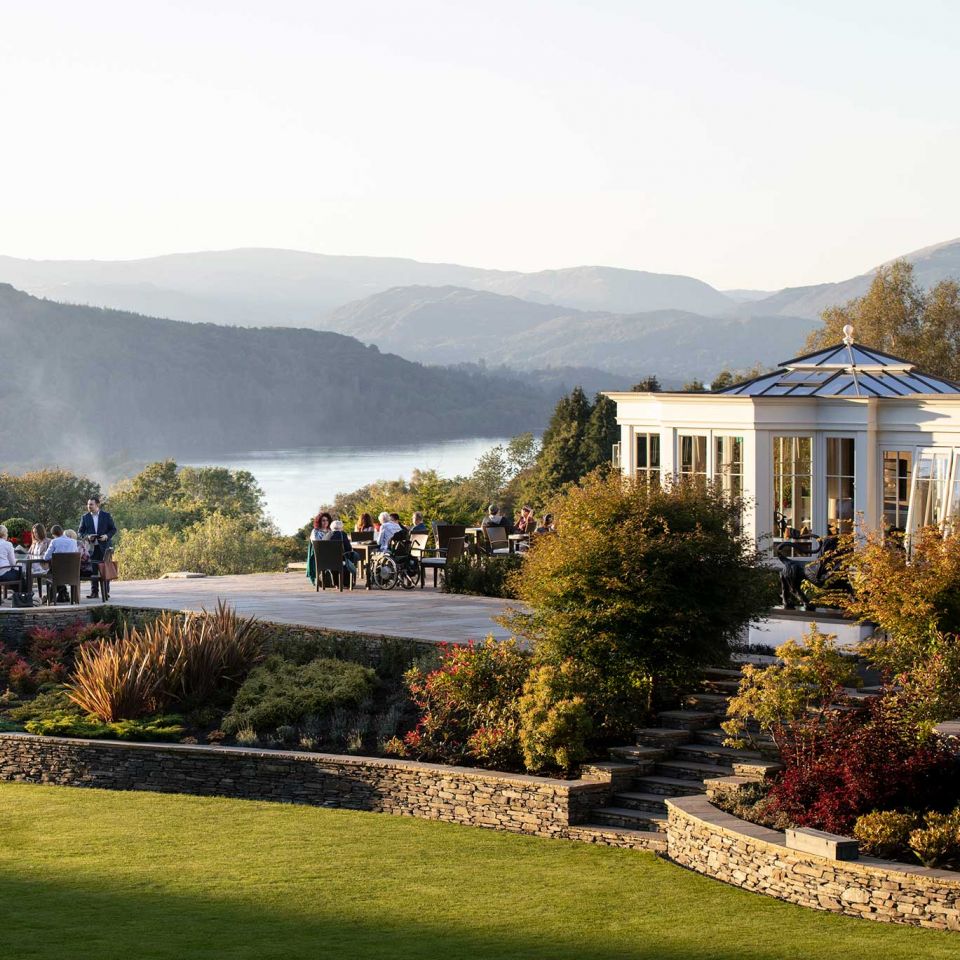 The terrace of Linthwaite House overlooks Lake Windermere
Ah, 2020 – the year of an unprecedented worldwide pandemic, and my 50th birthday! I was fortunate to fit in an early celebration before lockdown with an epicurean trip to the Lake District; a pilgrimage to Simon Rogan's two Michelin-starred restaurant L'Enclume in picturesque Cartmel, as well as venturing to his latest opening Henrock at Linthwaite House, near Windermere. As a gift experience or special occasion treat, it's hard to beat.
Simon is known for his farm-to-table approach and his exquisitely executed hyper-local tasting menus. Having trained under Jean-Christophe Novelli and been heavily influenced by French chef Marc Veyrat, who uses Alpine herbs and flowers in creative guises, Simon was one of the first to introduce small, precise plates of food as a multi-course chef's menu to the UK restaurant scene. Each dish may be technically complex, but the aim is to distil the essence of the ingredients. He says, 'We're taking an ingredient and cooking it simply to maximise the flavour. The produce is the driving force and we're not tampering with it.' To that end, he set up Our Farm; essentially the kitchens are an extension of the farm rather than the other way around.
So, what of L'Enclume itself, and even more importantly, The Meal? The restaurant is no off-putting chichi temple to fine food; it's a welcoming space, luxe yet still homely. There are collections of pebbles, driftwood and moss rather than formal floral displays. The anvil, which gave the restaurant its name (from the French term) sits in the centre of the dining room, which is an apposite blend of ancient, rugged stone walls and modern slabs of glass with accents of copper.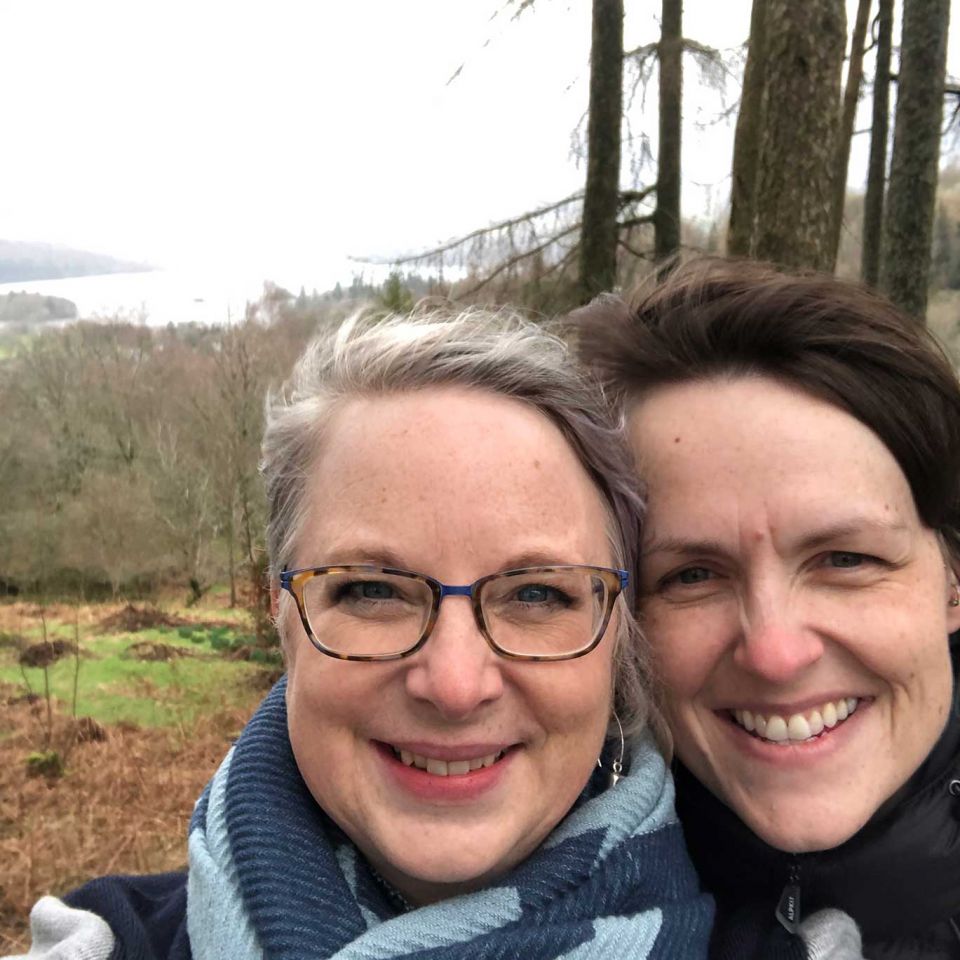 Tamsin and partner Pam take in the view
Intrigue and delight
From the moment we break open the wax seal on our individual menus while being poured a glass of Exton Park English fizz, it is clear that we will be thoroughly spoilt,as well as intrigued. Very little is as it appears; each dish is explained by the waiter, but we still end up cross-checking every description on the menu, trying to detect all the elements. The food draws on the senses not only of sight and taste, but touch and smell, too. Ingredients are strong flavour bombs popping on the palate – often in a way that makes you laugh with delight at the culinary cleverness.
Our second course of 'Cod Stones' is a prime example – the listing of salt cod mousse, parsley and pepper dulse (a type of seaweed) leaves us little the wiser as to what to expect. We are each presented with a cold pebble with a moss-like covering, which we are instructed to lick from the stones! The 'moss' is actually a dual layer of the mousse and an aerated parsley and seaweed foam; quite a sensation. One of our favourite courses is a crisp fritter of pork, smoked eel and sweetcorn in a tapioca batter that seems to both melt and burst on your tongue. All kinds of unusual foraged ingredients have made their way onto the menu, including lichens, birch bark, and sweet woodruff.
Cornish crab with confit potatoes cooked in chicken fat is a standout dish, scattered with crumbs of roast chicken skin that remind us, rather prosaically, of Frazzles. Probably the most revelatory dish is 'frozen Tunworth cheese with verbena', which resembles a lunar landscape but tastes like tiny nuggets of ice cream and malted, nutty crumble. By the end of the night, we are thoroughly convinced of Simon's culinary genius, and have been impressed by the service of both kitchen and front of house staff, who together deliver the ultimate dining experience. We leave replete but not over-stuffed, despite having worked our way through 16 courses during the evening, and head for an overnight stay in one of the restaurant's comfortable rooms in the village centre.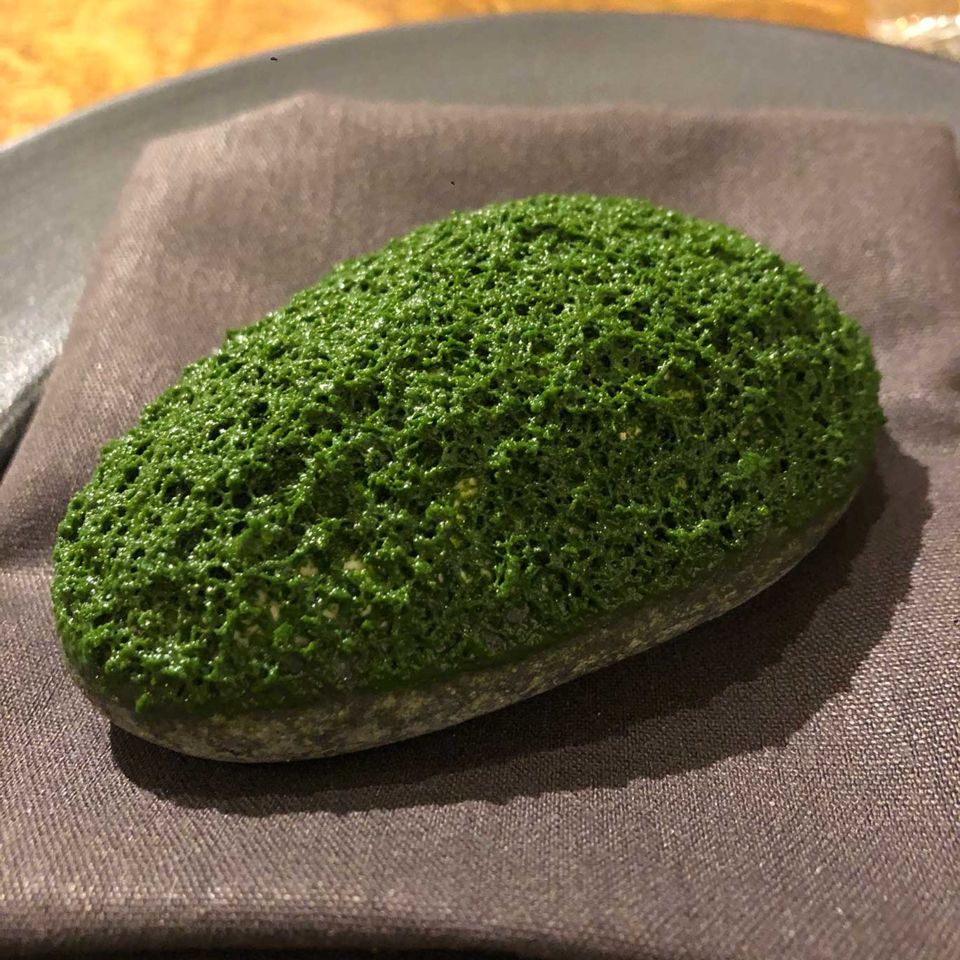 L'Enclume's 'cod stone' with moss-like mousse; revelatory Tunworth cheese 'ice cream'
Informal elegance
Next morning, after an epic breakfast at sister restaurant Rogan & Co and an exploration of Cartmel itself (as well as picking up a few goodies in Our Shop), we drive towards Lake Windermere to stay at the deluxe hotel, Linthwaite House, in a spacious and luxurious Lake Suite, complete with outdoor hot tub. The decor is sleek, modern and neutral yet warm with natural tones and fabrics, as well as original artwork in every room (including a set of beautiful watercolours in the bathroom). There's a huge king-size bed that's like something from the fairytale The Princess And The Pea, the en-suite bathroom has both a walk-in shower and a vast bath, plush towels, robes and Molton Brown toiletries, and then there's the vaulted living area with an open fire waiting to be lit.
With the weather taking a turn and rain sweeping past in windy gusts, that's exactly what we do, lounging on the sofas and nibbling at the pretty cake bites left to keep any hunger pangs at bay before dinner. The restaurant, Henrock, is informally elegant; the menu has a more traditional three-course format and again the produce comes primarily from Our Farm. Dishes are rooted in British cooking, but with influences from the team's global travels. I have a creamy buttermilk mussel chowder to start, followed by the most delicious and extraordinary cauliflower that I've ever eaten; it has been brined, dehydrated, smoked in hay, bathed in butter and baked until crisp before having a light cheese sauce poured over at the table. I
'm not sure that cauliflower cheese will ever seem quite the same again, although perhaps it's better for my waistline that special meals like these are only occasional. As we head for home, my only question is, 'Do I really have to wait for my 60th to repeat this?', and I start racking my brains for other reasons to celebrate far sooner.
How to book
The Cartmel Escape, including dinner at L'Enclume, bed and breakast at Rogan & Co, costs from £515 per couple (lenclume.co.uk/experiences) Rooms at Linthwaite House start from £190 per night (leeucollection.com/UK/linthwaite-house). Book dinner reservations at henrock.co.uk.