Travel
Sailing the Med: Travel the Turkish coast on an authentic yacht cruise
Pleasures are simple on a sailing holiday: the sun on your back, fresh kiwi and oranges for breakfast, a splash of cold water as you dive into the sea. Lounging on deck, afternoon cocktail in hand, you feel like you've truly made it in life. ScicSailing, a Dutch-British company co-owned by Loes Douze, has about 15 itineraries off the coast of Turkey, from four-day short hops to two-week cruises.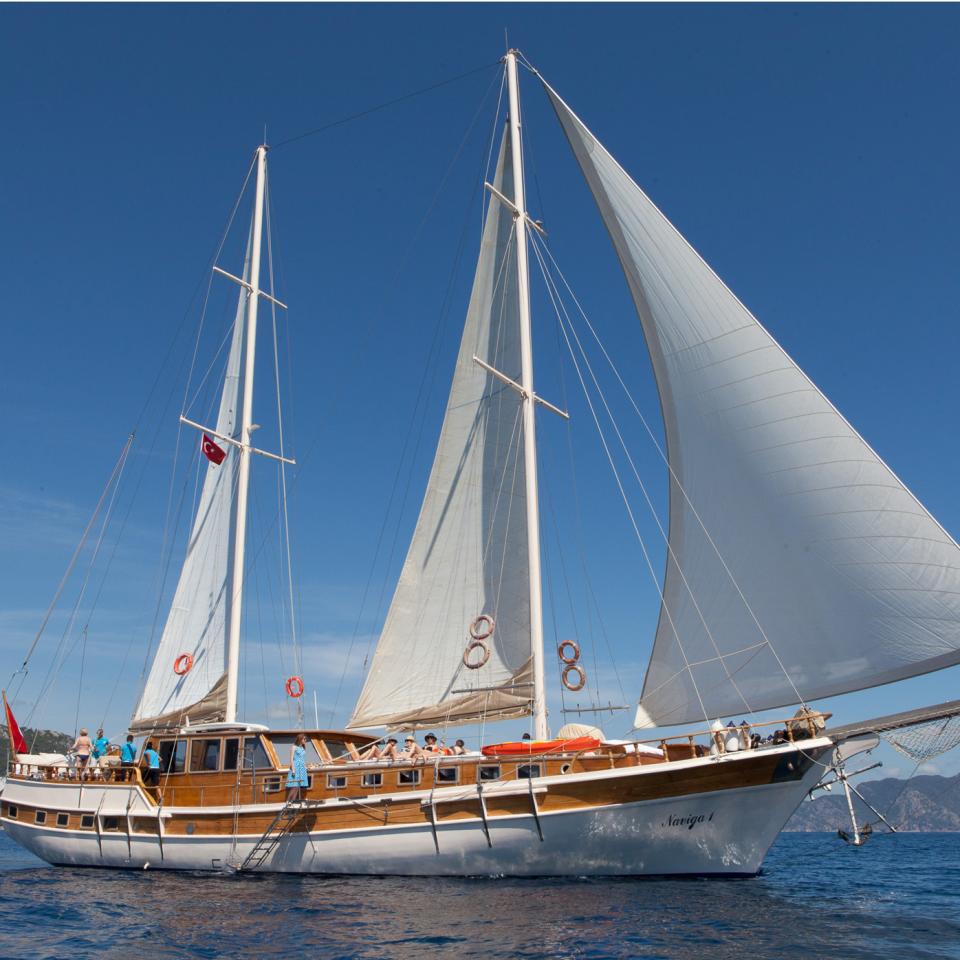 Image: Duncan Nicol Robertson
Our one-week cruise was made up of a mix of ages and nationalities, including couples, singles and friends. Our route that week would take us through the gulf of Fethiye, ducking into hidden coves and into the Dalyan estuary, before setting our final anchor down 
in the elegant seaside resort of Göcek. Loes takes great pleasure in matching passengers at the booking stage, so you have lots in common, and there was plenty of space on the double-masted boat to find some solitude if you needed it.
One of the best things about the trip was that only the start and end ports were fixed: every morning the captain would take us through options for the day's sailing over a cup of coffee, and it was up to us (and the prevailing winds) where we would go next. Each day started with a swim before a short sail to our next destination, reading, sunbathing and relaxing, with an excursion on land after lunch, and then a little more sailing and swimming before settling in for the night. The crew were charming hosts; serving cocktails and cooking our meals, while also being incredibly skilled sailors. You could spend a whole afternoon just watching them leap about, hoisting sails and dropping the anchor.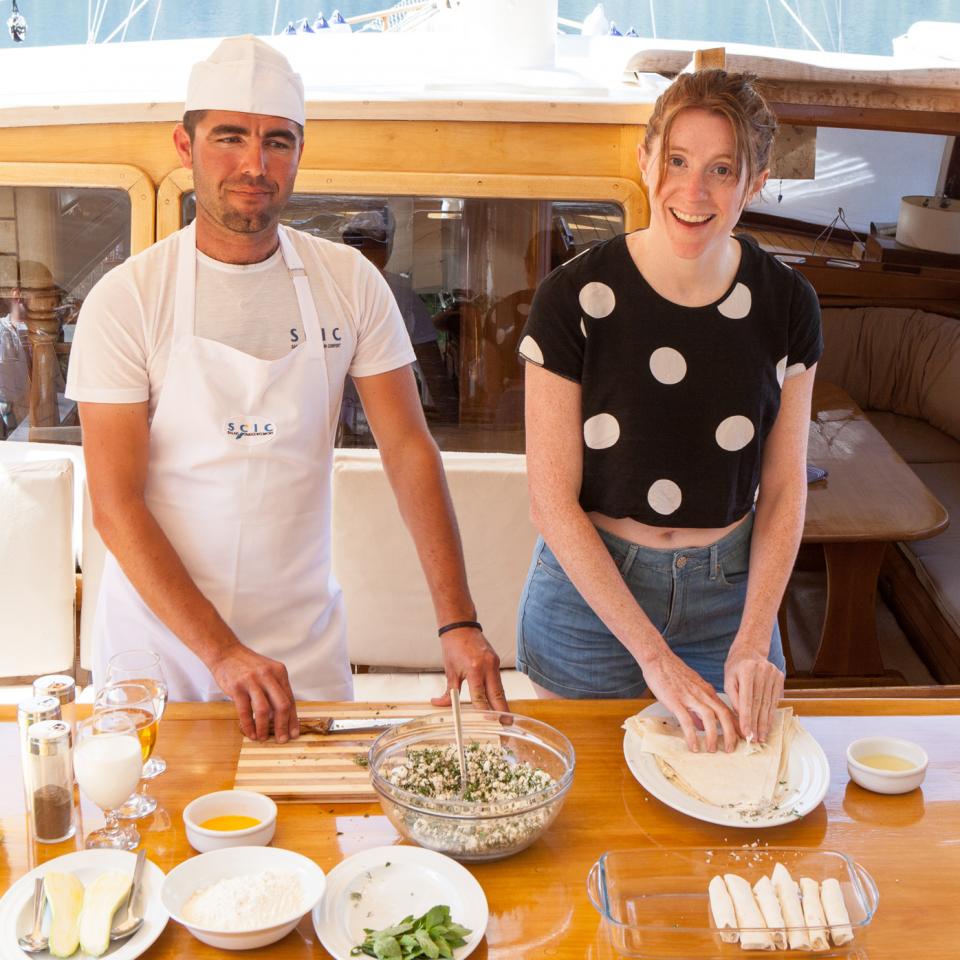 Image: Duncan Nicol Robertson
Food is perfectly pitched: breakfast is a feast of melon, strawberries, yogurt and honey, with eggs, tomatoes and cheeses for a savoury Med flavour, too. Lunch and dinner are always healthy: a big salad, olives from the crew's family farm, and traditional dishes like garlic aubergines, creamy turmeric chicken, grilled fish and calamari. Meals are all included, and so is a generous supply of wine, beer and spirits that fuel conversation late into the night.
My top foodie moment was when the chef dropped a fishing line off our boat, caught a big, fat tuna and then threw it on a barbecue. One afternoon while we were anchored in 
a bay, a little boat chugged alongside us with an elderly husband and wife team cooking up spinach gözleme flatbreads right in front of us. Shortly afterwards, an ice cream seller bobbed along, so we treated ourselves to a Cornetto, too. It was the ultimate food-delivery service!
Image: Duncan Nicol Robertson
It turns out the Turkish coast is littered with incredible ancient artifacts – some of which are only accessible by boat. There are reminders of the region's history along the coast, and we were taken by the Kaunos amphitheatre and the Kaunian rock tombs, dating back to the fourth century BC, carved into a sheer cliff face above the Dalyan river.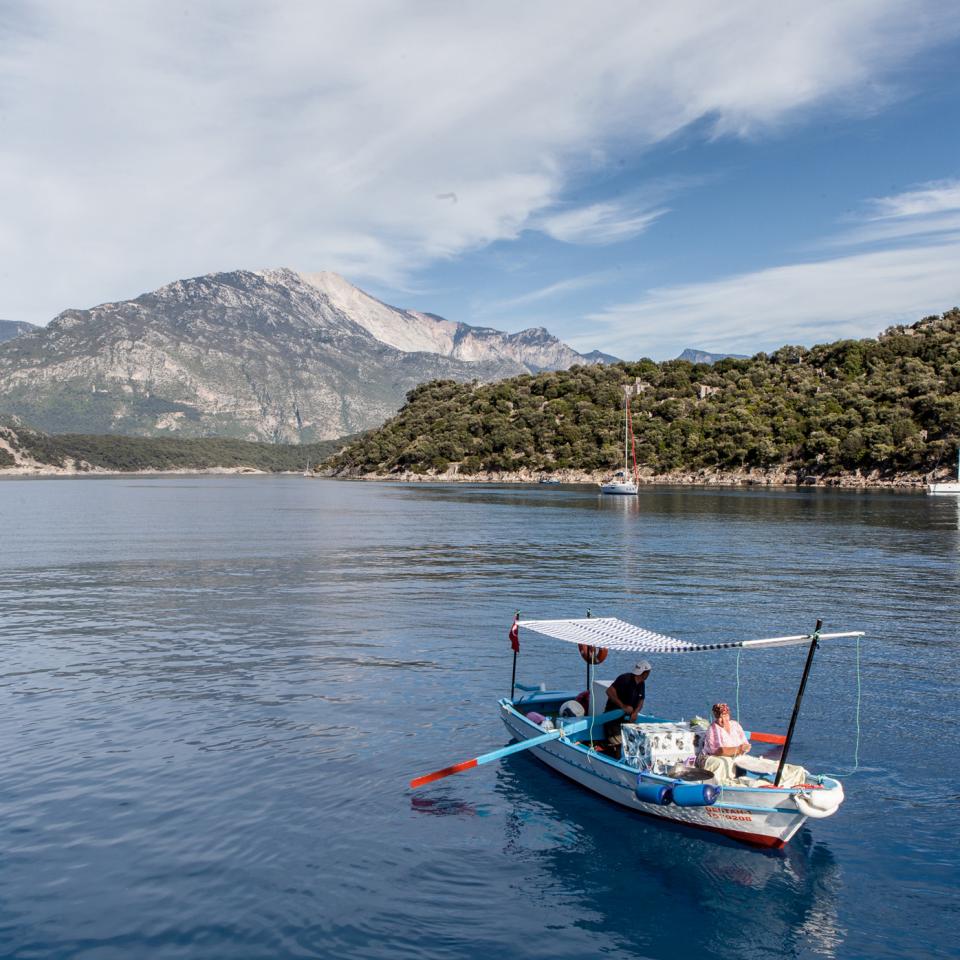 I've never relaxed so much. Your mind becomes as still as the water as 
you gaze at the horizon. The only things to think about are taking a dip, having a siesta or whether it is too early for a glass of rosé... which, of course, it never is!
About the author