Travel
Painting the town: street art and great food in Berlin
by Tamsin Burnett-Hall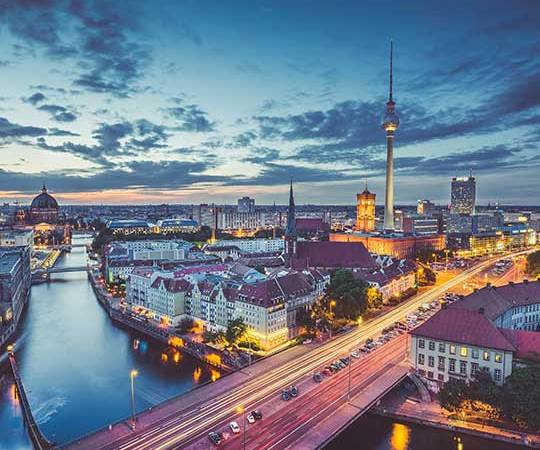 Berlin city centre. Image: Shutterstock
Berlin is a city where street art, culture and modern history collide. Tamsin Burnett-Hall spent a long weekend getting to grips with graffiti, currywurst and hidden courtyards...
It's a Saturday and I'm in an industrial warehouse with a graffiti spray-can in my hand. Not my standard weekend activity, but then I'm in Berlin, with its vibrant artistic scene and subculture. Driving through the urban streets on arrival, the first things that strike me are the clashing architectural styles, and the abundance of graffiti and other street art. This is a city with a definite edge.
Few capitals have been so shaped by modern history as Berlin. Following the defeat of Nazi Germany in World War II, the Allies divided the city between the East and West blocs. Both sides demanded a share of the capital, even though West Berlin became an island completely surrounded by communist East Germany (GDR). For many years, there was a relatively free flow across the border, but in 1961, a barbed wire fence was erected overnight, with a concrete wall soon following, that stood for 28 years until the fall in 1989. Inevitably very little remains, bar a mural-clad section now known as the East Side Gallery.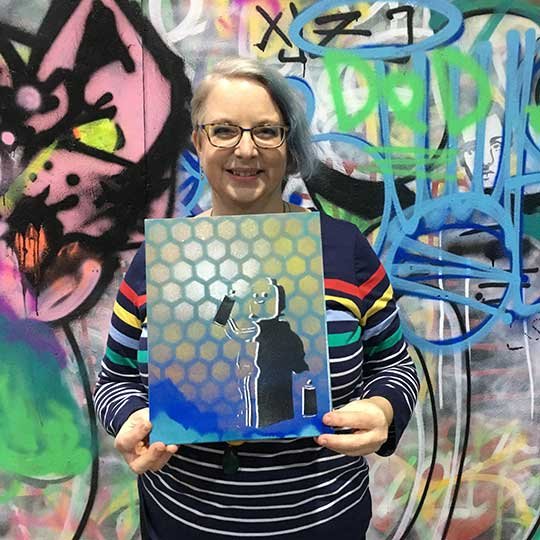 Tamsin with her graffiti art
Whether through art, architecture – or even the traffic lights, with their distinctive Ampelmann pedestrian signs – history, division and reunification are writ large on the walls and streets of the city. With so many buildings damaged during the war, old and new meets at every corner and it's a very visible evidence of change and progress. The oldest buildings are in the east; western Berlin was built around 1900 as the city grew, now taking up around 900sq km. The public transport system proves far quicker than either walking or driving and we set off to explore.
Stopping off briefly for a currywurst at legendary snack stall Curry 36, we head to the Nineties exhibition at Alte Münze, to find out more about the fall of the Wall in 1989. Multi-media sources bring it to life; from a shocking display of rifles signifying those shot while trying to make the crossing, to vox-pop interviews with Berliners young and old from both sides of the Wall. Our guide Sabine tells us how her family would take day trips to the East: 'It was like moving from a colour movie into black and white, everything was grey and brown, with buildings falling apart.' Video recollections span a wide range of viewpoints, from a former East German policeman to a young far-right hooligan (now a middle-aged furniture designer!). An exciting liberal atmosphere emerged and led to many artistic and cultural ventures, as well as political anarchy and alternative lifestyles.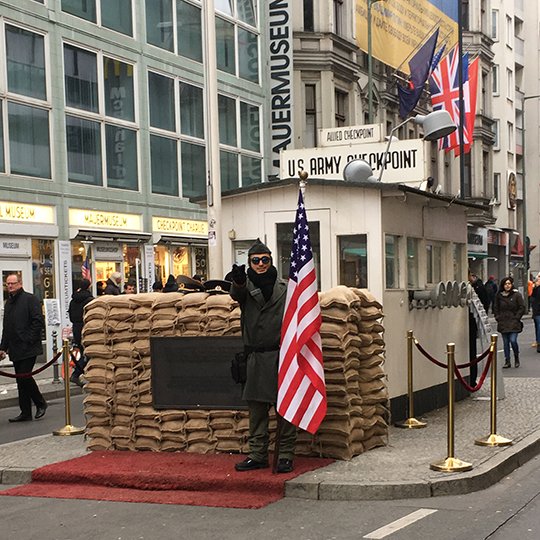 A recreation of border crossing Checkpoint Charlie
The Wall may have divided East and West for 28 years, but 30 years have now passed since reunification in 1990, slowly erasing the differences. Most areas are pretty gentrified now, but there's still an electric vibe, and the sense of something unexpected around the corner. We are staying close to the former border, at the Orania hotel in Kreuzberg, a welcoming oasis after a hard day's sightseeing. All the rooms are decorated in glowing tones with natural oiled wood giving a traditional, comfortable atmosphere. The hotel oozes luxury but is offset with a very personal yet homely touch.
Manager Jennifer explains that they encourage the team to show their authentic personalities so there are no uniforms here. The bar area has roaring log fires, and there's a corner stage for regular live music, including jazz and classical troupes. Passing through jewel-coloured gauze curtains to the restaurant, we are in for a treat at dinner. Jennifer's husband Philipp is the chef, and his signature dish XBerg duck is a four-course delight, starting with duck dashi broth with dim sum, through crispy skin pancakes and on to the breast with pak choi, with egg-topped duck-fried rice as the finale. Philipp has even installed a Chinese roast duck oven, which looks unnervingly like a space capsule that's landed in the kitchen.
Next morning, shopping is the name of the game. Ku'damm (a boulevard that bears many similarities to the Champs-Élysées in Paris) is the prime shopping destination where we browse chic designer boutiques and the famous KaDeWe department store, with its fabulous food hall. Looking for something a little different, we venture to the Hackesche Höfe, a delightful set of courtyards hidden from the main drag of Rosenstrasse, where we discover enticing coffee bars, galleries, interiors stores (Home on Earth has gorgeous felted wool baskets and coconut shell lights) and, my favourite of all, the Ampelmann shop where you can buy all manner of items featuring the hatted pedestrian from those GDR traffic lights.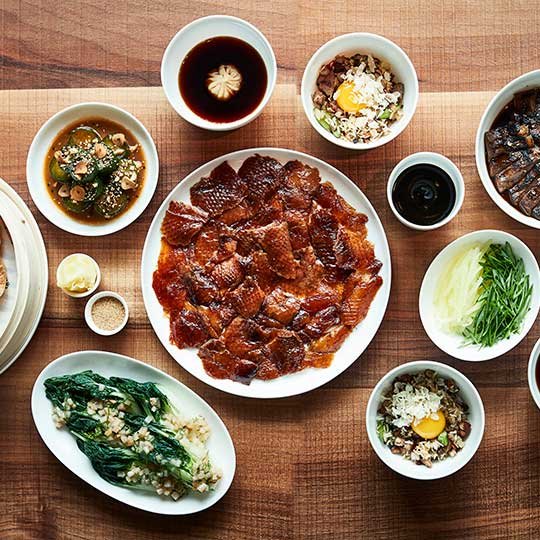 The signature dish XBerg duck
As for food, you can pretty much eat the world in Berlin. In particular, there's a plethora of Turkish restaurants, including the popular chain Hasir. However, receptionist Nadia has recommended a very-unassuming looking place called Doyum, not far from the hotel, tucked under an above-ground section of the subway. Don't make the mistake that we do though and order a lahmacun each, after indulging in a shared mezze selection. These spicy lamb mince-topped flatbreads might be thin, but, they are also huge and, delicious as they are, we barely manage half apiece.
If you're looking for more traditional fare, head to Max & Moritz, named after characters from a children's book series. Here you can tuck into dishes such as goulash and spätzle (thick flat noodles), or klopse, which are meatballs with caper cream sauce and boiled potatoes. So, how do I end up doing graffiti? Another recommendation takes us on a street art tour through Kreuzberg. It turns out that there are many graffiti styles, from simple signature 'tags', through to throw- ups (large designs that cover an area quickly) and (master) pieces – ones that are perhaps rather easier to recognise as 'art'.
It makes me look at it all through fresh, and more accepting, eyes. While in my view there will always be designs that are more vandalism than art, I'm intrigued to learn that graffiti artists have their own code; for instance, covering some-one else's work with your tag shows a lack of respect. In a warehouse, our guide gets to work demonstrating different styles, then hands over the cans – but to create a canvas, not illegally cover a bit of wall. Back at home, I hand over my graffiti canvas to my almost-teenage, hip-hop loving son – it doesn't hurt to show that, like Berlin, his mum can always have a surprise up her sleeve!
How to book:
B&B at Orania.Berlin costs from €270 per night, based on two adults sharing an Orania.25 room and includes access to all hotel concerts. Visit orania.berlin. Street art tours and workshops from €20 per person (age 14-plus). Visit alternativeberlin.com.
Don`t miss

---