Travel
A holiday on the water: Canal du Midi, France
by Lorna Parkes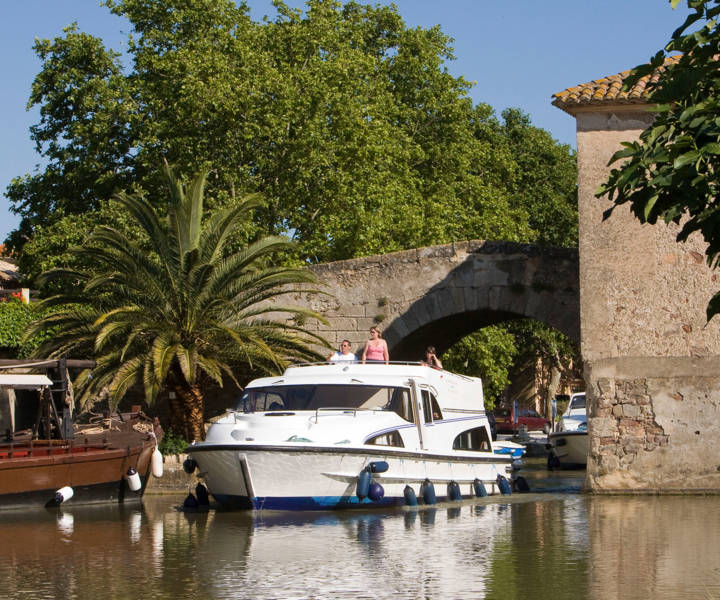 Le Boat in Le Somail
Meandering along the Canal du Midi, Lorna Parkes takes the wheel on a boat and seeks out idyllic French country life, wine talent, organic gardens and world-beating olives
The veins of the Canal du Midi are soaked in wine. Vines well up either side of the banks, stretching for miles in flat emerald ripples that shine with luminous phosphorescence under the midday sun. Wine chateaus dominate waterside villages with vine-draped bistro terraces. Boats, like mine, chime with glass clinks as lazy canal lunches are marked by the opening of rosé at bankside moorings. It all feels reassuringly French.
France is justifiably proud of this 150-mile royal canal, which was built under the reign of Louis XIV to link the Atlantic with the Mediterranean so traders could avoid the tricky politics of the Straits of Gibraltar. When the canal was completed by Pierre-Paul Riquet in 1694, village trading ports quickly emerged and prospered along the banks of the resource-rich Languedoc. One of them was Homps, my starting point for this five-day trip along a small section of the canal through Occitanie.
On our first night on board, before garlicky escargot and steaming duck cassoulet on the hidden bistro patio of La Péniche, we start by learning the ropes. 'Look!' gestures Patrice who is exasperatedly showing us, for the third time, how to tie a mooring knot. Le Boat, the company we have hired our vessel from, runs self-guided itineraries along the canal, which means that tomorrow we will need to master the locks and moorings on our own.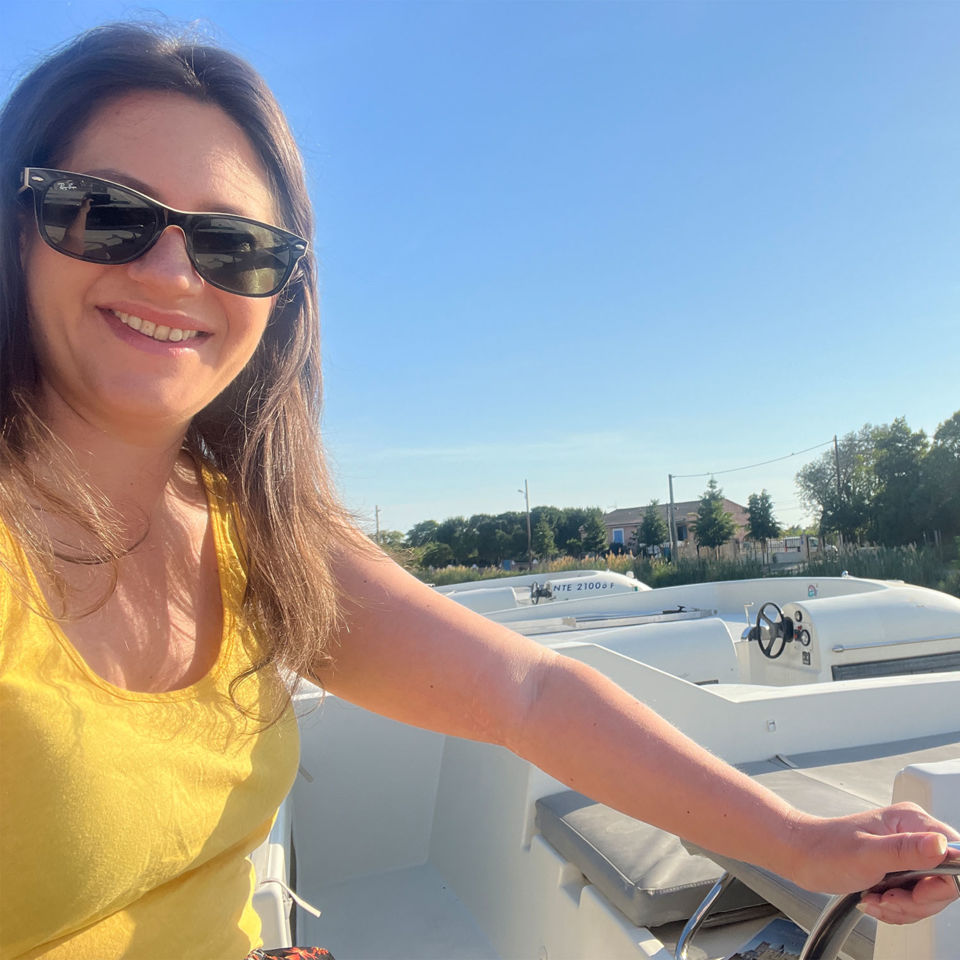 Lorna Parkes takes a sunny selfie
The first lock emerges within minutes of us leaving Homps the next day, heading east. There are soggy failed rope flings, botched knots and minor scrapes I'd rather forget. The second, Ecluse d'Ognon, is more enjoyable – not least because of the colourful menagerie of papier-mâché art installations, arranged as a community of flower-pot headed figures and torsos around the lock-keeper's house.
Soon we start to work like a well-oiled machine and the locks become exciting markers of our progress down the canal. Each one is unique. At Argens I see a swarthy gardener pottering about tending his waterside vegetable plot. At Pechlaurier we are greeted by Didier, who sells local foodstuffs to boaters and cyclists from a stall in front of the lock-keeper's house. Throughout the week, he visits neighbouring growers to collect their produce.
While tying ropes, we feast our eyes on punnets of ruby-coloured garden strawberries, giant bulbs of organic salad onions, local Aude honey, olive oil and homemade wholegrain mustard. Local Minervois wines, along with plum, cherry and pear eau de vie, are proudly positioned on the countertop.
After hours of lock negotiations and a cheese and charcuterie boat lunch, we arrive at the private mooring of Chateau de Paraza. This wine estate predates the canal and we learn that Riquet lodged here while overseeing its construction.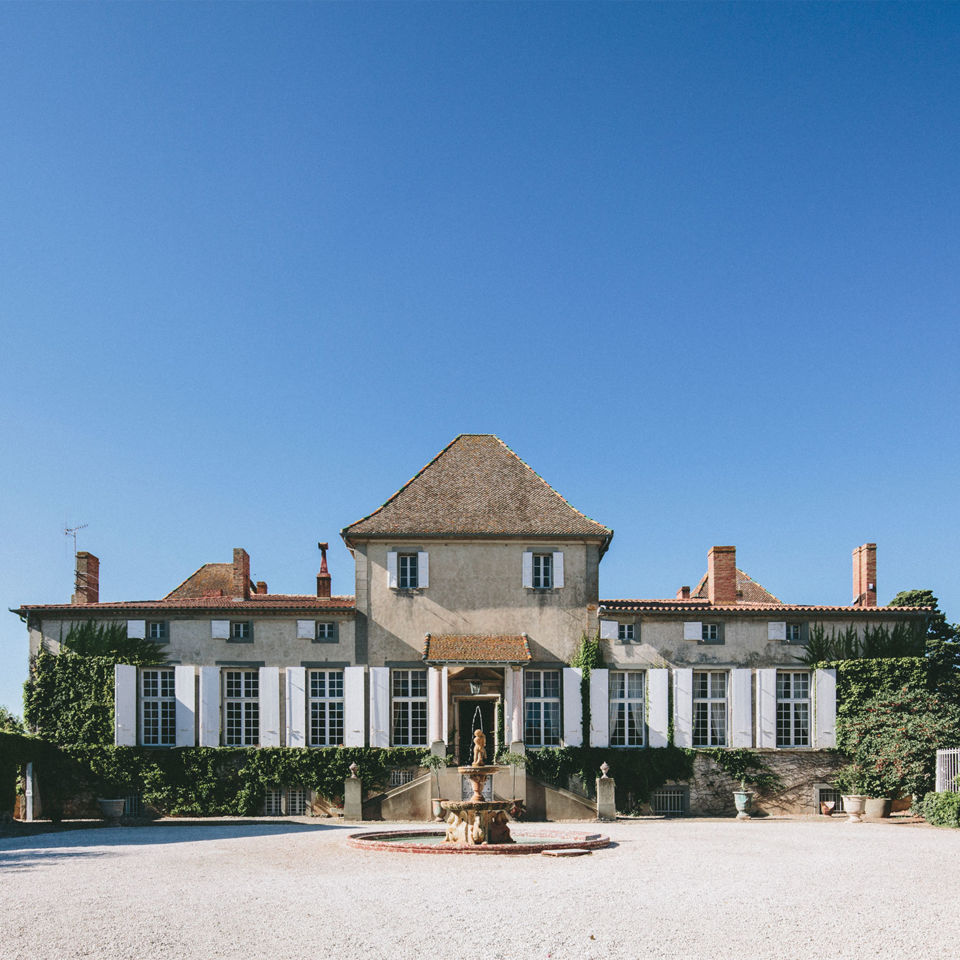 Chateau de Paraza
In the past five years, the Danglas family, who now owns the estate, has opened its house again as a gorgeous small hotel. Over a tour and tasting, co-owner Lucile Danglas tells us more about the Minervois appellation, which is still largely undiscovered in the UK. 'It's not well known yet – wait for it,' she jokes. Lucile is excited about where Minervois wine production is heading, as old winemakers in the area move aside for the next generation. 'This region used to be known for producing massive volumes of wines that were not really good,' she admits. 'Now I'm very happy and proud to be Minervois. There are dynamic young winemakers trying to do great quality. It's very exciting.'
The classic Minervois style is a blend. At Paraza's cathedral-like cellar door, we taste aromatic roussanne mixed with white grenache to bring some roundness to the flavour. In the reds, it's typically a combination of grenache, syrah and mourvèdre, which produces a medium-bodied wine. Paraza is lucky to have old vines, many around 65 years in age, and the quality of production is excellent. 'I like to say winemaking is a bit of magic,' says Lucile as she pours.
Boating on the Canal du Midi brings home the beauty of slow travel. The maximum speed is 8km per hour (just over 4 knots) but we rarely get near that. In comical tortoise-versus-the-hare fashion, cyclists stream past us on the towpath. Dog walkers wave as they overtake. It would be quicker to stroll to our destination than sail there, but that's not the point. Our journey unfurls like a long afternoon at a terrace bar on a glorious summer's day.
That evening we moor and eat in Le Somail, a village so classically pretty it feels like stepping into a Van Gogh painting. A key 1700s trading port for the city Narbonne, it now has just 60 permanent inhabitants in its historic core yet impressively manages to support five restaurants, sprawled across inviting fairy-lit terraces around an arched bridge.
As if they'd been paid to turn up and raise an eyebrow, a gaggle of geese and a Barbary duck parade past our canal-side table as I demolish silky foie gras crème brûlée, smoked duck charcuterie and rillettes with a sublime warm fruit chutney. Our restaurant, Le Comptoir Nature, specialises in local produce and high animal welfare. Sourcing is discussed in detail on the menu, so I know that the foie gras on my plate is from La Famille Tardieu à Mezerville, is organic and comes from free-range geese fed on cereals.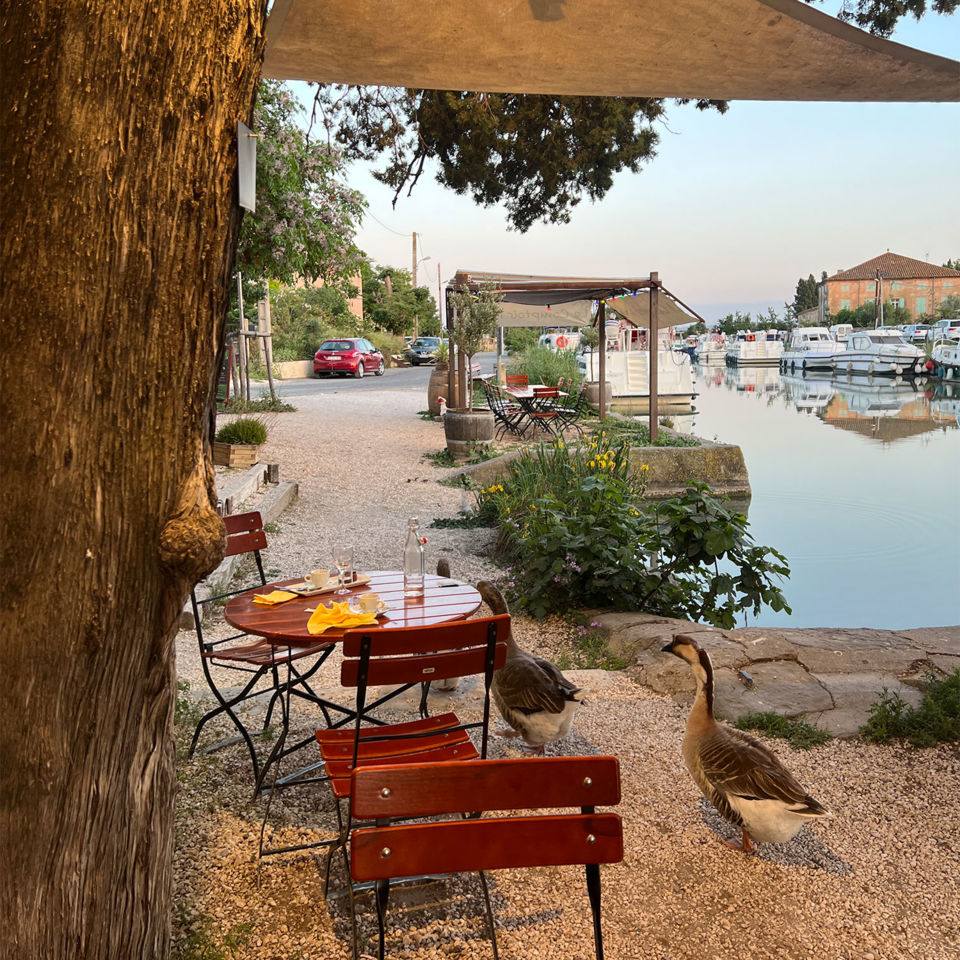 Le Comptoir Nature
The next morning we're off to visit the L'Oulibo olive oil collective on a guided electric scooter tour with Big Up Cycling. Our journey along the towpath mixes welcoming canopies of tree shade with hot stretches of bald banks, showing the devastation of colour canker – a fungi disease that has infected 30,000 plane trees along the canal. Large waterside areas have had to be felled, leaving sun-exposed banks and threatening local ecosystems. Our guide points out a corridor of saplings – part of a replanting project supported by Le Boat to rebuild the canal's biodiversity.
L'Oulibo specialises in the rugby-ball shaped Lucques olive, a protected appellation that in France is only cultivated in three local departments: Aude, Hérault and Pyrénées-Orientales. Among the olive groves our enthusiastic guide Emy describes the Lucques as 'the green diamond'. The French swear by these olives. The green (found on the table in local restaurants) are firm and delicately flavoured, while the black are fleshier and more complex.
L'Oulibo is a co-operative of 1,000 local growers, which means that producers get a fair wage for their labour – 80% of the retail price goes directly back to them. 'It's a sustainable exchange,' explains Emy. A bottle of unfiltered, slightly spicy lucques olive oil comes back with me to the boat for salad dressing.
On our return journey to Homps, we moor at Paraza village beneath the chateau and are surprised to find ramen on the menu at the chic OKN9 terrace restaurant, a 30-second hop from our beds. We pass a waterside playground in the shadow of a fairytale castle at Argens-Minervois. There is more wine at the canal-side Chateau de Ventenac-Minervois, a village-dominating Gothic-style facility that runs as a co-operative for village winegrowers.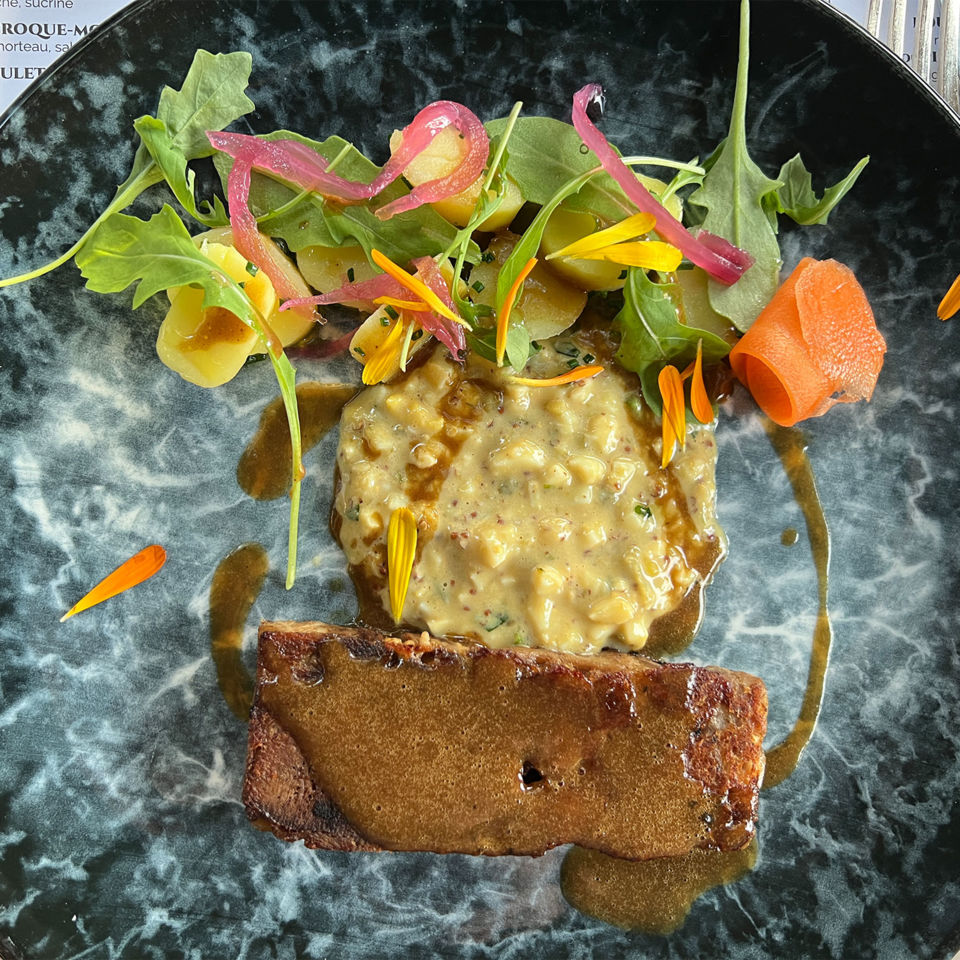 Crispy calf's head terrine at Brasserie 4 Temps
Our last meal is at the excellent Brasserie 4 Temps, owned by Michelin-starred chef Franck Putelat. Its chatter-filled terrace sits at the foot of Carcassonne's medieval fortress. The food is contemporary and clever: rich, crispy calf's head terrine with a creamy egg sauce, and wild mushroom-stuffed guinea fowl with a tarragon jus are my choices. But Carcassonne's reconstructed turrets and tourist shops are no match for the genuine, casual loveliness of the Canal du Midi villages. If I had to paint a picture of France at its best, it would be back on the water.
How to book
Le Boat runs several different boat categories and itinerary routes along the Canal du Midi. A seven-night, self-catered cruise on board a Premier Horizon 5, with five double ensuite cabins, is priced from £3,139 per boat, or £262pp for 2022, starting/finishing at Le Boat's base at Homps. The season runs from around mid-March to the end of October. Transport to and from the base is not included. The nearest international airports are Toulouse (served by British Airways) and Carcassonne (served by Ryanair).
Don`t miss

---