Travel
Flavours of the Algarve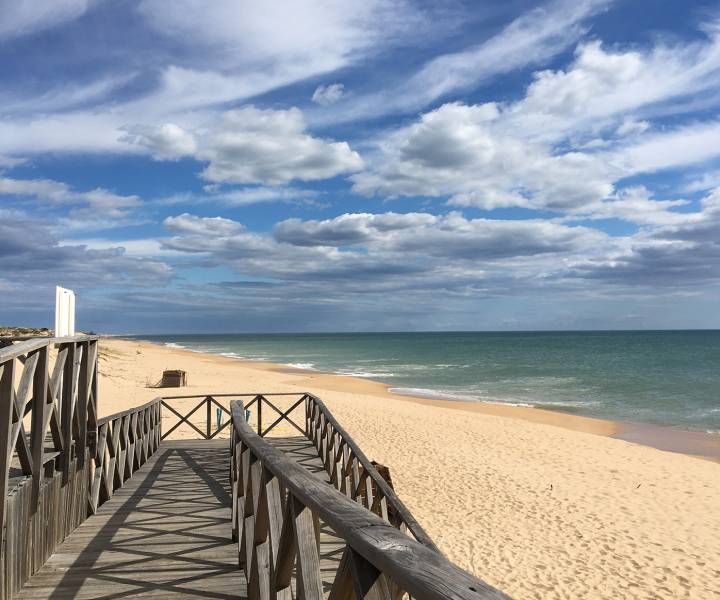 Praia Quinta do Lago beach near the resort. Image: Getty Images
From giant garlicky prawns to succulent piri piri chicken Helen Renshaw discovers the food secrets of Portugal's southernmost region...
The taxi driver cast an enigmatic smile over his shoulder in response to our question, before an emphatic response. 'Money!' he replied. We're on the road from Faro airport to Quinta do Lago – a region in The Algarve known as 'The Golden Triangle' – and we'd asked our cabbie how it had gained the epithet. His answer was something of a surprise. The scrubby landscape dotted by superstores and nondescript villages didn't look hugely promising – certainly not a destination to attract the global fat cats our taxi driver insisted are flooding the area.
But turning off the road into the Quinta do Lago development was like slipping from the dusty day-to-day into a vibrant technicolour dreamscape. The scrubland fell away, replaced by cypress trees, majestic palms and sculpted, Dr Seuss-style pines, soaring above banks of lavender, purple fountain grass, bold lilies and fragrant herbs. Colossal villas appeared, tumbling with bougainvillea. And everywhere, the view was strung with an emerald necklace of lush green fairways.
Quinta do Lago is Portugal's most prestigious development – and our driver was bang on: wealth hangs in the air like an expensive perfume. Tucked deep within this gilded utopia was our ultimate destination: Four Seasons Fairways, a resort that's both luxurious and surprisingly affordable.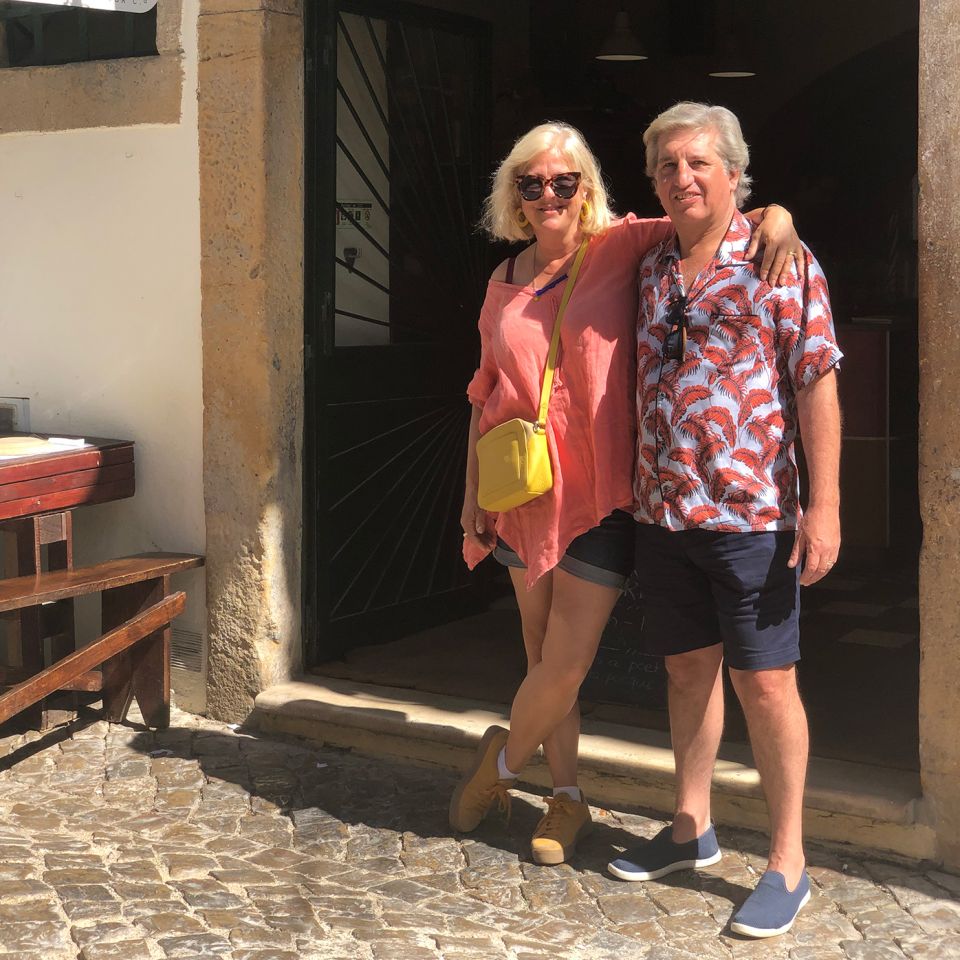 Helen and Marcus in the sun
And before you ask, yes, there's golf. Lots of golf. But there's so much more to The Algarve than the best way to ruin a good walk (according to Oscar Wilde, my husband Marcus and me), and lots of it turns out to be utterly and quite unexpectedly delicious. More of which, I will divulge later. Four Seasons Fairways is a collection of smart villas and apartments clustered around a central clubhouse. If you're looking for total relaxation, you barely have to set foot outside the complex, which boasts a spa, gym, swanky swimming pool,tennis courts, beauty salon, children's club and two delightful restaurants.
Our home for a week was well-equipped, luxurious in a make-yourself-at-home kind of way and very cleverly designed – a smart apartment that somehow manages to feel like a stand-alone villa. Two large bedrooms (the master bedroom complete with a comfy super kingsize bed) and three, yes, three, luxurious bathrooms open onto a spacious open-plan kitchen and living area.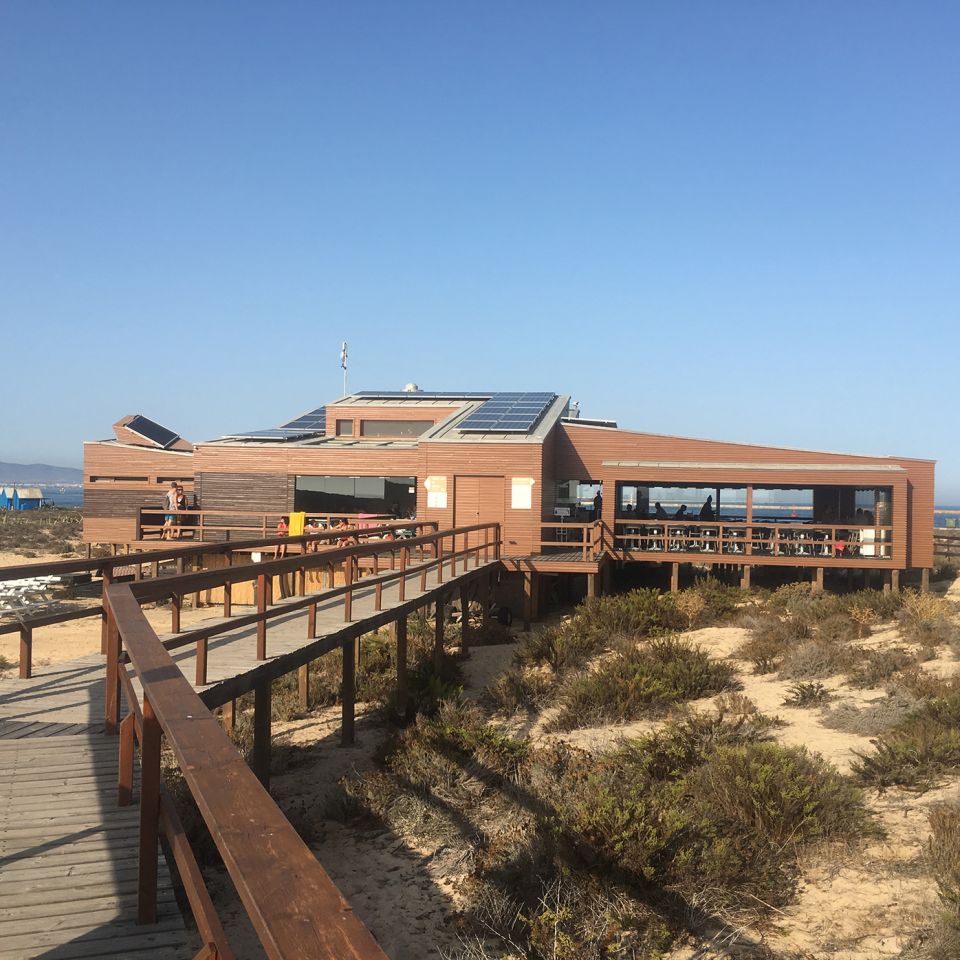 The Estamine seafood restaurant
There's also a large terrace overlooking gorgeous planting, home to tuneful, blue-tailed birds. And – memo to anyone who thinks winter sunshine demands a long haul flight – we were out on the sun loungers every day, even though our visit was in early October. Other regular guests reported plenty of sunshine well into January and February. Slap bang in the middle of the 2,000-acre development, Four Seasons Fairways is well-placed for enjoying the wider 'Golden Triangle' with its fabulous praia, or beach – a vast expanse of near-white sand punctuated by Caribbean-style shades.
There, we dropped by a characterful beach shack by the name of Gigi's, where we enjoyed a stick-in-the-memory lunch of Gambas da Costa – locally sourced king prawns swimming in garlic, olive oil and parsley – and fragrant, lemony mussels, accompanied by a chilly glass of bone dry local white. It was the first of many encounters with the extraordinary seafood that characterises The Algarve's coastal cuisine.
Here, though, it's only fair to raise a note of warning: fish is often priced by weight and we found a vast discrepancy in terms of cost. You may get a nasty surprise when the bill arrives. We did. Let's just say 40 euros is quite a lot for two tiger prawns, no matter how delicious, so do keep an eye on the prices! Our lunch at Gigi's was followed by a gentle drive around Quinta do Lago – okay, I admit, we rubber necked fantastical villas, catching a glimpse of how the other half lives for at least an hour and it was fun.
But our trip wasn't all about Quinta do Lago itself. Centrally positioned on Portugal's southern coastline, the resort's perfectly placed to head inland and discover an off-the-beaten-track Algarve, rich in cultural and gastronomic delights and almost devoid of tourists. One day, we drove on winding country roads through forested mountains, olive groves and farmsteads to the mountain village of Barranco do Velho, where we discovered A Tia Bia, a family-owned restaurant serving traditional Portuguese cuisine at its finest. This hidden gem is beloved by locals for its hearty country dishes, and no wonder – our melt-in-the-mouth blackened pork shoulder and rich venison stew were divine.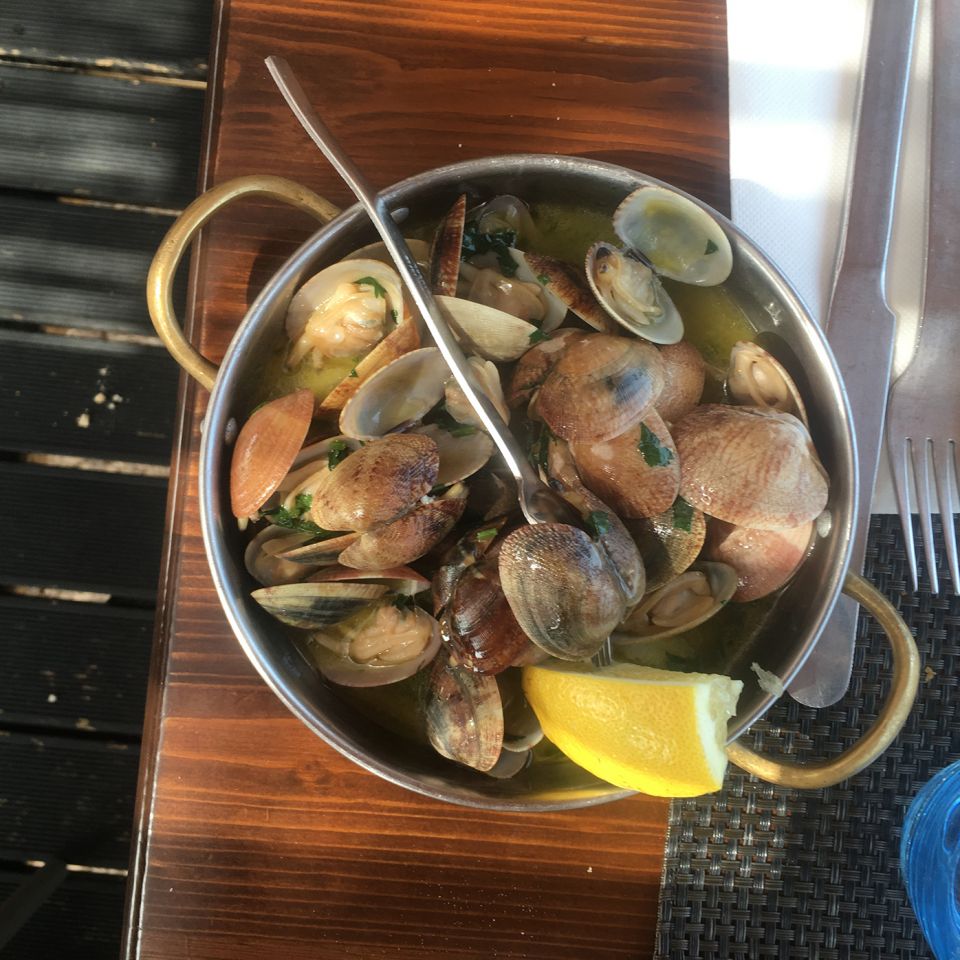 Magnificent clams are served!
On another stand-out day, we boarded a small boat for a tour of the Ria Formosa Natural Park, an atmospheric labyrinth of coastal lagoons, salt marshes and sand dunes that extends along the coast around Faro. It's a magical and otherworldly landscape, where white storks and flamingos patrol the shore, and marsh harriers dive from the sky. The boat dropped us off at Ilha Deserta – you can probably work out what that means. But it's not entirely deserted.
On the island stands a single building that's home to a unique restaurant that must surely count as one of Portugal's best kept secrets. Estamine is an elegantly sparse wood and glass building, perfectly integrated into the surrounding wilderness. Here, you'll enjoy unobstructed views of sand and sea, while experiencing some of the most exquisite seafood you've ever had. We feasted on crunchy 'beach prawns', which were coated with a light dusting of secret spices and simply grilled sea bass that tasted as if it had just been plucked from the Atlantic a few metres away. It tasted that way, because it had. After lunch, we took a stroll to the empty beach. Heaven.
A resort bar ready for drinks
Another highlight was the Fisherman's Food and Culture tour in Faro with Joana, the owner of Algarve Food Tours. Joana is an Algarve native whose passion for local gastronomy is utterly infectious. Our tour began in the food market, where Joana was on first-name terms with every stall holder. These are old family businesses, and we met them all – the bread lady selling pão de abeça (or bread of the head, named for its shape), the guy who sells the freshest goats' cheese and the fishmonger with his magnificent array of sardines, clams, bacalhau (salt cod) and monkfish.
There were stalls of fabulous fresh vegetables, dried figs, almonds, herbs and honey. And even the coffee shop we stopped at has been run by the same family for decades – everyone from fishermen at dawn, to the mayor at lunch and late-night students gather to catch up on local gossip. We stuffed ourselves with bifana – a traditional sandwich made with thinly sliced pork, marinaded in garlic, spices and white wine, drizzled in cooking juices and sandwiched in a crusty roll. You may think your regular bacon sarnie cannot be beaten. You may have to think again.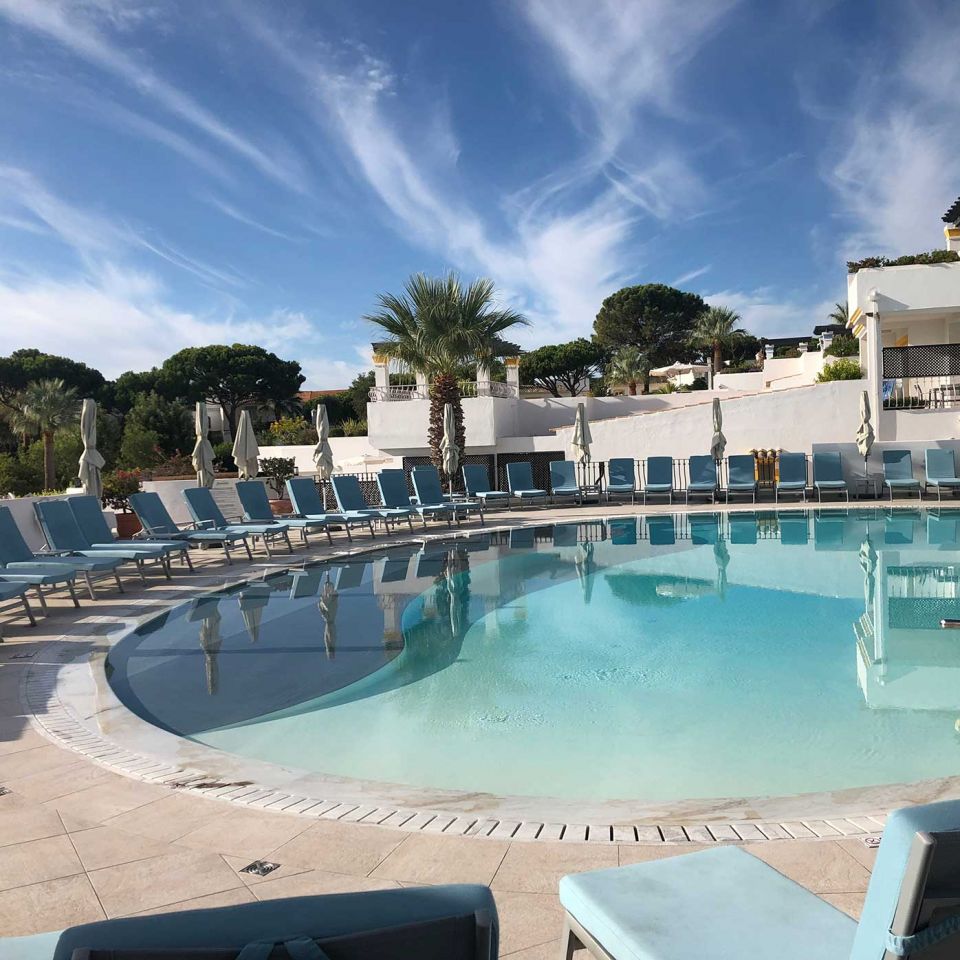 The swanky swimming pool
We also sampled the fare at some of Joana's favourite local cafes and restaurants. At one, we tried açorda, a soup made with day-old bread, fish, poached egg and coriander in a garlicky, vinegary broth – Joana tells us it's been a favourite since her childhood. Another must-visit is A Venda, a wonderfully quirky place in the arty part of town. The team there takes whatever the market offers up that day and turns it into inventive Portuguese tapas.
We tried cod with chickpeas, tempura sardines and anchovies doused in olive oil. We ended our tour with a treat made from carob, marzipan and fig, followed by a sour lemony cocktail sweetened with local almond liqueur at Columbus, a cool piano bar in town. For most meals, we ate at the two restaurants in the Four Seasons Fairways clubhouse. At Vivo – a friendly place with great service – we enjoyed fantastic breakfasts of French toast dripping with maple syrup, wild berry smoothies, and Serrano ham with asparagus.
For dinner, we feasted on two of the area's most iconic dishes – succulent piri piri chicken and cataplana, a rich seafood stew steamed in a clam-shaped dish. One evening we treated ourselves to the tasting menu at Amara – highlights included slow-cooked squid served with carrot purée and apple and fennel salad, caramelised pork belly with roasted plums, followed by lemon and basil parfait with strawberry granita. Another night, we cooked under the stars on our terrace barbecue. To showcase the fabulous market produce, we tried recipes created specially for Four Seasons Fairways by Tom and Henry Herbert (aka The Fabulous Baker Boys). We chose tipsy figs and curd and trouserless sizzling prawns. We can vouch for their deliciousness.
Yes, Quinta do Lago may be brimming with billionaires and the Algarve may be forever associated with golf. But it doesn't have to be eye-wateringly expensive, and you don't need to be lugging a bag of four irons to enjoy it. The true riches of the region lie in its cultural heritage, friendly people and outstanding gastronomy. The stuff that money just can't buy...
How to book
Four Seasons Fairways offers a seven-night stay in a two-bed apartment with a private Jacuzzi from £1,050 in low season and £2,400 in high season. To book, visit fourseasonsfairways.com.
Don`t miss

---