Travel
Cruising around the Scottish Isles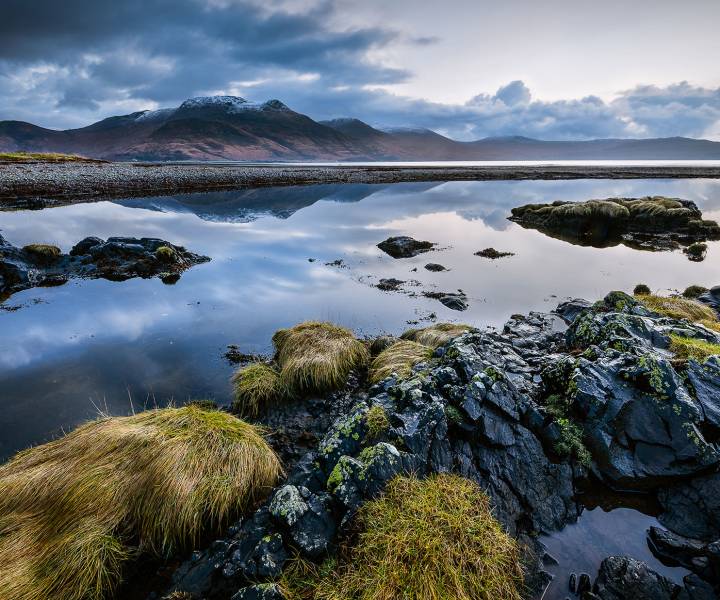 Scotland's west coast. Image: Getty Images
Staggering natural beauty and stonking home-cooked food make this a staycation to remember for Helen Renshaw
Up the giant bird soars, turning and turning in the widening gyre above the profound stillness of the Loch. It's a rare transcendent kind of moment, the kind of moment that turns the mind to poetry (thanks for the pilfered phrase, Mr W. B. Yeats). Was it? Could it possibly be...? 'If she circled too high for the human eye to follow, then yes, almost certainly a golden eagle,' confirms the skipper, as we describe our soul-stirring encounter over a cuppa and one of Janet's special cookies; rich with syrup, oats and fat cranberries.
It's the moment Marcus and I add a double whammy to our list of visceral thrills – first-ever glimpse of this spectacular predator and possibly the best biscuit we've ever tasted. It's a list that's been growing by the hour. We're four days into a unique six-day adventure exploring the inlets and islands of Scotland's west coast with Argyll Cruising. And the fact that this is no ordinary holiday has been clear from the moment we stepped aboard our trusty vessel, the Splendour.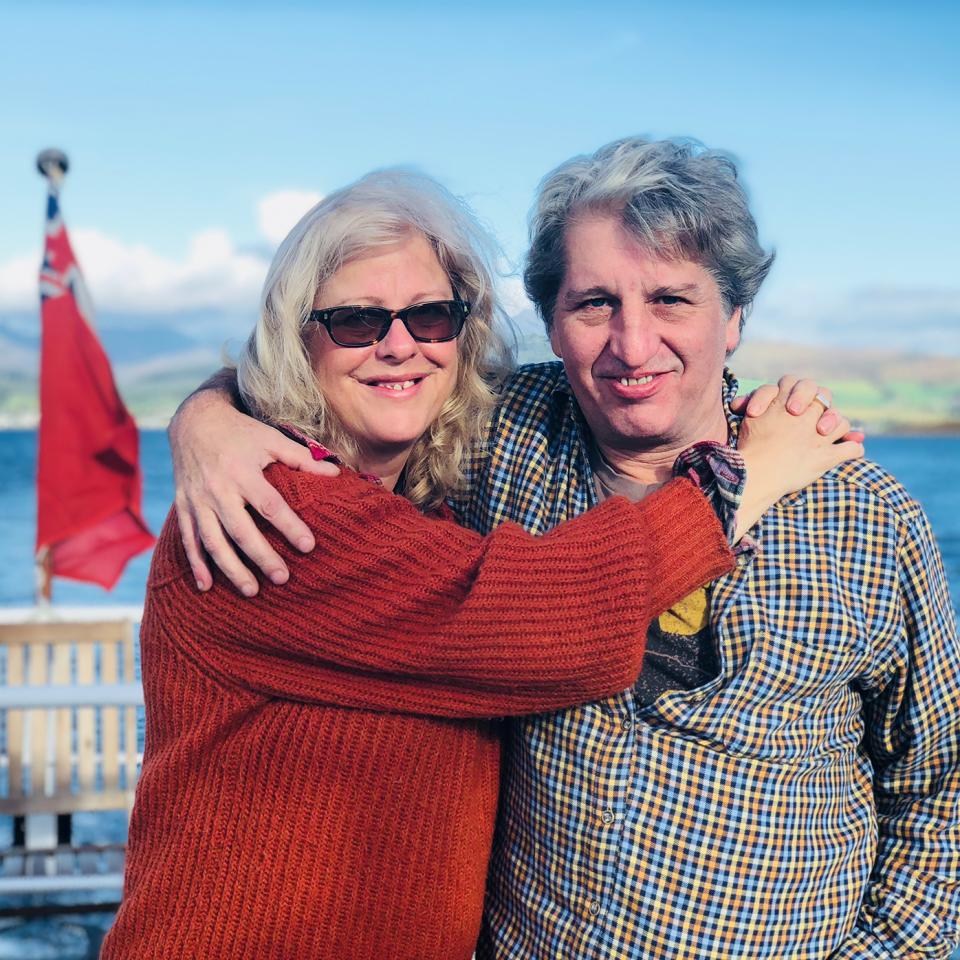 Helen and Marcus aboard the Splendour
First up, we're in what must surely count as one of the planet's most stunning locations – a magical destination that's shockingly close to home. One minute, we're bumping hand luggage with the hordes at Luton Airport. Barely two hours later, the breathtaking beauty of Scotland's west coast is unfurling before us. The vast and ever-changing sky; the towering forests; the craggy mountains; inlets, sea lochs and islands. The silence and the majesty.
Then there's the amazing array of wildlife to see – porpoises surf the Splendour's wake, red deer stalk the steep bleak hillsides, armies of seals line the shoreline and....what's that?...could it be a pine marten we've just spotted through the binoculars? It makes you think. So often we overlook what's on our doorstep; it gets lost beneath a hankering for the new, the different, the fashionable. Yet few of the exotic destinations Marcus and I have visited rival this landscape for the kind of natural beauty that sets those poetic juices a-flowing.
Decked out
But what really marks this out as a different kind of break is the Splendour herself and her two-strong crew, skipper Iain Duncan and his sister-in-law Janet Thom, a woman who magically elevates home cooking to a whole other level. Iain is a man in love with his boat (his description of 'the beautiful Gardiner diesel engine' speaks volumes), in love with the land of his birth and in love with the sea, cruel mistress that she is. He cuts a wonderfully reassuring figure at the helm, with his nice line in laconic humour, encyclopaedic knowledge of the area and a big dollop of plain common sense. And Janet's cooking – more of which later – is the plump, glossy cherry on top of a fabulous cake. Suffice to say, this is a sea-bound adventure as different from your typical cruise experience as homemade venison stew is from a petrol station ham sandwich.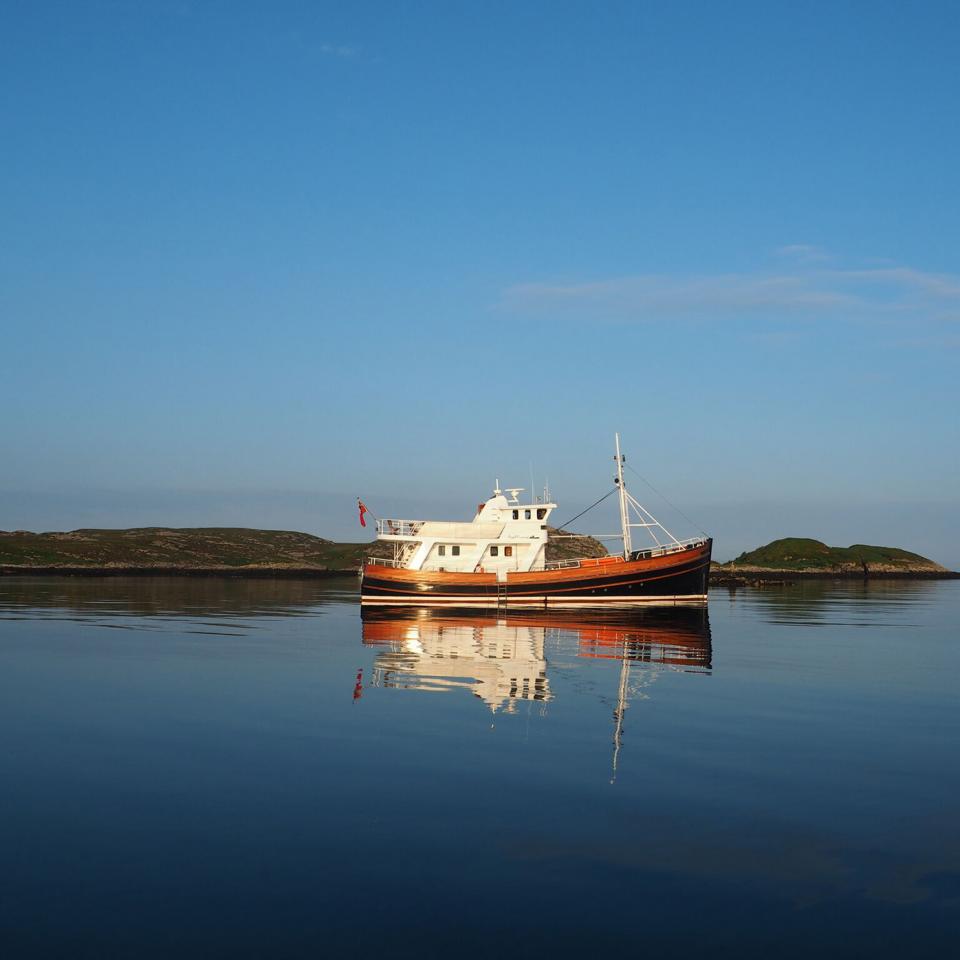 The Splendour
Getting cosy
The Splendour is not a large boat – converted from a traditional wooden Scottish fishing trawler, she's 20m in length and accommodates just eight guests. There's a lovingly homemade feel about her – our cosy cabin features a snug en-suite, pine panelling, woolly tartan blankets and a hatch held up by a simple chain that lets the pure, thin sunshine flood in. There's a special kind of boat aroma – part salt air, part wood, part diesel – that combines with the rhythmic creaking, the cries of the gulls and the gentle rumble of the generator to create a deep sense of calm.
Onboard, the art of conversation is revived as we share meals with our fellow guests and an interesting development occurs. Day one: frustration and constant phone checking as reception drops in and out. Day two: checking urges diminish. Day six: clear off with your text, will you? We've got birds to watch and another cake to eat!
The itinerary is vague, driven by the prevailing tide and wind conditions, and there's something exciting about heading into the unknown. Some of the time, we're wildlife watching from the Splendour's roomy deck or wheelhouse. Other times, we're stopping off in sea lochs or heading ashore in a dinghy to stretch our wobbly sea legs. One day, we visit Millport, which has a 1950s air with its lucky dip buckets and bike hire shops with no forms to fill in, just a casual 'och aye'.
Another time there's a walk on Holy Island, home to wild Highland ponies, goats, sheep – and a community of Buddhists. One extra-special day, we sail under the towering cliffs of Ailsa Craig, seabird mecca of the Western Isles, where more than 40,000 breeding gannets swirl and cry. There are cormorants, shags and a boisterous community of inquisitive seals who bob up to check us out from the sea. We see spectacular rainbows, a firework display and listen to Iain's tales of terrifying night-time encounters with giant swells off the Mull of Kintyre (don't worry – he's dropped that from the itinerary).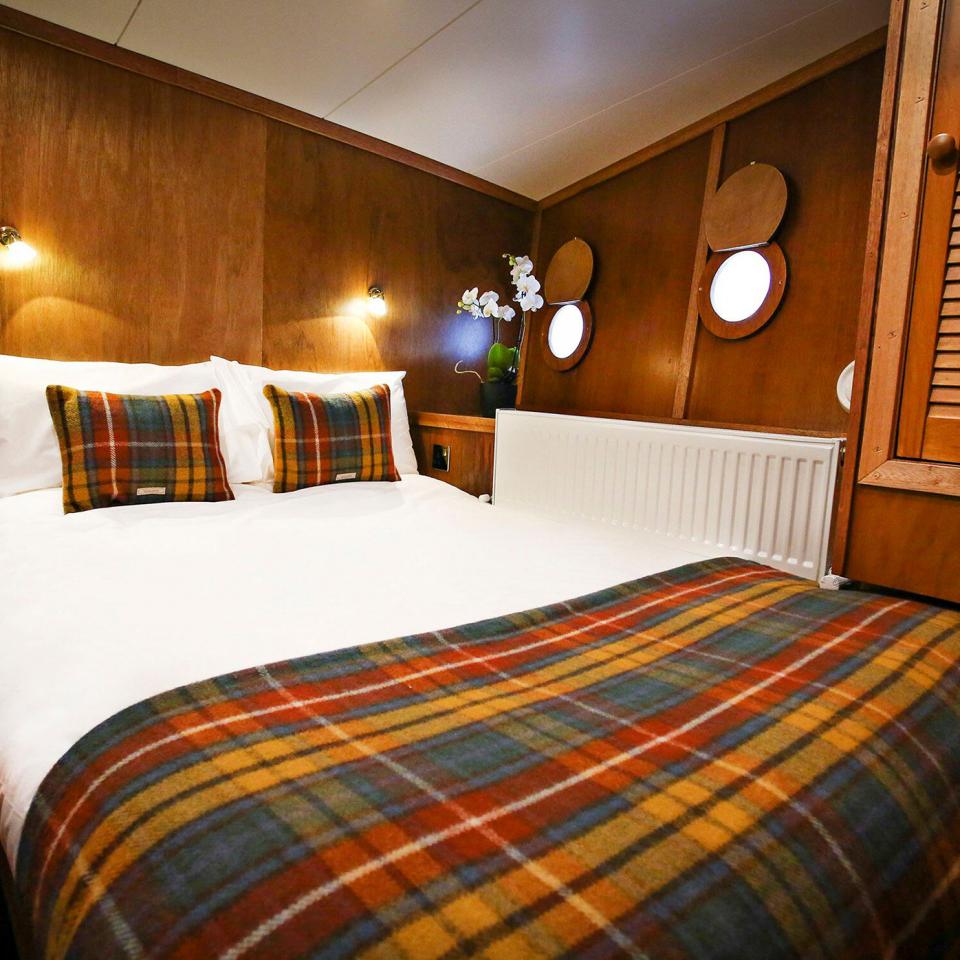 A cosy on-board cabin
And the highlight of every day is Janet's glorious home cooking, which is poetry on a plate. She really does weave some kind of magic in the kitchen. And come to think of it, there is something of the sprite about her – perhaps she's casting culinary spells? I mean, imagine eating your most nostalgic dish – the thing your mum made you on special occasions. Then imagine something that good, every meal, every day. That's what Janet's cooking is like. And it's all made from fabulous local ingredients. Breakfast is a thing of joy. Plump raspberries and blueberries, porridge laced with honey, fat sausages, creamy scrambled eggs with smoked salmon, orange juice, and pots of strong hot coffee. One day, Iain asks if we fancy kippers, too. We all demure – we're just too stuffed. 'Not just kippers,' he craftily adds. 'The best kippers.' Oh, go on then.
There are lunches of homemade cullen skink and floury baps slathered in local butter and bursting with freshly made egg mayonnaise, followed by Janet's amazing oaty-chewy-crunchy Anzac biscuits or a truly exceptional slice of cake. Dinners include succulent local duck, perfectly pink, and served with lingonberries and dauphinoise potatoes, sweet roast parsnips, followed by fresh-from-the-oven sticky toffee pudding, swimming in warm caramel sauce and topped with a dollop of creamy local ice cream. There's fresh local scallops pan-fried to perfection with a touch of black pudding and fresh green leaves, followed by melt-in-the-mouth venison stew, braised red cabbage and creamy mashed potato. We also loved the soft roast pork on a bed of fennel that's sucked up the divine juices, followed by a tart of the crumbliest crumble atop a plump juicy mincemeat – oh yes, and the falling apart, Middle Eastern flavoured slow roast lamb in pomegranate was pretty special, too.
But my personal favourite is salmon en croûte as I've never encountered it before, with currants and ginger. Turns out it's a favourite from one of Janet's oldest cookbooks, with her own twists acquired over the years. It's unexpected and truly excellent – helped, of course, by the quality of the salmon and a dreamy dessert of berry and thick local cream-laced pavlova, complete with just the right crispy to chewy textured meringue.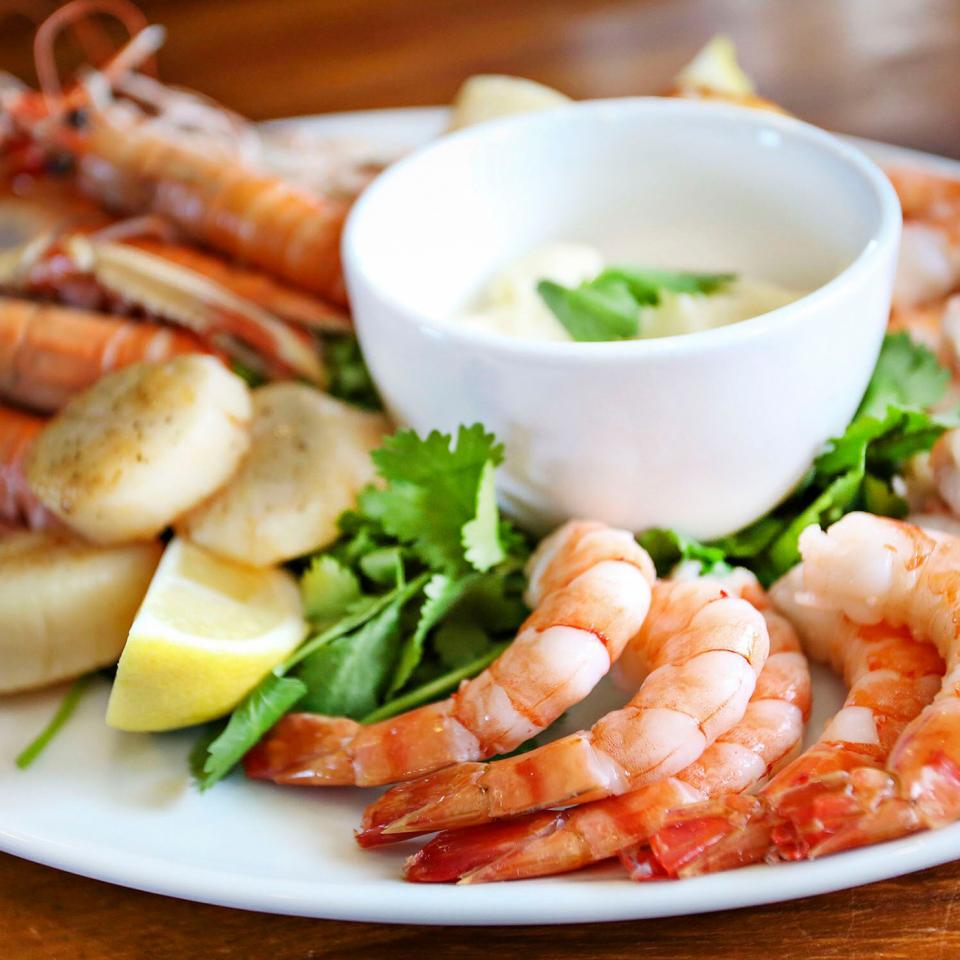 Super-fresh local seafood
Heaven on earth
What can I say? We're on a boat in food, wildlife and scenery heaven. If getting on your glad rags for dinner, loungers by the pool and guaranteed sunshine are your thing, this may not be the holiday for you. It's a windcheater, binoculars and sensible boots kind of a break – definitely no heels required. But if you want your soul to soar like a golden eagle, your tastebuds to be treated with dishes you'll remember for years to come and the poetry within you to be awakened, you could scarcely do better. Could we have stayed aboard the Splendour longer? I should say so. Was it hard returning to dry land? Absolutely. Will we go again? Well, that brings me back to poetry, this time Mr John Masefield, whose words I leave you with: 'I must go down to the seas again, to the vagrant gypsy life, To the gull's way and the whale's way where the wind's like a whetted knife; And all I ask is a merry yarn from a laughing fellow-rover, And quiet sleep and a sweet dream when the long trick's over.'
How to book
Argyll Cruising offers trips from three to 13 days. Visit argyllcruising. com. Three nights cost from £835 per person and include all meals, wine, centrally heated cabins and private ensuite facilities.
Don`t miss

---