With its sharing dishes, big flavours and friendly vibe, the newest Latin American foodie destination is Chile, discovers Rob Crossan.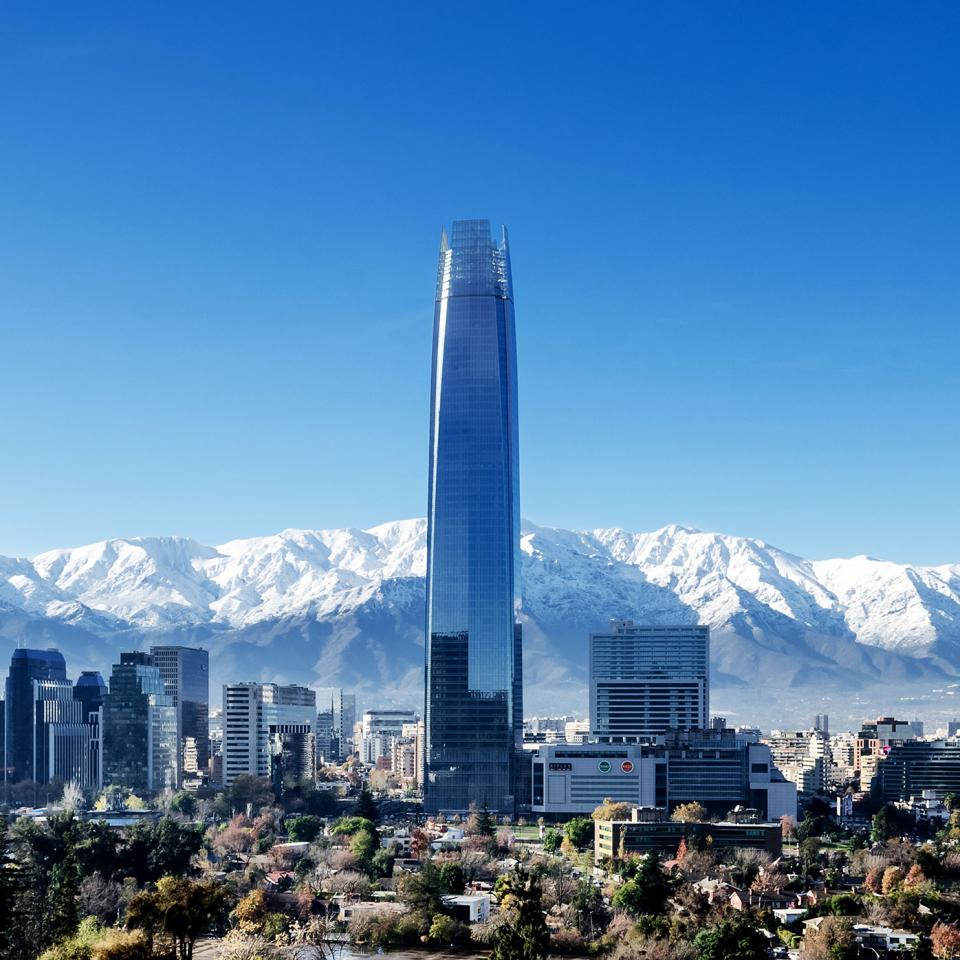 Santiago is 'a strong contender for the most relaxed capital in South America'
It's 10pm in the Chilean capital Santiago - the dinner hour in this long, thin sliver of a country fringing the western side of South America. I'm at the endearingly utilitarian Galindo restaurant in the city's plush Bellavisa neighbourhood, where the streets are lined with pavement cafes filled with laptop-clutching creative types. Here, I sample the local comfort food classics among families and young couples.
I tuck into pastel de choclo, a rich yellow mashed corn pie stuffed with ground beef, onions, egg, chicken breast, black olives and baked potatoes. Served with a lomito – a giant pork sandwich – the onus here is on conversation, sharing and dishes honed by chefs who care more about how food tastes than how it looks.
I'm in Chile to discover the story of its cuisine, little known by outsiders. Santiago, a strong contender for the most relaxed capital in Latin America, feels more like a large town than a city; the boulevards are wide, the buildings a modern vision of concrete and glass, and the parks are packed with canoodling couples, Lycra-clad joggers and pampered pooches chasing Frisbees.
After a few days, I drive went into the Lakes region, the lesser-known soft filling of the nation, sandwiched between the hard crusts of the Atacama Desert to the north and the wilds of Patagonia to the south. A land of vineyards, active volcanos, glacial lakes and contorting country roads, Chileans consider the Lakes region to be the most beautiful part of the country. It's where some of the finest Chilean wine is produced on farms such as Matetic – a small producer making just 500,000 bottles a year.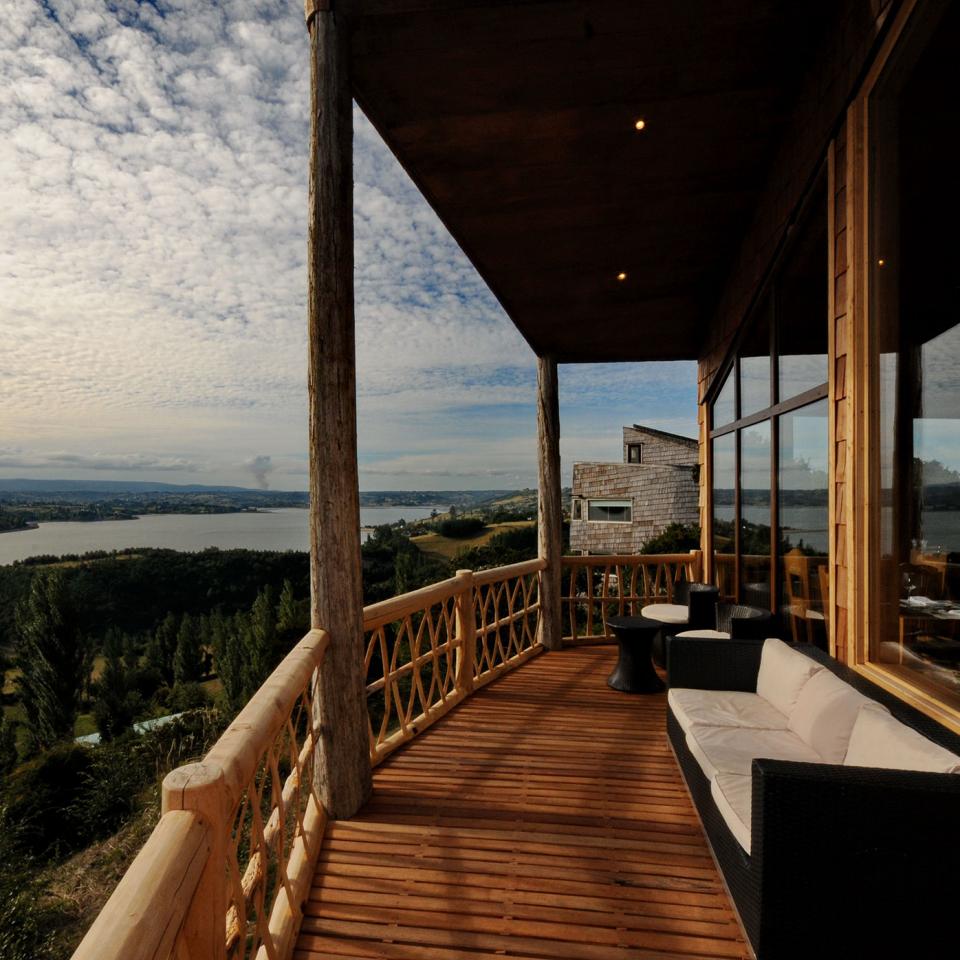 River views from eco-lodge Centro de Ocio
Here, I meet Philippe, a long-standing farm employee, and together we cycle along dusty trails as the sun dips behind fields of Hereford-Angus cows and black-furred alpaca.
'The great thing about the Lakes region is we're still discovering new places ideal for creating vineyards,' says Philippe, as we pedal up a gentle hump of a hill to the sleek, Scandi-style tasting room to sample the vineyard's EQ wine. 'This vineyard opened only 30 years ago,' he continues, as I sip from a glass of EQ Sauvignon Blanc, a wine with a crisp, mineral swing to it.
After a night at the farm's impossibly sweet guest house – all wicker chairs and a Hardyesque English garden – I take a one-hour flight to Chiloé Island, just off Chile's west coast. Chiloe Island is said to be the birthplace some 12,000 years ago of the curanto, a legendary feast of meat, seafood and potato cooked in a fire pit, and still a Chilean lunch staple today. Remains of curantos dating back to the days of the indigenous Chono people are often found here by archaeologists. The meat element is believed to have been added by Spanish conquistadors.
Age and time have done nothing to dampen the country's appetite for this dish, especially on Chiloé Island, where it brings communities together.
I head to the fishing village of Tenaún where, in the grounds of a tiny, clapboard guest house, owner Maria heaves an immense box of mussels and clams, their shells the size of dock leaves, and pours them, in their hundreds, over a fire in a shallow pit. It's barely noon and word of an imminent curanto has got out. Already, a dozen neighbours have gathered. Amid laughs and the clinking of ice-cold bottles of lager, immense pork chops, 'sausage dog'-long rolls of chorizo and LP-sized discs of potato bread flecked with pork fat are added to the crustacean avalanche.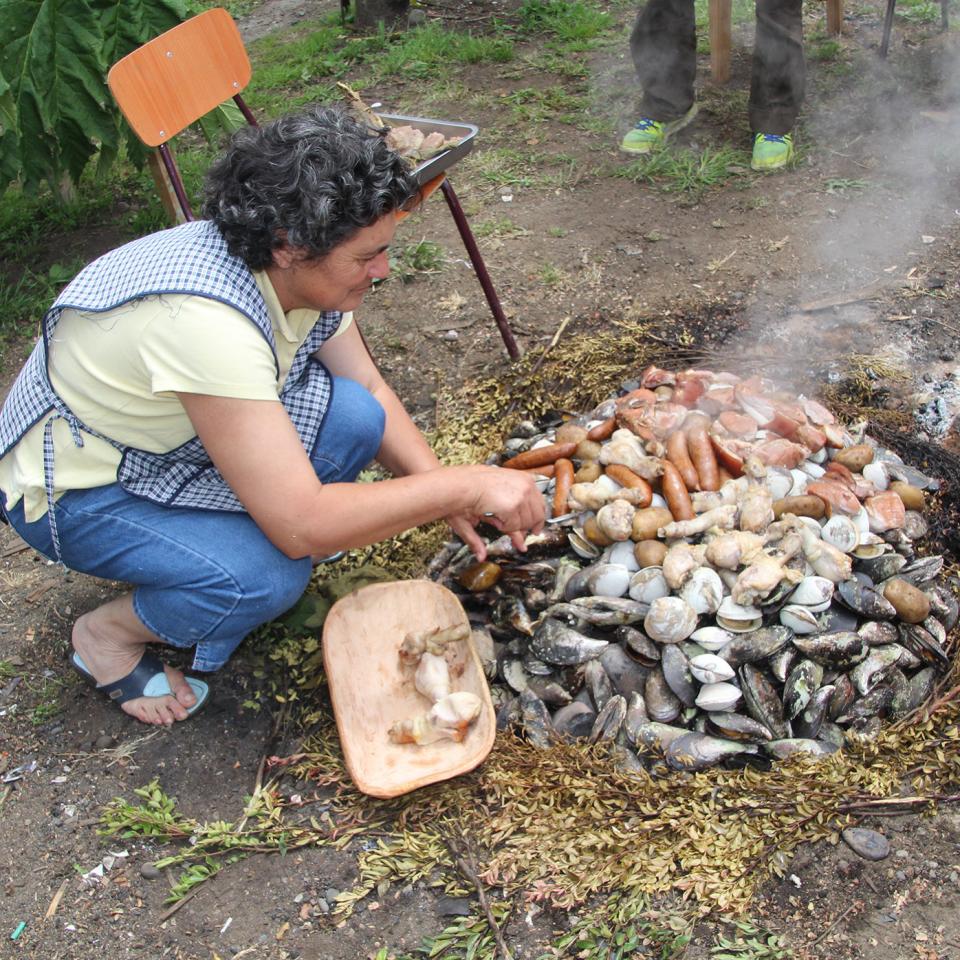 Preparing the curanto feast in a fire pit
'Usually we only have a curanto when there's something major to build,' says bar owner Cyril. He's referring to the custom of la minga, where the whole community turns out for a project, such as moving an entire house by floating it from one part of the archipelago to another, or repairing a church roof. 'But sometimes we do it just because we're hungry.'
As the villagers drag huge nalca leaves (a member of the rhubarb family with two foot-long leaves) and place them on top of the food for an hour to smoke, I wander down to the harbour where fishermen are painting their boats. The dusty drag of Tenaún high street lies empty, except for a solitary dog, dozing.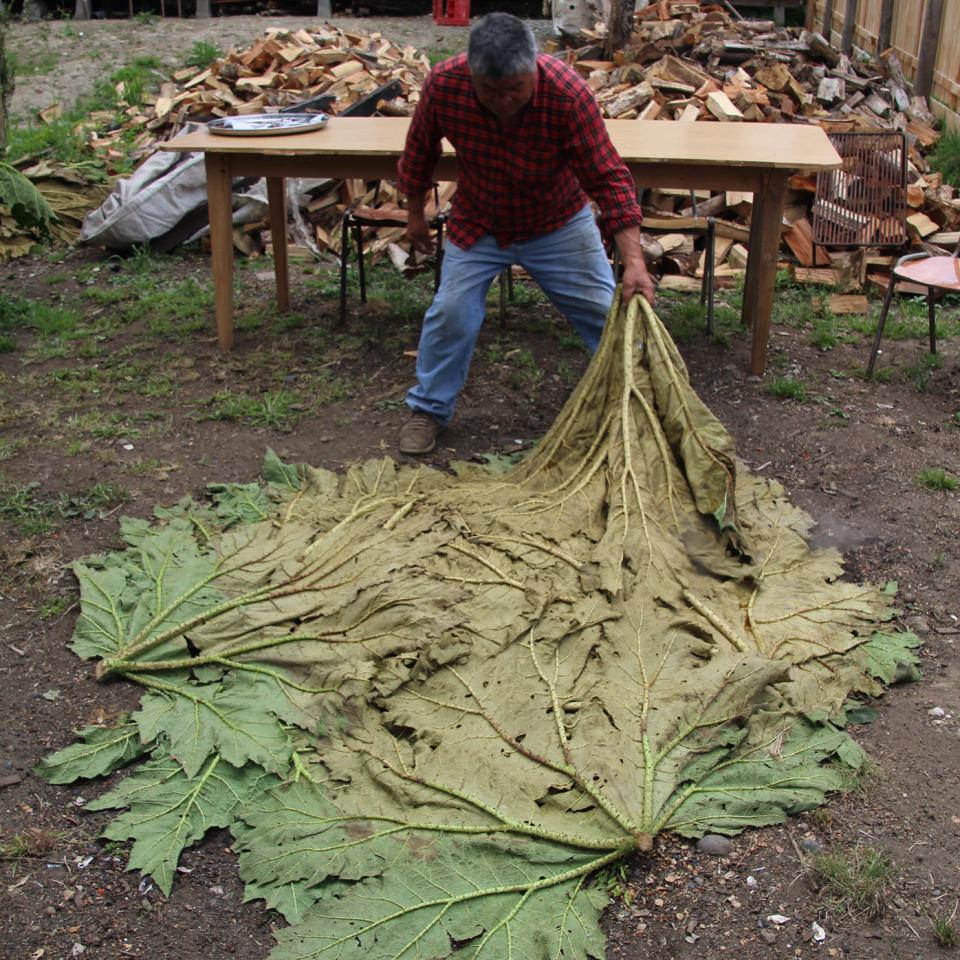 Dragging the nalca leaves
Back at Maria's guest house, the nalca leaves are removed and we're told to dig in. The mussels and clams are imbued with a beautifully smoky flavour, the hunks of pork and chorizo, salty and unctuous, are eaten by hand, caveman-like. A cockerel rasps in the distance and the only other sound is the thwack of clam shells being thrown back into the pit.
The Chilean vibe is distinctly different from the rest of the continent – quieter and more reserved. There's no doubt Chileans like to embrace drink, food and bonhomie, but there's none of the bombast of Brazil or self-assurance of Argentina.
After the feast, I drive south towards my bed for the night at Centro de Ocio, a beautiful rustic-chic eco-lodge near the island's capital, Castro, passing clouds of white flowers, undulating hills, forests and meadows.
Set on a former sheep ranch, Centro de Ocio maintains its high-style aesthetic without compromising its green credentials. My room is filled with thick sheepskin rugs and blankets dyed an oaky green with local herbs. Two-minutes' walk down a shaded path is a hot tub fed by a mountain stream.
Suitably wrinkled after a sunset stint in the hot tub, I head to dinner, where waiter George places a small bowl of bright orange powder on the table alongside our starters of a seafood soup bristling with calamari and mussels.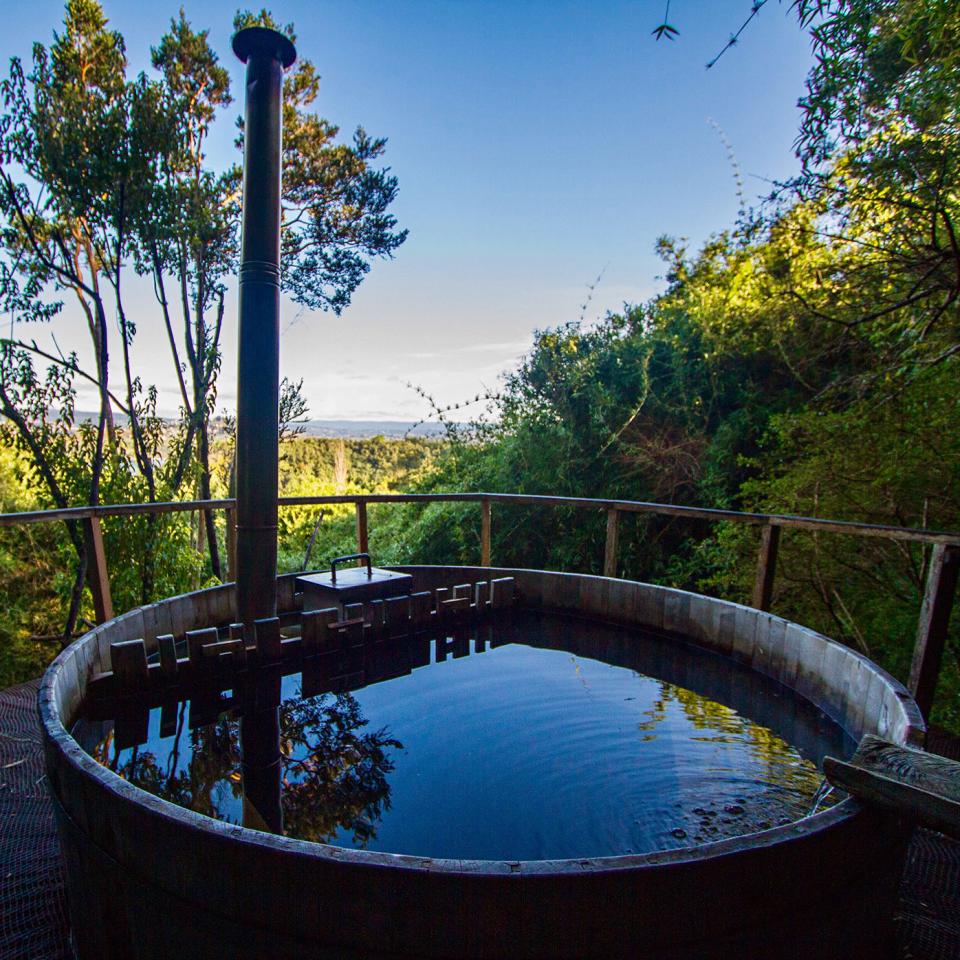 The inviting hot tub at Centro de Ocio is fed by a mountain stream
'Eat this and you're pretty much a Chilean,' he informs me. 'We put this on everything.' The powder is merkén and Chileans do, indeed, put it on absolutely everything, from the humble sandwich to the most delicate slab of locally caught hake or sea urchin.
With a moderate chilli kick, merkén hails from the indigenous Mapuche people who live in remote parts of inland Chile. To find out more about these resolutely independent people, I return to the mainland by ferry and drive north to the tiny town of Curarrehue, nestled amid snow-speckled volcanoes, forests of monkey puzzle trees and brooding, silvery lakes, close to the Argentinian border.
Here I find Kila Leufu, a working reconstruction of a Mapuche house, run by Irma. With a population of more than 1.5 million in Chile, the Mapuche people still suffer prejudice. Yet the remoteness of their settlements means their culture remains intact. Sitting on a bench inside the egg-shaped, straw and wood hut called a ruka, I watch as Irma places a huge tortilla onto the ashes of a fire on the floor in the middle of the room. Ushering us into the more modern lodge next door, we're served bowls of pinon seeds from the nearby monkey puzzle trees. Roasted, they exude a softly bitter, surprisingly pleasant smoky taste.
Irma brings us plate after plate of Mapuche dishes; beautifully soft, doughnut-shaped hunks of fried bread called sopapillas, bowls of merkén and a pumpkin, potato, corn and lamb stew known as charquicán. The dish is rich, and tongue-searingly hot.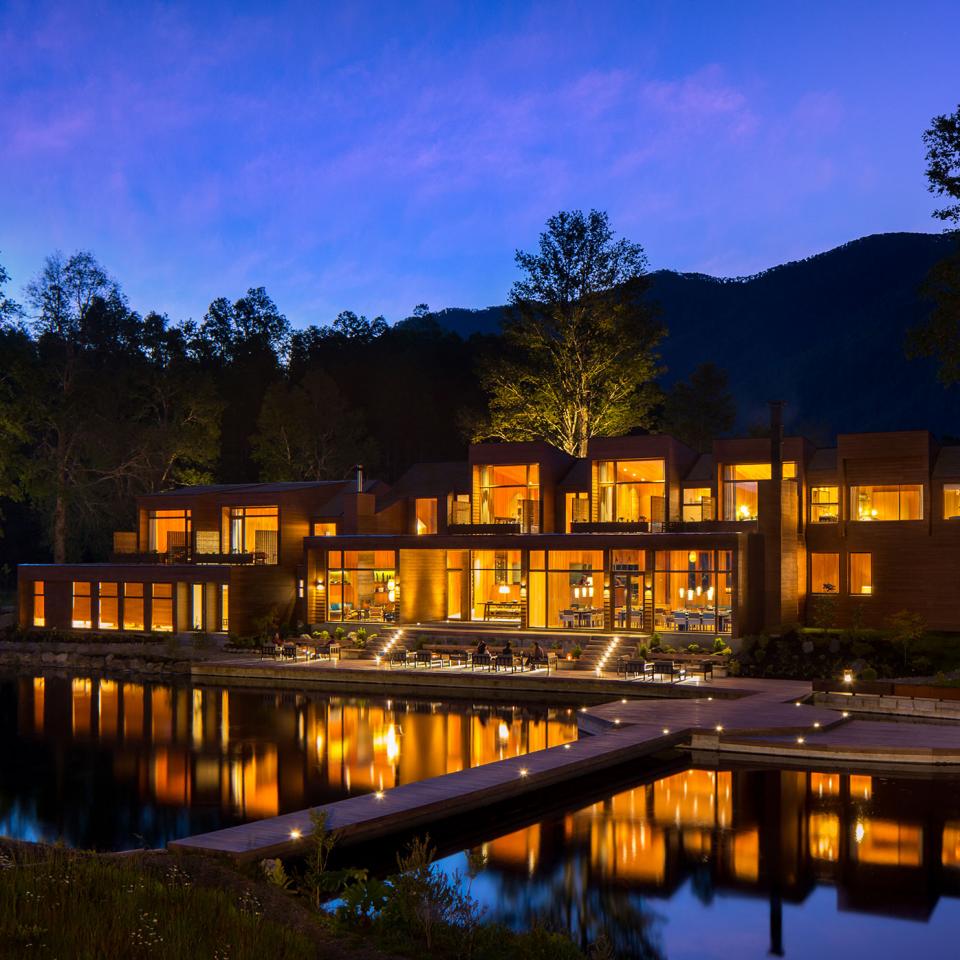 The next day I continue north along narrow roads lined by green meadows, remote barns, and hillsides peppered with stoic-looking sheep. Late afternoon I arrive at the fromagerie of a rather wonderful luxury retreat, Vira Vira.
Gazing at shelves of aged Parmesan and blue cheeses, I'm astonished to find that not a single ounce leaves the property. 'Everything we make here is for our guests alone,' says Michael Paravicini, the Swiss owner of this 60-odd acres of parkland on the banks of the torrid Liucura river, complete with farm, dairy and 100-strong Chilean-only wine list. They eat everything that can be grown or reared on their land.
The rooms, just 18 of them, have floor-to-ceiling windows overlooking the river, built-in fireplaces, colossal bean bags, thick sheepskin rugs and sunken baths that make leaving, even to head to the restaurant, difficult.
The menu in the main restaurant changes daily, from lightly seared conger eel to seafood-stuffed tortellini to feathery light couscous with a buttery soft slab of beef.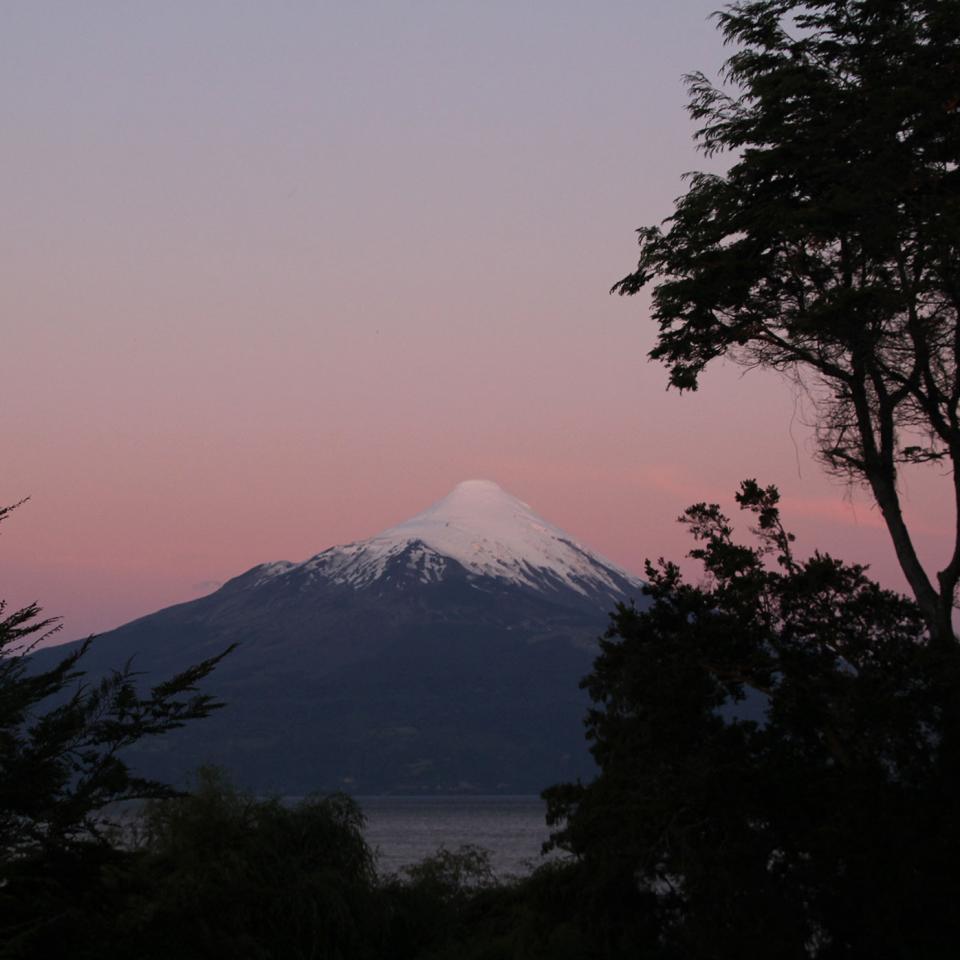 A 'snow-speckled' volcano
In the late afternoon, as the shadows lengthen and torpedo-shaped clouds scud across the skyline, I stroll with Michael in the kitchen garden where small rows of fava beans, thyme, carrots and Jerusalem artichoke grow.
A long-beaked ibis bird flutters down onto a fence post in front of me. Looking at me, fearlessly, it honks before flying off towards the monkey puzzle forests beyond.
'OK, so that's one of the few things we don't eat,' says Michael, as we turn back towards the hacienda. 'But I would challenge anyone to leave Chile feeling hungry.'
Getting there
Audley Travel offers a 12-night Chile trip from £6,965 per person, including all flights, a vineyard stay, three nights at Hotel Vira Vira, two nights at Hotel AWA, three nights at Centro de Ocio, and a night in Santiago. Air France offers daily flights via Paris from £645 return. Visit chile.travel/en for more on Chile.
About the author