Travel
Travel review: Paznaun Valley, Austria
by Tom Shepherd
Berglisee lake. Image: VB Paznaun-Ischgl
The Culinary Way of St James is an annual summer festival in Austria's Paznaun Valley that combines two of the area's fortes: hiking and eating. Tom Shepherd heads for the hills
Cheese is a living thing and you have to treat it right,' advises Hermann Huber as we tour his small mountainside dairy in Galtür, an Austrian village in Tyrol's Paznaun Valley. In the world of alpine cheesemaking, Hermann is a rockstar. With more than 20 years of experience in the art of curds, he produces 10 different cheeses using fresh milk from his own animals.
His specialties include an ash-covered soft cheese and a semi-soft variety that is bathed in salt water for seven years, and he's had big success at awards like the yearly International Mountain Cheese Olympics. Today, he leads us through white-tiled rooms with big vats and an acrid smell, before arriving at what looks like a library of cheese. Tall wooden shelves are stacked with thick maturing wheels, which must be turned and washed at regular intervals – Hermann says it's this attention that makes all the difference.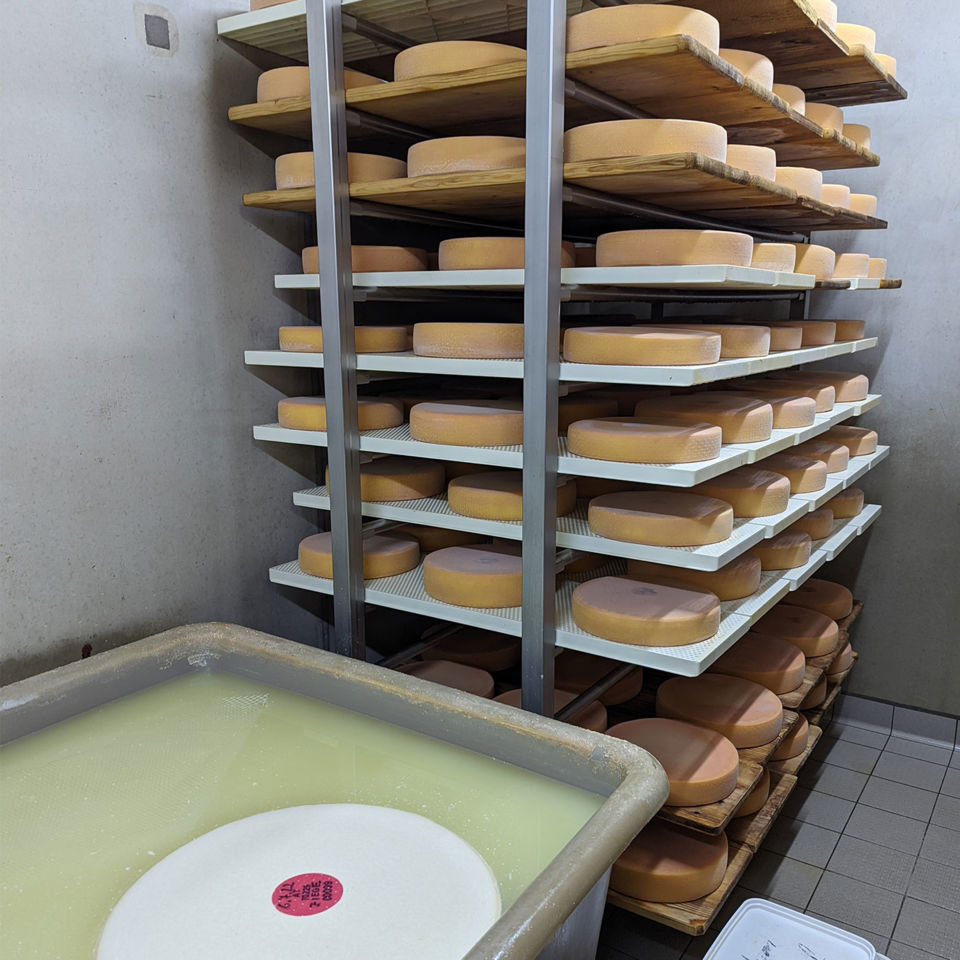 Hermann Huber's dairy
As well as being one of its expert food producers, Hermann is a renowned chef and hotelier in the region. What's more, he's cooking in this year's Culinary Way of St James, a summer-long event now in its 13th year that celebrates the Paznaun region's fantastic food scene in a unique way. It works like this: seven local chefs (or groups) have each designed a dish for the summer menu of seven remote mountain inns along the hiking routes in the area – specifically their take on a regional recipe using local produce. You'll then have to hike to that chef's adopted hut if you want to try it (okay, you could e-bike).
Alongside Hermann, this year's event includes Tyrol's most decorated chef Martin Sieberer, previous Gault & Millau chef of the year Benjamin Parth, and a collective known as #YoungChefsPaznaun – a group of future gourmet stars. It's a way to embrace the cuisine and beauty of a region that is perhaps better known for its winter-season snow and steins.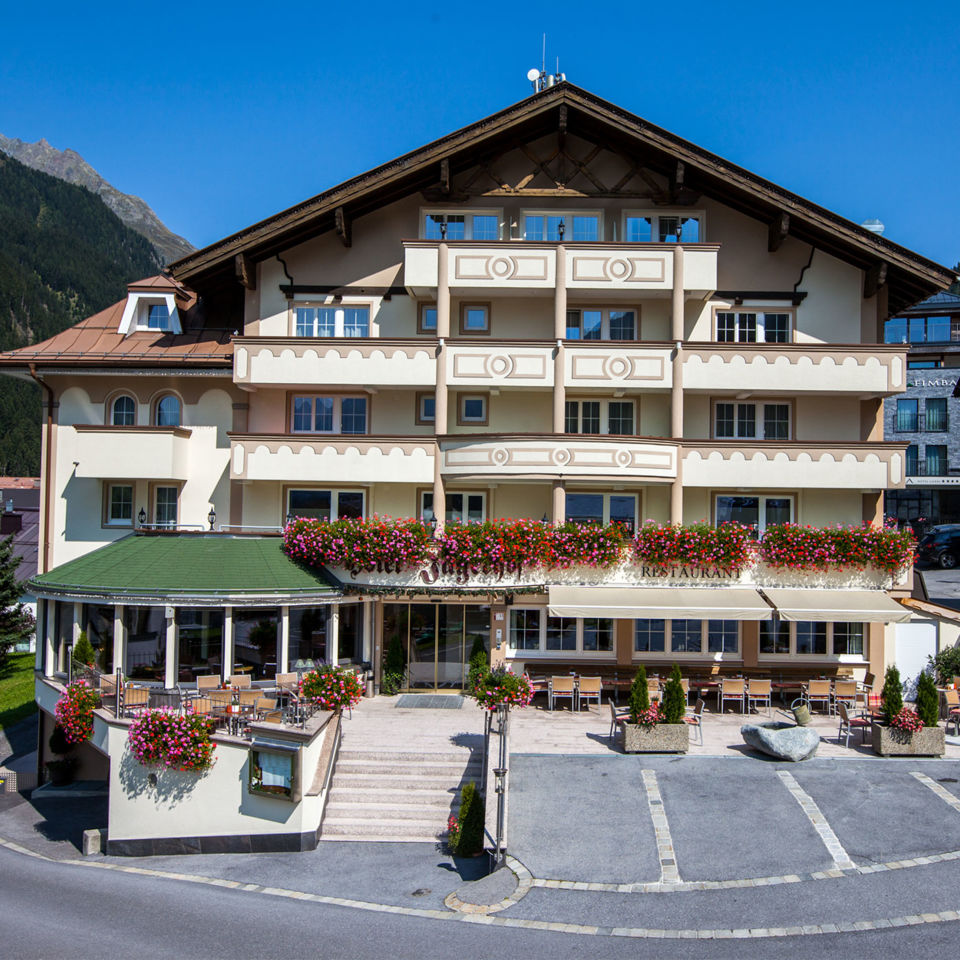 The cosy Jägerhof Hotel
My first of these gastronomic hikes starts the next morning just outside of Galtür and its pointy-roofed chalets. I'm paired with Andrea, who runs a B&B in the village and has been a walking guide here for more than 10 years. As we wind up lush meadows, she points out the wild fragrant herbs with the same joy of spotting an old friend at a party. Her enthusiasm catches, and I hurriedly write down all their names.
One rare plant that grows in the area is gentian (or enzian in German), which has an aromatic and bitter root used to make schnapps. It thrives at high altitudes and takes 10 years to blossom, and is subsequently protected by law. However, a handful of families in Galtür have been granted permission to harvest it, and the village even has an annual lottery to decide who gets to do it each year. We push on upwards, the early July sun beating down as we pass nascent streams and a couple of big-shouldered mountain cows. Even so, the remnants of winter snow can still be spotted on faraway peaks as we go higher.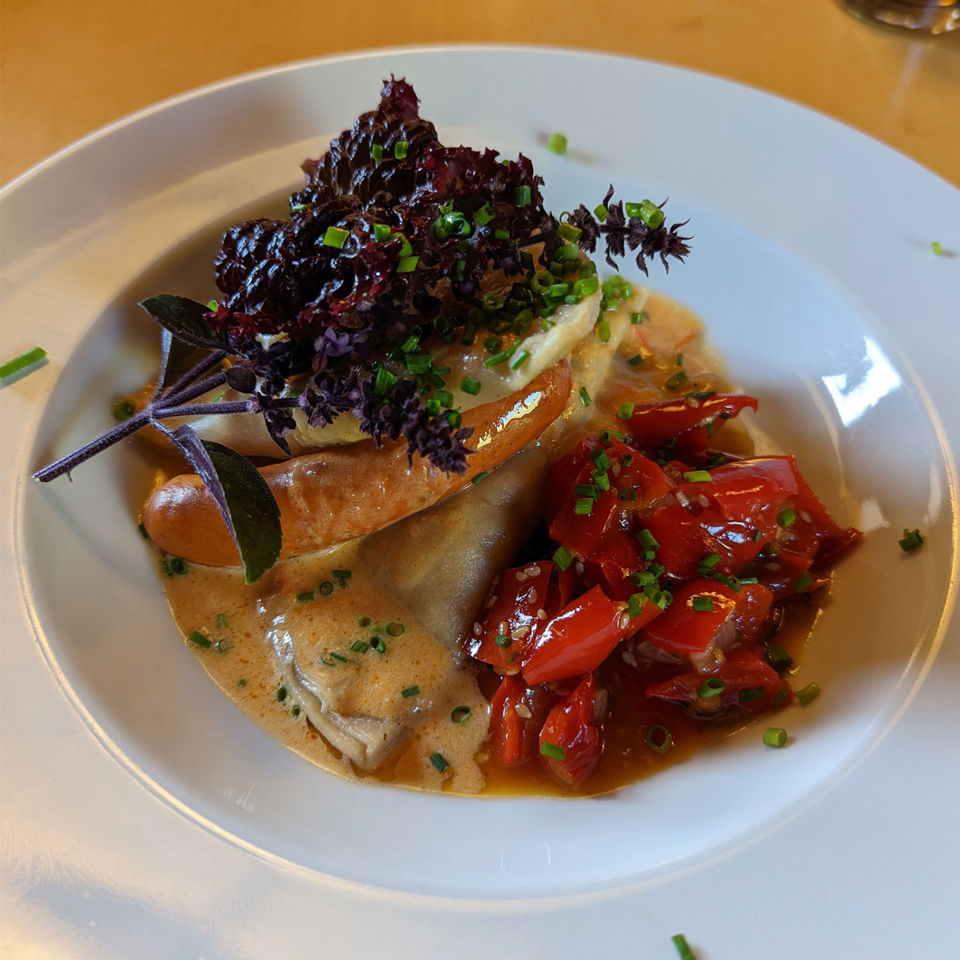 Chorizo schlutzkrapfen with red peppers
We pass only a dozen or so other hikers, which only adds to the welcome sense of calm. I can't decide if it's the alpine air making me feel so blissed out, or the lovely big bolt of perspective on life that comes from being surrounded by 3,000-metre peaks. There is also the promise of lunch to keep minds focused. After three hours of walking, the first sight of the Friedrichshafener hut, sitting next to a steel blue lake, is almost euphoric.
The special dish here has been designed by the #YoungChefsPaznaun collective, and it's their take on schlutzkrapfen, half moons of stuffed pasta that's a speciality in the region. It's typically filled with spinach and ricotta, but here it's been made with chorizo and cream cheese and served with sweet red peppers. It's magnificent, and I've never felt like I've deserved a meal more.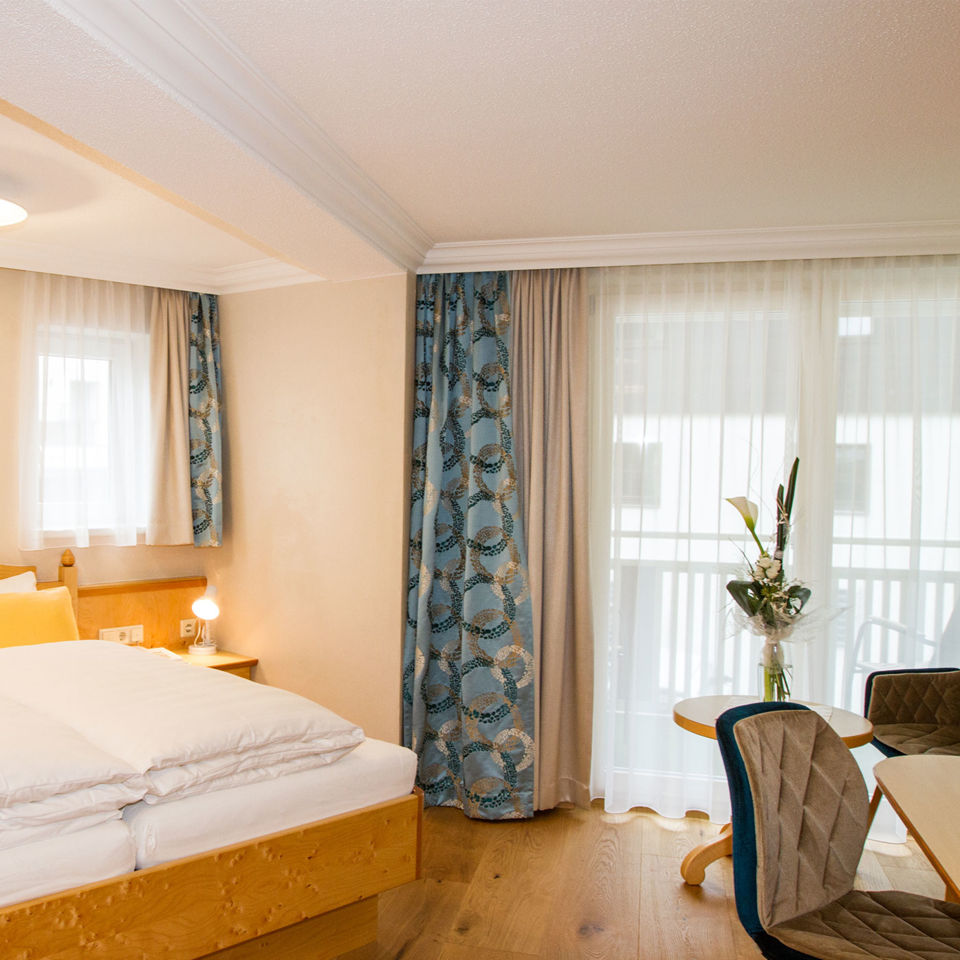 Hotel Jägerhof
After our descent, I return to the Hotel Jägerhof in Ischgl, where I'm staying. This mountain village makes an ideal base for exploring the region, and takes about 75 minutes to reach by taxi from Innsbruck airport. Cosiness runs through the middle of everything at the hotel, from the sticky apple strudel in the restaurant to my room kitted out in pine furnishings. Meanwhile, the invigorating view of the valley from my terrace in the morning does more than any pot of coffee ever could.
The hotel neighbours a cable car stop and a pastel-yellow church, and it's five minutes on to the village centre. Come winter, Ischgl's apres-ski scene is legendary, but I decide I probably get along better with this mellower summer version. Besides, there are still ways to get an adrenaline fix, like my trip on the Skyfly – a two-kilometre-long zip wire that flies 50 metres above a mountain river and reaches speeds of 85 kilometres per hour. It's a colossal rush.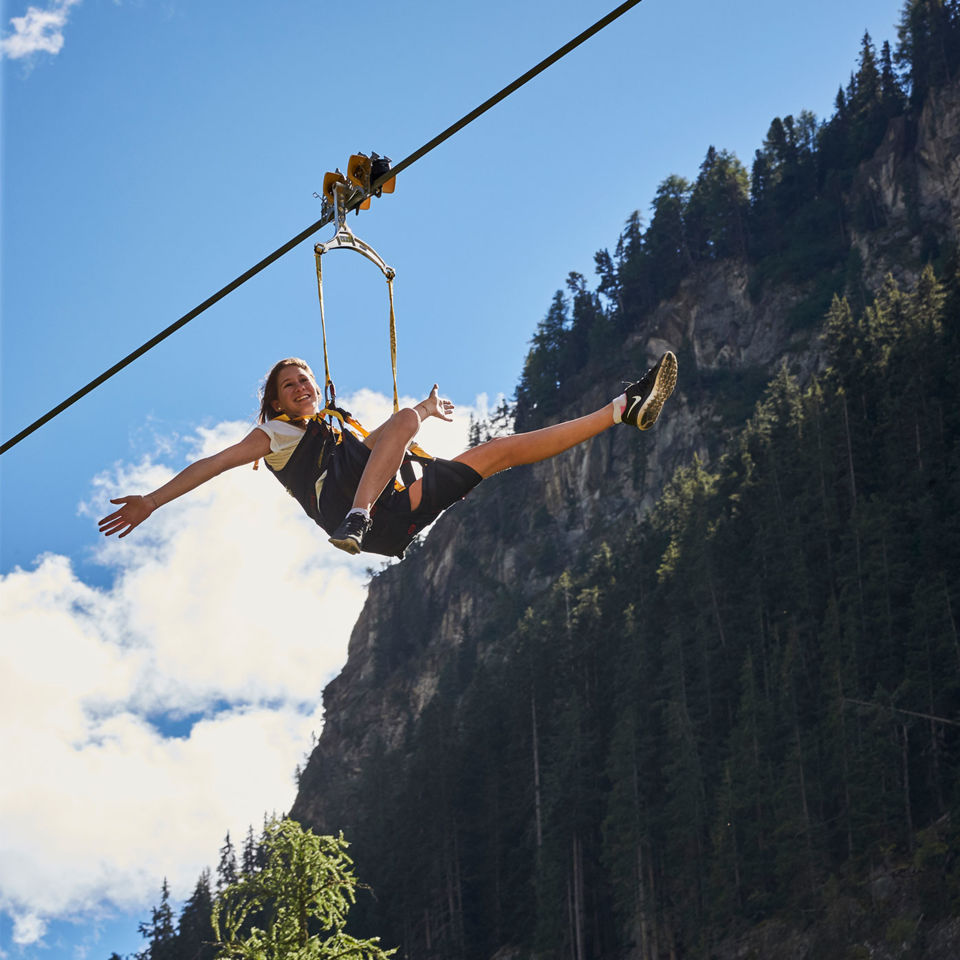 The Skyfly zip wire. Image: Tourismusverband Paznaun – Ischgl
There are also two more hiking days to come – along with another dish from the culinary event. Our first destination is the Heidelberger Hut – a secluded mountain hostel just inside the Swiss border. The high-altitude weather by this point has changed dramatically: skies are now gunmetal grey and we walk with hoods over our heads ready for a downpour. I also witness a different side of the mountains, passing through towering forests and clambering over thick tree roots, although the woodland breaks for the serene Berglisee lake – a popular spot for cookouts, says Andrea.
We arrive early evening at the hostel with muscles that hate us, but we're immediately ensconced in the lodge's warm feeling of camaraderie. Some hikers do yoga on a terrace in front of the mountains, while there's a communal washing line to hang sodden wares. The rustic evening meal we're served feels like a pillowy hug. It starts with backerbsen – crispy fried dough balls served floating in a salty stock soup, then hirschgulasch – a rich venison stew – alongside cheesy spätzle (German pasta dumplings) and tangy red cabbage. I begin to imagine a new life in the mountains.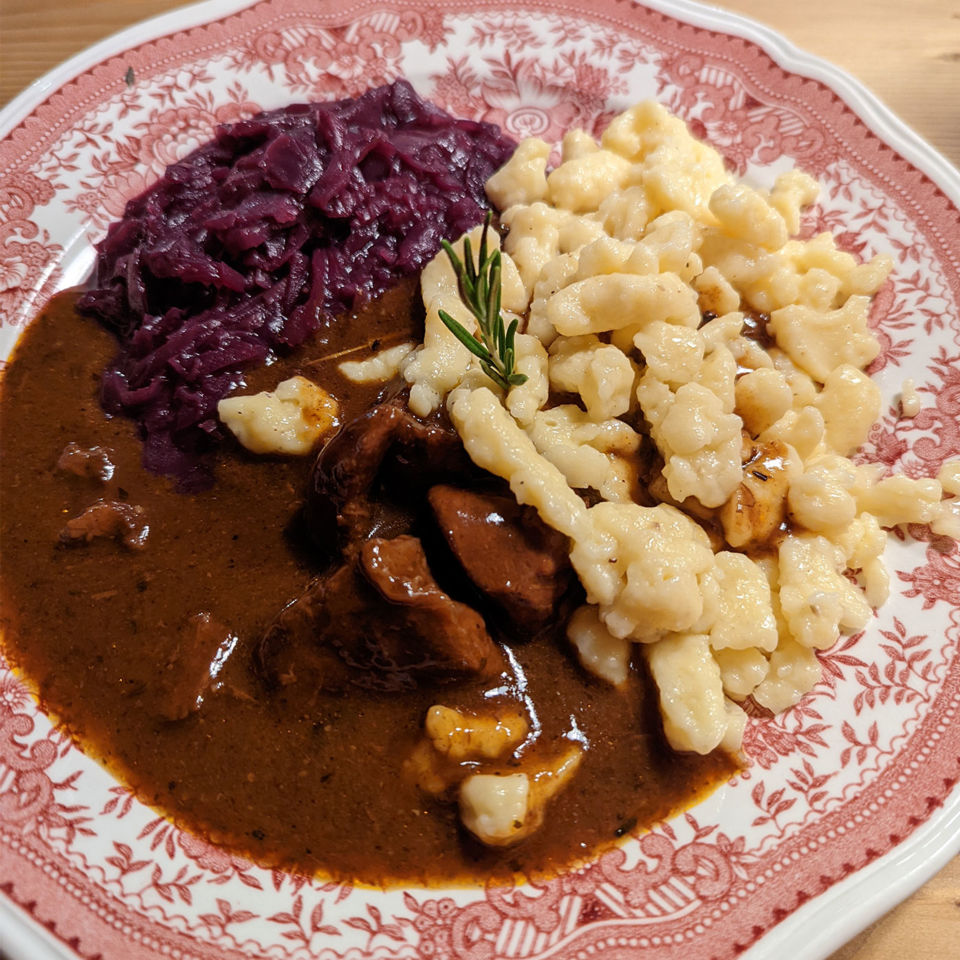 The rich venison stew and cheesy spätzle
After a night at the hut, we start early the next morning. The hostel turfs everyone out after breakfast, and there's a gentle thrill in seeing the other hikers and cyclists set off out the front door together with the hills beckoning. Today we'll cross the highest point of my trip – called Kronenjoch at almost 3,000 metres altitude – and it's fascinating to see how the terrain changes beneath us. Flowering grassland with marmot burrows (like a squirrel the size of an overfed pet cat) changes to boulders across a trickling stream, then to dry and rocky barren land. This high up, there's even snow to cross.
After an entire morning of walking, there's that familiar relief of spotting a hut in the distance. This is the Jamtalhütte inn, where we settle down at a terrace bench in the sunshine. After this last hike, I feel charged with a newfound sense of resilience. We order quickly: the festival dish here is erdäpfelblattln, fried potato squares stacked with sauerkraut, wild garlic and carrot chips. This one was also created by the #YoungChefsPauznan collective, albeit a different group of chefs. It looks Michelin smart, but it doesn't stop me wolfing it. Looking up at mountains on either side, it's a fitting finale to a well-fed trip. And, perhaps after a little lie down, I know I'd be ready to do it all again.
How to book
A four-night stay at Hotel Jägerhof is priced from €306pp (£259), based on two sharing, with breakfast included. A one-night stay at Heidelberger Hütte is priced from €35pp (£30), in a dorm room with breakfast included. Private taxi from Innsbruck airport to Ischgl costs €170 (£144) for a four-person car with Alpentaxi. For more information about Ischgl, call +43 50 990 100 or visitischgl.com/en
Don`t miss

---