Food
Your ultimate pancake guide
With Shrove Tuesday nearly upon us, our food team share their top tips for creating the perfect pancakes – without any flops.
Leah Hyslop – food director
'People seem to always gravitate towards sweet pancakes, but I prefer mine savoury – fill them with goats cheese and lots of soft green herbs like dill and parsley, with a squeeze of lemon, and you've got a perfect easy dinner!'
Anna Glover – creative food editor
'My top tip is to make sure you rest the crepe batter, even if it's only for 10 minutes while you prep your toppings – this relaxes the batter when there's no raising agent, making it easier to work with and giving it a smoother taste. I love to eat my pancakes with spinach, ham, and a mountain of melted cheese.'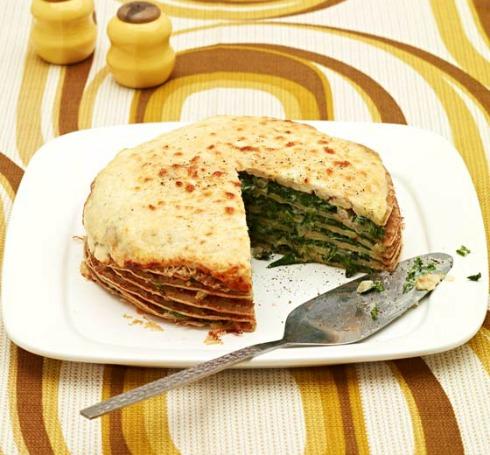 Ailsa Brown – cookery assistant
'Separate the eggs, incorporate the yolks as normal but whisk the egg whites until stiff separately. Then for a super-fluffy result, gently fold them in (it's perfectly fine to leave little pockets of egg white).'
Tamsin Burnett-Hall – managing food editor
'If you melt a generous knob of butter in the frying pan and whisk it into the batter before you start making your crepe-style pancakes, you won't need to grease the pan in between cooking each one.'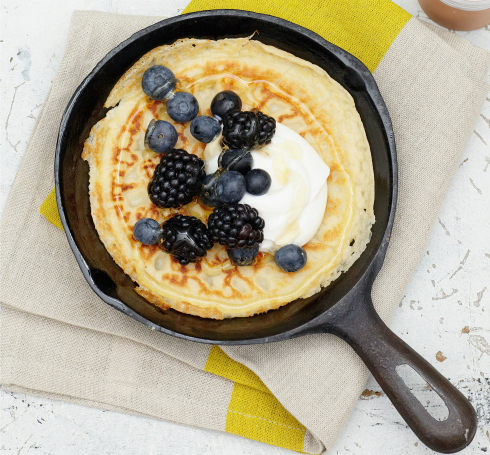 Get our foolproof recipe for perfect pancakes every time, plus some tasty toppings so you don't have to reach for the lemon and sugar AGAIN!
Basic pancake recipe V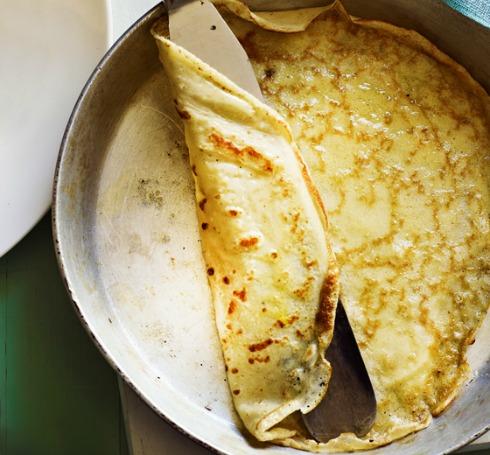 Makes 10-12 pancakes
Hands-on time 5 mins
Total time 25 minutes
Sift 100g plain flour into a bowl with a pinch of salt and make a well in the centre. In another bowl, whisk 2 large eggs with 1 tbsp caster sugar, 250ml milk and 2 tbsp melted (cooled) butter, to combine, then pour into the well. Using an electric hand whisk, whisk the liquid into the flour until you have a smooth batter.
To cook the pancake, heat a teaspoon or so of butter in a small frying pan until hot and foaming, a 16-18cm pan is ideal. Add 2-3 tablespoons of batter for each pancake, swirling it around the pan as you add it.
95 cals; 6g fat ( 3g sat fat); 3g protein; 0g fibre; 8g carbs; 2g total sugars; 0.1g salt
Churros-style sauce for pancakes V
Serves 4-6
Hands-on time 5 mins
Total time 5 mins
Heat 150ml double cream in a pan, remove from the heat and stir in 100g chopped dark chocolate, ½ tsp ground cinnamon and a pinch of chilli powder until melted and smooth. In a small bowl, combine 3 tbsp caster sugar and 1 tsp ground cinnamon. Sprinkle the cinnamon sugar over warmed pancakes and serve with the spiced chocolate sauce and whipped cream if you wish.
409cals; 28g fat (17g sat fat); 3g protein; 0g fibre; 35g carbs; 28g total sugars; 0.25g salt
Coconut maple-toffee sauce for pancakes V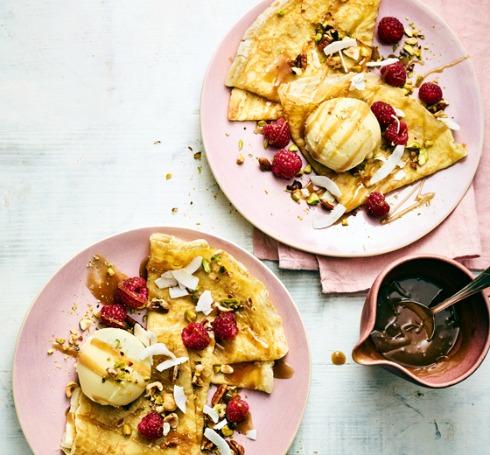 Serves 6-8
Heat 1x 250ml carton coconut cream with 50g light muscovado sugar and 6 tbsp maple syrup, plus a pinch of salt. Stir until melted then boil rapidly for 6-8 minutes until the sauce starts to thicken. Leave to cool and thicken up further. Drizzle the sauce over warm pancakes and top with toasted nuts, raspberries, coconut flakes and coconut or vanilla ice cream.
Croque Madame crepe
Serves 1
Hands-on time 5 mins
Total time 5 mins
Make your pancake as normal (or bought is fine), then when you flip it in the pan, scatter 25g grated Gruyère on top and add a slice of ham spread with ½ tsp Dijon mustard (mustard side down). The cheese will melt as the second side of the pancake cooks. Fold the sides in to form a square and top with a fried egg.
312 cals; 21g fat (8g sat fat); 23g protein; 0g fibre; 9g carbs; 1g total sugars; 1.8g salt
About the author