Food
Why German wine is cool again
They might have been big in the 1970s, but German wines have long been overlooked in favour of their French, Spanish, Italian and New World cousins. But like flares, they're suddenly back in fashion - and tasting better than ever. Rebecca Dunphy heads to one of the country's most exciting winemaking regions to find out more.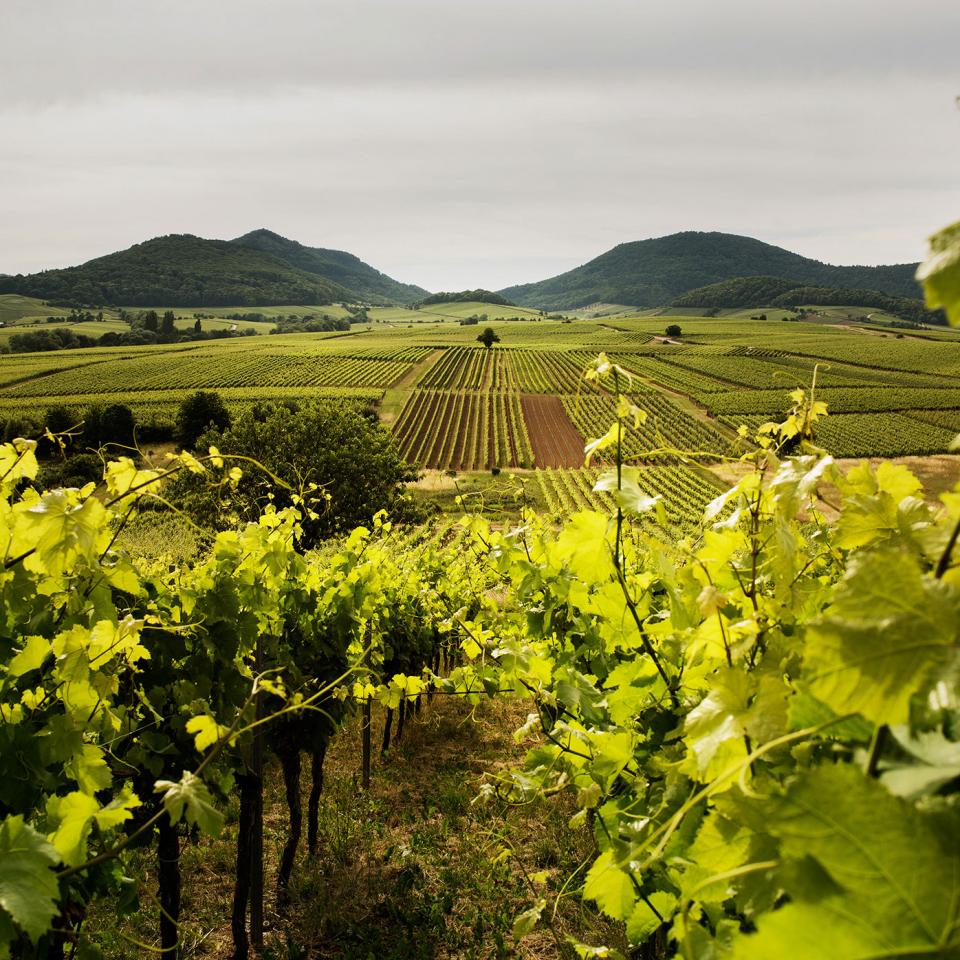 The Pfalz is patchworked with vineyards
Even people who swear that they know nothing about wine can get a bit sniffy about German ones, dismissing them as unsophisticated. But the experts, like Sainsbury's wine technical manager Lisa Rogerson, know better. 'I think there's still a perception that Germany only produces sweet, Liebfraumilch-like wine styles, but actually the cool climate is perfect for cultivating a number of more popular varieties,'she says. I want to discover Germany's modern wine scene, so I've come to the southwesterly Pfalz region: it's a hotbed of experimentation, and has a reputation for producing impressively full-flavoured wines.
My base camp is the Steigenberger Hotel in Deidesheim, which is on the Deutsche Weinstrasse, or German Wine Route. Opened in 1935, it was the first tourist attraction of its kind, running through 53 miles of beautiful countryside. Deidesheim is home to many of the region's best-known wine estates, and its cobbled streets are enticingly lined with local weingüter, or wineries. I spot Weingut Reichsrat von Buhl – one of Germany's top Riesling and sparkling winemakers – but we're heading for the historic Weingut von Winning, which was founded in 1849.
We head deep into the vaulted cellars with young, dynamic winemaker Andreas Hütwohl for a tasting. The labels are contemporary and the wines are deliciously dry – they couldn't be further from my earliest memories of sipping soft, flowery Liebfraumilch on the front steps of my best friend's house in the 1980s.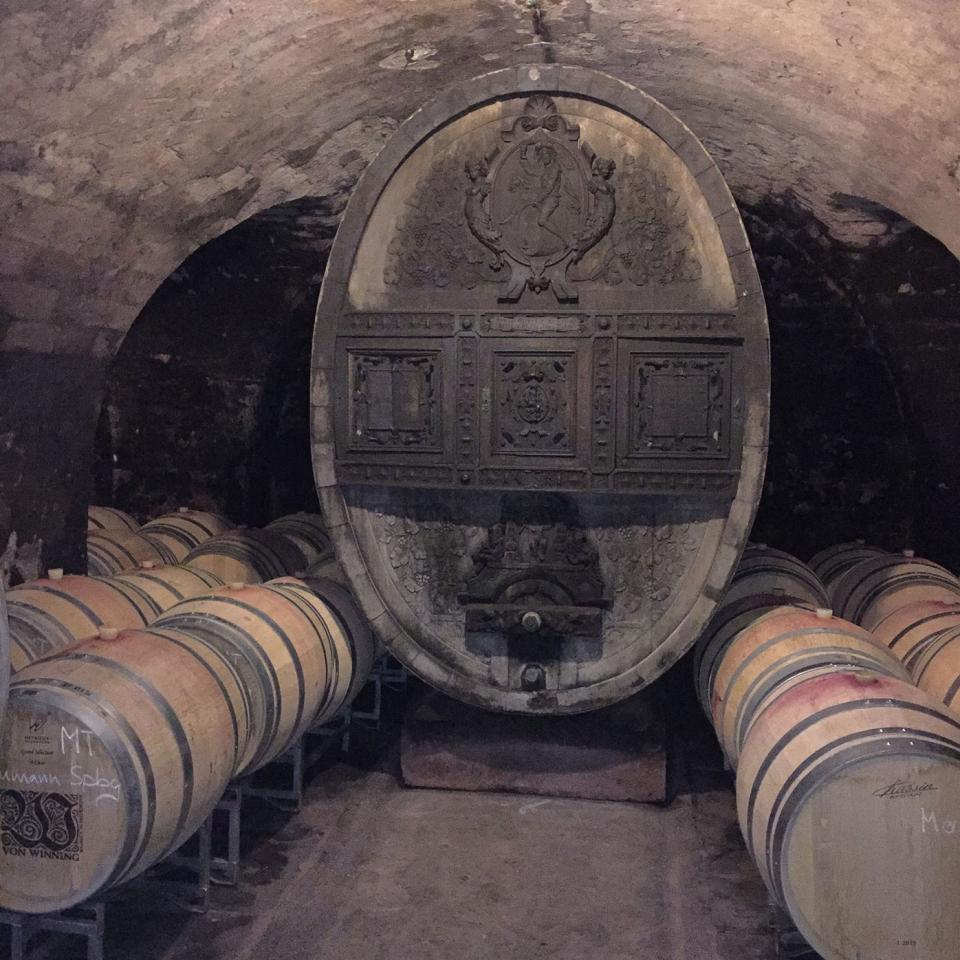 An antique barrel in the cellar at Weingut von Winning
'We're using traditional techniques, fermenting in oak – we make our wines dry, but with texture and complexity. And we only want to use natural yeasts,' explains Hütwohl. I taste peaches, apricots, almonds, layers of smoky minerality – and tellingly, I forget to spit. The Pfalz is one of the warmest, sunniest regions in Germany; practically Mediterranean. It's protected by dense forest that shelters the vineyards from rain and cold winds from the Atlantic. You'll even see wild figs, almond trees, kiwis and citrus fruits growing. The soil is also key. 'Unlike the Mosel, where you find mainly slate, which give you steely, citrus characters, we have lighter sandstone and limestone soils, originating from former coral reefs, which give more exotic, ripe citrus, peach-like flavours,' I'm told.
Just as its wines have evolved over the past 40 years, so too has Germany's cuisine. Von Winning's Leopold restaurant puts a delicious modern twist on local favourites, which pair perfectly with contemporary dry whites: we feast on wild herb and goat's cheese salad, veal fillet and succulent white asparagus (a regional speciality, eaten at every meal when it's in season) and Pfalz strawberries and homemade ice cream. Meanwhile, the quirky Weinstube Eselsburg in Neustadt serves superb liver dumplings and bratwurst, which come with lashings of sauerkraut and fried potatoes – sensational with a refreshing Riesling to cut through all the richness.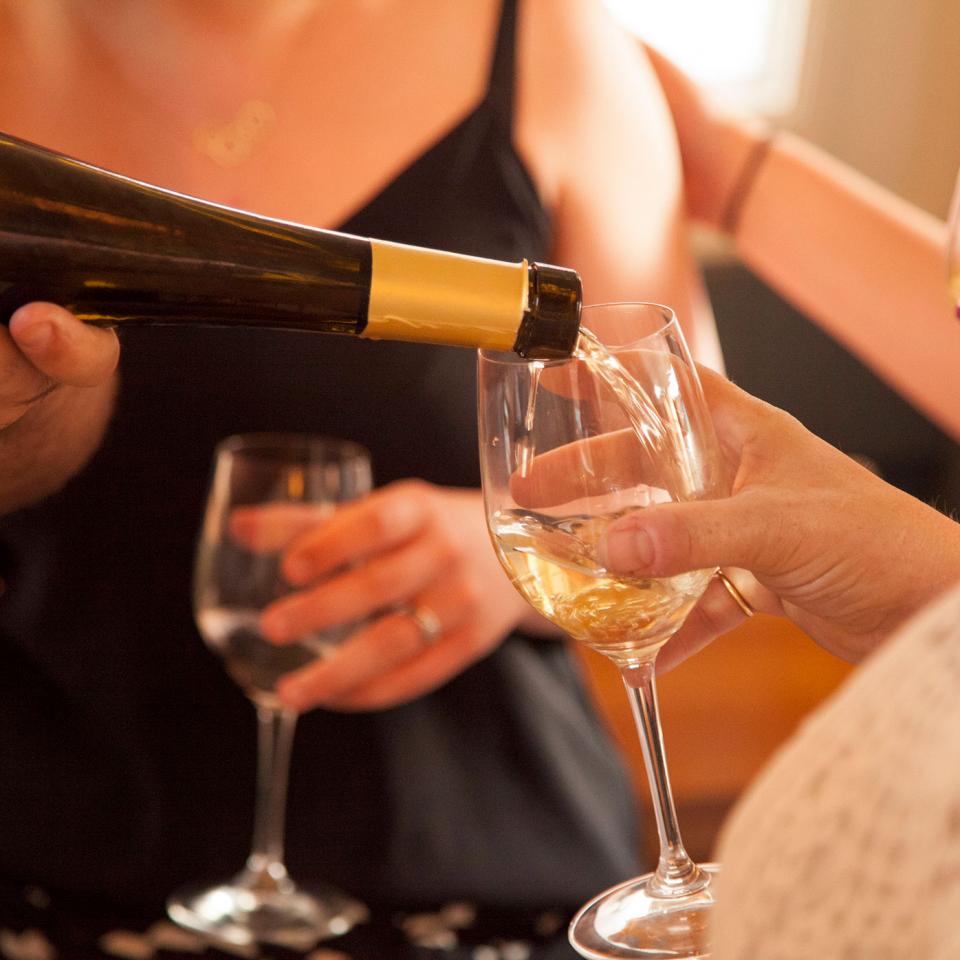 International grape varieties, such as Chardonnay and Sauvignon Blanc, are increasingly finding a foothold here. At a charming tasting aboard a traditional horse-drawn wagon we sample the wines of Weingut Kirchner, known for being one of the pioneers of Sauvignon Blanc in the region. There isn't a sweet wine in sight, and what we sip is super-fresh, floral and herbal – surely destined to be the next hot thing in wine-buying.
Most people don't even realise that Germany makes red wines, but the country is actually the third biggest producer of Pinot Noir (or spätburgunder) – and the Pfalz is where the majority of reds are made. On the southernmost point of the Deutsche Weinstrasse, where the imposing German Wine Gate looks out to France, we visit Weingut Friedrich Becker, whose Pinot Noirs have recently come to the world's attention. A lucky combination of perfect soils, restricted yields and working in harmony with nature creates complex and seductive wines to rival those of Burgundy.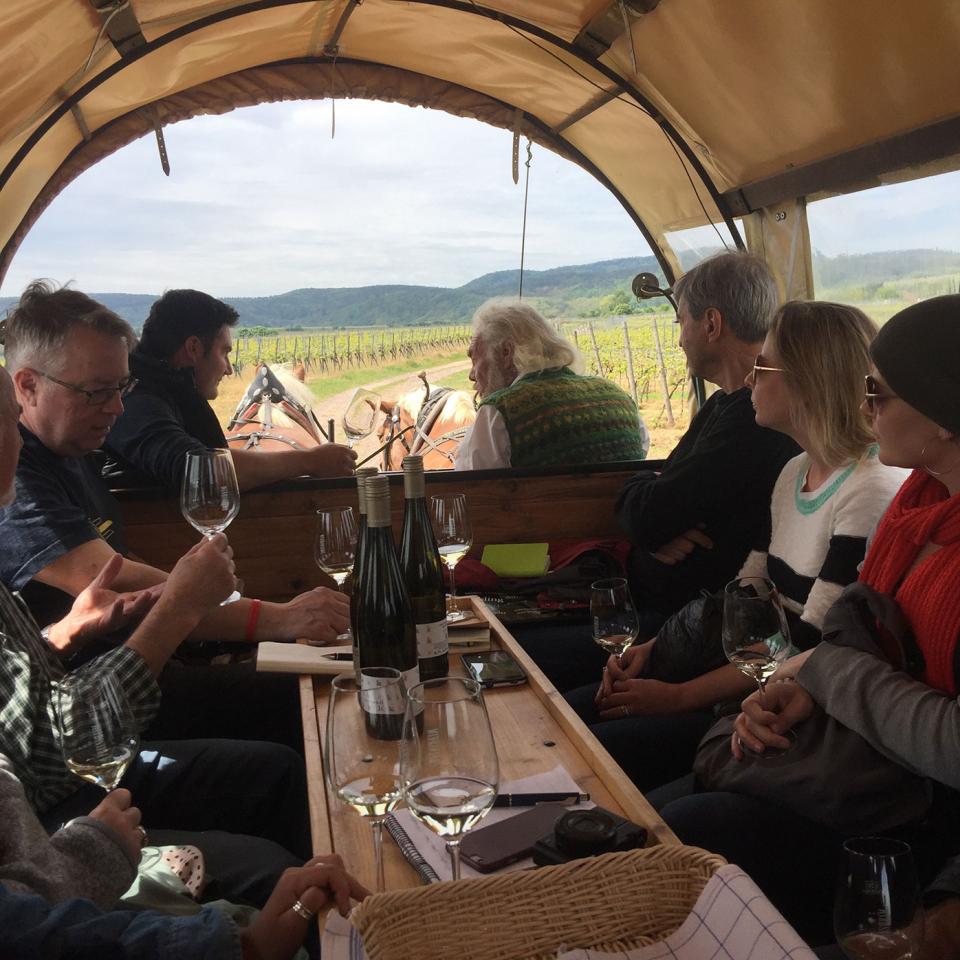 Tasting German Sauvignon Blanc in a horse-drawn wagon
The Pfalz hosts some 200 wine festivals a year – the Wurstmarkt in Bad Dürkheim is the biggest in the world. It would be easy to assume that all there is to do here is eat and drink, but the region is perfect for active holidays too. Take the Palatinate Forest Mountain Bike Park, which has an incredible network of hiking and cycling trails. Sticking to two wheels, we work off the trip's excesses by pedalling to Rhodter Rosengarten, one of the world's most venerable vineyards – some of the Gewürztraminer vines are 400 years old.
On our final day we hike from Hambach Castle to Zeter Berghaus, a traditional hut, for a barbecue in the hills overlooking the villages and vineyards. The Pfalz really is full of surprises.
Getting there
British Airways flies direct to Frankfurt from London, from £48 each way. Rooms at the Steigenberger Hotel start from £70 per night (steigenberger.com) 
What's in store
To tempt customers back to Germany and demonstrate how much its winemaking scene has grown, the Sainsbury's wine team introduced a Rheinhessen Pinot Noir to the Taste the Difference range. It was an instant hit, and has since been joined by a Taste the Difference Mosel Pinot Blanc. Why not hold a tasting evening where everyone brings one of these German wines? Follow Rebecca's tasting notes to get the most out of them.
Taste the Difference German Pinot Blanc
'Light and elegant, but certainly no pushover. This Pinot Blanc is citrus-crisp, with mouthwatering pear and a whiff of meadow flowers. Try it with seafood, white meat and creamy sauces. I've even enjoyed a glass of it with steak.'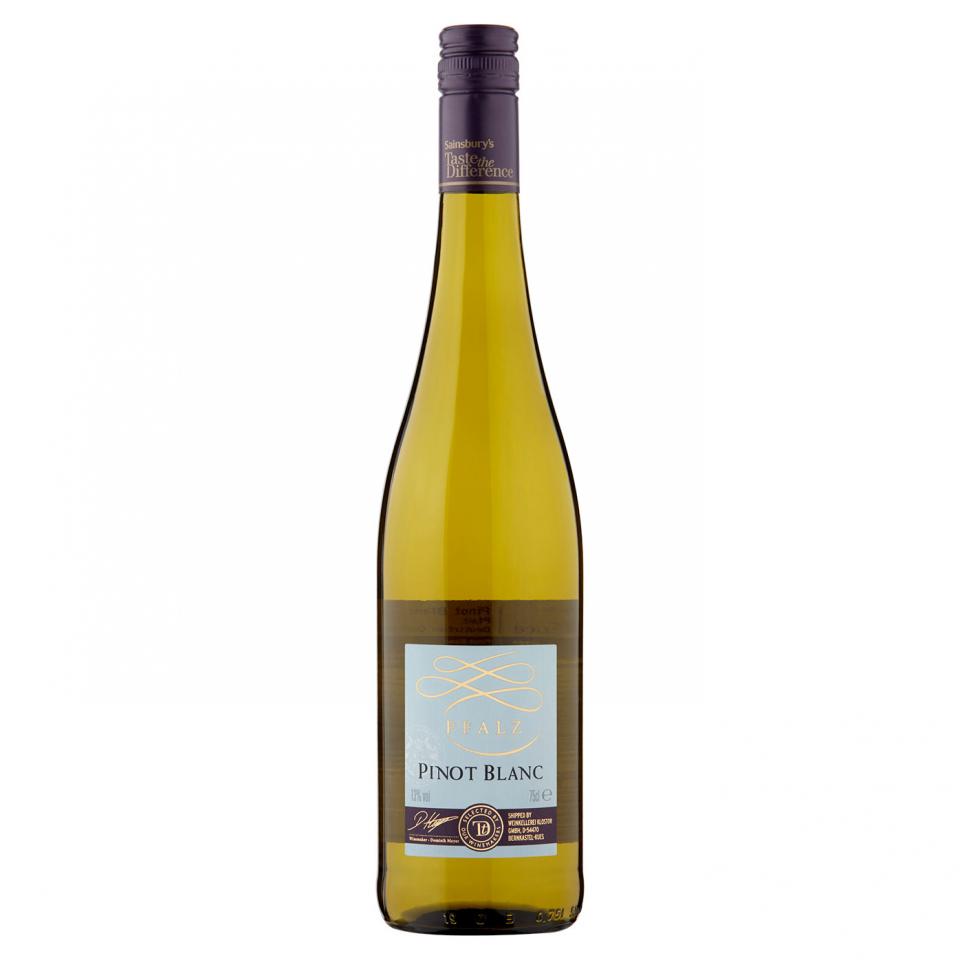 Sainsbury's Liebfraumilch Pfalz
'People might turn their noses up at Liebfraumilch, but this 1970s classic is soft, floral, grape- sweet and refreshingly low in alcohol at just 9%. Chill like beer as a deliciously different aperitif, or serve it with Asian and spiced food.'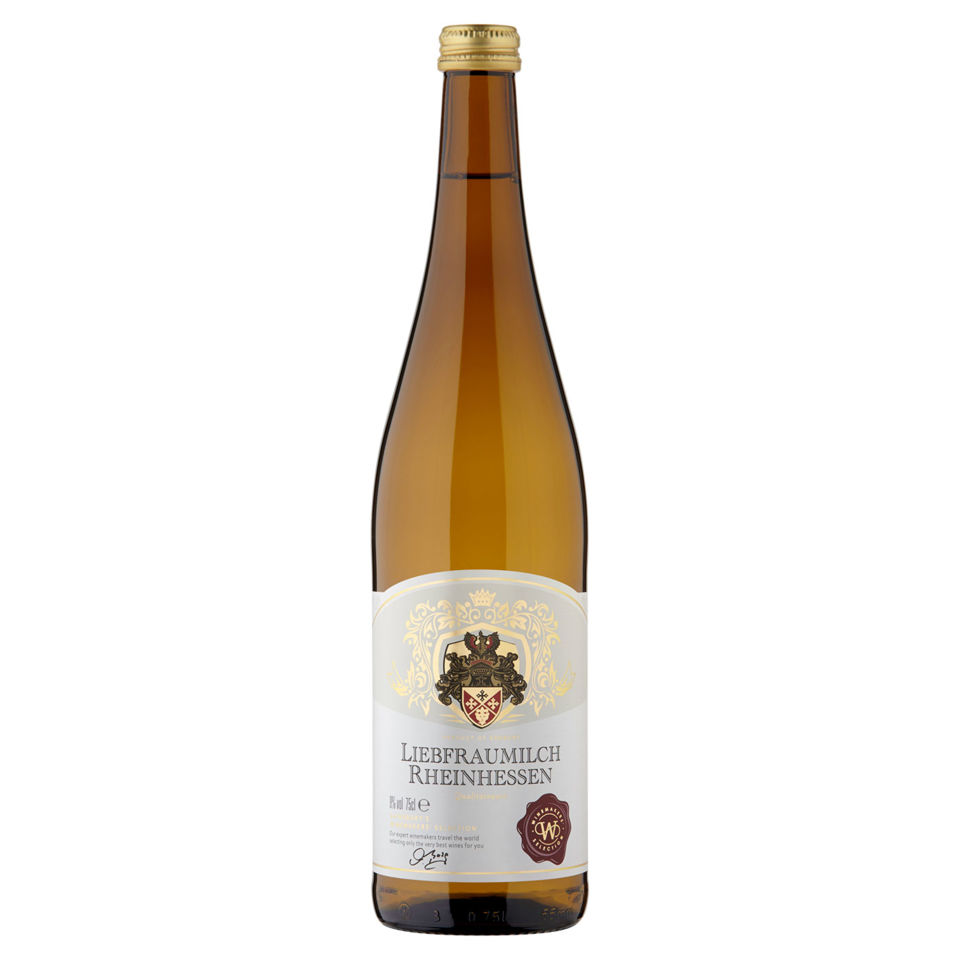 Dr Loosen Graacher Himmelreich Riesling Kabinett
'This comes from the steep, sunny slopes of Graach in the Mosel. Look out for notes of peach and sweet apple, and a tingling acidity. Brilliant with scallops, roast chicken, pork and blue cheeses.'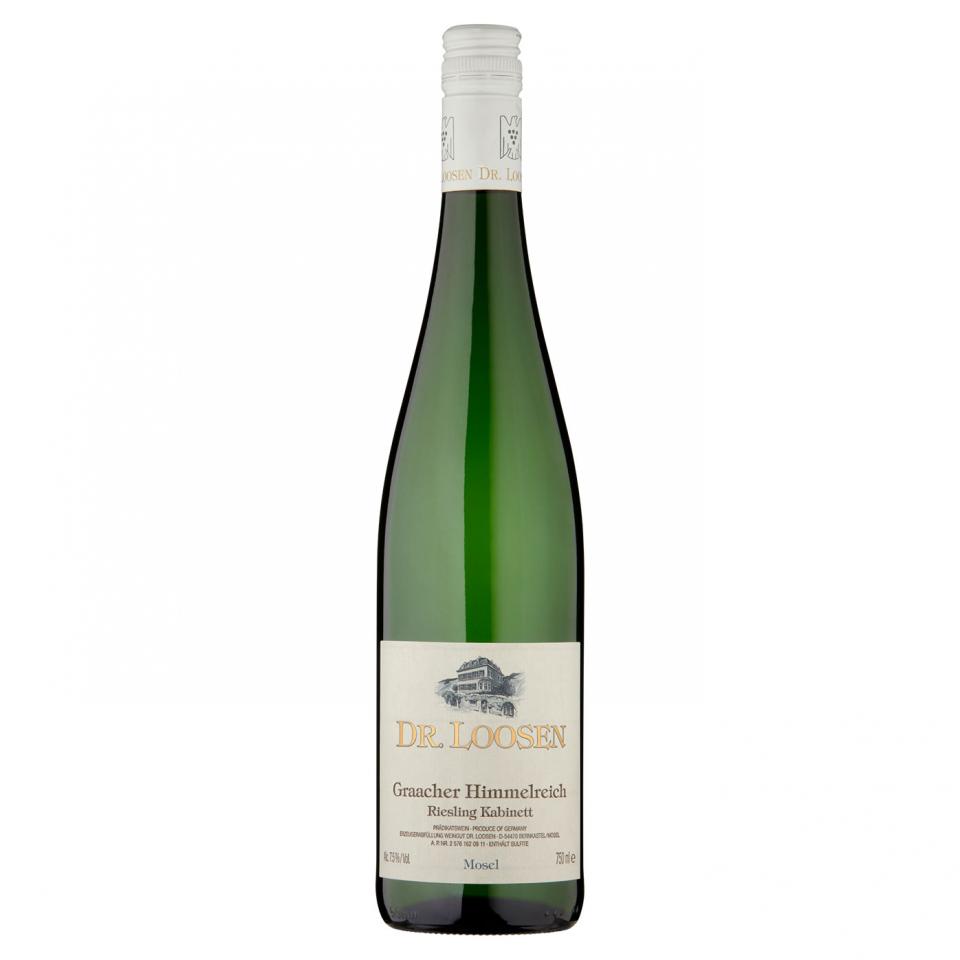 Taste the Difference Rheinhessen Pinot Noir
'Don't expect a rich, ripe red. This is a cool- climate Pinot Noir that's full of fresh cherry-fruit flavours and silky-soft tannins. Great after 30 minutes in the fridge – one for the barbecue, or to enjoy with salmon.'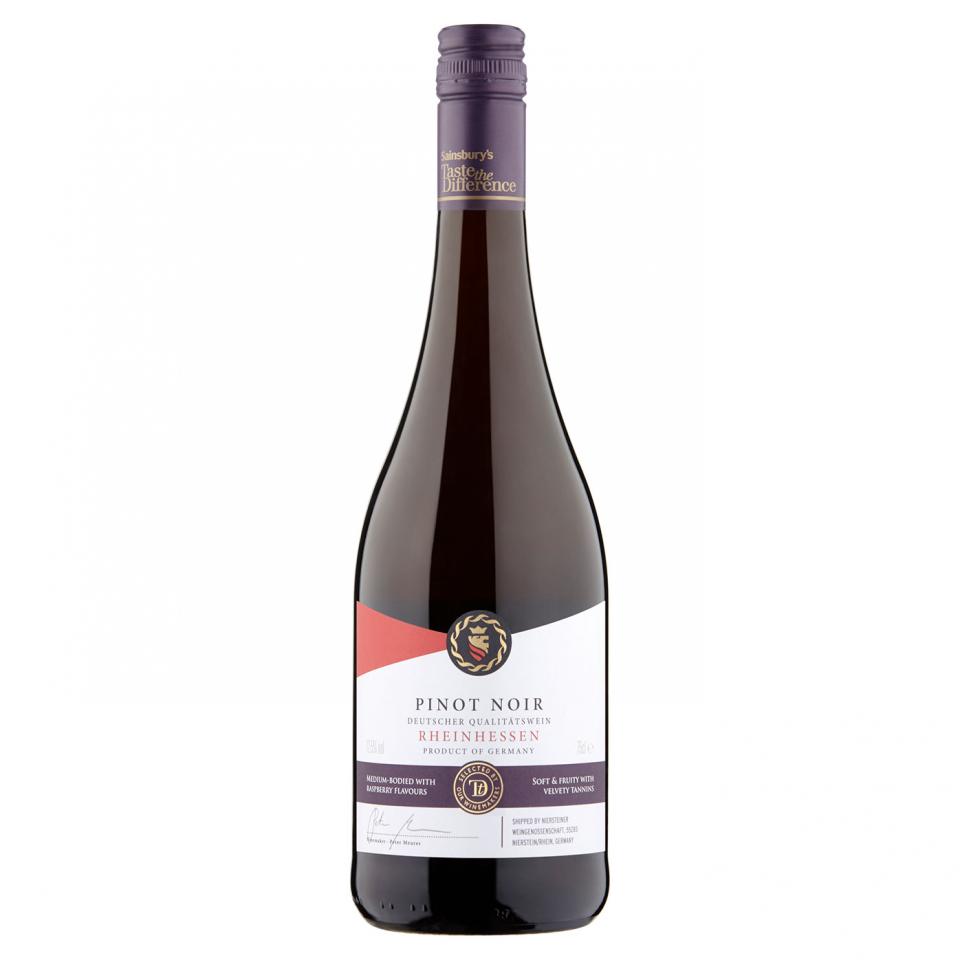 About the author