Food
WHEN IS A PIE NOT A PIE?
by Sarah Alcock
There are days when nothing is as nice as pie – and, as this week is British Pie Week (britishpieweek.co.uk), we've got the perfect excuse (as if we needed one) to dig out and relove all our favourite pie recipes.
BUT - It seems that some of our top pies might be impostors, not truly qualifying for the official title of 'a pie'.
According to Matthew O'Callaghan, chairman of the British Pie Awards, being held on 22 April, a true pie has to have a filling completely enclosed in pastry. Anything not fitting this strict description is not eligible to enter.
Sausage roll-gate
'We had to stop somewhere,' he says, 'otherwise any dish with a bit of pastry or potato on top might have been entered for the awards – including sausage rolls.'
Surely no-one would have the cheek to pass a sausage roll off as a pie? 'The awards are about celebrating the art and craft of pie making,' he explains, 'it's a lot easier to put a bit of pastry on top of a dish and call it a pie.'
'The real pie is a whole dish encased in pastry, which means getting the ingredients right, making the pastry to encase the filling and ensuring an even bake throughout the product.'
Pot-pie problem
So, sadly, delicious comfort-food staples like fish pie and cottage pie don't officially count as pies – but we love them anyway.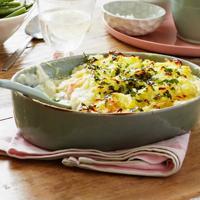 Fish pie is NOT a pie
How about lattice-topped pies? 'In effect, these are tarts with a bit of pastry draped over,' says Matthew.
Oh dear – but our lattice-topped pie recipe is still a winner in our book.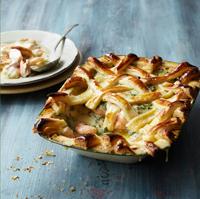 Lattice pie is NOT a pie
So pot pies are out too? Well, these are really 'pastry-topped casseroles' rather than pies, says Matthew. But try our chicken pot pie if you fancy one.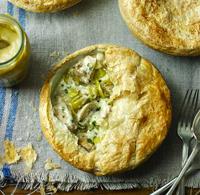 Pot pie is NOT a pie
As for meringue pie? This is a tart, says Matthew. 'No offence, but we don't want tarts anywhere near the British Pie Awards.'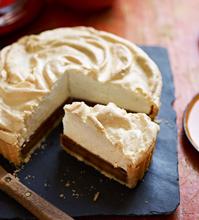 Meringue pie is NOT a pie
PIE TIPS...
Pie purists everywhere can celebrate Pie Week with these 3 top tips from Graham Aimson, head chef at Morecambe FC, who scooped Best in Show award at last year's British Pie Awards.
1 KEEP IT COLD
'Cold hands and ingredients are a must – and the less you handle the pastry the better, or it will become tough and hard, and nobody wants that.'
2 TAKE A REST
'Just like us, pastry needs a rest after being worked! Put it in the fridge for at least 30 minutes before using – then bring up to room temperature for 10-20 minutes before using.'
3 FIND A FAB FILLING
'Choose good-quality filling to match the quality of the pastry. But they don't have to be super-expensive – for beef pies, for example, choose cuts such as skirt of beef or onglet that have just the right fat content, are perfect for slow cooking and give a rich, meaty taste.'
Don`t miss

---