Food
We cook the books
by Sarah Alcock
Eating healthily isn't always the easy option – what to take to work for a filling lunch? What to eat for breakfast that will keep you going and taste good? Luckily nutritionist and chef Dale Pinnock's new book, Healthy Every Day, is bursting with colourful and fun recipe ideas that all promise to do you good while also looking appealing and tasting great.
What's different about this health book?
Well, if you'll excuse the pun – it's just so easy to digest. Every recipe tells you which part of your body is most going to benefit – whether it's your skin, nervous system, or heart and circulation. Pinnock also highlights a 'star ingredient' (such as beetroot – because it's good for the heart) or a 'clever combination' (such as mixing antiviral garlic with decongesting chilli for a flu remedy), so every recipe is also a lesson in nutrition.
The recipes
From gooey sesame chocolate fudge made with magnesium-packed cocoa powder, to rose, cardamom and pistachio porridge, there's a recipe for every occasion. Helpful categories such as 'feed me fast', 'lunchbox', 'lazy weekends' and 'winding down', plus short ingredient lists, also help you find recipes to fit into real life.
I decided to make...
After flicking through the pages, I finally plumped for the 'feel-good fish pie'. The recipe looked quick, tasty, simple to cook and the perfect supper for four hungry friends, plus me. I used ready-made fish pie mix from Sainsbury's (which includes salmon, haddock and cod) and added some smoked trout as I was cooking for five (not four, as the recipe serves).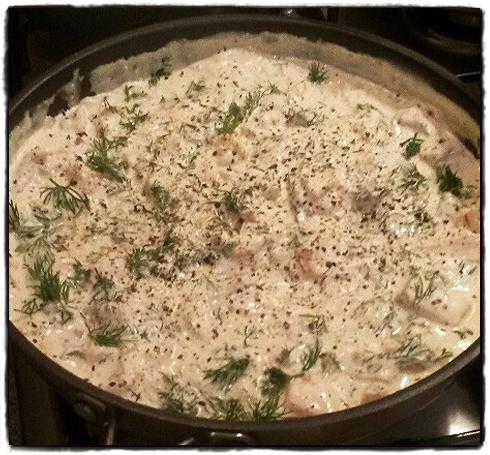 I pepped up the sweet potato mash with a sprinkle of cumin, turmeric and freshly grated nutmeg, and finished off the mash with some freshly chopped parsley that I had in the fridge, for even more vitamins.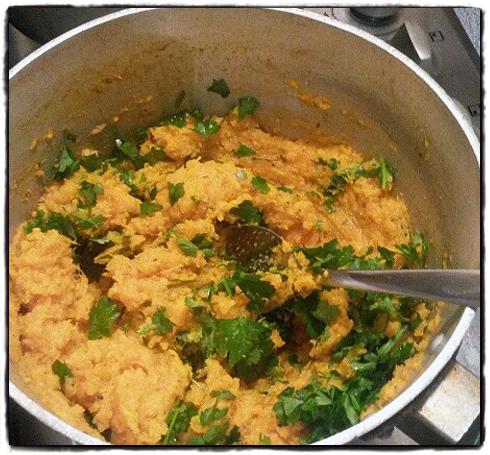 I served the dish with steamed broccoli – but I think I'll do minty mushy peas next time I make it!
Judging by the 'oohs' and 'ahhs', plus several recipe requests, it's safe to say the dish was a hit! I'm looking forward to trying the sesame chocolate fudge...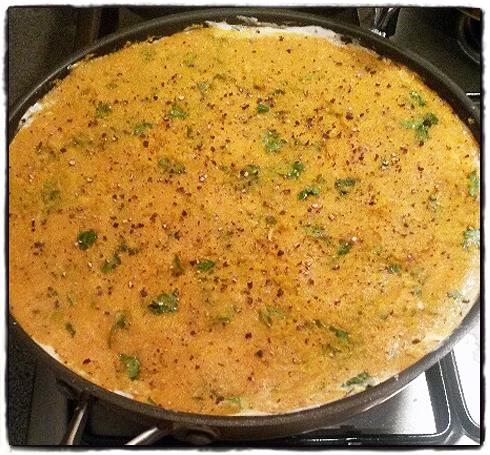 Feel-good fish pie
GOOD FOR: Acne and eczema; joint health and arthritis; mind and mood; high cholesterol
Ingredients
5 large sweet potatoes, peeled and cut into large chunks
olive oil, for cooking
1 onion, finely chopped
2 garlic cloves, finely chopped
400g low-fat cream cheese
200ml vegetable stock
1 tbsp wholegrain mustard
600g fish pie mix
10g fresh dill, roughly chopped
sea salt and black pepper
Method
Put the sweet potatoes in a saucepan and cover with salted boiling water. Simmer for around 20 minutes, until very soft.
Meanwhile, preheat the oven to 200°C, fan 180°C, gas 6. Heat a little olive oil in a pan, add the onion and garlic and cook for 4-5 minutes, until softened. Add the cream cheese, stock and mustard.
Cook gently over a medium heat, stirring, until the cheese has melted.
Add the fish pie mix and simmer for 10 minutes, until the fish is nearly cooked through. Add the dill, season with salt and pepper and stir well.
Transfer the fish mixture to a baking dish (or keep in the pan if it can go in the oven). Drain and mash the sweet potato until smooth, then season.
Top the fish with the sweet potato mash and bake for about 15 minutes, until the sauce is bubbling and the mash is starting to get crispy.
Serve and enjoy! Lovely with steamed kale, broccoli or asparagus and/or a green salad.
Don`t miss

---