Food
We cook the books
by Sarah Alcock
I love the idea of Middle Eastern food – colourful plates of meze, fragrant tagines and sugary desserts – but rarely (if ever) have I ventured as far as cooking it myself. So, with cookbook in hand and spices at the ready, I took on the challenge.
The book
Snackistan by Sally Butcher (Pavilion Books, £20) seemed a good place to start, as it's full of recipes for small dishes you'd be likely to find on a street food stall in the Middle East, which are achievable but don't compromise on taste. The author, Sally Butcher, runs Persepolis – a Persian food store in London's Peckham – and waxes lyrical about the historic Middle Eastern culture of informal eating, snacking and comfort food.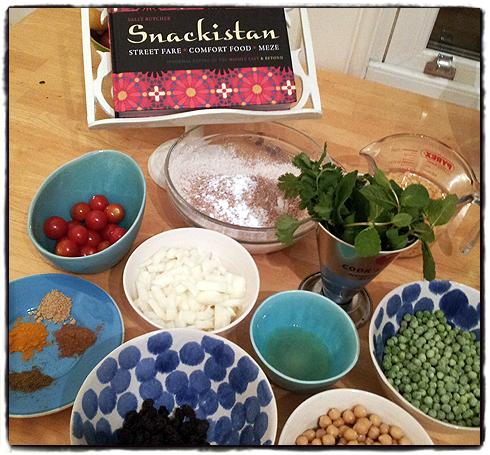 Being veggie
So far, so good... As a vegetarian, I turned straight to the chapter on Hot Vegetarian Meze (swiftly skipping over offal dishes which would suit only the hardiest meat-eater, such as fried brains in a saffron sauce) and fixed on a three-pea tagine, which Sally describes as 'a doddle'. She also recommends 'the addition of warm "dunky" bread', so I flicked to the 'Mostly Carbs' chapter, and settled on Injera (Ethiopian pancake bread), to serve it with.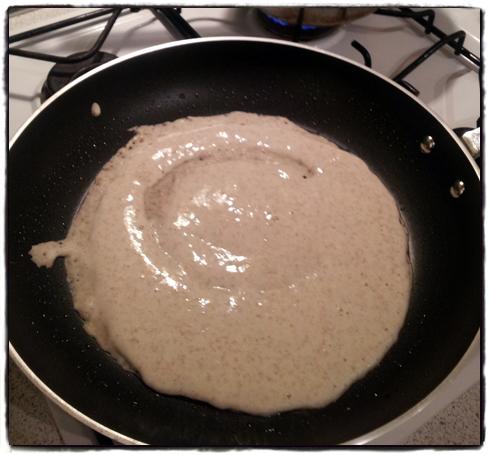 The result
The great thing about this recipe is that you don't actually need a tagine to cook it in – a pan will do, and once you've thrown in all your ingredients you can pretty much leave it to do its thing while all the spices infuse.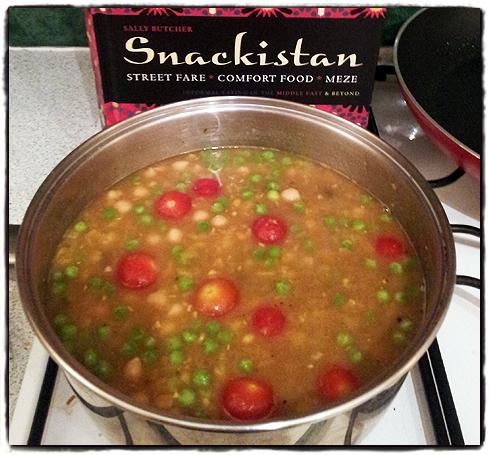 It did take around 2½ hours to make from start to finish, so it's important to factor in soaking time – especially if you're using dried chickpeas. The result was a warm and comforting dish that was surprisingly moreish, and even appealed to my meat-eating fiancé, despite his initial dubiousness. We dolloped steaming spoonfuls of the stuff onto our pancakes and, taking the informal eating idea literally, tucked in on a Sunday evening in front of Mr Selfridge (not quite Casablanca, as Sally suggests, but you get the picture!).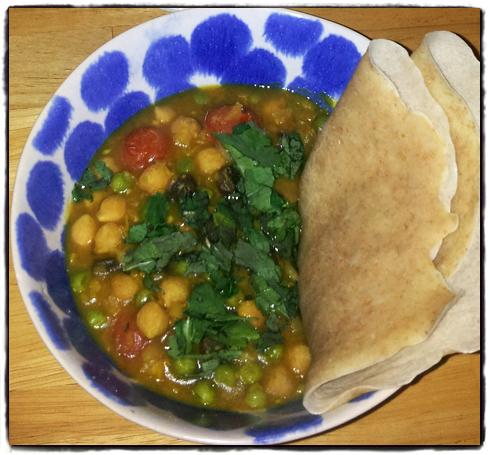 Three-pea 'tagine': Morroccan TV supper for 4
• 400g tin chickpeas, drained (or 100g dried chickpeas, soaked overnight)
• 200g chana dal (split yellow peas)
• 75g raisins
• 1 large onion, chopped
• olive oil for frying
• 3 large garlic cloves, crushed
• 1 tsp ground ginger
• 1 tsp ground turmeric
• 1 tsp ground cumin
• 1 tsp ground cinnamon
• ½ tsp chilli flakes (optional)
• 550ml vegetable stock (or water)
• 350g frozen peas (or fresh, if in season)
• 12 cherry tomatoes
• salt and freshly ground black pepper
• ½ bunch of fresh coriander, chopped
• ½ bunch of fresh mint, shredded
1 If you are using dried chickpeas, rinse them and cook in fresh water for about 1½ hours, or until they are soft without falling apart: the addition of a pinch of bicarbonate of soda will accelerate the cooking process.
2 Soak the chana dal for around 45 minutes. Also soak the raisins – they only need 20 minutes' soaking time.
3 Fry the onion in a little oil, then once it has softened and become translucent, add the garlic and spices and cook for two minutes, stirring constantly. Add the stock or water and bring to the boil before mixing in the drained chana dal, turning the heat down and leaving to simmer (you may need to top up the cooking liquid during this time).
4 After about 45 minutes, drain the raisins and add them to the tagine, together with the cooked chickpeas, frozen peas, cherry tomatoes and a little salt and pepper. Bubble away for a further 10 minutes, or until the peas and tomatoes are cooked. Take the pan/tagine pot off the heat or out of the oven, check and adjust the seasoning, and finally sprinkle the contents liberally with the chopped herbs. Enjoy hot, or just warm.
Injera: Ethiopian pancake bread for 4
• 100g self-raising flour
• 100g wholewheat flour
• 1 tsp baking powder
• pinch of salt
• 400ml sparkling/soda water
• juice of 1 lemon
• a little vegetable oil
1 Sift the first four ingredients together, then mix in the fizzy water and the lemon juice, beating to a smooth paste. If it's too thick, just add a little more water.
2 Using a brush or piece of kitchen paper, coat a large non-stick frying pan with oil and put it on the heat. Drizzle the batter mix in, swirling it from the centre out to the edge until the bottom of the pan is evenly covered. Allow it to cook through until little holes start to appear on the surface, then remove from the pan with a wooden spatula. The result should be just cooked through on the bottom, but still spongy on top. Keep the cooked Injera warm by covering it with foil until you are ready to serve.
3 Repeat with the rest of the mixture – you should have enough fro about 5-6 breads. Injera will keep until the next day if you wrap it in a clean cloth or plastic bag.
Don`t miss

---