Serves: 6
Choosing a recipe to try from Paul Hollywood's Pies & Puds (Bloomsbury, £20) – a collection of traditional sweet and savoury pies, and hot and cold puddings – it occurs to me that it's been ages since I last made my own pastry. Recently, I've been more than happy to bow to the god of the ready-rolled chilled stuff that seems to work very well. What better opportunity to rediscover the joy of making my own than under the tutelage of the master baker?
One recipe in the Pies section particularly grabbed my attention – cheese, potato and onion pie. As a greedy child growing up in rural Northumberland, this was one of my favourite dishes at primary school (we were blessed with great cooks and school dinners were something we kids actively looked forward to). It also brought to mind an old regional favourite, Pan Haggerty – a northern rib-sticker that comprises layers of potato, cheese and onion, cooked to a big, melting dish of loveliness. Oh yes...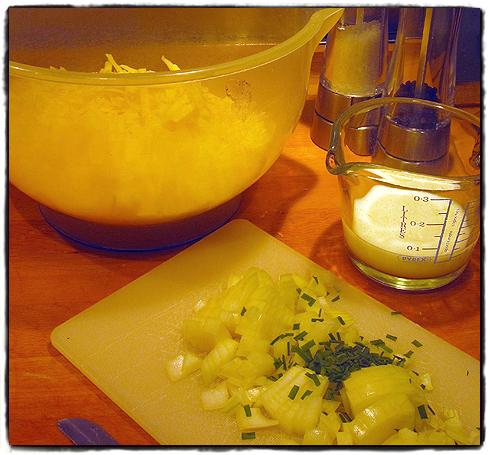 Paul's recipe recommends white vegetable fat along with butter for the cheese pastry, but as I couldn't find any (and I wasn't cooking for vegetarians) I plumped for lard instead. I opted for the hand-rubbed method, which seemed more authentic (to be fair, stickler that he is, Paul does say you can use a food processor) but the fat to flour ratio did seem high (PH mentions that this is a richer and stickier dough than standard pastry) and my mixture never did get to the 'coarse breadcrumbs' stage in the recipe. There were still discernible lumps of butter when I added the Parmesan and cheddar to the mixture. Also, my dough came together well at this point, so I omitted the 2-3 tablespoons of water, which I felt would have made it very wet. (Shoot me now, steely-eyed judge!)
Then to the pie filling... what I presumed would be layered potato and cheese turned out to be a (very) cheesy mash with onion and chives - delicious and very rich. At this point I noticed that, having failed to read the whole recipe before cooking (one day, I will realise that having the right dish/tin is key), I needed to improvise when it came to finding a metal pie dish - hence the not so attractive small roasting dish in the photo. Brushing the pastry that I'd plonked on top of the mash with beaten egg before putting in the oven for 25 minutes, the whole thing looked beige, stodgy and uninspiring. I wasn't overly optimistic...
How wrong can you be? It came out looking golden and crispy – and passed the test when presented to my teenagers for tea. Cheesy mash topped with very short, buttery pastry? OK, it's a carb fest and not for those watching their weight, but if it's comfort food you crave, PH and his pie definitely deliver.
Cheese, potato and onion pie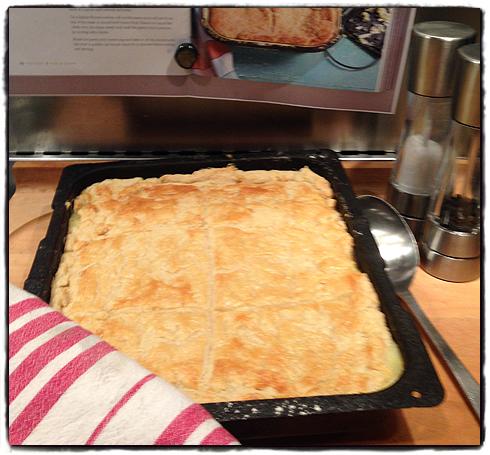 Ingredients
FOR THE CHEESE PASTRY:
200g plain flour
75g cold unsalted butter, cut into roughly 1cm dice
75g white vegetable fat, cut into small pieces
25g Parmesan, finely grated
25g mature cheddar, finely grated
2-3 tbsp very cold water
1 egg, beaten, to glaze
FOR THE FILLING:
1kg Desiree potatoes
1 medium onion, finely diced
375g mature cheddar, grated
salt and white pepper
50ml milk
2 tbsp chopped chives
24 x 20cm metal baking dish, 5cm deep
Method
To make the pastry, put the flour into a bowl. Add the butter and vegetable fat and rub them in with your fingertips until the mixture looks like coarse breadcrumbs (this dough is rich and stickier than a standard pastry).
Alternatively, rub in the fat using a food processor or a mixer and then transfer to a bowl.
Add the cheeses to the flour and fat, and mix well.
Using one hand, work in just enough cold water to bring the pastry together into a dough. When the dough begins to stick together, gently knead it into a ball. Wrap in clingfilm and chill in the fridge while you make the filling.
Heat your oven to 200°C, fan 180°C, gas 6, and have ready a metal baking dish, about 24 x 20cm and 5cm deep.
For the filling, peel the potatoes and cut into large chunks. Place in a saucepan, cover with water, add a little salt and bring to the boil. Reduce to a simmer and cook until the potatoes are tender enough to mash, probably 12-15 minutes.
Drain the potatoes well and put them through a ricer into a large bowl (this will give you smooth, lump-free mash but you can use a standard potato masher).
Add the onion, cheese and some salt and a good pinch of white pepper. Beat with a wooden spoon so the cheese is well incorporated. Add the milk and chives, and give the mix a good stir.
Put the cheesy mash mixture into the tin and spread it out with the back of a spoon until smooth and even.
On a lightly floured surface, roll out the pastry so it will just fit on top of the mash. It should be 8-10mm thick. Place it on top of the mash, trim the edges neatly and mark the pastry into 6 portions by scoring with a knife.
Brush the pastry with beaten egg and bake for 20-25 minutes until the crust is golden. Let the pie stand for 15 minutes before cutting and serving.
About the author