Food
We cook the books - Low Carb Revolution
by Sarah Alcock
I'm ALWAYS looking out for ways to eat more healthily – and hopefully drop a few pounds in the process. Annie Bell's recipes have been firm favourites of mine when they've been featured in Sainsbury's magazine, so I had very high hopes that the ones in Low Carb Revolution: Comfort Eating For Good Health (Kyle Books, £16.99) would punch above their weight on taste and flavour, too...
The book
Like many of us, Annie's weight fluctuated a lot over the years, but – unlike me – she suffered from 'emotional undereating', while I am always reaching for the biscuit tin if stress or anxiety get the better of me. During a particularly stressful time, she found that the only foods that tempted her were those lacking in starchy carbs and, once things were improving in her life, she decided to see if she could give them up for good. This time, she found that the pounds didn't creep back on and she was feeling better than ever. Reassuringly, the book is endorsed by Dr Alexander D Miras from Imperial College London.
The recipes
All the content is grouped into unusual recipe chapters, but they actually make very good sense: 'The Carvery' has inventive roasts; 'Mash, Chips or Roast?' gives you lots of side dishes to serve with your meaty main course that don't involve potatoes, pasta or rice; and 'Low Carb Puds' do what they say on the tin. I fancied a low-carb alternative to our regulation fry-up and piles of toast on a Sunday morning, so decided on spinach and Parma ham frittata and then rustled up curried chicken and coconut soup for a tasty, nutritious lunch.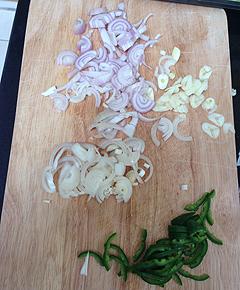 Frittata: Before
The result
The frittata was really easy to make, apart from the fact that I couldn't put my pan under the grill as it doesn't have a heatproof handle. I improvised and flipped it like a pancake by turning it out onto a plate and then sliding it back into the pan – which crisped and browned it nicely. It was really delicious, particularly the dollops of Quark that added a creamy, cheesy luxury and the salty, flavour-packed Parma ham.
I cut back on the amount of spinach in the recipe – otherwise it would have been a scarily expensive breakfast, with the Parma ham and all. It was a great way to get my daughter to eat spinach, which is something she usually bypasses, but as she loves Parma ham she was prepared to eat it.
The soup was less successful, unfortunately. Partly my fault, probably – I didn't read the recipe properly, so didn't realise it had to go in the oven for 1½ hours! I didn't have that long, so made it in 30 minutes on the hob instead.
In addition, I forgot to buy coriander so I couldn't sprinkle it with pretty-looking herbs. However, I followed the rest of the recipe to the letter and it just didn't look as appetising as in the picture. I used thighs, like the recipe suggests, but they go brown during cooking – I think in the picture they used breast so it was all pretty and white.
The broth in my bowl was very brown, too, and didn't have that zingy green colour that the picture had. The taste was fine, but not fabulous, so I think I might try one of Annie's other soups next time.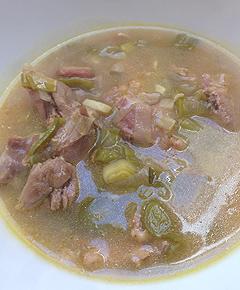 Don`t miss

---