Mary-Anne Boermans' new book, Great British Bakes (£20, Square Peg), is a history lesson in traditional British baking. The former Great British Bake Off contestant has compiled a wonderful book of historical recipes, taken from some of the 1,000 antique books she has collected over a number of years. For each recipe, whether it be Bath biscuits from 1675, Banbury cakes from 1848 or an 1820s apple bread, we're given a brief history of where and how they originated, along with Mary-Anne's humorous insights from her own research and cooking the recipes in her own kitchen.
When this book landed on my desk I knew it was one to take home for a closer read (and not just for the pictures!) – I became engrossed in the amazing history of traditional cakes, buns and breads.
Lardy Cake
I was most interested in all the recipes I recognised from my childhood and was taken back to marvelling at my grandparents' extensive baking spreads. I came across a familiar recipe; Lardy cake – not something we make much nowadays because of its high fat and calorie content. But back in the day, this cake was the perfect 4 o'clock snack, or 'fourses'. Mary-Anne says, 'The calorie-heavy sweet dough, accompanied by a cool bottle of ale, was just the thing to keep energy levels up during the long days of harvest.' Lardy cake, ale and sitting at a desk 9-5 don't bode well for the waistline, unfortunately!
Welsh Honey Cake
I decided to make Welsh honey cake, which Mary-Anne says is taken from a book called The Diary Of A Farmer's Wife, 1796-1797. Anne Hughes, who wrote the diary for a year, detailed life as a farmer's wife and everything she made in the kitchen – much like many of us do now on our baking blogs! It's nice to make something at home knowing that farmer's wife Anne had been doing the same thing over 200 years ago.
The cake itself was simple but delicious, and the honey gave it a squidgy texture and treacly flavour. I can't wait to don my apron and try out some more traditional British bakes.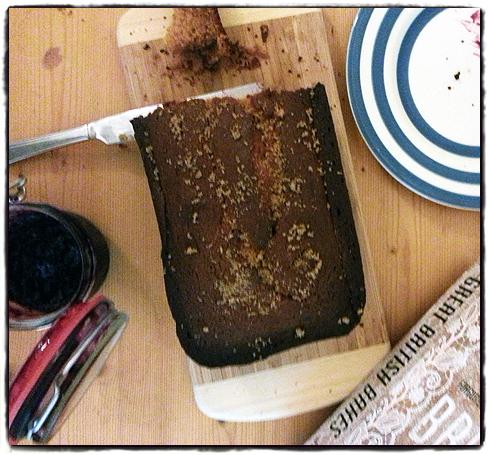 Great British Bakes is available to buy from all good book shops from Thursday 7 November
Welsh honey cake

Serves 8-10
Ingredients
170g honey
170g butter, softened, plus extra for greasing
170g caster sugar
3 large eggs
340g self-raising flour
milk, if required
a 23cm loaf tin, or similar capacity
Method
Preheat the oven to 180°C, fan 160°C, gas 4. Grease and line the loaf tin with baking parchment.
If necessary, warm the honey until runny, but not too hot. Set aside to cool a little if required.
In a bowl, beat the butter and sugar together until pale and fluffy. Add the honey and mix thoroughly. Add the eggs, one at a time, making sure each is thoroughly mixed in before adding the next.
Fold in the flour. The mixture should be of a 'dropping' consistency (it should drop freely off a spoon). Add a little milk, if necessary, until the correct consistency is reached.
Pour the mixture into the prepared tin.
Bake for 40 minutes-1¼ hours until risen and firm to the touch, and a skewer inserted into the middle comes out clean. The cooking time will vary, depending on the size and shape of your tin, and the moisture content of your honey.
Leave to cool in the tin for 10-15 minutes, then transfer to a wire rack to cool completely.
About the author