Food
13 clever ways to save money on food
by Sainsbury's magazine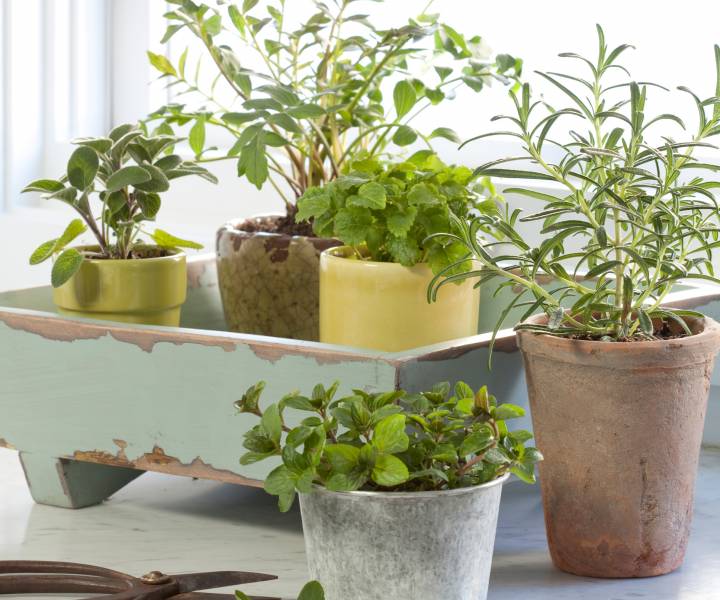 Image: Getty Images
Tips, tricks and insider advice to help you eat well for less...
1. Shop smart
'When you go to the supermarket, head to the world food aisle,' advises food writer Elly Pear. 'You can get big bags of spices for the same price as a tiny jar in the herbs and spices section, as well as cheaper brands of rice and other essentials. I often go straight to that section first, to see if I can spot any bargains.'
2. Make friends with your freezer
A recent survey found that 20% of Brits don't know you can freeze eggs, 17% that you can freeze milk and 16% cheese. Managing food editor Tamsin Burnett-Hall freezes bananas. 'You can put whole bananas in their skins straight in the freezer. Defrost to make banana bread, or add frozen chunks to a smoothie.'
3. Stop wasting fruit
Some emit gases as they ripen, which make nearby fruit go off faster. Apples, bananas, pears and kiwis are the worst culprits, so store separately.
4. Grow your own herbs
'Don't waste money on packs of herbs – it's wasy to grow your own on the window ledge,' says creative food editor Anna Glover. 'You don't even need pots; just park tin cans with soil and seeds.' And don't waste the stalks. 'Basil and coriander stalks have just as intense a flavour,' says food writer Alex Mackay.
5. Get appy
Need a little help changing habits? Download an app! On food-sharing platform Olio, users post pictures of their unwanted food, be it a bag of apples or pint of milk: if you want it, just message and arrange a pick-up. Or try the Love Food, Hate Waste app; we love the handy portion tool, which makes sure you don't cook too much pasta or rice.
6. Make meat go further
Think of meat as an enhancement to your plate rather than the centrepiece,' says food blogger Miss South. 'Meats like pancetta or chorizo add depth to pulses or soup.'
7. Take a shelfie
Before you go shopping, snap a picture of the contents of your fridge, and your cupboards. It's quicker than writing a list of everything you have, but still means you won't double up on food in the supermarket.
8. Get dumping
'Dump bags' are when you fill a freezer bag with all you need for a casserole – meat, veg and herbs. Just defrost and 'dump' the lot in a slow cooker and let it work its magic.
9. Eat root to fruit
Tom Hunt, eco-chef and author of The Natural Cook, (Quadrille, £20) says we should all eat 'root to fruit' – that means using every single bit of your fruit and vegetables,includingthebits you'd usually throw away. 'Many people don't realise youcaneatthingsliketurnip tops. I love cauliflower leaf crisps. Simply pull them off and roast them in the oven drizzled with oil and a sprinkle of garam masala.'
10. Go for meat on the bone
Meat on the bone is usually cheaper than boneless cuts. 'I buy bone-in chicken thighs,' explains blogger Miss South.'The bones make stock for soups and risottos, while the thigh meat replaces expensive chicken breast.'
11. Prep ahead
Spend some time at the weekend on meal prep: roast a big tray of vegetables, cook grains, prepare chunky salad veg and turn tired fruit into a compote. With prepared elements to hand, it's far easier to put a quick packed lunch or simple supper together, so you're less likely to resort to expensive convenience food or a takeaway.
12. Save those shower caps
You know that pile of shower caps you've stockpiled from hotel stays? Put them to good use covering bowls of leftovers in the fridge. They're reusable, so you'll save money on clingfilm, too.
13. Say cheese
'Don't throw away Parmesan rinds,' says food assistant Ailsa Brown. 'Stick them in the freezer, then pop them into a stew or soup or even stock. They add a rich, savoury flavour.'
Don`t miss

---