Food
4 veggie dips for summer
Friends round for drinks? These make-in-minutes dips are your new best friend.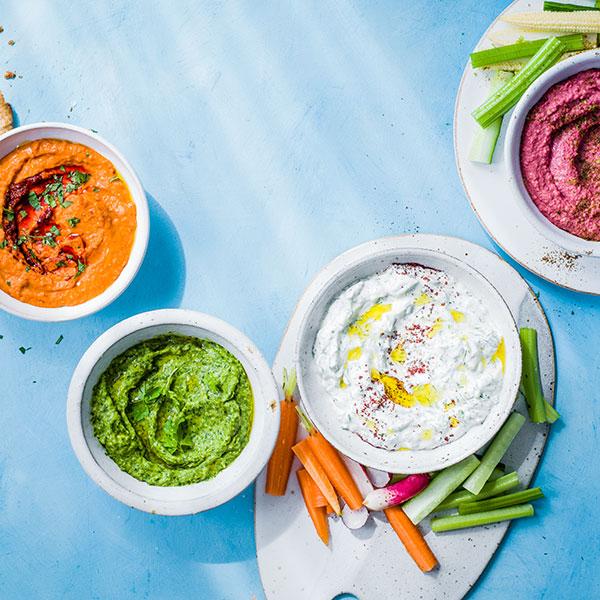 Spicy cannellini dip - serves 6. Vegetarian/vegan/gluten-free/dairy-free
Harissa, a North African spice paste, adds a smoky kick to this houmous.
Rinse and drain 2 x 400g tins cannellini beans. Tip into a food processor with 2 tbsp harissa paste, 1 tsp smoked paprika, 2 garlic cloves and the juice of 2 lemons. Blend until smooth and season. Tip into a bowl, top with 1 tsp harissa paste (or a drizzle of extra-virgin olive oil) and sprinkle with a little chopped coriander.
100cals; 1g fat (0g sat fat); 6g protein; 6g fibre; 14g carbs; 1g total sugars; 0.1g salt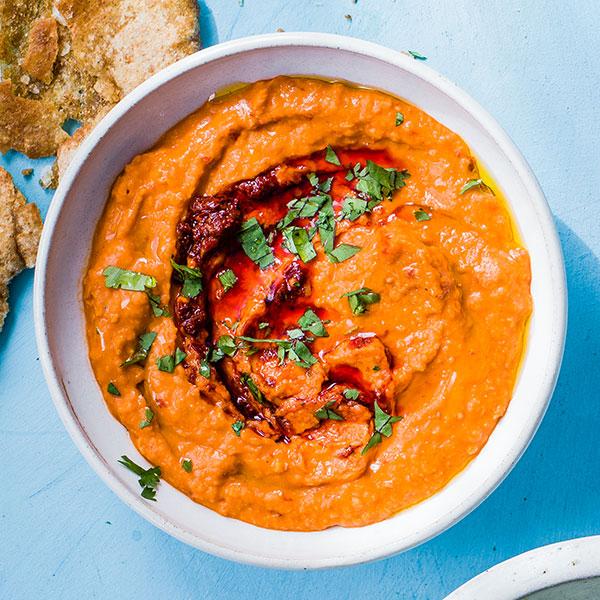 Green Goddess dip - serves 6. Vegetarian/vegan/gluten-free/dairy-free
This is great for using up whatever herbs you have left in the fridge.
Remove the tougher stalks from 60g mixed herbs (we used coriander, basil and mint) and set aside a few leaves for garnish. Place the herbs in a food processor with 50g toasted almonds, 3 chopped spring onions and ½-1 green chilli, deseeded and roughly chopped, and blitz until finely chopped. Scoop in 2 ripe avocados, squeeze in the juice of 1 lemon and blitz again, adding around 50ml water. Season, spoon into a bowl and top with the remaining herb leaves.
125cals; 12g fat (2g sat fat); 3g protein; 2g fibre; 2g carbs; 1g total sugars; trace salt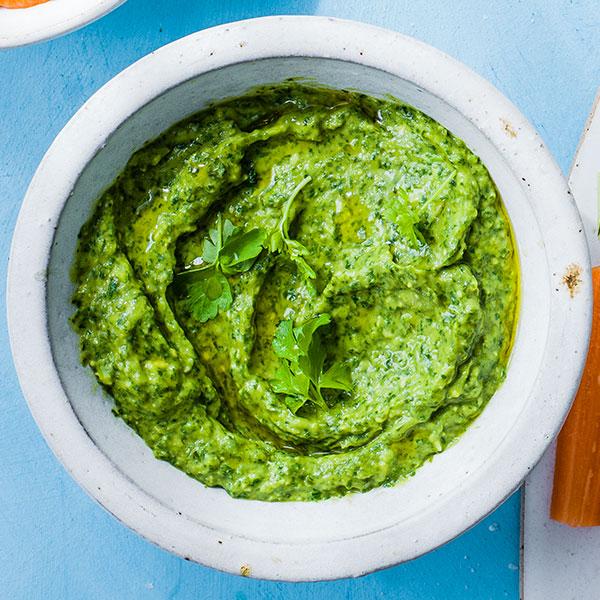 Beetroot, cumin and lime houmous - serves 6. Vegetarian/vegan/gluten-free/dairy-free
Cumin is a natural counterpart for earthy beetroot, and lime gives this hot pink houmous a zingy lift.
Zest 1⁄2 a lime and set aside for garnish. In a food processor, blitz 1 x 250g pack cooked beetroot (drain any liquid off), 1 x 400g tin chickpeas, rinsed and drained, the juice of 1½ limes, 3 tbsp tahini, 2 tsp ground cumin, 1 large garlic clove, peeled, and 4 tbsp extra-virgin olive oil until smooth. Season to taste and spoon into a bowl. Drizzle with a little olive oil and sprinkle over a pinch of ground cumin and the lime zest.
205cals; 15g fat (2g sat fat); 6g protein; 4g fibre; 10g carbs; 4g total sugars; 0.1g salt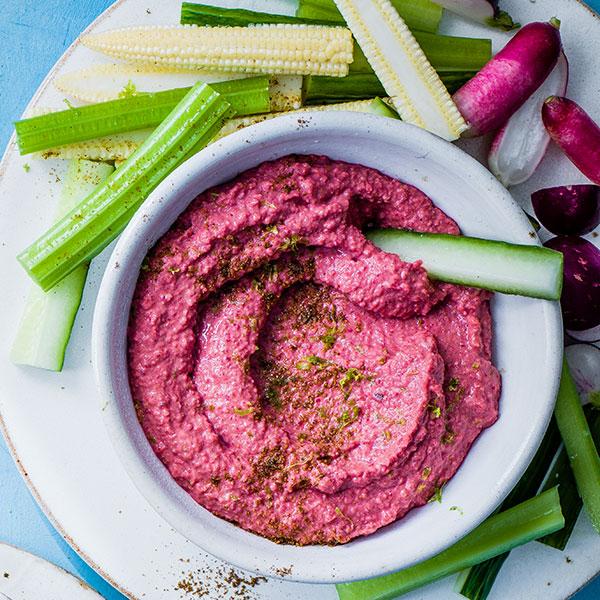 Cacik - serves 8. Vegetarian and gluten-free
This is the Turkish equivalent of Greek tzatziki – a creamy yogurt dip made with dill and sumac.
Halve 1 cucumber lengthways and scrape out the seeds. Grate coarsely, then squeeze out the excess moisture. In a bowl, mix the cucumber with 1 garlic clove, crushed. Add 1 x 500g pot thick Greek yogurt, 1 x 20g pack dill, fronds chopped, 2 tbsp extra-virgin olive oil and a pinch of salt. Mix well and tip into a serving bowl. Finish with a pinch of sumac and an extra drizzle of oil.
99cals; 8g fat (3g sat fat); 3g protein; 0g fibre; 4g carbs; 4g total sugars; 0.4g salt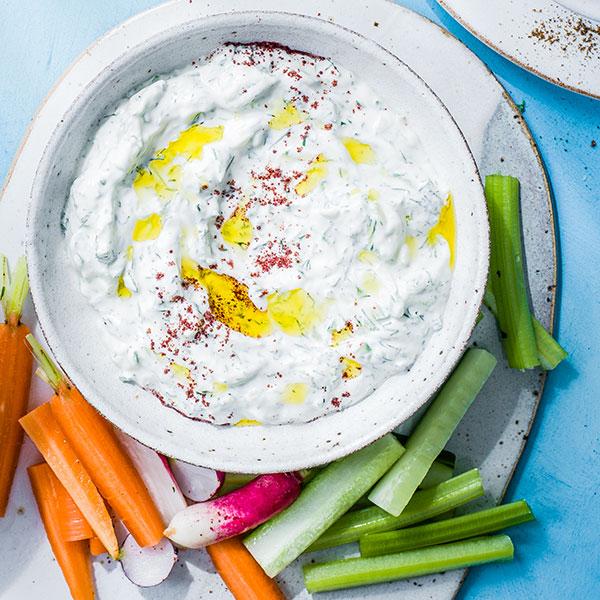 Recipes by Anna Glover, Sophie Godwin and John Gregory-Smith
Photographs by Ant Duncan